Celebrate National Wildlife Week April 19-27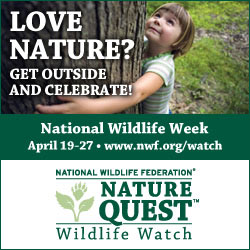 Wildlife lives all around us, in our neighborhoods, communities, and parks. Take the time to enjoy wildlife this spring and observe National Wildlife Federation's National Wildlife Week from April 19-27, 2008.
This year's annual event marks the 70th anniversary of National Wildlife Week. In celebration, people of all ages should get outside and spend time with nature by joining in the Nature Quest Wildlife Watch. Taking part in the Wildlife Watch program is easy and free. Just visit www.nwf.org/watch to download wildlife a watch list for your state, share your sightings online and even talk to other Wildlife Watchers.
"Through National Wildlife Week and the Wildlife Watch, it is easy for people across the country, in all types of communities, to spend time outdoors and develop an appreciation for nature. Watching for wildlife is simple, fun, and builds environmental stewardship," says Eliza Russell, Director of Education.
National Wildlife Week was first observed in 1938 under the name "National Wildlife Restoration Week". Past spokespeople of National Wildlife Week include Walt Disney, Shirley Temple, and Robert Redford.
Founded in 1936, National Wildlife Federation's mission is to inspire Americans to protect wildlife for our children's future. The organization is currently developing programs to counteract nature deficit disorder in children by encouraging parents and other caring adults to help children spend more time outdoors everyday. Learn more at www.nwf.org.