Enter Your Outdoor Invention in the "Concept To Company" Contest
Got an outdoor idea or invention? Then get busy and enter the "Concept to Company" outdoor recreation innovation contest. Due to popular demand, Ogden City and Grow Utah Ventures announced that they have expanded their "Concept to Company" contest to include submissions from entrepreneurs outside the state of Utah.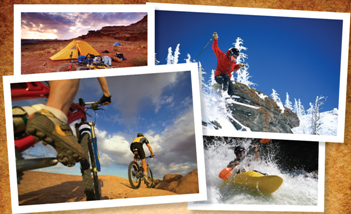 Concept to Company is the first competition in the nation focused on spurring innovation in the outdoor recreation products industry. This competition capitalizes on Northern Utah's burgeoning outdoor recreation business environment and aims to attract new product ideas and new companies into the area.
"We've had such a tremendous response to the 'Concept to Company' contest that we decided we wanted to include any and all entrepreneurs regardless of where they're based," said Ogden City Mayor Matthew R. Godfrey. "We're excited to see the ideas that come in from out of state and will gladly welcome the grand prize winner and any other company that wants to call Ogden home."
Co-sponsored by Zions Bank and USTAR, the contest is open to individual inventors or to innovative small businesses with less than $5 million in annual revenue. Applicants located outside the state of Utah must be willing to relocate and start their businesses in Ogden, Utah.
The winners will be announced on September 27th, as part of the City of Ogden's "Mountain to Metro" festival. Ideas should focus on skiing, snowboarding, cycling, climbing, hiking, paddling, and other non-motorized, non-fishing or non-hunting sports. The idea or invention must not yet be introduced into the market and must have no sales revenue.
"Generally an entrepreneur with an idea doesn't stand a chance of getting the attention of a bank and they are often too early for an Angel Investor let alone a Venture Capitalist." said T. Craig Bott, president & CEO of Grow Utah Ventures. "However, thanks to the 'Concept to Company' contest, entrepreneurs have a unique way of getting financing to make their ideas a reality."
A panel of outdoor industry experts will evaluate ideas based on innovation and marketability. There will be two grand prize winners, a local Utah based winner and an out of state winner. Each grand prize winner will receive a $20,000 award, comprised of cash and the equivalent value in consulting or prototyping services to help bring the idea to fruition. Additionally, there will be two local companies named as runner-up winners for the Utah based contest. Runners-up will receive $10,000 awards, comprised of cash and services.
Industry sponsors of the contest include Amer Sports Winter & Outdoor, Backcountry.com, Black Diamond Equipment, Ltd., Deer Valley Resort, Descente North America, GOODE, Mountain to Metro, Ogden City, Outdoor Industry Association, Ogden Climbing Park, Petzl America, Rossignol Group North America, Seed Weber Davis Morgan.
Contest rules and an application form are available at www.launchutah.com/concepttocompany.php
Applications may be submitted now through the submission deadline of August 30, 2008.
About Grow Utah Ventures
Grow Utah Ventures, is a privately funded not-for-profit organization dedicated to stimulate, unlock and develop the entrepreneurial talent and early stage business opportunities for value creation across Utah. Comprised of a team of successful and experienced entrepreneurs, business leaders and private investors, Grow Utah Ventures accomplishes its mission by uIdentifying, selecting and recognizing accomplished and promising Utah entrepreneurs, uBuilding a statewide community of outstanding entrepreneurs and those interested in promoting entrepreneurial development, uPartnering with organizations, companies and investors seeking to support Utah's best entrepreneurs, uRallying community leadership and financial resources to support entrepreneurial development. For more information about Grow Utah Ventures, visit www.growutahventures.com.