Recycle your retired climbing rope with Sterling
For years Sterling Rope has recycled the nylon waste fiber that is left over from even the most efficient manufacturing processes. Now Sterling can take used dynamic climbing ropes and recycle those as well. Rather than having an old, retired rope sit in the back of your closet or worse, sit in a landfill, you can now return it to Sterling and the company will have it recycled for you through its Rope Recycling Initiative.
Simply send Sterling your retired dynamic climbing ropes from any manufacturer and Sterling will take it from there.
The company will send them to an efficient recycling expert that grinds up, melts down, then repelletizes the nylon so it can be re-made into a variety of items like carpet fiber, telephones, coat hangers, and even children's toys!
Why should you recycle your rope?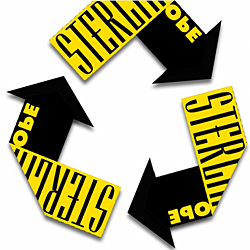 There are lots of reasons, but Sterling feels the top three are:
1) Keep the rope out of the landfill.
2) Keep climbers safe by retiring old rope once and for all.
3) Reuse the petroleum-based nylon for something else.
Where do I send my rope?
Simply send your retired rope to the address below:
Sterling Rope Company, Inc.
c/o: Rope Recycling Program
26 Morin Street
Biddeford, ME 04005-4413
To learn more about Sterling Rope's Recycling Recycling Initiative, check them out: www.sterlingrope.com/recycle