Trailspace's First 1% For The Planet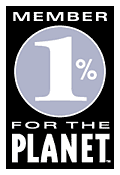 Last August when we joined 1% For The Planet, an alliance of companies that each donate at least one percent of their annual sales to environmental organizations, we promised to update you on what organizations Trailspace supported.
Well, we just finished our 2006 1% FTP donations and I'm excited to report where our first year's contributions went. We selected a range of international, national, regional, and local organizations working toward protecting and enhancing the wild lands and natural world we all enjoy.
In 2006, Trailspace supported:
We want to support causes important to the Trailspace backcountry community. Do you have a favorite environmental organization? Please tell us about it and we'll consider it for our 2007 1% For The Planet contributions.