Outdoor Retailer: BPA Free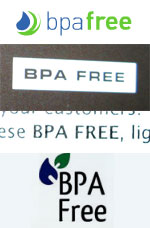 The outdoor industry has a new catchphrase: "BPA Free."
In the wake of the BPA scare that Trailspace has followed over the past year, all the major water bottle manufacturers (and all the minor ones I've seen) have stopped manufacturing polycarbonate bottles and switched to materials that don't contain the chemical compound bisphenol-A. (For a primer see our article "Building a Better Water Bottle")
It seems as if every Outdoor Retailer exhibitor whose product might conceivably touch water -- bottles, hydration bladders, even filters -- has a "BPA Free" sign somewhere in their booth. It's become a major selling point, although with everyone making the switch it's no longer the differentiator it was just six months ago.
For the most part companies have replaced the polycarbonate in their bottles with a new material called Easton Tritan, a hard, clear plastic that looks and feels pretty much like the polycarbonate it's replacing. There are also a slew of stainless steel bottles coming to market – far too many to name here, but all being touted as "BPA Free."
The BPA scare gained steam very quickly in and appears to have shaken out in the marketplace just as rapidly. Keep in mind that the product lines I'm seeing here are, for the most part, arriving in stores either this fall or next spring. There are still polycarbonate bottles in stores, but you'll know them because they're the only ones that don't say "BPA Free." By this time next year they should be long gone. (As will, hopefully, the need to proclaim "BPA Free" ad nauseum.)
Add your voice
to the world's most comprehensive and useful collection of
independent outdoor gear reviews
.
Review Your Gear