UCO
Original Candle Lantern
9

reviews

5-star:

6

4-star:

3

3-star:

0

2-star:

0

1-star:

0
Rating:


Source: bought it new
Price Paid: $20

Summary
This is a brilliant piece of gear. I love the fact it doesn't need batteries.
Cons
Need to carry extra candles
Glass globe is breakable
I found this while camping with a friend. He has one and we used it for a makeshift campfire to sit around since there was a burn ban. It worked great as we sat around it and visited.  I had to get one for myself.
I use the citronella candles in it to help cut down bugs in my camp. I use it to light my tent with the hook, there's no danger of fire because the flame is contained in the glass globe.
I recommend this candle lantern for everyone from ultra light hikers to RV campers, it's that good.
Rating:


Price Paid: $24

There is a poetic quaintness in low-tech. It is within nature; not outside of it. The soft glow of a candle is unintrusive. No batteries, switches, or circuits. No insulting hiss of a gas lantern. It doesn't need pumped. It won't disturb the neighbors with a searing white-hot light.  
On a week long canoe tripped I zonked out while reading in the tent. In the morning, the candle was still burning. I'm a late night person so an extra candle always comes with me.
Be sure to hang it where you don't hit it with your head. Wax sloshes all around the inside of the meticulously-cleaned globe. If you're careful it only needs an occasional soot-wiping. Be sure not to slosh the wax while blowing it out. Have some ventilation ready unless you like breathing freshly-doused candle fumes.
Don't ever touch the stainless baffle on the top while the candle is lit. It is wickedly hot. With the Pac-Flat reflector a nice parablic light-cone is focused downward. You can raise or lowered the lantern to focus it's intensity. Also, get the neoprene cocoon. It's invincible.
The wire bail does a nice job of distancing the hot top of the lantern from anything meltable. Be sure to carry a wire S-hook fashioned from a coat hanger to hang the lantern on branches or tent loops.
Rating:


Price Paid: $12.95

I would recommend this product for many purposes. It is lightweight, collapsible, small when together, has a built-in carry handle/ chain with hanger, and easy to clean up.
The UCO gives off a usable light source in camp, provides a night-light for children, and gives off just a small enough heat to keep condensation out of the tent.
The candle is rated at nine hours burn time, but in my experiences seven to eight has been the realistic burn time. After the candle has burned completely out, you have to clean off the excess wax from the inside of the tube and glass globe.
I purchased two separate reflectors for the UCO. One put together and placed on top focused the light downward, and the second acted like a parabolic lens and focused light similar to a flashlight.
The complete setup did not weight a whole lot and was very useful while in camp. Saved on batteries too.
Now the UCO comes in several configurations as well. You can visit http://candlelantern.com/ for further specifications and models. I bought mine at the  Bass Pro Shop.
Rating:


Price Paid: $24

Perfect for the backpacker. I don't find myself staying up long after dark. This little candle lamp is perfect for my needs. Makes it easy to spot your camp when you have to go away to dig a cat hole. Just enough light to get into the tent for bed. If things are on the cool side, I even warm up the the tent for ten minutes before bed.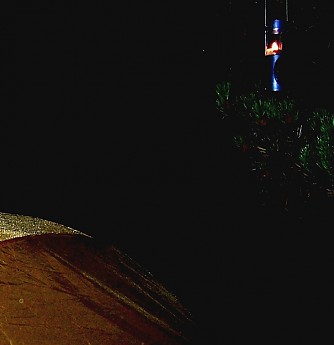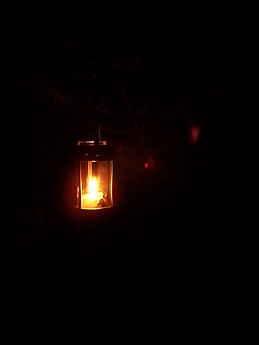 Rating:

This is a cleaver little lamp. Form following function. There is a spring loaded platform that the candle sits on. Heat from the flame is transferred to the tapered chamber that the candle fits in. This causes the candle to exactly fit the top taper in the chamber and seals it to prevent wax from leaking out. The opening in the top of the chamber creates a well that holds melted wax to fuel the lantern. Well engineered so that the wax is used up at the rate that the candle advances and no wax leaks out.
I have had my original for about 20 years. Got it for motorcycle camping but now use it for canoe camping. Good on the picnic table or in the tent. I used to read with it in the tent, but now at 52, that is pushing it with my eyes not as good as they used to be.
UCO has done their work on the candle that they sell for the lantern. I have tried house candles in the past and found that they did not work well in the lantern as they melt too fast and let wax leak into the works making a mess and gumming up the works. Stick with the UCO 9 hour candles. They cost about a dime an hour.
The lantern, due to its draft and chimney probably produce about 2 candle power. More than you would expect from a candle but not bright by any means. A nice warm light that lets you walk about your campsite or follow the path to the privy without mishap. Not enough light for close work, but just an excellent soft light that makes the camp inviting without the intrusion of harsh artificial light that you get from a Coleman mantle lantern. Don't get me wrong, there is a time when the Coleman is the right lamp, but for soft ambient unobtrusive light, the UCO is tops.
I get more than 9 hours from the 9 hour candles.
This lantern deserves the 5 stars
Rating:

One of the best gear decisions that I have ever made. It is durable, lightweight and functional.  If you need light for repairs, reading or detail work you will need to use a flashlight or headlamp. The low level light is fine for getting around camp or lighting a tent.  The subtle warmth is appreciated in cold weather.
Rating:


Price Paid: $15

Do you like natural light? Do you like a reliable source of light that goes anywhere? Do you get your kicks watching your buddy fumble around in his pack trying to find batteries while you relax by your candle lantern? I do...
I like this product, and while the citronella scented candles may work in the tent, it really doesn't outside.
Great little lantern with about 8-9 hours of light per candle. Go buy one.

Rating:


Price Paid: $30

Best little candle holder, where the light is hard to go out. Romantic on the picnic table, in the tent, and even...in the outhouse. Mine came with beeswax candles and the unit is very dependable. If you do get wax on the window, a simple immersion in hot water is all you need to clean up.
Rating:


Price Paid: $20

STOP READING REVIEW GO BUY ONE!
Where to Buy
sponsored links
Help support Trailspace by making your next purchase through one of the links above.
UCO Original Candle Lantern
currently retails for:
$18.95 - $27.50

where to buy: