Recommend Your Favorite Outdoor Store
Recently I extolled the virtues of local specialty outdoor stores for their knowledgeable salespeople and customer service. I'm still a believer, as long as it's the right store.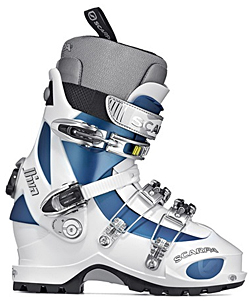 On Monday morning I was in the parking lot of our local ski shop, Aardvark Outfitters, before it even opened for business. While I was away over the holidays I'd received a message that the rest of my new AT ski setup had arrived. The store's clock was still ten minutes shy of opening time when I arrived and Bob, the kind owner starting to shovel his entryway, let me inside to gaze upon my skis and boots.
An hour and a half later I left with my boots (now molded and with footbeds), skis with mounted bindings, skins, and many sincere assurances from Bob and Mike, the ski tech, that I was to let them know how the boots worked out and to stop by for any and all potential fit issues, from the minor to the major, so they could fix them.
The gear is now mine, but the shop isn't finished with me. They genuinely want to make sure it works. And that means I'll remain a customer and recommend them to others.
However, the pleasant, helpful time I spent at Aardvark—getting fitted, discussing gear, chatting—was in marked contrast to a visit I recently made to another outdoor store in another New England city.
We all know the economy is not so hot. So, why would a retailer and its many salespeople completely ignore me for forty minutes while I browsed and ultimately bought several outdoor items? I don't need, let alone want, anyone holding my hand while I shop, but a simple, friendly hello or other acknowledgment would be nice. Especially if I'm thinking about giving you my money. And definitely while I'm giving you my money.
It wasn't just me, either. In this store (which at this time shall remain nameless), two women attempting to buy a ski hat, just feet away from the register and several salespeople, were ignored while they repeatedly tried to figure out the difference between different hats and materials. There was an opportunity lost. The store had plenty of gear, but no help.
At Trailspace, we frequently encourage people to visit specialty outdoor stores, especially when a good fit is essential, such as with packs and footwear. So, we hope you get the attention you deserve when you follow that advice.
In the interest of helping others find those truly noteworthy, specialty outdoor store gems, we've started a thread in the Gear Selection forum for your local recommendations:
www.trailspace.com/forums/gear-selection/topics/50090.html
So, please share with us your favorite store or pack fitter.
And big thanks to community member BigSmoke for the thread suggestion.