Commute Another Way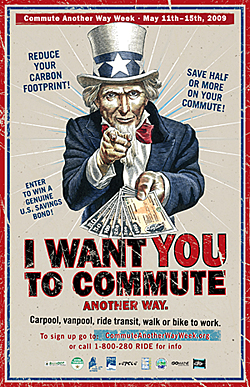 Here in Maine, it's Commute Another Way Week, an annual event that promotes bicycling and walking, as well as carpools, vanpools, and public transit (bus, ferry, and rail) as cost-effective, healthy, and enjoyable alternatives to driving alone to work.
Try walking, hiking, biking, paddling, rollerblading, or whatever you enjoy to get to work, to school, or to run errands. If the distance is too far, consider driving or carpooling partway and walking or biking from a commuter lot.
You can save money and gas, reduce emissions, and be healthier.
Many other states and cities have similar events happening. So see what's happening near you. Or just try commuting another way on your own. It may become a new habit.
If you're already commuting other ways, congratulations!
For more info: www.gomaine.org/cawday/