National Trails Day Event: Dawn and Dusk Trail Walks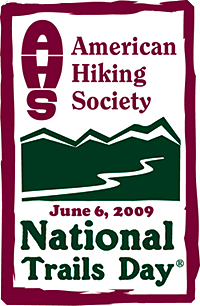 Saturday, June 6, is National Trails Day.
Find local events, like the one below, at the American Hiking Society's website.
Dawn and Dusk Trail Walks
Cerrillos Hills, New Mexico
Two cool guided trail walks. The first will be an early morning trail hike, concentrating on the beautiful flora that grace the hills, but also watching for early birds and late moths.
Then join us for a twilight-to-night walk in the hills. We'll 'listen' for bats with a special device and use our five senses to discover the nightlife in the hills and the heavens above. (New Mexico State Parks)
For more info and events: www.americanhiking.org/NTD.aspx