Outdoor Gifts for Outdoor Kids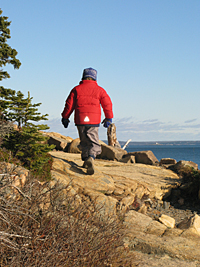 "I'd like to take the whole world home with me."
My son said this yesterday at Acadia while climbing and exploring the rocky coastline, after hiking on the carriage trails, camping out in a virtually-vacant campground, taking a moonlit night walk to the cliffs above the ocean, and marveling at the giant waves at Thunder Hole.
If you know a kid to whom you'd like to give the whole outdoor world, here are a few of my personal gift ideas. The best parts are money-free.
Gear up

I don't believe in buying stuff just because it's the holidays. However, a good gear gift can help get kids (and adults) outdoors and engaged. I'll warn you that kids will naturally want the "real" gear, so don't try to pawn some flimsy toy stuff off on them. They know the difference.
Here are a few ideas to get you started.
Headlamp: Fun and useful indoors or out. We love the Black Diamond Wiz for kids.
Trekking poles: You can buy kid-specific ones, or hand down your old telescoping ones, or even retired ski poles you've cut down; after all, they'll probably be knocked around on rocks and the ground.
A hydration or day pack with reservoir: Fit is just as important for kids as adults. Don't get something too big and expect them to grow into it.
An age-specific emergency kit: My son loves his. He wears a compass and whistle on a lanyard. Inside his pack is an OR Dry Ditty Bag with an emergency bivy, energy bar, e+Lite, straw filter, and a few band-aids. Make sure you only include items a kid can use safely on her or his own. This gift also provides regular opportunities to talk about and work on outdoor skills. (Tip: look through your gear and see what extras you can pass on.)
A journal and/or camera to record their adventures.
There's lots of good quality kid-specific and -friendly gear available: snowshoes, sleeping bags and pads, packs, climbing gear, and so on. Consider your child's age and interest and your budget and go from there. And remember, what moves and inspires your kid, may not be the same as what moves you.
Make a date

Here's the most important part. Now you must go out and use the gear with the kid.
As part of your gear gift, plan specific activities you'll do together. Take a kid hiking, backpacking, camping, skiing, snowshoeing, climbing, fishing, paddling, whatever gets them (and hopefully you) excited. Include a map or guidebook and plan the outings together.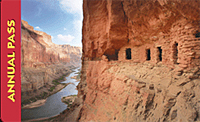 Make it official: plan a winter camping trip or summer backpack, sign up for a series of family hikes, join a climbing gym, draw or print your own activity coupons, register for an educational hike or course together. See if your local land trust, outing club, outdoor store, or other organization offers events.
Just be specific and make the commitment.
Also, consider getting your family a National Parks pass for access to Federal recreation sites that charge entrance fees. Then buy a "Passport to your national parks" and get it canceled at each park or NPS site you visit.


Read
Reinforce those outdoor lessons back at home with books and guides. Books do not have to be kid-specific, just appropriate to the age and interest.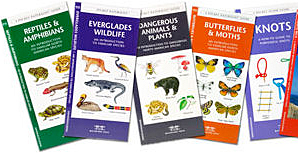 We like Allen & Mike's Really Cool Backcountry Ski Book, books and games about tying different knots, field guides to stars, and guides to animal poop and tracks in the woods. Pocket Naturalist Guides offer simplified field identification and info and are easy to carry along.
Magazine subscriptions, like Ranger Rick, Backpacker, or Rock and Ice, can help keep kids and teens engaged in the outdoors.


Support
For the charity-minded, you can symbolically "adopt" an animal or wild place through non-profits like the National Wildlife Federation or the Sierra Club. The organizations get financial support, and kids get a plush toy or puppet to play with, and info about the animals and environment they're helping to protect. Older kids might appreciate a gift membership in an outdoor organization or non-profit.
While you tend to hear about expensive "must-have" toys each year, I don't think you have to spend a lot to give kids the gift of the outdoors. It's not about the gear, but what you do with it. Find out what activities your kid enjoys or would like to try and support them. See what extra gear you have that a kid could safely use, or what you can borrow. Then pick an outdoor activity or theme and take the time to explore it together. That's a gift you won't find in any store.