First find the whisky, then the butter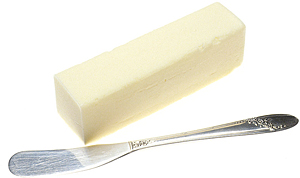 Last month we reported on the crates of McKinlay's "Rare Old Whisky" Sir Ernest Shackleton left behind in the Antarctic ice when he abandoned his South Pole expedition in 1909.
Well, it seems the Antarctic has more vintage food on ice. The Antarctic Heritage Trust recently discovered two blocks of New Zealand butter British explorer Robert Falcon Scott left behind in a hut during his ill-fated 1910-12 South Pole expedition.
According to the AFP, the trust's Lizzie Meek said the butter was a "treasure find."
"It's quite amazing how strong the smell is after nearly 100 years," Meek said at the Cape Evans hut. "I'm not sure I'd want it on my toast."
The hut was the base for Scott's attempt to be the first to reach the South Pole. He and four companions reached the pole on January 17, 1912, only to find that Roald Amundsen had beaten them by 35 days. Scott and his party all died returning to the Cape Evans hut.
via Wend