Seasonal offerings from Clif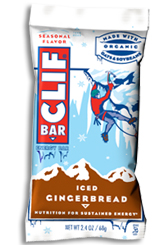 Iced gingerbread, spiced pumpkin pie, and cranberry orange nut bread. Sounds like the lineup on the holiday dessert table, but they're actually the seasonal offerings from Clif Bar.
The bars are available for a limited time, so if you want to pack along some pumpkin pie on your upcoming solstice/Christmas/Boxing Day/Kwanzaa/New Year's/any day winter hike you'll need to visit the Clif Bar site to order some (or hope your local store has them in stock). I haven't had the chance to have one yet, but would give the iced gingerbread a try for the seasonal packaging alone.