National Trails Day coloring contest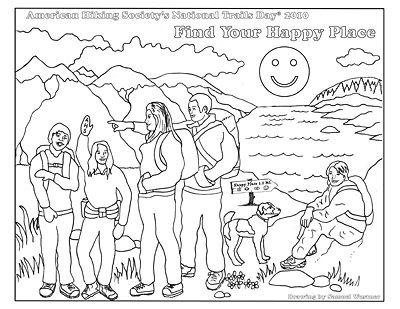 Kids, get out your biggest box of crayons for the American Hiking Society's National Trails Day Coloring Contest. Anyone can color, but only children ages 5-12 can enter the contest. Judging for finalists and prize winners will be based on neatness (50%), use of color (30%), and originality (20%).
One winner will be named for each age category: Age 5 and under; Age 6-7; Age 8-10; Age 11-12. Winners will be featured in American Hiker magazine (only the first name, last initial, and age of winners will be printed) and will receive an outdoor prize pack from The North Face.
To enter:
Download the PDF to color and read the full rules.
Mail entries to:
American Hiking Society, NTD Coloring Contest,
1422 Fenwick Lane, Silver Spring, MD 20910
Or scan and e-mail to: hsable@americanhiking.org
Entries must be postmarked by August 7, 2010.
Limit one entry per person.
PDF of coloring page: www.americanhiking.org/uploadedFiles/Events/National_Trails_Day/NTD-2010-Coloring-Contest.pdf