I'll see you one Clif Bar and raise you some Gorp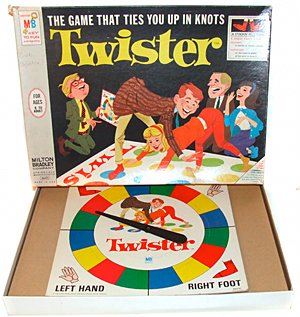 In our family we now have an unofficial tradition of going hiking and camping in the rain (and I mean a lot of rain) every June, and it looks like we'll be keeping the streak alive.
Sure, it's nice to get outside on sunny days, and we do, but given the choice between spending a rainy weekend in a tent or at home, we often pick the tent.
After packing proper clothing and footwear for the kids, I've been thinking about another essential, games. While we like being out in the rain (Puddles to jump in! Rushing streams! No bugs! No other people!), since our family of four will be spending two straight weeks in one four-person tent later this summer, entertainment could become an important factor in family harmony.
So, I've been wondering, calculating for size, weight, and the fun factor, what are the best (non-electronic) games for backpacking and camping families bound together in one four-person tent? Is it cards (unlimited possibilities), Uno, trivia, travel chess or checkers, knot tying games (potentially fun and educational), or Left-Right-Center (a favorite of ours), and how well would a Twister mat fit in an REI Half Dome 4 HC?

The search for the ultimate, lightweight, packable tent games is on. Share your favorite, family- and trail-friendly games below.