Outdoor Nation Ambassador: Stefanie Argus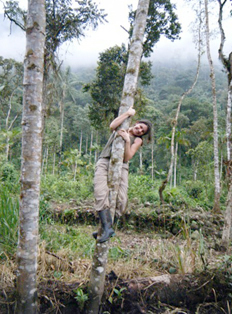 This weekend, Outdoor Nation is holding its first, youth-led Outdoor Youth Summit and Festival, with 500 youth delegates in Central Park.
You don't have to be a kid though to be inspired by Outdoor Nation's original ambassadors, like Stefanie Argus.
Argus has been involved with Girl Scouts since the age of five, at the local, national, and international levels. As a summer camp counselor she leads backpacking trips on the AT and hiking treks in New Hampshire's White Mountains. She's organized canoeing trips in the Berkshires and sailing adventures in the Adirondacks
Says, Argus:
"Many of the girls participating had never worn a pair of hiking boots and most had never brandished a canoe paddle before. Lots of girls are not fully prepared for all the 'camping' that goes on at camp, and many of my trips have involved grueling, hard conditions. When it comes down to it, though, the resiliency and spirit of these girls is admirable. I have seen girls acquire a smorgasbord of outdoor-oriented 'hard skills,' but the true testament to their inner strength is their willingness to tackle new challenges.
"To be able to change the lives of young girls during those three months against the backdrop of mountain, lake, and sky is monumental for me. Indeed, 'camp magic' inspires me throughout the rest of the year."
For more info on Outdoor Nation: www.outdoornation.org