Outdoor Nation Ambassador: Sage Donnelly
This weekend, Outdoor Nation is holding its first, youth-led Outdoor Youth Summit and Festival, with 500 youth delegates in Central Park. You don't have to be a kid though to be inspired by Outdoor Nation's original ambassadors, like Sage Donnelly: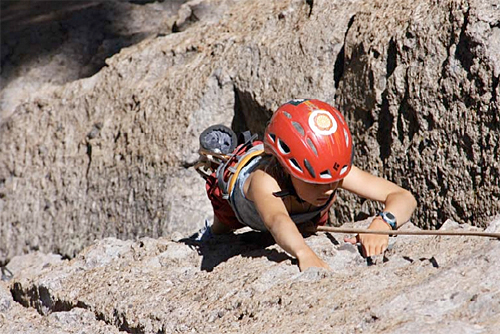 Donnelly was alpine skiing by 18 months and rock climbing and kayaking in a tandem by 2. By the age of 5, she had skied her first double diamond, climbed her first multi pitch climb, and paddled down class 2 rivers in her own kayak. At 7, she ran 144 miles out of 226 of the Grand Canyon section of the Colorado River, up to class 7. Now, at the age of 9, she participates in ski races, has climbed the eight-pitch, 5.7 route, Snake Dike on Half Dome in Yosemite, and runs a variety of class 3 and 4 rivers.
Donnelly, who was diagnosed with Type 1 Diabetes at the age of 3 and Celiac Disease at the age of 8, has a motto, "Nothing should stop you from having fun!"
Says, Donnelly:
"As an avid outdoor lover, I get very sad when I see lots of adults out doing activities and find out their kids are at home with a sitter or at a friend's playing video games instead of outside playing. I want to let people know that kids like to be outside having fun too, and doing things as a family is more rewarding for everyone!"
For more info on Outdoor Nation: www.outdoornation.org