New Feature: Genders Unblended
For a long time, the Trailspace product database has contained information about men's, women's, and kids' versions of many of the thousands of outdoor products reviewed on the site. However, that information has largely remained hidden from public view.
Today that changes. We're exposing all of the information we have about gendered versions of products (for example, jackets, packs, boots, skis, and other backcountry gear), making it easier to find, compare, and learn about gear that's right for you, whether you're looking for a men's pack, women's AT skis, or a climbing harness for your kid.
Here are the major changes that you'll see:
Product pages:

In the past, descriptions, reviews, and retailers for different versions of a product were all lumped together on one page. It was often hard to tell if a review referred to the men's or women's version, or indeed if there even were different men's and women's versions.
Now if you're looking at, say, the Marmot DriClime Windshirt, you can easily view the information for all versions, or narrow it down to read reviews and compare prices for just the men's version or just the women's version. For products that have more than one gender version, look for the tabs (shown above) across the top of the product page.
We think that this offers the best of both worlds: you can easily focus in on exactly the gear that's right for you, while keeping relevant reviews for other versions of the same product just a click away.
Product lists: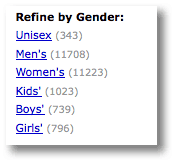 You've always been able to filter product lists by gender, but we've made that even more powerful as well. Where previously you were limited to men's, women's, and kids' categories, you can now also refine by unisex, boys', and girls' products.
And with the improvements to the product pages, each link in a list of women-specific gear (for example) will take you directly to information about the women's version of that product.
We've done our best to make the access to this information as simple and intuitive as possible. But as with any major change, there are bound to be growing pains. If you notice anything that looks strange or is hard to use or understand, please post a comment on this post, post in the feedback forum, or email us at feedback@trailspace.com, and we'll get on it right away.
This update couldn't have been accomplished without the insight, patience, and coding skills of Scott Woods and John Marino at West Arête Computing, who spent many hours beating our unruly database into submission and patiently responding to every creeping feature request. Thanks, guys!