Leonid Meteors Peak November 17 and 18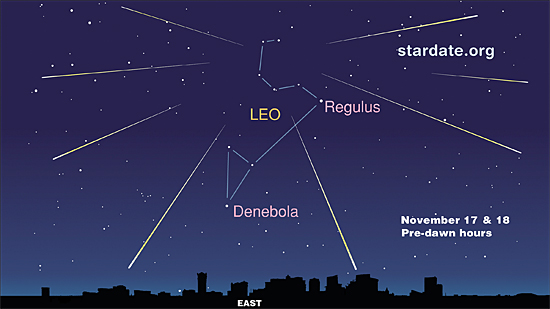 Get up very early Wednesday or Thursday if you want to wish on a shooting star. This year's Leonid meteor shower is expected to peak in the two to three hours before dawn on November 17 and 18, according to StarDate.org. A nearly full moon will wash out many of the meteors at night, but will set a few hours before dawn for better viewing.
Viewers can expect to see at 15 to 20 meteors per hour if they have clear, dark skies. Leonid meteors appear to fall from the constellation Leo, but actually are leftover debris from the comet Tempel-Tuttle. As the comet orbits the sun, it leaves a trail of debris. The Leonid meteors recur each year when Earth passes through the comet's debris trail.
If you miss your early morning wake up call, you can try again December 13 and 14 for the Geminids Meteor Shower, when you might view 60 or more meteors per hour. There's also a total lunar eclipse after midnight on the morning of December 21.
via StarDate.org