Links and News from the Outdoor World
Here's a round-up of links to some recent outdoor news. Ponder and comment away over the long weekend, when you're not spending your free time outside, of course.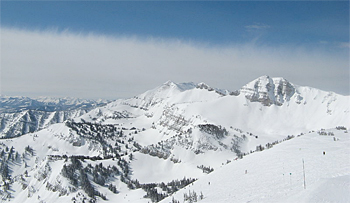 Police stymie Jackson Hole skier's ascent
Sheriff's deputies arrested pioneer backcountry skier Roland Fleck at Jackson Hole Mountain Resort, and ski patrollers tobogganed him off the mountain in handcuffs after he refused to stop skiing uphill.
Read the full article at Jackson Hole News&Guide. (via WildSnow)
Washington's state Legislature is considering a bill that would make out-of-bounds skiing at ski areas a civil infraction that could result in a $1,000 fine. Sen. Jim Kastama, a ski patrol volunteer, says the bill would not prohibit people from going into the backcountry to ski, but would help patrolers keep skiers out of restricted zones, such as during avalanche control.
Read more in seattlepi.com.
Access Fund wants input on NPS fixed anchor proposal
The National Park Service has released an updated draft of its wilderness management policies. The update covers a wide range of topics including provisions specific to climbing fixed anchors. The Access Fund is soliciting input from the climbing community to inform its policy position on this issue.
Take the Access Fund's survey.
Copp-Dash Inspire Award: $20,000 in grants awarded for climbs

The Copp-Dash Inspire Award helps support small teams tackling difficult climbs in the great mountains of the world. Send completed applications to the American Alpine Club by March 31, 2011.
Read more about the AAC grant.
Black Diamond to launch outdoor technical apparel for fall 2013
Black Diamond is targeting fall of 2013 as a possible launch time for an outdoor technical apparel brand, expressing the view that both apparel and footwear represent significant long term opportunities to extend the Black Diamond brand.
Read the full article in Outdoor USA.
N.Hoolywood's wind-clapped turn of the century climber collection
Racked.com covered N.Hoolywood's alpine-inspired collection from New York Fashion Week:
The show opened with a series of gusting wind sound effects as models emerged from some sort of glacial backdrop. The models: Weather-clapped, sunburned, mostly heavily-bearded, aging (made up to look aging, at least), walking slowly and stunned, wielding axes and rope and tremendous rucksacks.
Check out the runway pics on racked.com.