Boulder tops "America's 15 Most Active Cities"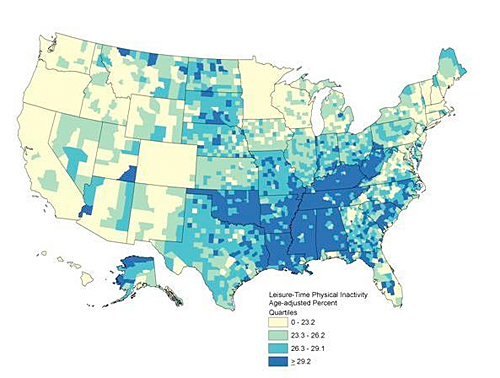 Congratulations, Boulder, Colo. According to Time, you are the most active city in the United States.
Time looked at research by the Centers for Disease Control and Prevention (CDC) that estimated what percentage of adults in every U.S. county got no physical exercise in their free time.
Inactivity rates ranged from 10.1 to 43 percent, with counties in the South and parts of Appalachia faring worst (Kentucky had four of the five least active counties, according to the CDC). Mountainous and coastal regions of the West and Rockies fared best (Colorado had the top four counties).
To determine the most active cities, Time looked at counties with the lowest levels of inactivity and defined some parameters (read more on the methodology). After Boulder on the "most active" list came Santa Fe, N.M.; Medford, Ore.; Santa Cruz, Calif,; and Boise, Idaho.
The CDC map (above) shows leisure time inactivity. Yellow indicates counties with 23.2 percent or less inactivity (more active areas); dark blue indicates 29.2 percent or greater inactivity (less active areas).
Read "America's 15 Most Active Cities" on time.com
Read "Facts About County-Level Estimates of Leisure-Time Physical Inactivity" on cdc.gov