Tourists walk on Yellowstone's Old Faithful geyser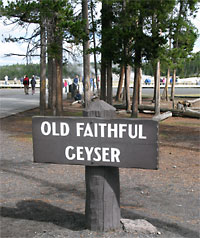 These people are lucky they weren't seriously burned. Someone in Wisconsin watching an Old Faithful webcam saw 30 members of a tour group walking on the famous geyser's cone to get a very close look. The webcam watcher notified Yellowstone rangers, who removed the group and fined the leaders.
The tourists claimed they didn't see the signs, in multiple languages, that spell out the dangers of thermal areas and the requirement to stay on boardwalks and trails.
I've been to Old Faithful. There are many prominent signs and information. I think you'd need to be willfully obtuse to decide to take a stroll on top of a geyser.
Of course, the park also hands out plenty of info about not approaching wildlife, and that doesn't dissuade some visitors from trying for a bison photo opp.
Update: The video above has been removed from YouTube. Currently, you can watch the same or a similar video on the Bozeman Daily Chronicle.