Find the $15,000 Gear Stash in North America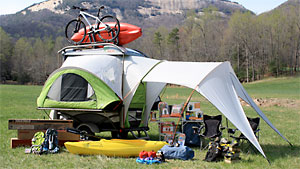 There are so many gear contests out there, we tend to skip over most. But FindTheGO is worth mentioning, because somewhere in North America is hidden $15,000 worth of outdoor gear and a camping trailer from Sylvan Sport, Black Diamond, Kelty, Keen, Emotion Kayaks, SPOT, Niner Bikes, Yakima, and Grand Trunk.
Each week, for eight weeks, a video clue with geo-coordinates and a verbal clue is posted on www.findthego.com for participants to zero in on the final location somewhere in the U.S. or Canada. The final clue will give the exact location. First person to find the actual prize location with the proper password/phrase is the grand prize winner.
Seven clues been revealed so far, which means a large portion of the continent can now be ruled out. Some caveats: You have to sign up with your email address to view the clues, and opt-out of marketing materials from nine different sponsors during registration.