Did Earl Shaffer shortcut first Appalachian Trail thru-hike?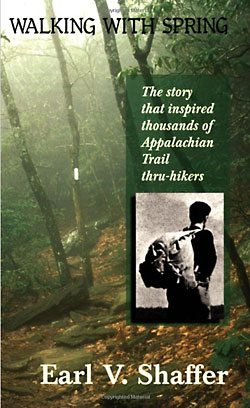 In 1948, Earl V. Shaffer, a WWII veteran, completed the first recorded thru-hike of the Appalachian Trail. But, a recent report from West Virginia hiker and lawyer Jim McNeely questions Shaffer's historic hike and whether the famed thru-hiker bypassed 170 miles of trail.
After examining Schaffer's book, Walking with Spring, Schaffer's personal trail journal, and the report he submitted to the Appalachian Trail Conservancy, McNeely is questioning whether Shaffer's hike counts as a true thru-hike. For AT hikers, this is analogous to questioning whether Neil Armstrong was the first man to walk on the moon.
Thru-hiking is usually defined as walking every mile of the Appalachian Trail in one season (2,050 miles for the AT in 1948), although different definitions exist within the AT community.
For McNeely, hours of very close reading of Schaffer's journal revealed that Shaffer may have missed the official southern terminus of the trail, accepted rides to skip segments of the trail, and took several long detours of the official route, missing at least 170 miles of trail.
ATC spokesman Brian King says the Appalachian Trail Conservancy was skeptical in 1948 that the trail could be through-hiked, but Shaffer's hike was accepted by the organization only after a careful examination by two dubious board members.
"I don't think you can contest that he walked from Georgia to Maine," King said of Shaffer. "Where exactly he walked, I think that is what Jim is contesting."
Read more in the July 27th Roanoke Times article and Jim McNeely's 158-page report.