Sierra Names Nation's "Coolest" Green Schools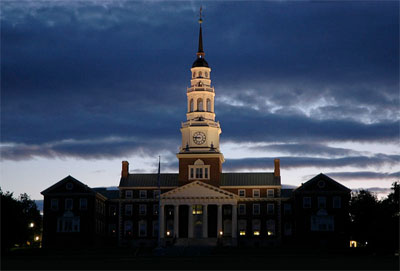 Know an outdoorsy, environmentally-minded high school student looking at colleges? Show him or her yet another ranking list, this one Sierra magazine's annual list of the nation's "Coolest Schools."
Sierra ranked university programs for green efforts, sustainable initiatives, and immersive environmental education.
Check out the top schools for 2011 below to see how your favorites fared:
University of Washington (Seattle, WA)

Green Mountain College (Poultney, VT)

University of California, San Diego (San Diego, CA)

Warren Wilson College (Asheville, NC)

Stanford University (Stanford, CA)

University of California, Irvine (Irvine, CA)

University of California, Santa Cruz (Santa Cruz, CA)

University of California, Davis (Davis, CA)

Evergreen State College (Olympia, WA)

Middlebury College (Middlebury, VT)

University of New Hampshire (Durham, NH)

Appalachian State University (Boone, NC)

Colby College (Waterville, ME)

Western Washington University (Bellingham, WA)

University of California, Los Angeles (Los Angeles, CA)

University of Connecticut (Storrs, CT)

Clark University (Worcester, MA)

Cornell University (Ithaca, NY)

Bowdoin College (Brunswick, ME)

University of Maryland (College Park, MD)
Don't see a favorite above? Wondering why a rival school ranks higher than your alma mater? The complete rankings are available at www.sierraclub.org/coolschools.
The same issue of Sierra also has an interesting article "A Semester in the Woods" about St. Lawrence University's Adirondack Semester program.