Write Gear Reviews, Get Smarter
Write Reviews Online.
That sage advice was number 30 on Newsweek's list of "31 ways to get smarter — faster," in the January 9 & 16 issue. The sidebar to the cover feature "Buff Your Brain" claims "typing out your opinion will help you to better understand your own thinking."
If you're reading this and thinking, "Gee, I'd like to get smarter faster," then today —and every day — is your lucky day. We can help. Write a review of your outdoor gear and apparel right now on Trailspace. You'll not only be raising your IQ* (maybe), you'll be helping other backcountry enthusiasts choose the right outdoor gear (definitely). Win-win.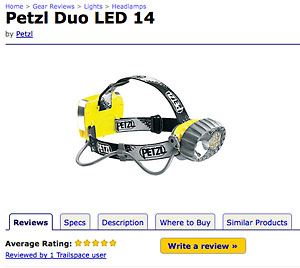 To write a gear review:
You also can add updates to your existing reviews. (How did that pack's hipbelt hold up? Did you ever fix the tent's zipper? Don't leave us hanging, folks!)
To update your reviews:
Go to your existing review.
Click "Add an update to this review" at the top of the review page.
Don't see the backcountry gear or brand that you want to review listed?
Want some tips before typing out your opinions?
Conveniently, number 31 in the Newsweek sidebar (unfortunately not online) advised getting out of town for some time in nature and number 3 said "look for an activity that raises your heart rate and requires a lot of coordination" to boost the brain power. You should also become an expert, zone out, hydrate, drink coffee, and eat turmeric and dark chocolate (though not necessarily together).
Sounds pretty much like a good time outdoors.
So get out there. Get the heart rate up hiking, climbing, skiing, trail running, whatever. Use your backcountry gear well. Take in some dark chocolate and camp coffee while you zone out later in base camp.
Then share your experiences and opinions in a Trailspace user review now — or anytime you want to enhance your gray matter.
*Trailspace makes no claims about any connection between writing reviews and raising your IQ. But one can hope.