Meet Pillowthread, Trailspace's Reviewer of the Month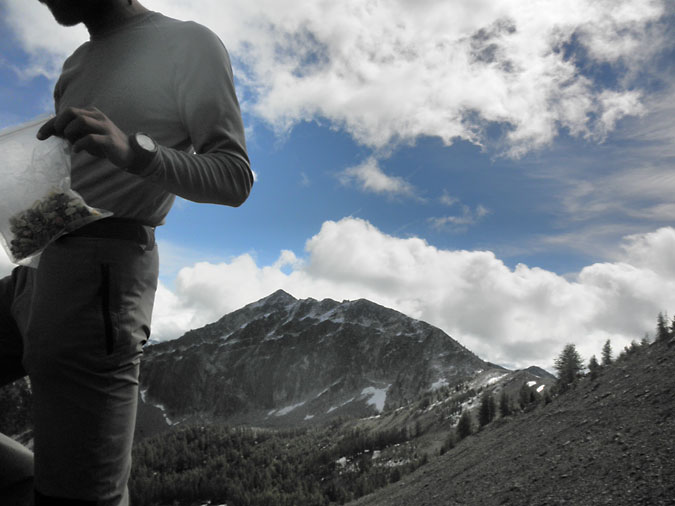 Congratulations to community member Pillowthread (aka Vincent Contreras). Vince's Killer Review of the Vargo Titanium BOT Bottle Pot was voted one of January's most helpful reviews by the Trailspace community.
Congratulations, Vince! You win a goodie pack of gear from Rocky, ProBar, Nature's Coffee Kettle, and Ibex and Trailspace for your most recent effort.*
Write your own helpful gear review and you could be next month's most helpful reviewer.
Meet Vince
How did you get started exploring outdoors? Any favorite stories, memories?
My appreciation for all things out-of doors has its roots in both my own hyperactive imagination and my mother's stalwart insistence that I "go outside and play."
I got bored very easily as a kid, and would often introspect and then draw the fantastical scenes I imagined…pretty stock kid stuff. My mom, in her infinite wisdom, would literally lock me out of the house on Saturdays and Sundays, telling me, "Come back when it's dark."
I soon found out that if I was willing to pay enough attention, entire worlds surreal beyond my imagination could be found just outside my doorstep, if veeeeeeerrry tiny, sometimes-hard-to-find worlds.
One of my most memorable experiences as a young kid—type 2 fun, mind you—came during my first "long-distance" hike as a Scout. The walk, if I remember correctly, is a 21-mile route from a small town a ways outside Springfield, Illinois, to Springfield, Illinois. They called it the Lincoln Trail, and it whooped my 10-year-old butt.
A mostly wooded trail, with a bit of meadow and some road, I did it with a group of Scouts much older than me. They were doing it to meet the requirements of either more advanced ranks or merit badges; I had just received my Arrow of Light, and was just about brand new to the troop, excited to impress my new peers and take a hike longer than I could fathom. I can still remember about halfway through, apologizing to the Scoutmaster that I was swearing so much.
What do you enjoy doing outdoors now?
I consider a good outdoor experience one that helps me to dissolve the distinction between subject and object. I suppose that in many ways "I" am not present when my body appears to instinctually halt when a certain breeze surrounds me on the trail.
I am not conscious of the things that happen when dodging trees on my snowboard. I do not get mad at myself when a sketchy foot placement pitches me off the rock roof for the thirteenth time, just as I do not get mad at the rock.
It sounds cliché, I know, but the experience is probably best termed spiritual or religious in the same way Meister Eckhart and D.T. Suzuki used the words.
What are your favorite outdoor sports?
Hmmm…is backpacking a sport? Have to think about that one a bit.
OK, favorites: climbing (things of all sorts), snowboarding/skiing, bushcraft/native skills techniques, adventure racing, and just general see-how-far-I-can-go-before-I-pass-out type masochism.
Well, it was new to me, and I immediately appreciated it for reasons other than its novelty.
I enjoy creating things, and have an appreciation for things I see as well-realized examples of ideas. Even Ideas, you know? In the Platonic sense…this BOT thing has always had a corresponding Idea—heck, it's been in my head (and all of our heads) since time immemorial—and only just now do I get to hold it in my hand! Out of the cave and into the light!
What are your favorite pieces of outdoor equipment? Why?
Simple, multifunction, jack-of-all-trades and master-of-none type of stuff. I find I don't own much highly specialized gear, except for where function dictates it. A lightweight, breathable windshirt is virtually indispensable for me, as is a thin beanie.
I don't mind carrying heavier gear if I know it'll save me what I call "fiddle factor," and I don't want to deal with the extra hassle of, say, staying with my stove every second of the way as it's burning, or readjusting tensioners multiple times a night.
Then again, I find well-designed gear to be lightweight by nature. I suppose my most useful piece of gear is my Integral Designs SilWing: a smart, versatile, wind-shedding design, simple construction, and easily enough coverage to use without a bivy. I have a good memory of a weeklong, late-spring rainstorm in the mountains of West Virginia…soaked bags, collapsed tents, and shivering peers…and myself, perfectly dry and comfortable, making cocoa for those shivering under the shelter.
Tell us about your favorite outdoor spots.
I enjoy backpacking and climbing in the Shawnee Hills of southern Illinois probably more than any other place. Then again, I've been missing the Grand Junction sandstone quite a bit lately. Thankfully, I'm taking a trip of sorts over the next couple of months to do a bit of exploring around Colorado, California, and really just wherever the rock looks good.
Anything else you'd like to share with the Trailspace community?
Hike your own hike.
---
Great job, Vince!

*Besides Trailspace glory and appreciation, Vince gets a goodie pack with a Trailspace beanie, a Trailspace pint glass (for après-backcountry use), a Trailspace-Ibex Zepher Skull Cap; ProBar energy bars and wicking top, A Nature's Coffee Kettle sample, a Rocky SV2 Survival Grenade emergency survival kit, and Trailspace stickers.
Wondering how you can be as lucky as Vince? Write a great gear review of your own. Next month the Trailspace community will recognize another reviewer (who'll win prizes), and it could be you and your gear review.
Help recognize the best reviews on Trailspace by clicking that up arrow whenever you read a truly helpful review. You'll not only recognize good reviewers, you'll help highlight the best reviews of products for other members looking for outdoor equipment.