Meet Jake, Trailspace's Reviewer of the Month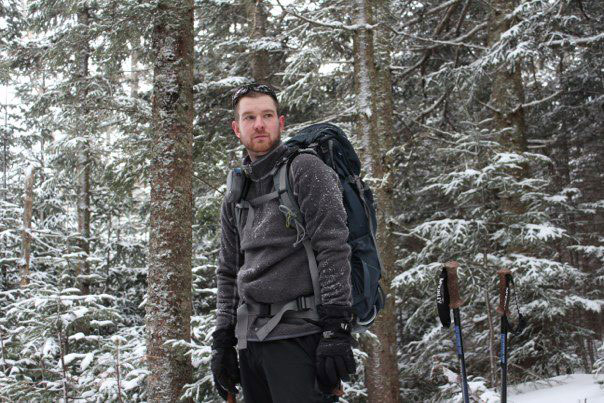 Congratulations to community member Jake W. Jake's Killer Review of the Wild Things Custom Insulight Jacket was voted February's most helpful review by the Trailspace community.
We're calling February "The Month of Jake" here at Trailspace. First, he won a Trailspace-Ibex beanie for sharing his sticker pics. Next he won a Solite 250 headlamp from Light & Motion as the randomly selected reviewer of that giveaway. Then, the community voted his Wild Things review the most helpful of the month. Wow!

Congratulations, Jake! You win a goodie pack of gear from Innate, GU, ProBar, and Trailspace for your most recent effort.*
Write your own helpful gear review and you could be next month's most helpful reviewer.
Meet Jake
How did you get started exploring outdoors? Any favorite stories, memories?
I owe my love of the outdoors to my family, in particular, my dad. He got his forestry degree from Lakehead University, here in Ontario, and would always drag me along on the new outdoor activity he wanted to try.
As I grew up I got more involved in organized sports— basketball, baseball, and soccer—and had a short hiatus from the outdoors. It wasn't until I moved away from home and decided I wanted a dog (Rocky) that I got unknowingly hooked again.
Being outdoors with him became my detox time. If you are outdoors, and present, it is almost impossible to not fully relax and breathe it all in. As life became more hectic and fast paced I realized more and more that I needed that time to unplug, and he needed that exercise. Two birds with one stone I guess!
It has now come full circle and I drag him along in my latest interests!
What do you enjoy doing outdoors?
If it's outdoors and physically active then I've enjoyed it at some point or another! Hiking, rock climbing, ice climbing, mountain biking, trail running, and most recently I've become more interested in mountaineering. That's a challenge in itself. Living in Toronto doesn't afford a whole lot to the aspiring mountaineer. Luckily the Whites are a day's drive away and I've been fortunate enough to get there at least twice a year.
I was initially interested hearing that there was a custom aspect to the jacket. Being that the review was for the corps I didn't know who manufacturer was at first, but was excited to hear later on that it was from Wild Things, as I have known of their quality for almost 15 years now.
What are your favorite pieces of outdoor equipment? Why?
Favourite piece of equipment? That's tough; I'm a bit of a gear head.
My tent, a Hilleberg Unna, is right up there. I've got an unhealthy amount of love for fine leather boots and have now amassed a pair of Zamberlan Vioz, Pivetta 5s and Limmer Light Weights.
On a sentimental note, my uncle is a well-known knife maker and he has handed down to me the knife he received as a wedding present. I know the importance of that knife to him and don't take that responsibility lightly.
Tell us about your favorite outdoor destination.
It's a tie between Killarney, Ontario, and North Conway, New Hampshire. They are completely different in what they offer to the outdoor enthusiast.
Killarney is still a tiny town of 500 hiding one of the most rugged, untouched, beautiful places I've ever been, while North Conway has Mt. Washington as a playground, and the knowledgeable guides to make sure you're learning and enjoying it safely!
Anything else you'd like to share with the Trailspace community?
I'd like to thank Trailspace, the Review Corps, and Wild Things for the opportunity to test this product, and also the members of this community.
I, like many I believe, found this site looking for a review of a particular product, and have stuck around because of the people here. There is a wealth of knowledge and an eagerness to help others. On many occasions I've seen people offer to ship products to other members when it is unavailable in their area.
It's rare to find those type of people in this world, let alone on the Internet, anymore!
---
Great job, Jake!

*Besides Trailspace glory and appreciation, Jake gets a goodie pack with an Innate Mentor Storage Sack, a selection of ProBars, GU Recovery Brew Drink, and Trailspace stickers.
Wondering how you can be as lucky as Jake? Write a great gear review of your own. Next month the Trailspace community will recognize another reviewer (who'll win some prizes), and it could be you and your gear review.
Help recognize the best reviews on Trailspace by clicking that up arrow whenever you read a truly helpful review. You'll not only recognize good reviewers, you'll help highlight the best reviews of products for other members looking for outdoor equipment.