Meet Joseph Renow, Trailspace's Reviewer of the Month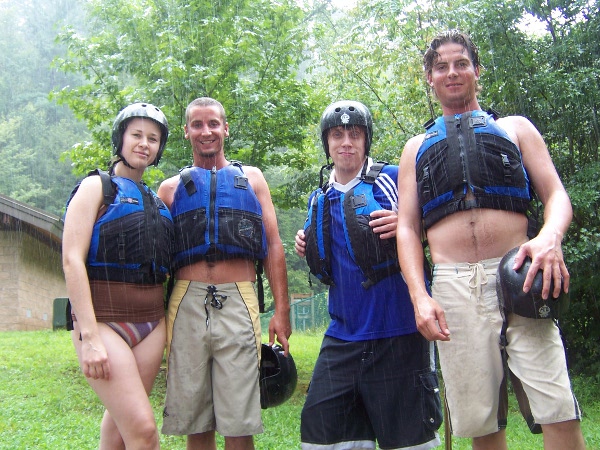 Congratulations to community member Joseph Renow, Trailspace's newest Reviewer of the Month!
Each month we recognize and get to know a different member of the Trailspace community and this month it's Joseph (second from right above), an avid paddler whose gear reviews were among the highest rated by the community in August.
Congratulations, Joseph! You win a goodie pack of gear from Kind, Klymit, and Trailspace for your contributions.*
Join the Trailspace community in recognizing other helpful reviewers by voting up the reviews you find most useful. Write your own helpful gear reviews and you could be our next Reviewer of the Month.

---
How did you get started exploring outdoors? Any favorite stories, memories?
The truth is my initial foray into camping had more to do with avoiding adult supervision than getting closer to nature. I suspect that this might be the case for a lot of younger people.
I have always loved being outdoors and had strong interests in the biological sciences, particularly ecology, but initially it was more about getting out with friends and having a good time than it was about the connection between the senses and our planet, which I find so rewarding now.
What do you enjoy doing outdoors?
The outdoors is a lot like hot sauce, it just makes everything better!
I tend to spend most of my summers kayaking and canoeing as much of our country's most beautiful rivers and streams and lakes as I can. I have done this for about 20 years and I hope to one day float all of our National Scenic Riverways.
But getting out as much as possible is the most important thing, so I often spend time on the same rivers week after week.
More recently, the last three or four years, I have been doing a lot more hiking, mostly because the move to multi-day kayaking trips led me towards lighter weight camping. So hiking became a truly enjoyable activity for the first time.
Other activities I enjoy outdoors are bike-camping and sea kayaking. I do not enjoy mountain biking as much as I do walking, so I tend not to bike-camp as much as I backpack, but I suspect that if I were to get a nice road bike I would very much enjoy touring for long stretches or possibly across the country.
As far as sea kayaking, I am still very new to it, but I hope to circumnavigate the Keys later this winter and eventually kayak through the Inside Passage. But the cost of sea kayaking (mostly because I live so far away from the coast) is prohibitively expensive. So for me sea kayaking is more on the agenda than imminent, unless a member of Trailspace has a great deal on a used sea kayak?
Tell us about your favorite outdoor places.
I already hinted towards the National Scenic Riverways, but in general I prefer small and fast flowing rivers, usually in areas where the soil and terrain make agriculture too difficult to mechanize to the degree it has in my home state of Indiana.
Due to proximity (four to five hours) and quality (spring fed) I spend a lot of time on Ozark rivers like Current and Jack's Fork and Eleven Point.
But some of my absolute favorite rivers are the Croix (remarkable fauna) and New (third oldest river in the world). In fact I enjoyed the New so much I am planning a "three states in five days" (over 300 miles) kayaking trip. So message me if this is something you would be interested in!
As far as backpacking and hiking, I have mostly ventured out onto trails relatively near me (River-to-River Trail and Adventure Trail and Knobstone Trail), though I have been hiking in Hawaii and Washington and Tennessee. So right now, all of these are my favorite places to spend time.
What's your perfect outdoor day?
One of the things I like about the outdoors is the unpredictability, the slight — or dramatic — variances from one day and trip to the next. But any day that ends with me being warm and well fed with a sky full of stars above is usually a grand day.
What are your favorite pieces of outdoor equipment? Why?
I must admit, I am not really into gear that much. I mean I think about gear A LOT, but for me gear is the means not the ends.
However…some of my favorite gear is clothing. Why? Because I find clothing is the best way to save weight and add versatility to your kit (bugs, warmth, dry, sun, and storage, etc.).
Of course you cannot cook with clothing (well you could, but using your clothing for fuel would be very wasteful, well in most cases it would) and you cannot really eat it. But otherwise I find clothing is the gear I rely most heavily upon.
Giving clothing a lot of thought has significantly improved my outdoor experience. I find it odd that we spend so much more time discussing sleeping bags and tents than we do clothing given that we use clothing the entire time we are outdoors (at least the kind of camping I do), while only using our tents and bags a small part of the time we are out.
Have any stories to share about your gear?
One of my favorite gear stories that comes to mind has to do with my trusty duct-taped rafting paddle. I had unfortunately broken the paddle (a Carlisle—not manufacturer's fault) on one of the first sets of large rapids on the upper section of the Ocoee River. This might not have been a very big deal (even fortunate if it had been part of a larger group), but there were only two of us in the raft!
To make a short story shorter, using some of the duct tape I had wrapped around the shaft of my paddle to provide some extra grip, plus and a strong green limb, I fashioned a surprisingly effective—if not terribly ugly—paddle.
The hope was for the paddle to make it to the start of the lower section, but the paddle remained stiff all the way down to our car at the lower takeout! I was so attached I kept it in my garage for several years.
What motivated you to share your outdoor gear reviews with the Trailspace community?
Well, the quality and faults of gear are not always obvious and fixed from one person to the next. Perspective and use makes a lot difference.
So while I do not think of myself as an expert, I do think about and evaluate the effectiveness of everything I bring (including practices) into the outdoors and this thoughtfulness (I hope) will help others think about and evaluate their own gear—as well as gear they do not have—so that they might improve their experiences in the outdoors, add insights of their own, and in return improve my experiences.
Where does your username come from?
My user name, jrenow, is decidedly lacking in all creativity, it is my university user-name—wow! That makes me sound terribly uninteresting.
Anything else you'd like to share with the Trailspace community?
I look forward to participating more in the future and I think communities like Trailspace are critical for outdoor activities given that it is often difficult to find others who share our level of passion for the outdoors and also live near enough to engage with in person (physical co-presence).
---

Great job, Joseph!

*Besides Trailspace recognition, Joseph gets a goodie pack with a Klymit Kinetic Khameleon Vest (worth $175!), tasty bars from Kind, a Trailspace Trail Runner Cap, a Trailspace pint glass (for après-backcountry use), and Trailspace stickers.

Wondering how you can be as lucky as Joseph? Write some great gear reviews of your own. Next month the Trailspace community will recognize another reviewer (who'll win some prizes), and it could be you!
Help recognize the best reviews on Trailspace by clicking that up arrow whenever you read a truly helpful review. You'll not only recognize good reviewers, you'll help highlight the best reviews of products for other members looking for outdoor equipment.
Check out past Reviewers of the Month.