ALPS Mountaineering
Zephyr 2.0
8

reviews

5-star:

3

4-star:

4

3-star:

1

2-star:

0

1-star:

0
Specs
Weight
4 lb 12 oz

Tent Area
31 sq ft

Vestibule Area
17 sq ft

Sleeps
2

Reviews
For Scouts, it's the lightest double-wall tent I found…
Rating:


Source: bought it new
Price Paid: $105 through their program for Scout troops

Summary
For Scouts, it's the lightest double-wall tent I found in its price range.
Pros
Lightweight for design and price
Lots of ventilation
Two doors, each with a vestibule
Setup:  It's very easy to set up and free-standing. Two long poles crisscross over the middle and a small pole helps spread the roof. The biggest inconvenience are the sleeves at the top of the tent. The rest attaches with clips. The fly buckles to the tent with adjustable straps. A minimum of two stakes are necessary to create the vestibules with the fly. 
Stability: The tent pitches tautly and is stable in the wind. I haven't used it snow or heavy rain. 
Weather Resistance: I've only used it in light rain and haven't had an issue. Seams are taped. The top of the roof appears to create a flat triangle, I don't know if it would gather water in a storm. 
Ventilation: The walls are entirely mesh. The fly also has a vent with a stiff velcro bar to keep it open on one side and a mesh panel near the head with a flap to keep out the rain. 
Room and Storage:  The tent is designed for two people. There is room for two people to lie down and sit up.  When sharing the tent with someone on a 25" wide air mat, there was a little overlap over my 20" wide foam mat. Each vestibule is big enough for a pack and shoes or boots. There is a small plastic window in each door to see out. 
Packability: I felt that the tent packed relatively small. It is a double-wall tent with poles and weighs under 5 pounds. I haven't weighed or measured the packed tent.
Construction and Durability:  It feels well made, though I've only slept in it for six nights. 
Conditions: I bought it a year ago and have used it on five different occasions in the spring and summer. I haven't used it in heavy rain or other bad weather. 
Great tent for moderate to warm weather. This is a…
Rating:


Source: bought it new
Price Paid: $100

Summary
Great tent for moderate to warm weather.
Pros
Strong, durable
Very vented
Quick setup
This is a great tent for summer camping/backpacking.
I have taken this tent on a couple of weekend backpacking trips and it fits in my pack with all the rest of my gear.
I have used it just for me, and have had a tent mate, and there was still sufficient space for both of us.
It breathes really well, which is great in the heat, but is essentially a 60 degree + outdoor temperature tent. If it gets much cooler outside you would want something with a little less ventilation.
It is very easy to set up. Normally I do it by myself and don't struggle at all getting it set up, and it only takes a couple minutes alone.  
Last year we were out camping when a HUGE storm hit (lots of wind and rain) and this tent stayed up, with no bent poles.
I am VERY happy with this purchase after a couple years of use.
I like this tent, not ultralight but reasonable weight…
Rating:


Source: bought it new
Price Paid: $100

Summary
I like this tent, not ultralight but reasonable weight for the price.
Pros
Aluminum poles
Roomy
Vestibules are large
Window is nice feature
Well vented
Easy to set up
Hasn't leaked
Well made
I have used this tent a few times so far, and have had nothing but good experiences.  It fits myself, my girlfriend and my 70 lb dog no problem. The walls are pretty straight up, so you don't have to worry about your face being in the tent side like some standard dome tents.
It's well made, especially for the price. Cool looking tent with a ton of vestibule space. Very well vented. It's a little heavier than other 2p backpacking tents but it's made very well and is quite roomy, I would recommend it.
Good small lightweight tent. Perfect for any outing.
Rating:


Source: bought it used
Price Paid: $75

Summary
Good small lightweight tent. Perfect for any outing.
Pros
Lightweight
Easy to setup
Great ventilation
Cons
Packs a bit big for backpacking
I bought this tent for a backpacking trip last year and it delivered. Had great ventilation and was just big enough for me, my wife, and our 2 beagles to all sleep comfortably.
We had traversed 21 miles on day 1 of our trip and by the time we decided to setup camp, it was dark and we were scrambling to get setup.  This tent took no time to throw up even in the dark with virtually no light.
We were happy with our purchase and would certainly reccommend it to others. 
Hard to find much to complain about here given the…
Rating:


Source: bought it new
Price Paid: $80

Summary
Hard to find much to complain about here given the price. Excellent bang for your buck.
Pros
Easy to pitch
reasonably light
quality construction
Cons
Tight squeeze for 2 large adults
Really happy with the Zephyr 2. My other tent is a larger Big Agnes and I would say that the quality is actually close to comparable between the two, though the Alps Mountaineering tents are much less expensive — quite impressed with the bang for buck here.
Wanted something light enough to pack and carry by myself when tenting solo for a day or two, but big enough for me and my son, and this fit the bill. However, I'm 6'2" and wouldn't want to spend a night in the Zephyr 2 with another adult unless I'm married to her, as things would be pretty cozy with two grown ups.
This fits easily into my large daypack (32L), making it a great option for quick and light trips in addition to longer outings. There may be lighter tents out there but you pay big bucks for the relatively small weight difference — I'll take the few extra ounces and save the difference, thank you very much.
The mesh design makes it most useful in fairly mild temperatures. Footprint is not included but I made my own from an inexpensive tarp.  Setup is easy for one person to do following the intuitive lead of the color coded poles and clips. 
There are convenient storage pockets included inside the tent, and the rain fly provides two decently-sized vestibules that take advantage of the double-door design. Have had no issues with leaks or condensation. 
All in all I give the Zephyr 2 a big thumbs up: quality to challenge the more expensive brands, light enough to use solo, easy set up. Great tent for the price.
I owned a Zephyr 1 and was quite pleased with it,…
Rating:


Design: three-season freestanding
Sleeps: 2
Price Paid: $99

I owned a Zephyr 1 and was quite pleased with it, despite some bad experience with the company's attitude towards a non-US customer. (see my review of the Zephyr 1.0) I wanted something with a little more space for me and my GF, so when I saw the Zephyr 2 on sale at STP, I grabbed it.
First time I used it, we were caught in a heavy shower, and immediately the fly started leaking in a few areas.
Firstly, the seam between the zip of the vestibule and the fly was not tapped. There was no point taping it either, since the fabric part of the zip is not waterproof. The slanting design of the door meant that the top of the zip hangs above the side of the base of the tent. Water started seeping through the seam and dripped through the mesh and onto the floor.
Secondly, there is a ventilation mesh on flysheet in the front of the tent. Again, the seam is not tapped and leaked.
Thirdly, there was no attachment point on the bottom of the flysheet at the back, nor an extra short guyrope to pull the flysheet away from the tent body. Water started soaking through the flysheet, onto the mesh, and into the tent. The waterproof rating of the fly was not very high in the first place, so it's very important to keep the fly off the tent body.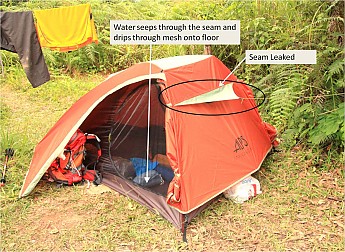 So my gf was frantically trying to dry out the tent from the inside, while I decided to brave the rain with my rain jacket on.
To the tent's merit, the ground it was on was waterlogged. The water was at least an inch above the ground, but somehow only seeped through the floor very slightly.
Luckily the rain only lasted half an hour, after that we dried out the tent as best as we could and had a relatively dry and peaceful night.
I studied the flysheet, and the only way to tape the leaking seams is on the outside, which means the seam will be exposed to sun and probably will not last as long.
So to me the tent is a mixed bag. On one hand, no where else can you find such value for money in a tent, and the light weight and spaciousness of the tent really appeals to me. But the few flaws just makes it hard to swallow.
I spent months looking for a backpacking tent that…
Rating:


Design: 3 season freestanding
Sleeps: 2
Ease of Setup: cake
Weight: 4lb8oz
Price Paid: $77 @ STP!

I spent months looking for a backpacking tent that could give me some extra space for solo trips but also suffice for Father-son trips as well. A scout leader had told me about Alps Mtnrg. Got it online as a Zenith (same but slight color difference).
I have friends w/ MH, NF, BA's, and they were so impressed with the value of this baby - they couldn't believe that quality for the price. It breathes so well and is loaded with features - pockets, windows w/ adjustable visors, gear loft, etc. The serious, weatherproof fly turns this cool cat into a great 3 season tent, 4 w/ the right bag.
Plenty of room for me (6'2") with negligible weight penalty vs. a solo tent. It's a little cozy for 2 adults, but that's a plus when camping w/ my bride. Only takes a couple of minutes to put up, and despite it's all-mesh construction, has never leaked in water even under frightening rain conditions(great buckle-in fly).
The best value in its class, backed by a helpful, committed company. Don't pass it up!

This tent cannot be beat for the money. Lightweight...check.
Rating:


Design: three-season freestanding wedge
Sleeps: 2
Ease of Setup: easy
Weight: 4.8
Price Paid: $115

This tent cannot be beat for the money.
Lightweight...check.
Two doors and two vestibules...check.
Full length fly...check.
Waterproof...check.
You could easily spend another $200 and save a whopping 5-6 ounces.
Some people just cannot get over the name on the label.
I will dock it slightly for the roof design which creats a flat spot if you are not careful where water can pool.
Where to Buy
sponsored links
Help support Trailspace by making your next purchase through one of the links above.
ALPS Mountaineering Zephyr 2.0
currently retails for:
$219.99
MSRP: $199.99

where to buy: