User Review:
Asolo Men's FSN 95 GTX

(Wide)

Rating:


Materials: 1.6 - 1.8 suede leather and cordura upper with GTX liner insert.
Use: Dayhikes and overnight light backpacking trips. Flat trails to rough steep terrain.
Break-in Period: Short, 8-10 miles for initial break in with slightly more over time.
Weight: 2 lbs. - 12 ozs.
Price Paid: $125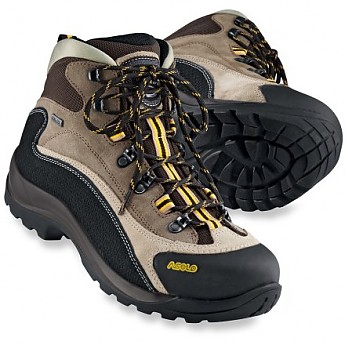 Boots.......the bane of any hiker or backpacker's life it seems if you do not choose the right ones, or if they fail out on the trail. The Asolo FSN 95's performed as promised, have kept my feet dry, and after adding aftermarket foot beds I found them to be comfortable.
I have had many pair of boots in the last 25 years, so when I decided to get a lighter pair of boots that would also enable me to do some light backpacking I looked at several different boots, then decided on the Asolo FSN 95's. One of my requirements was a wide boot, the other was a lightweight boot that had enough rigidity to be truly supportive even while backpacking. The Asolo FSN 95's do that.
My hiking / backpacking varies from wide flat trails to rough steep terrain in the Southern Appalachian Mountains. I backpack year round in generally wet, damp conditions with temps ranging from 15 degrees F. - 95 degrees F.
I weigh 150 lbs. and have wide feet. I carry a pack weighing 18 - 20 lbs on shorter lightweight trips, mostly just over nighters with these boots.
When I got these boots (size 9.5 wide) they appeared well made for this type of boot, the stitching was tight and straight, the soles are glued on and wrap slightly up and around the boot for added protection, they also have a rubber toe rand. The tongue is padded, gusseted, and constructed of Cordura. The laces are round and the boot has 3 brass eyelets, two web eyelets at stress points, and two open brass 'quick lace' eyelets at the top of the boot.
I have not had any leaks with these boots due to the GTX liner, although I generally find boots with GTX to be stuffier than boots without it, and have found higher quality leather boots without GTX are just as waterproof if they are waterproofed correctly.
These boots have a nylon shank which I believe is 3/4 but I'm not positive, they have a polyurethane injected mid sole, and use Asolo's proprietary 'Asogrip' outsole.
I found the Asogrip outsole to have good traction, better than I expected, but soft and quick wearing. The nylon shank provided decent support for hiking and lightweight backpacking, but I would not recommend this boot for multi day trips with a traditional weight pack, especially in rough terrain.
After two years of moderate use the boots are still fully functional, nothing torn, coming loose, or unglued. The uppers do show a good bit of wear. The soles have considerable wear and will be the reason I retire these boots. I don't think the boots are worth the expense of having then re-soled and would rather put that money towards a new pair. Your mileage may vary.
Pros:
Price
Lightweight
Adequate support for light backpacking
Short break in period
GTX liner makes it easier for beginners to stay dry Good traction
Cons:
Long term durability
The out soles wear fairly quick
The GTX liner makes the boot slightly stuffy in summer
Not adequately supportive for anything other than light backpacking (I guess that's why they are called "Light Backpacking Boots")
All in all, the Asolo FSN 95's performed as promised, with no blowouts or other catastrophic failures and did keep my feet dry. I would recommend these boots for hikers and light backpackers only.
Where to Buy
sponsored links
Help support Trailspace by making your next purchase through one of the links above.