User Review:
Big Agnes Copper Spur UL1
Rating:


Source: bought it new
Price Paid: $349 including footprint ($40 value)

Summary
I bought this tent as part of a quest to lighten my pack weight. I looked fairly extensively at the various options available, and this one strikes a good balance between weight, dimensions / interior space, and weather resistance. While I continue to seek new and improved models that provide the same functions for less weight, I still consider the Copper Spur UL 1 to be a good option.
Pros
Lightweight
Good protection in rain storms
Cons
Lightweight zipper not durable
Difficult to enter/exit when rain fly is on
This is a review of the Big Agnes Copper Spur UL 1.  Just in case BA comes out with different versions in subsequent years, I'll mention that I purchased this tent new in the summer of 2010. 
I'll also preface this review by pointing out that although I've owned the tent for a year, I've only used it on a few trips so far, for a total of 5 nights. With the exception of a light sprinkle on one of the nights (in Colorado), my usage so far has been in calm, warm (35+), dry summer weather (in the Sierra).  So consider this a sort of "first impressions" review.
I'm rating the tent a "5".  If I could use half stars, I'd give it a 4.5.  I'll explain further below.
When I selected the Copper Spur, I wanted a tent to replace my Mountain Hardwear Skyview 1.5 for backpacking. I still use the Skyview for car camping, but it is very heavy and bulky for backpacking. For backpacking my criteria included:
low weight
compact packed size
free standing
relatively roomy — low-sloping, claustrophobic, bivy-like tents need not apply
and of course a well built tent I can count on out in the wilderness
My experience with the tent so far has been very positive. It has met all of my criteria very well.  It's light (a couple ounces over 3 lbs including the footprint — which I'm not using, instead I used a piece of lighter 3mil(?) plastic sheet). It's also very compact, fitting nicely inside my pack. 
It's also totally free-standing if I use it without the fly, as I enjoy in good weather.  Even the fly only requires 2 stakes, though more can be used in windy/stormy conditions. The most I've used is four so far. In a pinch you could probably get by using just one on the front flap of the fly.  Lastly, it's quite roomy for a solo tent.  I'm 6' and about 180#, and I have no problem getting comfortable in this tent.
I do have a few minor points to make, just to round out my experience so far with this tent.
First, I am not a fan of the "upside down D" door. For one thing, getting in/out of the tent requires opening most of the door — pleasing hungry mosquitoes to no end as they fly in thru the large opening. Additionally, one has to be careful to drop the door inside the tent rather than into the dirt outside.
Secondly (and this one is a plus and a minus), the frame cross-bar at the top of the tent does a good job of supporting the tent walls, enhancing the feeling of spaciousness inside. On the other hand, particularly when using the tent without the fly, one has to be careful to avoid poking their eye out with the pole as it protudes over the door (e.g. lean down to enter the tent, not see the protuding pole in the dark -> poked eye).
Lastly (and another plus and a minus), the mostly-screen tent upper provides great visibility and enhances the feeling of sleeping outdoors, especially when the fly is not attached. On the other hand, whenever there is dew, one gets wet inside the tent. And since the tent is small, the ends of one's sleeping bag brush against the now-wet walls. 
This is only an issue when the fly isn't attached, and would apply to any tent of this design. I do like the combination of fabric and mesh on the walls — the mesh provides great visibility, while the fabric down lower helps reduce cold drafts where I'm sleeping.
All in all, I am very happy with this tent, and if something were to happen to it today, I would want to replace it with another one just like it. It's pricey for sure. But I spent quite a bit of time comparing various models — some less, some much more expensive — and I feel this one was the right choice based on my criteria.
One point I would make is that while well built, the material used for this tent — including the floor — is very light. So I'd definitely recommend using a ground sheet or the purpose-designed footprint.
Note in the first image I neglected to prop open the little fly vent near the roof. The fly also provides for some decent vestibule space — and makes the tent appear to be much larger than it really is.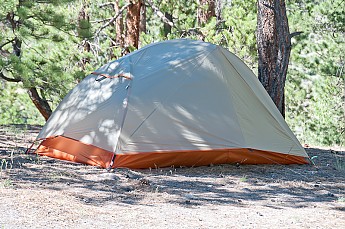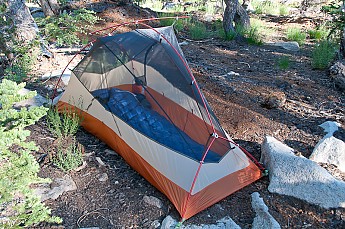 Where to Buy
sponsored links
Help support Trailspace by making your next purchase through one of the links above.