Big Agnes Copper Spur UL2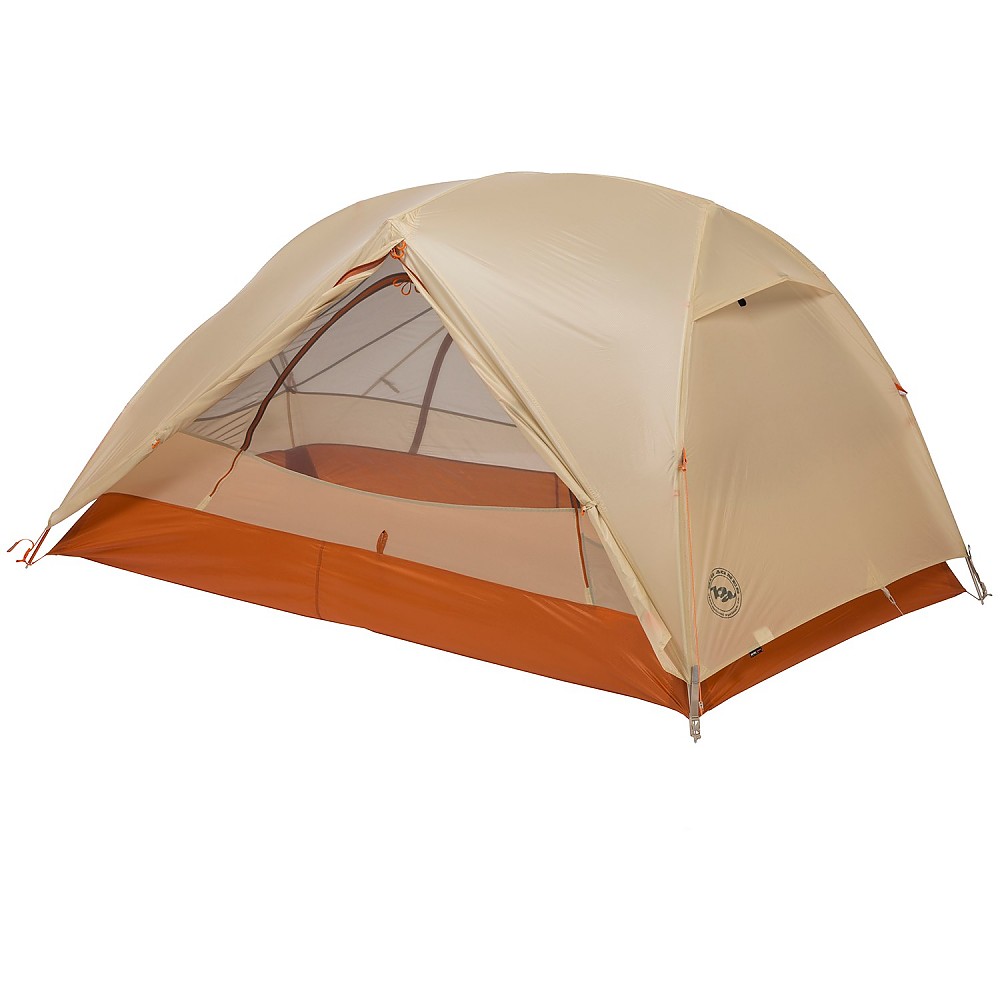 A well-tuned combination of light weight and usable space, just big enough for two well-acquainted people, but roomy for one, best where the weather doesn't get too unfriendly.
Pros
Excellent space-to-weight ratio
Headroom
His and her side entires and vestibules
Nearly freestanding
Cons
Fragile-seeming floor and fly material
Absolute minimum interior space for two
Could use a second vent at the foot end
This Copper Spur UL2 has already been ably reviewed by other TS members and visitors, but I have had this tent for a while now so I thought I would put in my .02.
Seeking to cut back on weight, my wife and I bought our Copper Spur 2 UL for our 25-day JMT hike in 2014. We test drove it on some weekenders in Norway, spent about a month living in it on the trail and road in California, and took it on a short hot weather hike in Costa Rica.
Saving weight always involves compromises, but with this tent Big Agnes has done a very good job of providing a fully-enclosed and reasonably weathertight shelter for two plus gear -- provided the gear goes out in the vestibules -- in a lightweight package.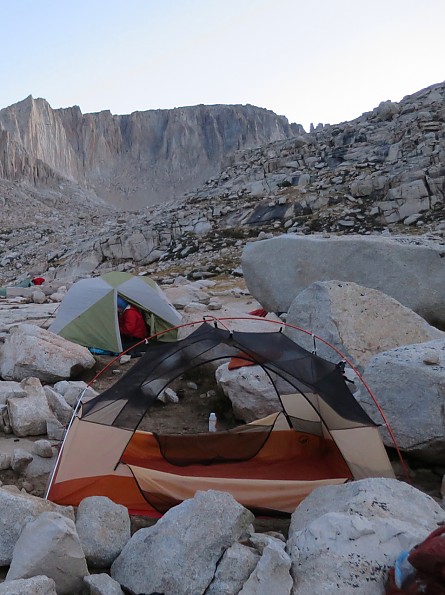 The hubbed pole system comes out of the bag in just two pieces, the main arch with wishbones at both ends and the short spreader pole in the middle that is the key to providing headroom inside the tent. It is slightly lower at the foot end, so only one end has ample room to sit up in.
The poles and the webbing on the tent body are color coded to make it easy to tell which end goes where even when putting up the tent by headlamp, and the overall simplicity means that setup can be accomplished in a few minutes. The tent body is nominally freestanding, but the vestibules require pegging out and, like most "freestanding" tents, pegging out the corners and the fly ends helps ensure a good, taut pitch and good ventilation.
Big Agnes supplies 8 lightweight aluminum channel pegs, enough to peg out the four corners, the vestibules, and the ends of the fly. We substituted in some tougher pegs for the JMT, at the cost of a few tens of grams in extra weight, but we have used the BA pegs some and they are adequate for most situations. With substitute pegs the trail weight is 3.45 lbs (1564 g), very light for a fully enclosed, mostly freestanding tent for two.
The bathtub floor extends maybe 4 inches off the ground, with taped seams. Above that is a foot or so of windproof nylon, high enough to keep the wind mostly out if it should start to blow. The rest is 100% no-see-um netting, suitably reinforced with extra layers at key points. The floor and fly material is very light, and so far both have held up well, but it still seems like a good idea to take a little time to police your for sharp sticks and rocks, especially if you don't use a footprint as we did on the JMT.
Although we were in the alpine quite a bit on the JMT, we never really had much wind. I would trust this tent in moderate winds but would worry about how well the light fly material would hold up in a real flapper.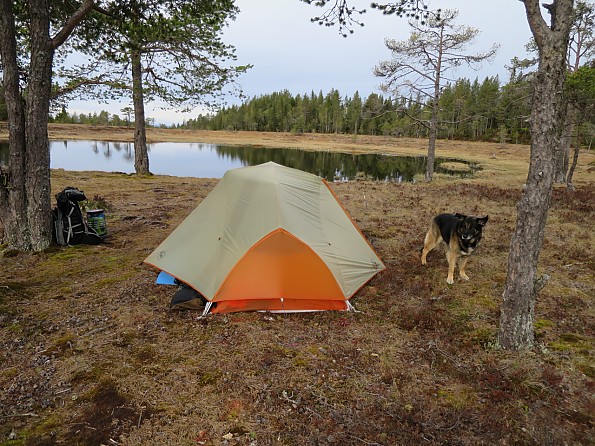 The tent floor is just big enough for two full-length, 20-inch-wide rectangular mattresses, with maybe 6 inches left over in length, but almost nothing along the sides. There is a slight taper toward the foot end. I like sharing it with my wife, but I would want to have a little (alright, a lot) more space if I was to share the tent for more than a night or two with another guy.
The spreader pole really opens up the headroom and is one of the smart features of this and similar tents, but the upper part of the tent is still quite narrow so that two people sitting up at the same time will be rubbing shoulders. Not your tent of choice for a cribbage marathon on a rainy day.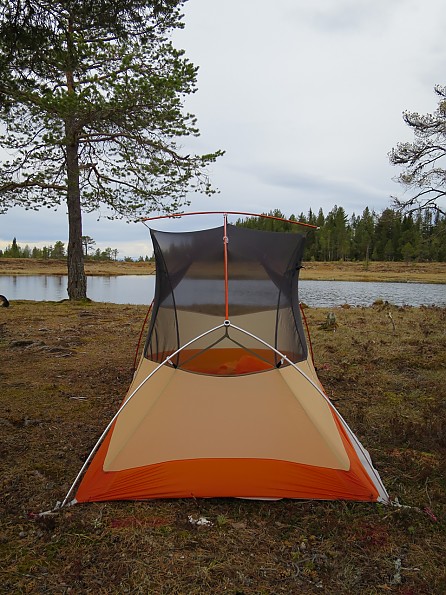 This view is from the foot end -- the spreader helps provide headroom, but the canopy is still quite narrow at sit-up height
The fly attaches to the body at the corners with four fastex buckles. There is a single vent on the head end of the tent, with a rigid hold-open (for want of a better word) that helps ensure good air exchange. The double zippers on the fly can be cracked open from the top if the weather isn't too bad, or the fly can be freed up on one end and folded over to open up to the stars while maintaining rain-readiness. I would have appreciated a second vent at the foot end for better cross ventilation when the tent is otherwise fully buttoned up.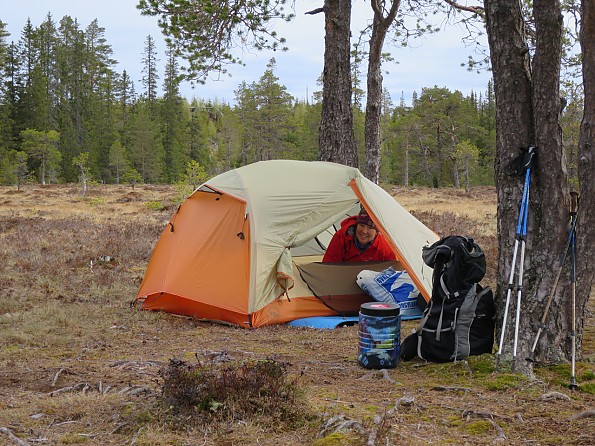 The dual side entries and vestibules are one of my favorite features of this tent, and help make up for the minimal floor space. No more crawling in and out and over each other for a midnight pee. The small, twin vestibules are just big enough to get a pack and a pair of boots under without compromising exit and entry. The vestibule wings can be pegged on either the head or foot end of the tent, depending on entry/exit preferences and maybe wind direction; I like to have the head end swing free when I unzip the fly.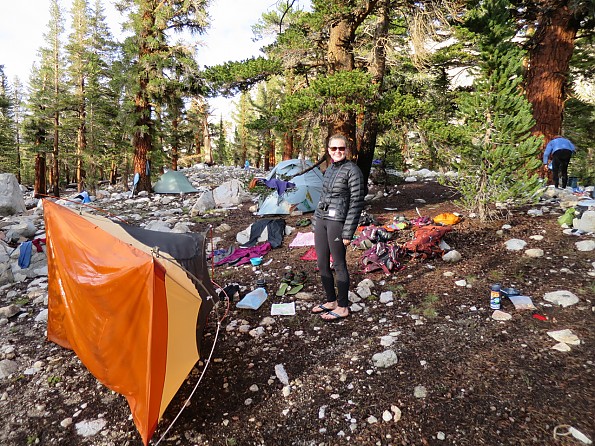 Drying out after the rain
We haven't seen a lot of weather action in this tent. On the JMT the thunderstorms often came through before we made camp, but we did hole up in it for a couple of hours in a steady rain, mostly reading and snoozing. It kept us dry for the duration, with minimal condensation, although would expect more in an all-night rain.
Mainly because of the space limitations, I would definitely want a bigger tent for the two of us in a wetter and windier climate, as we have here in Norway, and my wife also wanted a little more space for our recent hike in the Wind Rivers. But we like the Copper Spur line-up well enough that we recently decided to spring for a UL3 –I am keeping the UL2 mainly for use as a solo tent.
For my money, the Copper Spur UL2 is a very well-designed and though out tent that does as good as any at maximizing the usable space to weight ratio. I can heartily recommend for couples who like to snuggle, in regions where the weather won't keep you tent bound for too long, and on longer trips where the weight savings pays off, or alternately as roomy and more general use tent for one.
Source: bought it new
Price Paid: $300

This tent is great. It's basically a 1-man castle! I have used this tent in all types of weather and never had any problems with it.
Pros
Size
Space
Weight
Livability
The setup for this tent is a breeze. I usually do it by myself and have it done in under 5 minutes . The footprint to me is a must to preserve your tent. The poles are snap to deal with and the hubs add strength to tent. The stakes are lightweight and easily go into the ground.
Stability:
This tent will guy out with no problem and has been great every time I've used it. I've used it in thunderstorms with 20 plus mile an hour winds and stayed as snug as a bug in a rug. I have not taken in the snow because it is a 3 season tent and we don't get that much around here.
Weather Resistance:
This tent has been poured on and handles the moisture great. The vent at the top allows it to breath and avoid the dreaded condensation. This being said you will have have some amount of condensation as with any tent, so don't expect nothing on your fly!
Room and Storage:
This tent is great as a 1-man tent! I am a large man (6'4" 265) and have no problem fitting myself and all my gear in this tent. I have also camped with my 8-year-old in this tent and fit comfortably. The 2 internal pockets are money and the vestibules are massive.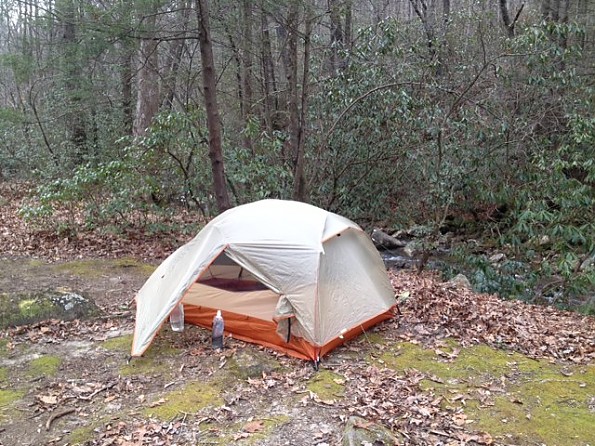 Packability:
The Copper Spur packs down to a reasonable size considering its size when pitched.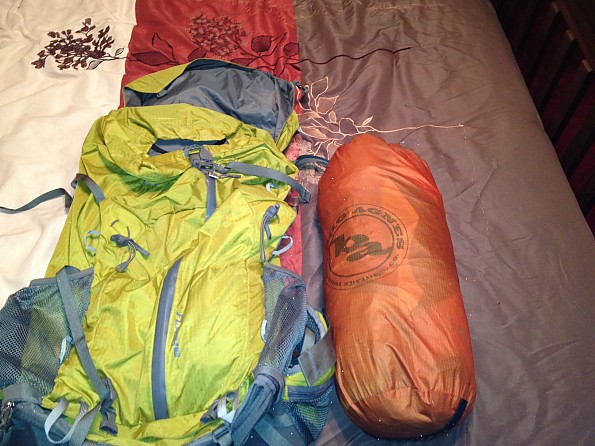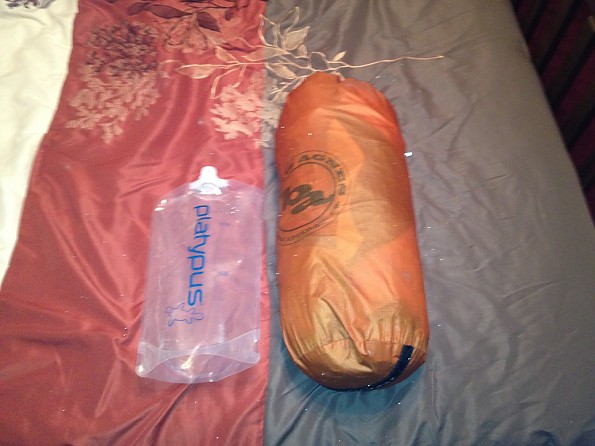 Construction and Durability:
This tent has taken a beating and kept on going. I have had it for over a year and 1/2 and had no issues with it what so ever .
Source: bought it new
Price Paid: $300

Big room in a small package!

Finally, a lightweight tent that is redhead proof, bomb proof, and can withstand the unpredictable weather and wind of the Northwest.

Color coded pole tips and rain fly clips make setting up a snap. Two doors and vestibules make for quick in's and outs. This just over 3lbs tent can do it all!
Cons
No loft, but has 2 mesh pockets in front corners
I live in Northwest Montana where the saying is "If you don't like the weather wait 5 minutes, it'll changa." When I left on this trip to Snyder Lake in Glacier National Park 7-12-12, it was 90°. Knowing how things are, you have to be prepared for a quick change.
Thursday night I slept with no rain fly and enjoyed the stars. The mesh roof allowed me the freedom of the sky with out the bother of bugs. Friday, a couple of clouds whisped past so I decided to put the rain fly on just in case. Rained so hard that night it woke me up and was still raining the next morning. Not a drop of rain made it through!
Something I really liked is the way the rain fly vents. The foot is pulled taut at the botttom and the head has a 6" flap that can be closed or held open with a stiff velcro arm, allowing the air to flow freely but still keep out the rain and wind.
This tent is well thought out. Color coding makes it easy to set up. Lightweight poles and rain fly clips are also color coded which adds to the quick setup if the weather turns. Also has two spacious vestibules which make it easy to remove wet/dirty boots and a place to stash other items.
I would rate this tent an overall 5 of 5 across the board!
This is truly a quality, ultralight 3-season tent. I look forward to seeing how it holds up to the early fall snow. I'll keep you posted.
Source: bought it new
Price Paid: $300

Very lightweight and great for solo or two-person backpacking.
Pros
Lightweight
Double doors/vestibules
Easy to set up
Cons
Bottom seems flimsy
Top not quite taut
Overall, I really like this tent so far. It is light and packs up quite small and is also quite easy to set up. The first time I set it up was in light rain, and it was quick enough to set up that the inside did not get wet at all. The poles are pretty easy to set up, though I'm a little concerned that the 3-way junction might be a site for future weakness, but it's a little to early to say for sure. 
So far I have only used the tent alone and it has a ton of room for one person and their gear. Depending on the size of the people involved I think it would be great for two people as well. There are two doors and two vestibules and there is room in each vestibule for a full pack and boots. The inside side mesh pockets are nice for gear storage, but I really wish there was a net on top. There are some loops up there though, which could be nice if one wanted to construct a small clothesline for drying out wet clothing.
I have not had the tent for very long (only a couple months) so I cannot say too much about the durability, but the floor of the tent seems VERY thin. I do not currently have the footprint for the tent as it is sold separately, and they were out of stock when I bought the tent, but I think I will get the footprint because I am concerned that sticks or pinecones or whatever may poke a hole in the bottom of the tent.
The top of the tent does hold water a little bit. I haven't had it out in a downpour yet, so I don't know how it will do in heavy rain. In light rain it stayed nice and dry, but I'm concerned that in heavy rain the water may pool on top a bit, which could lead to leaking over time.
Source: bought via a "pro deal"
Price Paid: $275

After test-driving the BA Fly Creek UL2, and not being satisfied that it was sufficiently free-standing, I tried the Copper Spur UL2 and was favorably impressed. My first use was on a 4-day traverse in the Olympics, which contrary to the stereotype, did not allow me to test in in wet or otherwise nasty weather.  Flies and mosquitoes were the most trouble.
The good: with the exception of the need to stake it out to use the vestibules, and pitch the ends of the fly, it is strictly free-standing. I like that.  I also like the double doors.  Several nights I was able to use it without the fly, staking a corner or to to keep it from blowing away in gusts.  Allowed me to peer into the starry night sky and keep my eye on the nearly full moon. 
It has a good 2-door design and construction appears to be of high quality with considerable interior space and headroom given the smallish footprint. The hubbed pole assembly was fast and easy to put together. It's not the absolute lightest tent for it's size out there, but it's not bad at all. 
Not so good: I'm not a fan of drop-down doors (see my review of the Fly Creek UL2), I wish it were a tad lighter, and that the poles were slightly less bulky (but that's the price you pay for hubs, I suppose).
To reduce the bulk of carrying the tent in it's largish original tent bag, I put the tent body and fly into separate superlight stuff sacks, thus having three much smaller items (poles, body, fly w/stakes) to distribute in my pack without adding weight.
All in all, a nice tent. I will keep this one, as a double-wall complement to my Black Diamond Lighthouse.
Price Paid: $299 on sale

Bought this tent to cut down on weight for camping trips to the Grand Canyon. Saved me over 5 pounds vs. old tent and much to my surprise the Big Agnes Copper Spur UL2 proved to be a superior tent.
Pros
Lightweight
Easy up, easy down
Good in wind and rain
Cons
Tent stuff bag easily tears
Vent system confusing
Spent two years looking for a lighter weight tent to use in the Grand Canyon. Finally purchased the Big Agnes Copper Spur UL2 and was blown away with the quality, convenience and light weight.  Easy up, easy down. Tent pole design makes it EASY to set up.  
Packs extremely well. Held up in high winds and rain. Plenty of room for two people. Reduced my pack weight by over 5 pounds and this made a difference going down and up Grand Canyon — my back, knees and ankles say THANK YOU, Big Agnes.
Only problem I had was a tear in the stuff bag from resting on rocks along the trail. If you are getting up there in age, like I am, saving weight is extremely important to the overall quality of the hike. Go get one and enjoy!
Source: bought it new
Price Paid: $300

Great tent. A little pricey. I just used this tent on a solo journey in Point Reyes. It was windy the first night and I didn't have it completely guyed out. The wind made the tent lean and rock back and forth.
The second night I had it all guyed out and it didn't rock so much in the wind. I'll primarily be using this tent solo as I like to keep my gear in the tent with me. The Copper Spur is quite spacious with plenty of room to sit up and stretch. The tent is very well designed.
Cons: The poles don't break down into very small pieces. Expensive (even the footprint).
Design: 3-season free standing
Sleeps: 2
Ease of Setup: Easy
Weight: 4
Price Paid: way too much

Very light! This is a great bikepacking and backpacking tent for two. So light I worry about durability but hasn't been an issue.
Pros
Light!
Good support from Big Agnes
Easy to set up and great ventilation. Also packable. Have used mainly in dry weather with one rainy night—no issues.
Source: received it as a personal gift

Love this tent.
Light weight: 3lbs 12oz shaved about 3lbs off my pack weight.
Easy set up: First time was in the dark with 30 MPH gusts.
Warm & dry: After a night with blasting snow and rain we awoke completly dry, no condensation, what a treat!
I'm 6'4" & 200lbs so, like the REI Half Dome, I wish they made a Copper Spur UL2 Plus. My feet wouldn't mind another few oz's for some toe room.
Price Paid: $350

Two is really one.
Pros
Weight
Handles the rain
Easy setup
Guy lines show up under a headlamp
Cool little pegs
I have the two-person and really it is only comfortable with one person. Glad I did not buy the one-person. Handy little tent, been in several drenching rains/hail and has kept me dry. It is interesting in that the vestibule does have some sag in it, will hold a small puddle no matter how tight the pegs are, and the zipper while it has not failed me, seems frail.
Great piece of kit. I have used on several wildland fire deployments.
I have had great luck with Big Agnes products. Make a good product and figure if something fails I can always drive up to Steamboat.
Source: bought it new

This is a great lightweight tent, with two doors and two vestibules. It is a little delicate and the zippers can stick, especially in colder-wetter conditions... but it did keep us dry!
Cons
Delicate
Zipper can stick
Easy setup... especially for two people.
Stable in windy/ rainy conditions.
It had just enough room for two friends...with a little extra headroom and space for extra gear.
I've used it five times.... every time in the rain!! It's holding up well with TLC.
Source: borrowed it

Unbelievably I was setting this tent up in the store and the main pole SNAPPED! No undue pressure - wasn't forcing it or anything..the MAIN tent skeleton, just snapped. Had to be a defect, but at $400 I am so glad it happened in the store and not 3 days from anywhere.
Buyer Beware! I had researched this tent and had my heart set on it...very light, but obviously at a sacrifice on toughness.
Design: 3 -season freestanding dome
Sleeps: 2
Ease of Setup: very easy
Weight: 3.8 lbs
Price Paid: $400

Your Review
Where to Buy
Help support this site by making your next gear purchase through one of the links above. Click a link, buy what you need, and the seller will contribute a portion of the purchase price to support Trailspace's independent gear reviews.
You May Like
Specs
Price
MSRP: $399.95
Historic Range: $214.93-$429.95
Reviewers Paid: $275.00-$400.00