Big Agnes Fly Creek UL2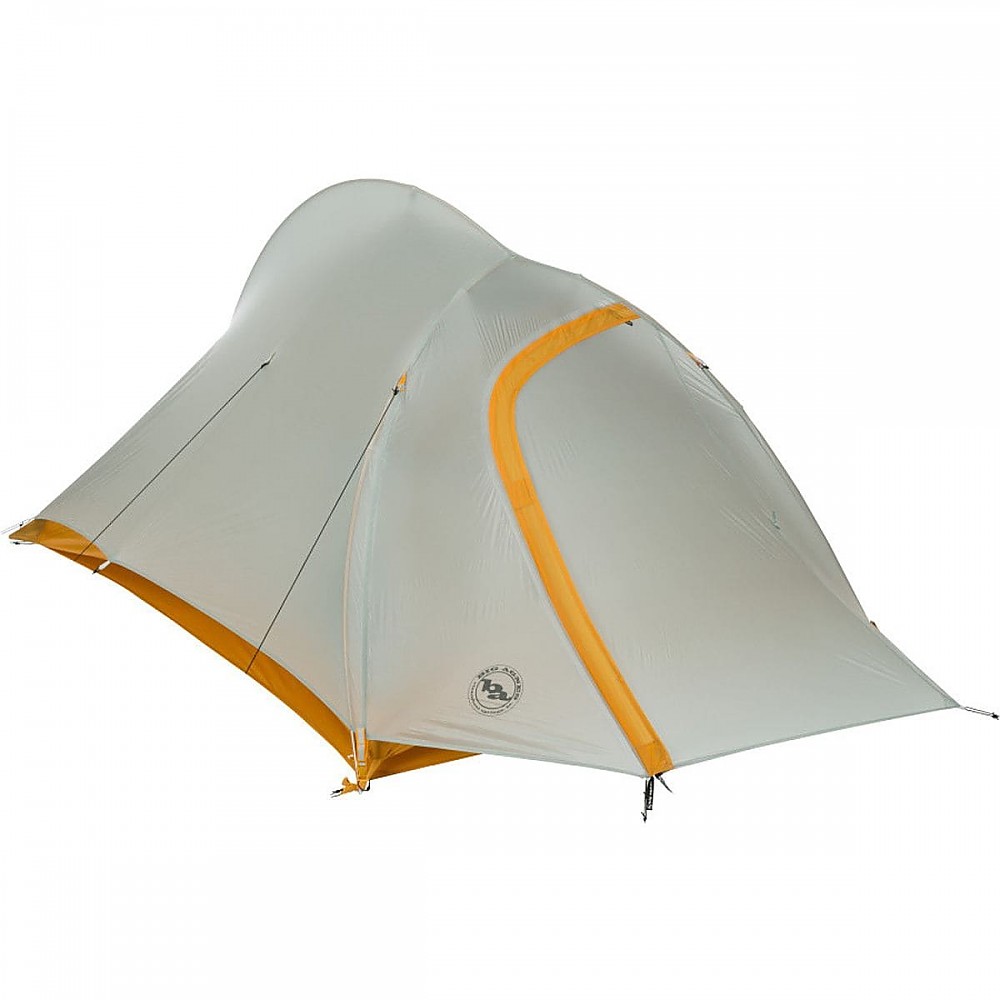 Context:
I mostly go on short (typically two days two nights) backpacking trips in and around East Tennessee, USA. Although the days out are short the miles covered are often more than 15 per day, so I try to be somewhat light in gear weight.
Prior to purchasing this tent I mostly used a The North Face Solo 12 which I came to despise for its constant condensation in my area.
Preface: 
I bought the BA Fly Creek 2 in mid 2010 and have now used it for at least 50 backpacking nights. (I'm a geek. I counted: 31 of those nights are actually documented here on Trailspace in the Trip Reports forum. ))
I purchased this product on-line without ever seeing it in person and gave great weight to its awards and favorable press. 
My first night out in this tent was on top of Mt Sterling in the Smokey Mountains during a strong wind and rain storm and although I had many misgivings the tent held up just fine. This initial good first impression didn't last as subsequent use and experiences slowly made other impressions.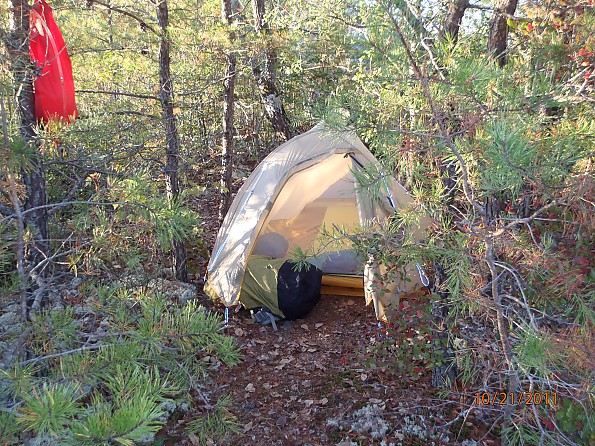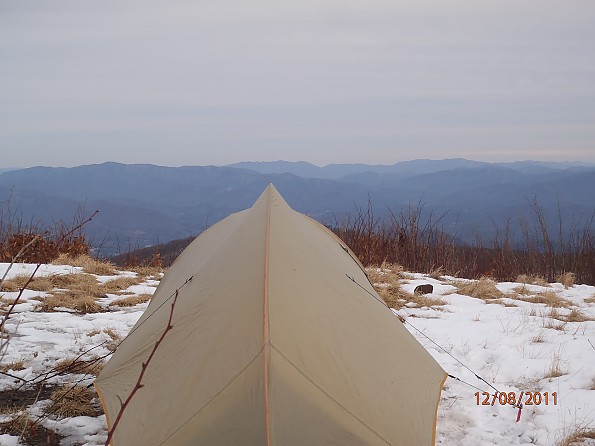 Pros:
 • Light weight: this is the two person model and as packaged is less than 3 pounds. 
• Overall strength: Pole structure is very strong for a hub type system (a very stable pitch):
Monsoon winds at Phantom Ranch Grand Canyon

Cons 
• The floor is so thin that even when using a footprint you must be very careful in choosing and grooming a campsite before pitching this tent:
While camping atop a 5000 + foot bald I awoke to water pooling in the floor of the tent. I later discovered several small abrasion holes and repaired them with TearAid tape. It's easy to penetrate this floor unintentionally and I now carry both a factory footprint and a piece of 2 mil plastic to reinforce the ground sheet.
• The distribution of space in the design allows the tent to drape and touch even a short person like me trying to sit up in it. In condensation scenarios this is a bummer.
• It is susceptible to misting and runoff in extended rain: On more recent trip during torrential rain (about 16 hours worth ), I experienced what was probably a combination of "misting" and condensation pole hub runoff resulting in several large drops of water falling through the upper mesh onto my face.
 Summary 
This tent really is just ok and a bit disappointing for the money. I consider it to be more of a large delicate bivy than a true tent, but its price is very tent like. Its remarkable light weight seems to come at the sacrifice of durability. For the long miles days where you'll only be in the tent for sleeping it's serviceable (that's mostly what I do with it). 
I've gotten 50 nights of mostly successful shelter out of this product so it gets at least two stars for that, and Big Agnes is great company to deal with so that counts for an additional half star.
Price Paid: $349

Awesome tent, great to backpack with. Very compact, quick to set up, and has kept me dry in torrential rains and 30+ mph winds. Minus a star only because it will not stand on its own, and one of the zippers quickly broke on me.
Pros
Stands up well in strong winds
Superlight weight
Easy to use
Waterproof
Cons
Fragile
Does not fully open without stakes
Setup:  Very fast setup, 5-10 minutes depending on surface. Really recommend getting the footprint not only for protection, but also allows you to just use the canopy if you so choose. Also makes setting up an easier process. Wasn't a fan of the original stakes, replaced them with some MSR's.  
Stability: Very stable in just about every condition if set up correctly. Many tie lines to help stabilize it just about anywhere. Have only been in 30mph winds but had zero issues.
Weather Resistance: Handles rain very well. Was in a torrential downpour while hiking in Patagonia, no rain or puddles made it in. Once again, slept through the night without issue.
Ventilation: Not sure a tent could be more ventilated, mostly mesh on the inner tent, and the canopy is well enough off the ground to let plentiful air in.
Room & Storage: There is plenty of room and storage for one person. But, as a two-person tent, there is almost none. Two bags + shoes would not fit in the outside covered area well. But I usually bring my bag inside, use as the pillow.
Packability: Packs down well, could probably fit it in a bag 1/4 the size I use if you are crazy about space. But I just roll everything up with the poles and is quite small. Kind of relative.
Ease of Use: Very easy to use, very self explanatory. First time putting it together was a breeze, as was every time after that.
Features: It's an UL tent, just being light and keeping me dry is all it needs to do, but there are some handy mesh pockets on the inside.
Construction & Durability: I have spent probably 25 nights in the tent in since I've had it. One small spot on the zipper ripped from the stitching because the tent was damp when I set it up, set it up taught because of the wind, and when it dried by morning, was very tight. Probably my fault should have thought of it, but still a bummer. One of the poles also got a small crack after a wind storm. Nothing some electrical tape couldn't permanently fix.
Conditions:  Think that was explained well enough above—Patagonia downpours and wind storms, Mt. Adams, PCT section hikes in Washington, Utah canyons. 
Source: bought it new
Price Paid: $230

Extremely lightweight, easy to set up, semi-free standing tent. Very tight for 2 people, but great for 1 with gear.
Pros
Light weight
Easy set-up
Semi-free standing
Cons
Very limited space for 2 people
Rain fly does not protect door when getting in and out
I bought this tent to replace my 1980 something dome tent. Once I have a piece of equipment, I hate to change. I am getting older and am trying to go as lightweight as possible, but am on a budget. I researched online before buying this tent, which I found on sale.
I would like to approach this review from the time I leave the truck. Pack weight on this tent is not much more than you will end up with if you only carry a hammock and fly. At only 2 lbs 2 oz, this is really light.  It packs into a small bag, and if separated from the poles and stakes, you can even take advantage of one of the small compression bags for an even more compact package.  Speaking of the poles, they fold up into a roll about 1" x 19" and the stakes weigh practically nothing.
Once you find your camping spot, the tent pitches very easily. The "Y" pole design is easy to figure out, and tent clips can be easily located in the dark.  If it's raining, the fly can be quickly thrown over the poles to make the tent waterproof.  At this point, the "foot" area should be staked out to maximize space. 
There are 2 clips in the middle, between the fly and the tent, that also expand the interior space. If you are alone in the tent, these are not a big deal. Also I should mention that if you are setting up in the dark, these can be a challenge but I stress that they can be overlooked.  From here, just stake out the fly, including the vestibule, and the tent is ready for sleeping.
Inside, as I mentioned, it is cramped for 2 people. My teenage son and I have shared it a couple of times and we are shoulder to shoulder. I'm much more comfortable if it's just me and my gear.  With this said, this is not a "coffin" tent.  It really is pretty spacious by yourself.  You do have to watch the zipper on the fly. This lightweight material can get caught, but although this has happened a couple of times, it has never ripped and I've never had a hard time getting it out of the zipper.
I have been in hot weather, high winds, rain, and light snow with this tent. In the heat, the Fly Creek is very well ventilated and comfortable. If it's a clear night, the fly can be removed (or left off) for additional ventilation.  High winds and rain are not a problem. The poles are plenty strong, which was shown with the snow too, and the fly comes all the way to the ground preventing any problems with either.  The vestibule consistently kept my boots dry. 
I should also mention again that the design of the rain fly allows rain to come into the front of the tent when entering and leaving the tent in the rain. This isn't a big deal, but if your son is still sleeping and you have to go to the bathroom...well, you get the picture. In the snow, which seems to be the worst for condensation, I had absolutely NONE.
I have only used this tent for about 10 months now, at least 1x per month, and will be using it for as long as possible. I will be checking in again in about a year to give an update.
Source: bought it new
Price Paid: Bought it on sale

Gossamer light ... Surprisingly secure.
Pros
Light weight
Easy setup
Effectiveness
Cons
Two people have to really like one another to live in this one.
Expensive
Water enters when fly and door are unzipped in a rain.
Update to the review below:  
After backpacking for a week in Grand Gulch in SE Utah I car camped for a night at Hovenweep National Monument.  The campground there is on broad high ground and very exposed.  I set the tent up in strong winds, with no problem.
That night a tremendous storm hit us starting with strong, gusting winds hitting the tent from the side.  Next came rain, and nearly continuous thunder and lightning, most of it at least 5 seconds away.  Around 5 in the morning big winds came again but this time there was hard rain, so hard that I plugged my ears.  It was so loud that it hurt.
I laid there thinking that I was likely to get wet and should I get into the car.  But I stayed and I stayed perfectly dry.  At dawn I got up to see that the tent fly was covered with water and sand but the guy lines were still taut and everything was in place.  I was impressed.
**** Original Review ****
I got my BA Fly Creek UL2 for $80, slightly used, at an REI garage sale. I would not have paid the full price of it, but I am a tightwad. 
I agree with the review by Patman, although I've not experienced the problems that he has. I can see that those problems are likely.  (I'd return the tent if I was him.)
My reason for writing this review is that when it is raining and I need to get in/out of the tent the opening in the fly is set far enough back so that water drips onto the floor of the tent. A lame design.
Prior to this I'd had an REI Quarter Dome T2. It weighed 1.5 pounds more, but was a more secure and roomy tent. On the other hand, I believe I'll continue to use my Fly Creek most of the time (not winter/snow or car camping) until it dies. But I won't buy another.
Source: bought it used
Price Paid: $80

I've been interested in this tent for a while. I was drawn to its light weight, double wall for rain, purported room for two, and various good reviews. 
I have long used a single wall Black Diamond Lighthouse, which was roomy, light, and fast to set up.  But while the single, full-side Lighthouse door affords a great view and ventilation in good weather, I admit I don't like doors that fall to the floor when open (and thus the door is too easily dragged out and into dirt/weather). Plus, although it has fared OK in light rain, I was always unsure of how it would do in really nasty rain. Put a side-zipper on the Lighthouse, construct it with a rainfly, keep the weight about the same as the UL2, etc., and I'd be interested.
Unfortunately, after test driving the UL2 on a solo cross-country trip in the Olympic Mtns, it just didn't fit the bill.
Good things: low weight, compact packed size, and construction details.
Not so good: contrary to the advertizing, it is not freestanding.  It requires about 10 stakes on all sides to get the pitch correct and taut. That's OK if you camp in big spaces with soft ground.  Interior volume isn't very good and height is low. I'm only 5'9" and shoulder room when sitting upright, is too tight especially compared to the steep walled high volume Lighthouse. 
So, I concluded the UL2 won't work for me, since I often find myself in less than ideal high alpine camps (hard ground, rocky, etc), and need a bit more interior volume, especially for two. 
I will continue to seek a truly freestanding tent... sturdy, double wall, one front or two side swing doors, with a footprint and weight that come close to the UL2.  Not sure they're out there, but I keep hoping...
Price Paid: $350

For Ultralight backpackers who want the security of a "critter-proof" tent, this is a good choice.
Pros
Light
Small pack size
Durable
Cons
Cramped for 2 people
Not quite "free standing"
Select this tent if light weight and quality materials is your main requirement. The Big Agnes Fly Creek UL2 is marketed as a 2-person tent, but is very cramped for 2 people.  I selected this as a one-person tent because I like room to keep my boots, and sometimes my pack, inside my tent.  
A lot of my backpacking is in deserts of the Southwest, so keeping "critters" such as spiders and scorpions away from my boots and sleeping bag is paramount, so I use a tent rather than a tarp or rainfly as a shelter, even as an ultralighter.  This tent, with footprint, weighs in at 3 pounds, and you can cut the weight by 7 oz. if you don't use a footprint (groundcloth).  
It is rated as a 3-season tent, but I have camped in sleet and snow in temps below 20 degrees high above timberline, and it keeps the wind out just fine, so a properly rated sleeping bag makes this a 4-season tent under winter conditions not including winter storms. No experience there, but I suspect that the material is too light to withstand really high winter storm winds and snow weight. The tent is almost free-standing in that it can be moved around after erecting, but must be staked out at the rear in two places to be fully extended.  
The vestibule is adequate for boots and a backpack, but requires that you climb over them to get in and out.  I usually keep my boots inside and put my backpack under the rainfly on the side with part of it exposed and covered by a pack cover so it's out of the way. There are ample tie-downs on the fly to keep it away from the tent body in wind and rain, and after many rainstorms it is intact with no signs of tears or stitching failures at any stress points.  
If you're looking for a top quality, ultralight tent for one person, or for 2 very cozy campers, this is a good choice that I highly recommend.
Source: bought it new
Price Paid: $369

Excellent ultralight shelter that does what it is intended for.
Pros
Weight
Ease of setup
Takes up no space in pack
Cons
Fly door extends too far back over tent floor
I am a Master Registered Maine Guide and enjoy extreme backpack hunts in Alaska/Canada that test equipment and one's endurance. I subjected this ultra-light tent to a SE Alaska backpack goat hunting trip ... something it was not exactly manufactured for.
I am 5'9" 150 lbs  and used the UL2 — gave me just enough room for gear/pack/gun and food lasting 7 days.  Would not have wanted more room, or another person in the tent! Just right.
Camped out on exposed edge of glacier where it never stopped raining/sleeting for the entire trip. Sleet and snow slid right off the fly wall. Held up in winds it was not designed for, but I did stake it out and positioned it appropriately for the wind. No spindrift in the tent.
The only issue I could see is that the fly door extends too far back, allowing water to drip into the floor bathtub when fully open. Just don't open it that far, and all was kept dry in some impressive weather.
Yes, would have liked a more sturdy tent, but that is not this tent's purpose or design. No, it did not fail in true 4-season winds and weather. Yes, loved the fact it weighed nothing as the 11-hour hike up from the ocean was brutal and every ounce counted.  Yes, glad I did not carry a more sturdy tent when all factors considered.
This little tent performed perfectly in an environment I realize it was intended for. Be careful with the fabrics, and they will do their job. I have used this with just the fly, footprint, and an Outdoor Research bivy sac and forget about the inner tent completely in more forgiving seasons and when the bugs are gone.
It is heading to the Alaska Range with me this fall for a backpack sheep hunt. I am very pleased with the product and its lack of weight.
Source: bought it new
Price Paid: $249 on sale, Eastern Mountain Sports

Super lightweight tent that meets the requirements for weight and room. Provides great weather protection from the toughest storms.
Pros
Weight
Space for 1+
Protection from weather
Ease of setup
Small pack size
I used this tent along with footprint on the JMT. Had uncharacteristic heavy rain and hail during the trip and the tent performed super. Tent was easy to set up even on all the granite that exists in the Sierra Nevada Mountains.
Never had an issue with condensation even during heavy rain. To vent the top of the door zipper can be open and to allow venting but keeps the rain out. Was able to pack it all down to just over a liter Nalgene bottle size. 
I am a six foot, 215 pounder and had no problem with room in the tent. Would be a challenge with someone else in the tent, but for just me it was fine. Ran into some others on the trail that were smaller that were sharing this tent and they were close but it worked.
I bought this tent to reduce my tent weight from 5 to 2 — very satisfied. Weight reduction is to get my base weight as low as possible while still having the creature comforts of a full-service tent.
Source: bought it new
Price Paid: $285

I wanted this tent for long time. Got it as a gift from my girlfriend. We've tried it once this season. It works.
It's not big. You need to stake the tent and fly out to get proper room, or else your feet/legs will rub against the walls. Maybe this isn't such a big deal in ideal conditions but in anything other than sunny/warm weather you'll want to stake it out for maximum room and ventilation. It's very durable so far.
The gear vestibule is tiny. It could have been bigger given the weight - they're going for ounce reduction in this tent for sure.
It's VERY easy to set up. With the fly I can set the tent in 2 minutes or less - even with stakes and guying out the fly it takes less than 5 min the first time. And it weighs only 2 pounds 10 ounces by my scale (everything included). So very worth it.
Only downside is it can only sleep two snugly - probably can't fit a dog, can't protect gear well (but if you lined your bag with a trash compactor bag like you should have it won't be a problem) and you can't play hide and seek. Though it is set for a loft attachment for extra storage beside the side pockets.
Can't speak to a footprint. Do you need it? Maybe if you only sleep in rocky/sandy conditions or use a spiked sleeping pad. 
Definitely awesome. Worth the money in weight savings.
Price Paid: $349

Very light and best tent I have used backpacking, however I did crack one of the poles during one of my adventures. The pole still functions and I have yet to research a replacement simply because it still functions.
Pros
Lightweight
Easy to set up
Great in heavy winds and rain
Cons
Poles are a little fragile.
I have used my Fly Creek 2 in many different environments, from Coyote Gulch in Escalante National Monument to a week long adventure in Wyoming's Wind Rivers. During my recent trip to Coyote Gulch it survived relentless sand blasting and in the Wind Rivers we had two nearly full days of rain, sleet, and snow. The tent never leaked in the many rainstorms it has seen. However the flour fine sand of Coyote had its way with it.
I mostly use this as a solo tent, but my son and I use it when he tags along. The tent is a little tight for two people, but the weight makes up for it, in my opinion. Big Agnes made a wonderful tent and I just need to get a replacement pole.
This tent was everything advertised, lightweight, easy setup, and best of all pretty warm in cold weather!
Pros
Lightweight
Easy setup
Warm
Durable material
Cons
Tight quarters
Hard to get in
Vestibule to small
Used the tent on a 5-day segment of the Appalachian Trail. The tent was easy to carry, packs well, and fits great on the bottom of the pack.
We had several nights of 40-degree weather. It was warmer in the tent than in the shelter. It held great in the rain, and very little condensation.
The only thing that I found uncomfortable was the heads to the door design. It was hard getting in and out, and a little tight for two. Also the vestibule was not big enough for two packs.
I will recommend this tent to people who want to go lightweight. I love the tent, and the Pros overweigh the Cons. It's a great tent, a good reputable company "Big Agnes." I tried many tents, so far this is my favorite for backpacking.
Source: received it as a personal gift

This is a great 3-season tent that sleeps 1+. For those traveling light, the packed size and weight are most important. I would recommend this tent to others.
Pros
Packed size
Weight
Easy setup
I recently used this Big Agnes Fly Creek UL2 on a 5-day backpacking trip in the 100-Mile Wilderness in Maine. It performed very well, as expected. I have used other dual wall and single wall tents, but being most concerned about weight and size is the reason I choose this tent.
I was initially looking at the UL1 to save weight. I tried both out at REI and for the added few oz it made sense to go with the UL2, even as a solo hiker. I am 5'9" and 150 lb so the size was perfect for me.
The tent had good ventilation and without condensation.
It was easy to set up. It is not free standing so you need the stakes to fully pitch the tent tautly. 
Inside pockets were handy.
Pros are: Weight, size, and construction.
Cons: None so far, but long term durability may be a concern with the lightweight fabric.
Source: bought it new
Price Paid: $269 using a REI 20% Off Sale Coupon

Well, I hate to admit it but age might be catching up with my ability to carry heavier backpacks. My son, 12, and I backpack and camp out 3 times a year and I go up alone another 6 or 7 times a year, hiking along the divide or Flat Tops in Colorado so I decided to invest in the Salt Creek L2 to save 3 pounds and wish I would of done it 2 years ago.
The Salt Creek at 2 lb 10 oz still provides room for the 2 of us, it's just not a long as our Emerald Mountain UL3 and has less storage space under the vestibule.
There is nothing I don't like about this tent, very easy and quick to set up, light weight even with the footprint and sturdy in the wind. Colorado has been dry in the high country since I bought the tent and have not spent time in any rain but, if it's like the Emerald Mountain, that shouldn't be a problem.
The only reason I didn't give it 5 stars is because the footprint doesn't extend past the front edge of the tent to the tip of the vestibule so the inside of the tent get more debris in it. NO big deal for all of the advantages I experienced the 3 times I've use it so far.
Another winner from Big Agnes!
Price Paid: $329

The perfect tent. Super light, sturdy, with all the amenities you need. Easy to set up and a good size.
Pros
Light
Quick to set up
Warm
Cons
Hard to fit back in that little bag!
This tent is very quick to set up. Staked out it withstands weather well. I have not had any trouble with condensation, and the tent with the fly on is very warm.
It would be a snug fit for two people, so you'd better be pretty good friends. Used solo, it is very roomy. The loft is a nice touch — it would be better to line it with white silnylon so the light is more diffused, but I just place an extra piece in the loft to solve this. It has two pockets in the front to hold all the gear you need to grab in a hurry.
My only complaint is that is is difficult for me to stuff it back in its bag — in fact after two years of struggling, the bag finally ripped.
Source: bought it used
Price Paid: $289

Looking for a great lightweight tent look no further
Pros
Lightweight, dependable, breathable, Ease of setup.
So we needed to go lighter on our trips and after alot of research decided to buy this tent.
Our first trip we were amazed at the ease of set up. We are not tall people (5'5") so us and our water spaniel fit great in it. We had room for our gear at the bottom. The vestibule is small but can be used to cook in bad weather. When pitched properly it had no condensation or stability issues. Packs down really nice and small, both in stuff sack and free floating. We have had ours for 3 years now and have nothing but great confidence in its durability. In fact we have been so happy with our tent, that when our youngest decided to start hiking we bought him one also.
The Stuff sack did however rip after many uses, but we contacted Big Agnes and in 2 days recieved a replacement, Great service!!!
Source: bought it new
Price Paid: $300

Plenty of room and very light, I absolutely love this tent!
Pros
Ultralight
Roomy
Easy to set up
I bought this tent after agonizing over which tent to buy and reading tons of reviews. I have used it for the last year on many backpacking trips with nary a glitch. It is super light, packs down nicely, easy to set up, and very roomy. I love the vestibule for putting my shoes in and making my coffee in the morning.
The only issue I have had is that you have to be very careful as the material is somewhat fragile. I accidentally put a small hole in mine somehow while it was in my pack.
Other than that, it is great. I take extra precautions now to be careful. I love my tent!
Source: bought it new
Price Paid: $400

Ultralight and breezy, good for backpackers during ideal conditions.
Pros
Gossamer light!
Roomy for one person, plus gear
Relatively easy setup
Cons
Expensive
Not entirely freestanding
I've pushed this tent outside the limits of its regular 3-season boundaries and didn't get condensation. This tent is well-designed and a dream to have in your pack. It sets up with relative ease, thanks to the pole hub system.
If I had it to do over again, though, I'd swallow a little extra weight and buy the Big Agnes Copper Spur. I discovered that I prefer a completely freestanding tent, for situations in which staking is either not necessary or not possible.
Big Agnes makes amazing tents, so it's hard for me to be too unhappy about having this B.A. in my repertoire.
Source: bought it new

This tent is extremely lightweight, but still strong. I have not ever had problems with condensation.
Pros
Extremely light but strong
Cons
Not really made for tall hikers, and small for two people
I take a two-week backpacking trip into the Wind River Range every summer and have never had any problems with this tent. It did not collapse when under 18 inches of snow, bend or rip during very strong winds, rip or puncture when campsite was rocky, or have problems with condensation.
It would be small for two tall hikersm but I use it as a one-man tent and store my pack inside. I have not used it during the winter. I would recommend this tent to anybody!
Source: bought it new
Price Paid: I can not remember, but it was not discounted.

Lightweight and compact. Perfect for backpacking.
Pros
Easy to set up
Very light
Roomy
Cons
Netting section a bit flimsy
Brought this tent with me to hike the A.T. this past spring and it lived up to all my expectations. Great two ply tent that is very light and easy to set up with more than enough room to put your butt and belongings inside on a rainy night with comfort.
Worth the money, can't go wrong with this purchase for long distance/or short backpacking. Very popular on the trail!!
Source: bought it new
Price Paid: $280

Light and small on your back. Roomy for one, nice for a couple.
Pros
Light
Small stuff size
Beats a bivy
Love this tent when I go solo or on odd man trips. Light, stuffs as small as a Nalgene without the poles. Luxury for one and as light as a bivy. Worth the price. Color blends in to Sierra rock. Did I say I love it.
Source: bought it new
Price Paid: $250

Super light, super cool, super well ventilated, super awesome! In one word: fun!
I bought this about three or four years ago, and have used it on as many camping trips. It is light, well ventilated, affords good visibility, and appears to be sturdy. I have the footprint as well. 
Source: bought it new
Price Paid: $300 or $400

Your Review
Where to Buy
Help support this site by making your next gear purchase through one of the links above. Click a link, buy what you need, and the seller will contribute a portion of the purchase price to support Trailspace's independent gear reviews.
You May Like
Specs
Price
MSRP: $369.95
Historic Range: $174.98-$389.95
Reviewers Paid: $80.00-$400.00

Recently on Trailspace