Black Diamond Lighthouse

The Lighthouse has been discontinued. If you're looking for something new, check out the best three-season tents for 2023.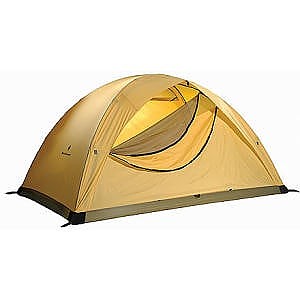 Just received my new Lighthouse in the mail and finished setting it up in the garage. I then promptly took it down, packed it up, and shipped it back for an exchange.
Here's how I started...
1. I plan to use a tent for motorcycle camping (so weight isn't too much of an issue.
2. I researched on the internet...heavily and found no objective reviews. The only reviews I saw were from those who had received one free for the review and/or magazine reviews (which are almost always useless due to advertising revenue taking away all semblence of objectivity). I guess if someone gave me a free tent, I wouldn't care if it was a Wal-Mart special, or a citadel worthy of Mt. Everest. I would liken those type of reviews to a host asking their guests how the beer tastes...all free beer is good beer. Nuff said.
My thoughts on this tent:
1. No vestibule...totally blows if you're a motorcyclist or someone who likes to keep things out of the rain. One can be purchased separately, which conveniently jacks the price up to over $500 USD.
2. Its just not worth the money and here's why: Setting it up was a pain, the poles don't stay in the little "snaps" at each corner. Needless to say, this is a disaster waiting to happen, since one of my poles slipped out of the reinforced area and slipped into the fabric area. Luckily, I noticed it in time, had I been distracted by rain, wind, dark, etc., the tent would have been toast. Going on to the internal, velcro "pole loops": They are lame and a major annoyance, it would have been a lot easier if they had just made them solid loops instead of those funky velcro things, at least at the top of the tent to keep it somewhat in order. The poles don't match up to the tent structure, so it looks lopsided (and yes, I read the directions, and took my time setting it up). Finally, YOU HAVE TO SEAM SEAL IT YOURSELF! I took one look at all those seams and said "screw this noise". All that for a $370 tent? Granted, I never took a hose to it to verify the claims of water-resistance, but it didn't look or feel that different from your standard rip-stop nylon tent. Anyway, as I said before, having to seam-seal it myself was the last straw.
Oh, and one final note: Contrary to what BD claims, the pack size is NOT 6x9" (which happens to be why I bought it, so it would fit in a saddle bag comfortably)...they are false advertising by not including the 16" broken down poles. As a result of this "gray area", they separate the poles from the tent when packing...major PITA. Actual size: an excessively awkward 8x17"
Thank God for REI's return policy.
Design: Three-season freestanding dome
Sleeps: 2
Ease of Setup: PITA
Weight: 3 pounds and a beer.
Price Paid: $369 USD

I and my backpacking buddy both purchased the Lighthouse tents on sale so the price was right. We have had them for five years now and have literally beat the crap out of them.
Only minimal condensation around the polls where they cross at the top. Light weight, roomy, easy to set up once you get used to them. Seriously, we have had them out in every kind of weather imaginable. Rain, snow, ice, dry hot summers, high winds and both tents are still going strong.
Yes, a vestibule attached would be nice, and the ground cloth BD sell for this tent is to big, but worst of all BD stopped using Epic fabric and went to the Nano fabric. The fabric does not even come close to Epic. So if you can find one made of Epic buy it!!! 
The size-to-weight ratio is the best, and if any of the bone heads at BD read this here's a hint. GO BACK TO EPIC!!
Price Paid: $300

Have used this as mostly a solo tent for 3-season trips for over four years here in the Pacific Northwest's Cascades and Olympics, and it's still going strong. Light weight, ease of setup, free-standing, and its big wall-wide door. The later can also be a downside when using for two.
No to very minor condensation under average conditions. Keeps bugs out well. Small and light enough to toss into the pack, and then opt out of using it in favor of just sleeping out under the stars.
Looks like this model has been discontinued.
I think this is the best single-wall lightweight tent on the market. Condensation is kept to a minimum due to the Epic material and the venting design. I too wish I didn't have to seam seal it, but I did and I got to know my tent pretty well doing so. I'm a big guy and the tent is a great size. I bought the vestibule but have not used it yet. I always seem to leave it behind in favor of the lower weight.
Design: Freestanding Single-wall Epic
Sleeps: 1
Ease of Setup: very easy; the interior poles protect you in the worst weather
Weight: ~3lbs
Price Paid: ~$375

The Lighthouse tent is very fast and easy to set up. One of the greatest values around. After a long hike it only took a minute or two setting it up in the dark. Very roomy inside and good at sealing out the weather. I look forward to a lot of trips in the future with this tent.
Design: Three-season
Sleeps: 2
Ease of Setup: Easiest tent to put up
Weight: 3.3 pounds packed
Price Paid: $369

Over the past 15 years of backpacking in the Sierras, Anza-Borrego desert, and the canyons of Utah and Arizona, I've owned many tents (single and double wall) and none of them met all my criteria for an optimal tent: spacious but lightweight, simple and quick to set-up, minimal noise in wind, little or no condensation, side door to facilitate entry/exit, a good view in decent weather, and high enough to change clothes comfortably.
Though admittedly expensive, the Lighthouse was perfect except for the hassle of the inner poles. Since I do three-season backpacking only, I had the tent modified by slightly elongating the poles and placing them on the exterior of the tent ("exoskeleton"), which achieved all my criteria and moved my rating of the Lighthouse from "4 stars" to "5 stars".
Price Paid: $368

I am writing this review after using this tent many times over the last three months. I got it and the vestibule on sale.
I've rated the tent with four stars because I haven't yet had it out in really nasty weather. Yes, it's been in the rain and the wind but I have not weathered a really bad storm inside it. So far it is the perfect tent for me and my trips. I am also confident that it will handle the tough weather just fine.
My trips take place in the Pacific Northwest. 90 percent of them happen in the Trinity Alps Wilderness, Marble Mountain Wilderness, or Russian Wilderness. I am out a lot and trip length is usually two nights. Most of my trips involve just me and the dog.
This tent is a single wall, free-standing dome. The vestibule is exactly that, a vestibule and not a rainfly. It adds space to the front of tent. The door on this tent is huge and opens up one entire tent wall. There is a small window on the back of the tent. Normally, I only bring the tent itself and the vestibule stays home. If the weather indicates really bad weather, or if there is a second person, then I bring the vestibule. I have used the tent both ways.
Set up on this tent takes a little getting used to. The three poles go inside the tent. Two of the poles are flexed to the point that the pole ends go into snaps positioned in the reinforced tent corners. While this sounds awkward and, in fact, is awkward the first time through, it becomes much easier with a little practice. In addition, it means that in the event that you arrive at your campsite in the rain. You are setting up both the tent and the vestibule from inside the tent. That's a major advantage for me because I always seem to get to my destination minutes ahead of the rain.
Once the poles are in the snaps they are held in place on the upper part of the tent by velco tabs (lots of them). They are a pain but they work and takes only a couple of minutes to fasten them and, as I said before, it's all done while I am inside the tent and out of the weather. I just imagine with inside poles how you could make sleeves work in any easier way.
So far, I haven't experienced any condensation inside the tent at all and that was my main worry going into this purchase. Even with the tent door almost entirely buttoned up and two adults inside, the interior stayed dry.
There is an earlier review of this tent that gives it a very poor rating. Equipment should match your style of hiking, but I think the reviewer suffered from some basic misunderstandings of this tent especially as applied to his intended purpose. He was using it for motorcycle camping not backpacking and he admits that weight really isn't an issue for him. This tent makes certain sacrifices (single-wall design, etc.) to get its weight down. If weight is truly not an issue there are lots of tents in the 7-8 pound range that will do a nice job for around $300 or less.
Second, I don't know how you can do any research about this tent at all and not realize that the $300 price does not include a vestibule. I understand that most double-wall tents come with a rainfly which usually includes some type of vestibule. After doing my research, I bought this tent so that I didn't have to deal with the question of whether to put the rainfly on before I went to sleep because I love looking up and seeing the sky but don't like getting up at 3 a.m. to put the rainfly on when it starts raining. Now when that happens, I roll over and simply zip the solid door panel over the mosquito netting in the door.
As to not being worth the money, that's hard to say. To a motorcycle camper who doesn't care about weight, probably not. To a backpacker who wants a single-wall tent that is light, has a high-tech fabric that breathes well and is storm worthy enough to depend on when he is far from the car, then it is worth every penny.
I have never had my poles slip out of the corner snaps. My experience is that once they are snapped in they stay in. As to the poles not matching the tent structure, that is someone talking with no experience in setting this tent up. Once the poles and velcro are in place this tent sets up so tight that bugs hitting the walls can sound like someone tapping lightly on a drum.
The biggest single indicator that the earlier reviewer wasn't familiar with the tent was evidenced by his statement that "it didn't look or feel that different from your standard rip-stop nylon tent. " I've had quite a few tents over the past 15-20 years and the nextec fabric in the Lighting both feels and looks very different from any other tent I have owned.
This tent does have three drawbacks. First, it's expensive. Second, you do have to seam seal it yourself. Plan on spending a few boring hours when you seal the tent and the vestibule. I understand that there are other expensive tents that require seam sealing, but that doesn't make it right. Any tent this expensive should be seam sealed at the factory.
Third, the high, dome profile of this tent makes it a little difficult to set up in a strong wind. What's more, once it is set up it must be staked out immediately because otherwise it takes off in the wind like a kite. My tent has already gotten away from me once and I was lucky to have no damage. If you're not carefully you could be chasing this tent into a nearby river or lake.
Design: tThree-season, freestanding, single-wall dome.
Sleeps: 2
Ease of Setup: Difficult at first and easy with experience
Weight: 3 pounds, 3 ounces for the tent and 1 pound, 3 ounces for the vestibule
Price Paid: $300 tent & $100 for the vestibule

Your Review
You May Like
Specs
Price
Historic Range: $279.47-$429.95
Reviewers Paid: $300.00-$400.00

Recently on Trailspace