Multi-Fuel Stoves
As the name says, multi-fuel stoves allow you to burn more than one type of fuel. This can be useful if you're traveling abroad. Keep in mind, there are different versions of multi-fuel stoves, and not all stoves burn all fuels.
Often "multi-fuel" refers to liquid fuel stoves that can burn more than one type of liquid fuel. For example the MSR Dragonfly burns white gas, kerosene, unleaded auto fuel, diesel, and jet fuel. Some hybrid multi-fuel stoves can burn both liquid fuels and compressed gasses. The MSR WhisperLite Universal, for example, can burn isobutane canister fuel, white gas, kerosene, and unleaded gasoline. Some alcohol, solid fuel, and wood stoves also have multiple options For example the Vargo Triad Multi-Fuel Stove burns alcohol, solid fuel tabs, and gels.
Pros

burns multiple fuels
more versatile

Cons

heavier
more expensive
need to clean and maintain
Top Picks
Top Liquid Fuel Stove / Multi-Fuel Stove
MSR XGK-EX

(13 reviews)
Excellent stove for boiling water and fast cooking I have used this stove in the Beartooth Wilderness of Montana and the Porcupine Mountains in Michigan. I was able to turn the stove low enough that I could cook eggs and pancakes with it, but that is really pushing the stove on the low end. If you need to simmer a pot of gourmet gumbo, look into the MSR Dragonfly instead. I highly recommend this stove and have never been let down by any MSR product.
Reasons to Buy
Hot and fast
Burns anything
Primes easily
Stove sets up easily. Just thread the pump into the bottle, connect the fuel line, and it is ready to light. It doesn't have a built-in lighter, but I have never had an issue lighting it with a match. The flame is slightly adjustable, but don't count on this stove to simmer. This is primarily a water boiling stove, but I have used it for pancakes, eggs, and bacon with desirable results. Boil time with white gas was about 9 minutes for 2.5 liters of water in a real world test. This is very close to the claimed times.
Read more: MSR XGK-EX reviews (13)
Liquid Fuel Stove / Canister Stove / Multi-Fuel Stove
MSR WhisperLite Universal

(12 reviews)
Finally here is a true multi-fuel (MSR calls it a hybrid) stove that burns both liquid fuels and canister gas (upright or inverted). Not only does it burn these fuels, but it does it well — plus it simmers...no it really does! In just a couple minutes the stove can be configured to burn the various fuels (see below) by simply changing a couple parts using the supplied tool. This is a great option for anyone who wants a stove that can be used year round in multiple climates, with multiple fuels. For groups it allows flexibility through the use of multiple fuels — or for those who travel abroad to places where some fuels may be harder to get or if it's not clear what fuels will be available. The Universal will burn: White gas – Unleaded auto gas – Kerosene Canister gas – (upright or inverted)
Reasons to Buy
Multi-fuel (liquid and canister)
Everything is included
Changing fuel types is quick
Well built / sturdy
Will handle large pots
Good windscreen
Simmers well
Instructions easy to understand / follow
Reasons to Avoid
Price point
Weight
Small parts to keep up with
Will not support pots smaller than 4 ¼ in. or 11 cm. in diameter.
Fuel line is stiff
A review of the MSR Whisperlite Universal Hybrid fuel stove A backpacking stove made by Cascade Designs – Seattle WA, USA I received this stove from Cascade Designs for testing and used it on five separate outings as well as a lot of testing at home. Stove Description: The stove arrived in a nice looking cardboard package (see photos), it included the stove, all parts for changing fuel types, pressure pump for liquid fuel bottles, canister stand, wind screen and ground protector, a nice stuff sack, and full instructions in three languages (three separate booklets) plus a quick reference guide in two languages, along with warnings etc.
Read more: MSR WhisperLite Universal reviews (12)
Liquid Fuel Stove / Multi-Fuel Stove
MSR DragonFly

(46 reviews)
After having my isobutane become unusable at temperatures below -30° C., I purchased this stove for winter trips. It is loud but there is a reason for that and that is it is creating huge amounts of heat.
Reasons to Buy
Excellent in cold weather
Can simmer, so it's great for the chefs
Multiple fuels can be used
Massive amounts of heat
Reasons to Avoid
Loud, literaly sounds like a jet
Big and heavy
The MSR Draonfly has been around for years. It is a tried and true expedition stove. It works on multiple different fuels from white gas, jet fuel, diesel, kerosene and gasoline. It will work in all temperatures and at all altitudes.  I bought the stove after struggling in colder temperatures to get my isobutane stove to work properly and this stove had no trouble in temperatures below -30° C. It is great at melting snow for water and can boil a liter in less than 4 minutes. The stove has a large pot stand that can easily accommodate large pots and pans with great stability.
Read more: MSR DragonFly reviews (46)
Liquid Fuel Stove / Canister Stove / Multi-Fuel Stove
Primus OmniFuel

(21 reviews)
There is only one thing preventing this stove from being perfect and that is the fact that it is a roarer burner: the jet of fuel is spread out onto the pan's surface by hitting a metal concave cover on the way up. Other than that, there is very little to fault it. The pump shaft is metal, not plastic (I know several people who have broken MSR pumps and sometimes have had to buy the entire pump assembly again). I have stood on this stove a couple of times and each time the legs just bend back into place.
Read more: Primus OmniFuel reviews (21)
Liquid Fuel Stove / Multi-Fuel Stove
Primus OmniLite TI

(3 reviews)
Lightweight but true expedition-grade stove for use on numerous types of fuel, regardless of the country where you are. In the meantime it's well suitable for all people who often cook in cold weather and disregard the canister gas.
Reasons to Buy
Proven Omnifuel design (just scaled down)
Expedition-grade durability even for most challenging conditions
Very low tendency to clogging, easy to clean
Works well on most fuels you may encounter
Very small and lightweight for such a stove
Just 10% less powerful than Omnifuel
Reasons to Avoid
Awkward, heavy, and useless soft case
Roaring sound
Not very durable pump
No "automatic" cleaning needle
Fuel sprays when disconnecting the pump from the bottle
I've been using this stove since 2013 in all my outdoor adventures. The primary fuel is white gas in domestic trips and car petrol in international trips (for me finding the gas canisters or white gas in unfamiliar country is a waste of precious time). My primary stove in 2008-2013 was Primus Omnifuel, which I liked very much despite its weight and size.  There are two main reasons to use the multifuel stove instead of regular gas stove: Performance at low temperatures. If you cook at temperatures below +10 °C (50 °F) and ESPECIALLY below the freezing, the gas stoves are not a good choice for you.
Read more: Primus OmniLite TI reviews (3)
Liquid Fuel Stove / Multi-Fuel Stove
MSR WhisperLite International

(42 reviews)
The only reason this isn't a 5-star review is because of the weight of this item compared to other stoves. But, I've used this same stove for 16 years. It has seen countless nights in temps down to the teens. It has NEVER EVER failed me. This is a workhorse stove that gets the job done!
Reasons to Buy
Reliability
Self-cleaning
There is a reason that MSR continues to make this stove. It works. It's reliable. It's easy to use. And, on and on... I bought my stove for my 2000 AT thru hike. It has never failed. It works no matter how cold it gets. I carry the 11oz fuel bottle. I've never used more than half the fuel in 5 nights, including a couple hot breakfasts. Yes, I could save 6 to 8 oz in weight if I switched to another stove. But, then I'd have to buy fuel canisters at $4 each. I'd contribute to waste with those canisters.
Read more: MSR WhisperLite International reviews (42)
Liquid Fuel Stove / Multi-Fuel Stove
Coleman 533

(4 reviews)
If you are a weekend walker, I agree, buy the compressed gas stoves that litter the top of this stove review list. If however, you are spending time in places where 'mom & pop' camping stores are a little harder to come by a multi-fuel burner is essential. If you are going out in nice summer conditions where you can prime a stove in a well ventilated area where the wind gently kisses the summer flowers and lazily wafts their sweet scent past your nostrils, I again agree, buy a Primus. If however you can not be certain of either, then Coleman products are best by a long way.
Read more: Coleman 533 reviews (4)
Top Alcohol Stove / Solid Fuel Stove / Multi-Fuel Stove
Vargo Triad Multi-Fuel Stove

(3 reviews)
The 2017 Vargo Triad is a very sturdy and functional alcohol/solid fuel stove that I will continue to use due to its bomb proof design and consistent alcohol burn times. It has some inconveniences with the need to use at least 1.5 ounces of fuel and difficulty in recovering leftover alcohol, so may not be the best option for boil in bag solo hikers, but works well for two people and other cooking styles who want the flexibility of using multiple fuel types depending on conditions.
Reasons to Buy
Sturdy construction
Fuel efficient
Long burn time
Consistent alcohol boil time
Adapts to fuel tabs and gels
Easy to refuel
Compact storage
Light weight
Reasons to Avoid
Needs 1.5 oz alcohol to bloom
Fuel recovery finicky
Best to fill with flip top alcohol bottle
Some more efficient options for solo cooking
Can retain some fuel
Note that this is a review of the 2017 Vargo Triad model, which is a multi-fuel (alcohol and solid tab/gel) stove - please refer to the 2003 model for the previous alcohol only version of this stove. I think any review needs context of the use and testing the gear was put through, and this is especially true of stoves due to the variety of approaches one can take to preparing meals on the trail. For the last few years, I have enjoyed the flexibility of my Trail Designs Sidewinder Ti Tri with Inferno for wood, alcohol, and solid tab fuel options.
Read more: Vargo Triad Multi-Fuel Stove reviews (3)
Alcohol Stove / Solid Fuel Stove / Multi-Fuel Stove / Wood Stove
Trail Designs Sidewinder Ti-Tri

(2 reviews)
After more than three years of constant use, I can confidently say this is still my favorite stove and piece of gear that I own! The light weight, versatility of fuel types, and heating efficiency of the Sidewinder Ti Tri have exceeded all my expectations. Minor negatives include the multiple-part setup, price, and being sized for one pot per stove.
Reasons to Buy
Lightweight
Versatile (wood, alcohol, solid fuel)
Very stable
Fuel efficient—carry less in forests
Sturdy construction and durable
Simmers well
Don't have to carry all fuel type components
Quite as a mouse
Reasons to Avoid
Setup takes a little practice
Price
Unique sizing to just one pot per stove
Multiple parts
Alcohol stove durability (same as other can stoves)
Blackening of pots (and hands)
After an initial review in 2014 and a minor update in 2015, I decided to completely rewrite this review as it didn't do justice to this great stove! I could rave on about this stove for hours, but will try to keep it to a couple chapters…as much as I love this stove if you are a simple "boil water and put it in a bag" person then I'll save your time right now and suggest you go a different direction. However, if you love the camping aspect as much as the hiking part of backpacking, actually "cook" some meals, or just prefer the ultimate flexibility of multiple fuel sources then look no further or at least seriously consider the Sidewinder Ti-Tri!COOKING APPROACH After spending almost 30 years dabbling with canister, white gas, wood...
Read more: Trail Designs Sidewinder Ti-Tri reviews (2)
Top Wood Stove / Solid Fuel Stove / Alcohol Stove / Multi-Fuel Stove
Four Dog Stove Bushcooker LT I

(1 review)
I recently purchased a Bushcooker LT 1 from Don Kevilus of Four Dog Stoves. I had heard a lot of really great things through the online backpacking communities about this stove and I decided to take the plunge. Pros: Multi fuel-This stove will burn nearly any solid fuel, or denatured alcohol, or a combination of. Being designed primarily as a wood-gas stove. Lightweight- at 2.5oz(includes ash plate and alcohol cup), the Bushcooker itself is 2.2 oz Small/Compact- Fits neatly and securely in a Snow Peak 700ml mug or similar size mug.
Read more: Four Dog Stove Bushcooker LT I review (1)
More Multi-Fuel Stoves
Trailspace reviewers have shared 206 reviews of 27 different multi-fuel stoves.
Other Types of Backpacking and Camp Stoves
Find more backpacking and camp stoves reviewed in these related categories: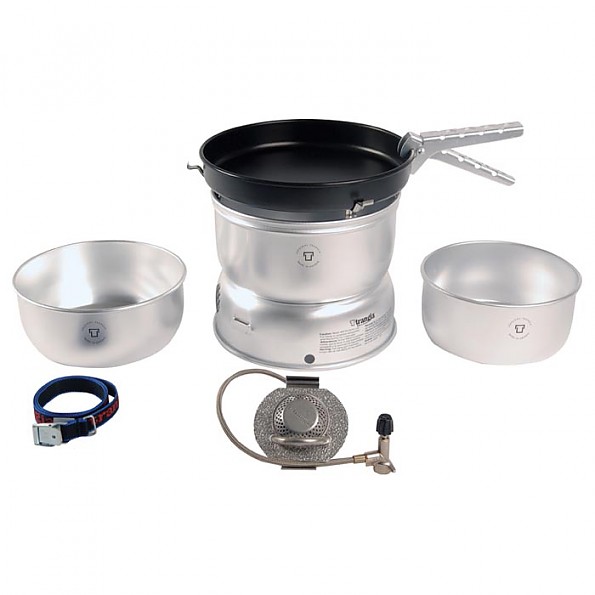 Alcohol Stoves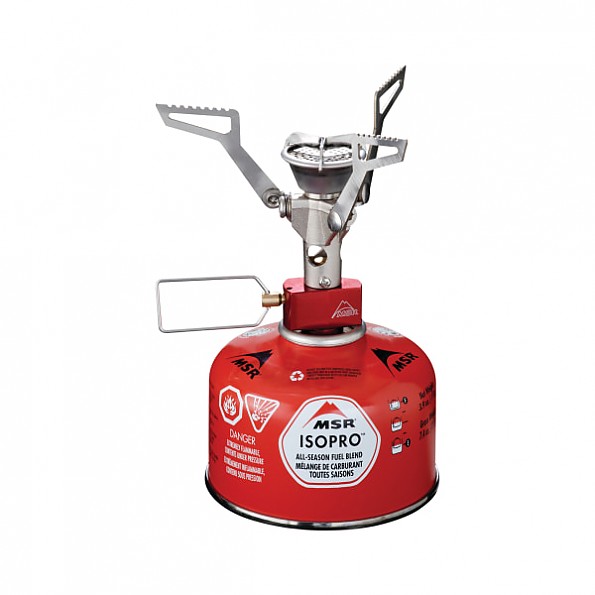 Compressed Fuel Canister Stoves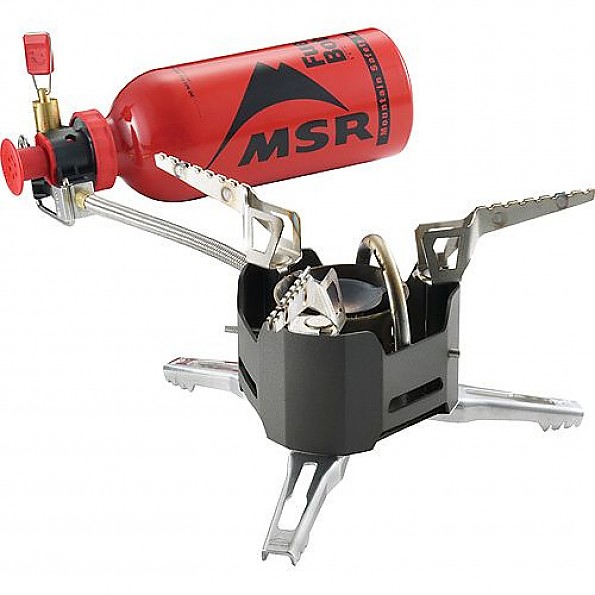 Liquid Fuel Stoves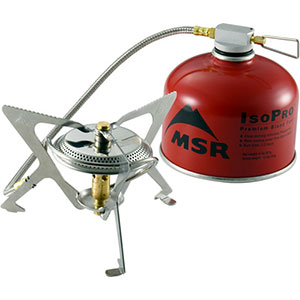 +6 more types
Review Your Outdoor Gear
If you've found this site helpful — or if we've missed something important — please consider paying it forward by some of your favorite (or least-favorite) outdoor gear.
Why? From professional gearheads to outdoor novices, everyone has an important point of view to contribute. will support the outdoor community and help others find the best gear.
Trailspace reviewers are outdoor enthusiasts like you: hikers, climbers, paddlers, backcountry skiers, and trail runners who share our experiences with the gear and clothing we rely on to get outside. Learn more about Trailspace