MSR DragonFly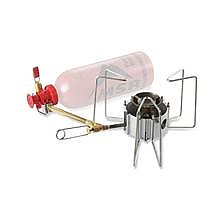 After having my isobutane become unusable at temperatures below -30° C., I purchased this stove for winter trips. It is loud but there is a reason for that and that is it is creating huge amounts of heat.
Pros
Excellent in cold weather
Can simmer, so it's great for the chefs
Multiple fuels can be used
Massive amounts of heat
Cons
Loud, literaly sounds like a jet
Big and heavy
The MSR Draonfly has been around for years. It is a tried and true expedition stove. It works on multiple different fuels from white gas, jet fuel, diesel, kerosene and gasoline. It will work in all temperatures and at all altitudes. 
I bought the stove after struggling in colder temperatures to get my isobutane stove to work properly and this stove had no trouble in temperatures below -30° C. It is great at melting snow for water and can boil a liter in less than 4 minutes.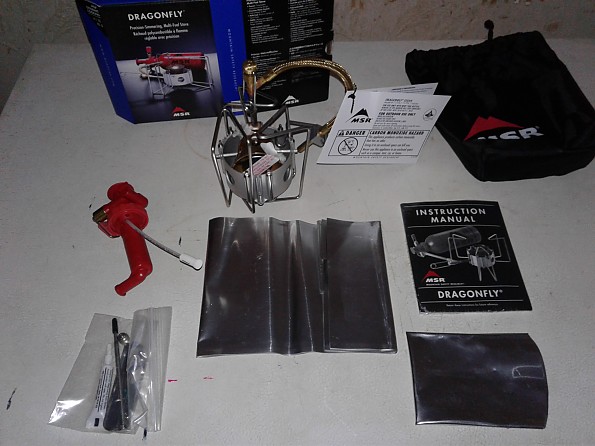 The stove has a large pot stand that can easily accommodate large pots and pans with great stability. It comes in a nice nylon stuff sack and includes the fuel pump, a field maintenance kit that has spare jets for different fuel types and all necessary maintenance tools as well as a wind screen and heat shield that work well at keeping the heat directed at your cookware. You will need to buy a separate MSR fuel bottle with the stove.
Setup and is fairly straightforward. You attach the pump to the fuel bottle, then pressurize the fuel with 15 to 20 pumps. After attaching the stove to the braided fuel line, everything is well constructed and designed to last for many years. It's just a matter of turning on the fuel for a few seconds to allow some of the liquid fuel to pool in the priming pan, then you light it and wait for the stove to preheat and turn the liquid fuel into a vapour. This takes less than 30 seconds in most cases.
After the stove is primed and the fuel turns to a gas the flame will turn from orange to blue and then it's just a matter of adjusting the fuel control to the level you desire. Flame control is extremely fine allowing, with one control on the fuel pump and a second finer control on the stove itself, a gentle simmer to full on rolling boil. I personally have never owned a stove with such good flame control as this. No more burnt pancakes in the back country.
According to MSR's data, depending on the fuel type you are using, boil times range between 3.5 minutes for a liter of water using white gas to 3.9 minutes for a liter of water using kerosene. A 600 ml. bottle of white gas will burn for approximately 126 minutes and boil nearly 32 liters of water. If course that will all be slightly less as you have to take into account the small amount of fuel you lose every time you preheat the stove.
It is a large stove and weighs 510 grams and does not fold down very much. Packed size is around 15 cm. x 15 cm. You would need at least a 2 liter pot to be able to store it in.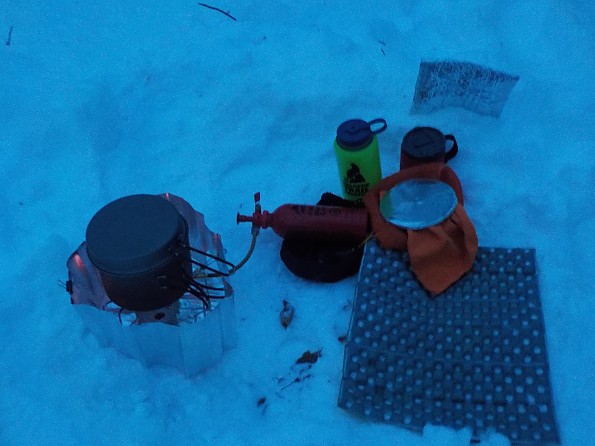 This was my first winter with it and I have even paid the weight penalty and taken it on some trips this spring when a lighter stove was an option. I love the BTU output and flame control.
Source: bought it new

Could be better; I'll give it 5 stars if MSR fulfilled the frequently asked requests.
I will not rephrase all of the greatness of this stove like all those above reviews. I will save time by reviewing the uncovered review.
Pros
Burns most liquid fuels, the same as Omnilite/Omnifuel/Whisperlite International. But with finer simmers and exceptionally precision flame/fuel control.
The finest simmering amongst all of the multi-fuel liquid stoves
More pros than cons about this stove; I will not rewrite it all here, you can read all other reviews above.
Cons
Bulky
The fuel line is not removable.
The Duraseal pump is made of strong plastic, but still, majorly plastic.
The fuel-line connector to fuel-pump clip-locking system can be tricky to use.
Loud, but still can be solved with silencers like Berniedawg Dragontamer, UFO Shape Silencer, or Quietstove #107.
I have finally read all the reviews and comments about MSR Dragonfly in Trailspace and voted up all those reviews.
I bought the MSR Dragonfly in used, mint condition like new.
I've modified the fuel line connector to be able to use a Lindal type adapter. And I chose to use the BRS fuel-pump because it was easier to disassemble than Primus or Optimus fuel-pump.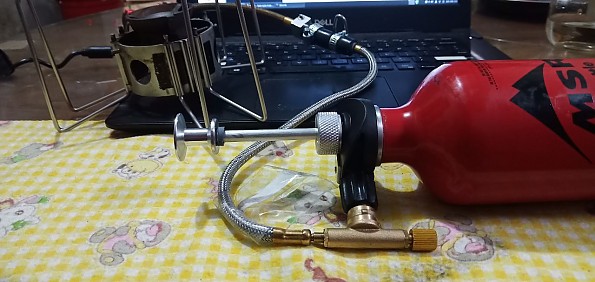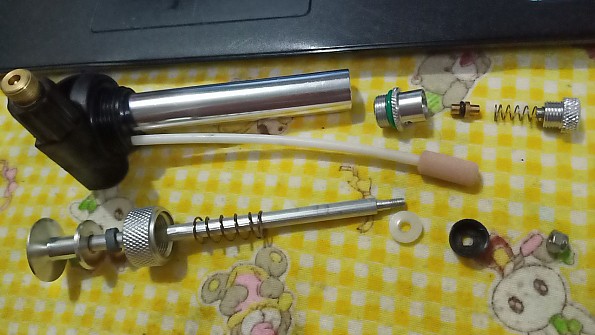 It will be better if:
[Packability] The fuel line can be screwed or unscrewed, primarily to make packing more brief, so it can fit into some narrower pots.
[Versatility] The fuel connector is a Lindal type, so it can use gas canister easily without modification.
[Durability] It was a debate in the ClassicCampStoves forum, I know, the Duraseal fuel pump was made stronger and built from stronger plastic form previous version, even I've made a human error and accidentally burn the stove, fuel-line, fuel-pump, and the fuel-bottle but it still survives, no functionality is broken, maintenance still doable. But still, it is plastic with all of its natural downside characteristics. Change the fuel-pump with a metal fuel-pump will become a major improvement, like the ones from Optifuel/Omnifuel/Omnilite/BRS/Bulin. Of course, some little parts still be made of rubber or plastic which is acceptable.
[Durability] The fuel-bottle has its inside lacquered, just like the fuel bottle from Primus. For now, I will still stick to Primus fuel bottle because of this reason.
[Durability] There are so many moving parts within the fuel pump, majorly because it was made of plastic. Change the fuel pump to metals material like the design of BRS/Bulin fuel pump, will solve this issue.
[Versatility] Provide an adapter to fit the burner into Trangia Windshields 25 or 27.
[Features] Label the fuel pump with ON and OFF to enlightened novice users that the pressure can be taken out from the fuel-bottle without wasting more fuels. So you can bring the fuel-bottle safely without being pressurized.
[Versatility] Make an adapter to fit cooking with some narrower titanium mugs, like Vargo BOT 700, or the Olicamps.
[Versatility] Provide a nozzle/jet to burn alcohol as fuel. It will make a long conversation and sometimes lead debates to controversy.
[Control] Flame control has been knowingly exceptionally precise with the MSR Dragonfly. But MSR Whisperlite International has something that no other liquid fuel stoves have: it is the Air Control. I hope we can have a manual Air Control with MSR Dragonfly.
With all points 1 to 8 made come true, MSR Dragonfly will be perfect. With points 9 and 10 come true, MSR is perfectly no rivals. Even with a higher price, it's worth all of the 10 improvements.
Experience
No trip yet, but enough experiment on my home. I will update it here whenever I go out on a trip, especially to high altitude mountain peaks.
Source: bought it used
Price Paid: KIDR2000

The one absolutely positively necessary piece of equipment in an outdoors person's inventory. Works in ALL conditions, runs on many different types of fuel, and has great temperature control. This is the only camping stove I have ever owned and will ever need to own.
Pros
Starts in all weather conditions
Multi fuel
Great fuel control
Close to indestructible
Easy to repair
Great customer service from MSR
Comes with complete field repair kit
Cons
Highest setting comsumes fuel rapidly
Windscreen is flimsy
Uses too much fuel to ignite in very cold weather
LOUD on highest setting
I bought this stove brand new the first year it came out and have never bought another stove since. I have lit this stove in temperatures above 110 degree in Rio Grande National Park to boil water for drinking and lit this stove in a blizzard in the mountains of New Zealand with temperatures below zero F.
I once got trapped in my station wagon in a blizzard in the mountains of Arizona for five days but I never panicked because I siphoned gas from my car into this stove, melted snow, and all was right with the world. I had an old butane lighter that refused to work but the flint was enough to light the stove.
What makes this stove a miracle in my eyes is that it just works. So many things today are so technical but this stove is almost primitive in its simplicity. Put fuel in the tank, pump the pressure up, and then light the stove and bang that is all there is to it.
Have I had issue with the stove? Yes. Kerosene is very smokey and I've had it clog. But the tool kit that comes with it solved the problem in five minutes. Once, the threads on the flame control got stripped after owning the product for about five years. I called MSR customer support and they sent me an entire new stove (the whole entire thing) for FREE. That is standing behind one's product.
I do agree with other posters that turning the fuel control all the way up burns massive fuel. I've always seen that as trading off fuel efficiency for speed. It not really a problem with the stove as it is an issue of fuel planning, IMO. If I have one gripe its the amount of fuel that the stove needs to pressurize,  especially when it is very cold. Below freezing the stove becomes very tweaky to get lit if one is trying to conserve fuel.
Give me this stove and a good down sleeping bag and I'll take on the winter elements any day of the year. A genuine life saver. I can't say enough good things about MSR or this stove.
Setup: A+. Quick and easy, stability bars have springs.
Ignition: A. Not the most fuel efficient in cold weather.
Flame Control: A+. Best on the market.
Cooking: A+. I use MSR non-stick pots.
Boil Time: B. Not the fastest when conserving fuel.
Wind: C. Wind screen cold be better as very high winds blow the foil around too much.
Fuel Efficiency: Null. I don't have other stoves to compare it too.
Stability: A+.
Packability. A. Not the smallest but it has never been an issue for me.
Ease of Use: A. My only issue is too much pumping to pressurize bottle.
Construction: A+ MSR stands behind product and replaced defective model for free.
Source: bought it new
Price Paid: $99

I have owned the MSR Whisperlite International stove for 7 years without any problems at all.  I bought the Dragonfly because I wanted finer control for simmer, the Whisperlite really doesn't do that well, it's pretty much either on or off. The only exception to this is if it's a completely still without any wind, then, you maybe able to reduce the flame to slightly above a simmer without it conking out.
Here is my review of the Dragonfly, within the past week I have owned it:
The Dragonfly is larger than the Whisperlite that's for sure, getting it and the fuel pump into my 2L MSR pot kit is pretty challenging.
Noise wise it's not really that bad! The Whisperlite runs on liquid fuel too and still makes a bit of a roar when going full pelt. The Dragonfly is nothing like some have described i.e. a jet warming up or being deafening. You certainly know it's on, but I can still have a conversation with others around me. Until they make a silent liquid stove there will always be people complaining; Children in campgrounds are much worse LOL.
Good Points:
The Dragonfly is very good at getting hot!
It seems very economical on fuel (I use white gas/shellite exclusively) on par with the Whisperlite I'd say
Seems strong in construction
Simmer function is very good and easy to control — Major bonus for anything other than boiling water!
It is fast to get up to operating temperature i.e. quick from priming to full flame, in my experience it is quicker than the Whisperlite
Wind doesn't seem to bother the flame too much (compared to the Whisperlite which really doesn't like any breeze at all) it kept going strong even with breezes going through it
I actually like the sound of it! Scares those other pussies around me using canister stoves :P
The underneath side of the stove is only warm to touch after 10 mins running at full pelt! this is great if you need to put it down somewhere that doesn't like too much heat
It takes many fuel types. As I said earlier, I use Shellite exclusively, but to have other options is a good thing if I'm in an area that only had diesel, unleaded fuel or kerosene.
Bad Points:
Sure it's a little louder than the Whisperlite International but it's not that bad considering the whole package
I really don't like how the fuel pump for the Dragonfly can not be interchanged with the other MSR fuel pumps... If this fuel pump breaks then I can't just use the Whisperlite International pump :(.
There is a number of solder points on the fuel tap tube attached to the burner.  I think this could be a point for metal fatigue, particularly over time.  This wouldn't be good i.e. EXPLOSION!
Summary:
So far in my week of owning this stove I am very happy with this purchase and have even bought one for my friend for xmas :)
This is the bit of kit you use when you cannot afford for anything to go wrong! It is highly reliable and simple to use even when your brain is zonked out from the fatigue of climbing all day and altitude.
Pros
Reliability & simplicity
Widely spaced legs = no spills
Robust
Folds up small
I have used this stove on many occasions and from sea level up to 5,500 metres. It has worked beautifully for hours on end and never let me down.
This item is critical above the tree line or on occasions when one is camping and circumstances do not allow open fires. Making breakfast for a team of 8 guys and then melting heaps of snow is a cinch!
The aluminium windshield is lightweight but it can get knocked around by windgusts. So when I am not majorly concerned about weight I carry a lightweight foldable 10 panel stainless steel shield that I got on eBay.
As we all know, seeing your meal fall onto the ground after mucking around to get it ready can be a real bummer. Unlike other stoves, I have never had a spill with the Dragonfly and really do appreciate how widely spaced the legs are and the simple way that they lock open.
I just connect the bottle with its integrated pump to the stove, pump it up, and then let a small amount of fuel into the bowl. Lighting it can sometimes be tricky in strong winds, but hey, that applies to the majority of stoves anyway. On those occasions I just let more fuel in and watch it flare up and burn!!
I have the three different sized fuel bottles that I use depending on how high and how long I am away for. I find that because I can adjust the flame I can save on fuel and I have yet to run out of fuel on a trip.
The instructions are easy to follow for first timers and I just love the ability to regulate the flame. High for meting snow and low for heating foods without burning.
I believe that a stove is esential for winter activities. Do not try to scrimp on this bit of kit as you could end up in a world of hurt. The MSR Dragonfly is bombproof, highly reliable, and uses whatever fuel you have at hand. 
Source: bought it new
Price Paid: $170

This is a stable and reliable stove for base camp cooking or backpacking.
Pros
Great simmering
Very good heat output
Able to handle a cast iron frying pan or good-sized pot
Field rebuildable
Cheap fuel
Works well in cold weather
Excellent product support by manufacturer
Cons
Not able to buy a single part…have to buy a parts kit.
Pump is an expensive, disposable item.
Always need to check for fuel leaks before ignition…you never know when an o-ring will fail
A little bulky
Noisy
I have used a number of MSR stoves over the years (Whisperlite, XGK, XGK EX, and the Dragonfly); they have all been reliable performers. The O-ring at the fuel line interface with the pump has always been the failure point…I replace it annually with an inexpensive O-ring from the hardware store. After 10-15 years, the pip on the pump's NRV (non-return valve) gets hard; I just buy a new pump.
Operating this stove is straightforward…pump it 20-30 strokes (depending on fuel level in the fuel bottle), open the fuel valve on the pump, check for fuel line leaks, open the burner valve to allow liquid fuel to flow out of the burner jet (maybe for 5 seconds), close the burner fuel valve, ignite the liquid fuel at the burner and let it burn until the fuel is almost completely consumed and then slowly open the burner fuel valve…you should see a blue burner flame. Note:  If you are using a fuel other than White Gas, considering using denatured alcohol to pre-heat the burner in order to reduce sooting.
Once lit, the burner roars. Heat output is good, but suffers a bit due to the distance from burner to pot. Simmering ability is excellent! Pot stability is excellent…if you are using a very small pot, you might want to bring along a small trivet. The stove pot supports will sink into the snow…an old license plate placed underneath the stove will take care of that. The provided aluminum windscreen works pretty well. Since I only burn White Gas, the jet has never plugged on any of my MSR stoves…having a shaker jet would be handy, if needed.
I bought my Dragonfly used a year ago…the previous owner had abused it…the jet was corroded in place and the fuel filter was missing. After cleaning the fuel line with carburetor cleaner, it ran better. I ran the stove on White Gas with a little Sea Foam mixed with the fuel…after two tanks of fuel, the stove ran like new.
There is no perfect stove, but this one is pretty close.
Experience
See above
Source: bought it used
Price Paid: $10

This is a high quality stove with the advantage of having simmer functionality. It's a liquid fuel stove with MSR's simplicity and reliability, so you can count on it to fire up even at the lowest temperatures. Keep in mind, it's designed to be a gourmet backpacking stove, so it's substantially larger, heavier, and bulkier than nearly all of MSR's other backpacking stoves.
Pros
Reliable in the coldest temperatures
Simmer ability
Quality construction
Easy to use and set up
Stable pot stand (easily supports a 9" frying pan)
Multi-fuel
Easy maintenance
Cons
Heavy/bulky
Loud
Consumes fuel quickly on high
Pump cannot be used with other MSR liquid fuel stoves
Pot sits too high above the flame
I bought the MSR DragonFly when my partner and I took an adult and 2 kids on their first backpacking trip.  In order to give them a memorable, fun, first time backpacking experience, we opted to base camp and prepare gourmet backcountry meals we'd never dream of cooking for just the 2 of us.
The stove was ideal for the specific purpose I bought it. Keep in mind, it's larger than most backpacking stoves, meaning it's bulky and heavy for anything other than base camping with a group. The upside is that it's every bit as reliable as my MSR WhisperLite with the added benefit of flame control. It will also fire up in the coldest temperatures and field maintenance is a breeze.
The biggest issues I have with this stove are:
on high it's as loud as a jet and burns through fuel at an alarming rate,

the pot sits too high above the flame (boiling a pot of water takes at least 5 minutes)

the pump is not interchangeable with other MSR liquid fuel stoves.
The things I love about this stove are:
it's extremely stable,

high quality construction,

easy to use,

it simmers, it simmers, it simmers!!!

reliable in any temperature,

can be used with multiple fuels — white gas, diesel, kerosene.
If you're looking for a great basecamp stove for groups of 4 or more, this is it.  It's great for backcountry gourmet cooking, frying, and baking when you don't mind carrying some extra weight or adding extra bulk to your pack.
Source: bought it new
Price Paid: $115 USD on sale

I absolutely love this stove.  I had been looking for a good backpacking stove for quite a while, but I didn't want to spend a fortune to get one. I had been using an old, reliable Coleman stove that uses a small propane tank, but it was large and heavy for backpacking. 
Then, I came across this stove being sold in a box of other miscellaneous camping gear at a police auction.  I bought it on name alone, knowing MSR to be a great brand for backpacking equipment, especially stoves.
When I won the whole lot of equipment for only about $25, I was stoked, and just hoping that this stove worked.  (It turned out that some of the other equipment in the box of gear was also pretty good, but I was bidding solely based on this stove). 
I got it home, opened it up, and was dissappointed to realize I need to get a canister and fuel, so I drove immediately to the store and purchased it, and got it all ready.  I spent a few minutes looking online to find this model and looking for instructions to make sure I used it properly.  I set it up, lit it, and was amazed at the quality of this product.  It blew my old Coleman stove out of the water. 
Like others have said, it is a bit loud, but I love that.  It means I know it is working.  Plus, the sound really is like a jet engine, which is a pretty sweet sound.  It is very easy to adjust the flame height to get that perfect simmer, although I mostly just turn it up full blast to boil water, which is amazingly fast.
With the amount of heat and sound coming from this small unit, I always expect the canister to be emptied quickly, but I am always amazed at how much extra fuel I am lugging home from the backcountry.
This unit is not the smallest or lightest on the market, but it is very sturdy, and small enough for me.  Plus, it is powerful and reliable enough to be the only stove taken on a four day trip for four men.  We still ended up only using about 1/2 a tank of fuel.
Fantastic stove!
A stable and reliable backpacking stove. A simple design that affords flame control and packs a punch with the heat it produces!
Pros
Stable platform for cooking pots
Adjustable flame control
Simple design
Substantial BTU's generated
Having used an MSR WhisperLite in the past, I was intrigued by their newest stove. This stove provides a very stable and larger base for pots, one that is larger and more stable than the Whisperlite. It does boast more BTU's of heat, however it is a bit loud when the valve is fully open.  
Igniting the stove is simple and easy as it will light with a traditional lighter or match and even a sparker (metal striker with a striking post). Boils water quicker due to the increase in BTU's it generates, which is handy as water takes a bit longer to boil at higher elevations.  
The stove did not seem to have many problems with wind and the included wind shield worked great to help increase the heat load around the base of the pot. It is fuel efficient as it will use around one bottle for 6-8 meals (typically used for dinner only over 5-6 days). It does not fold down as compact as the Whisperlite, however it folds down to a fairly small size.  
I used this stove in the Sangre de Cristo mountains of NE New Mexico in elevations ranging from 8,500-11,000 feet and it did not disappoint. The only problem I encountered was the rubber foot on the pump plunger. It must have gotten fuel around it or was faulty rubber used as it appeared as it was subjected to a solvent and gummed up causing issues in getting air pumped into the fuel bottle.  
This is a must-have piece of equipment whether you are traversing the mountains of Philmont Scout Ranch or anywhere you want to enjoy God's country!!
Source: borrowed it

Three times a day, every day for four years. This is how every product should be made.
Pros
Reliable: easy to clean and maintain
Flexible: uses a wide variety of fuels at
Versatile: simmers and boils fast
We are fortunate to live an unusual life on the road. Some people love to eat out while traveling. For us, we love to visit the local markets and shop for unusual ingredients then go back to our camp and make an interesting meal.  
The MSR Dragonfly is the perfect stove for this type of travel. It simmers beautifully yet produces a roaring flame when melting snow. It burns a variety of fuels so there is no difficulty finding something to burn when going internationally. And it is backed up by MSR. 
Once, several years ago, we were traveling India on a Royal Enfield motorcycle with our backpacks strapped to the sides of the bike. I accidentally banged one of the backpacks into a wall at about 20 mph. The stove was on the wall side of the crash and one of the support legs broke.
Fortunately, the stove itself worked perfectly and we continued to use it for another eight months. Once back in the U.S. I contacted MSR to ask if I could pay to have it repaired. They told me to ship it to them. A week later I found a package in the mail containing a brand new stove. They charged me nothing. 
Today I am fortunate to own my own business.  I used MSR as a model for how I want to treat my customers. 
Source: bought it new
Price Paid: $109

Why else would it be the most used stove on expeditions?
Pros
Burns anything except alcohol, which I'll be sipping
The most usable in cold conditions and high altitude
Best flame control of any stove
Field serviceable
Cons
It's not as light as a butane canister stove
I've owned and used the MSR WhisperLite, SimmerLite, and the Dragonfly's predecessor the Firefly that I bought in '81 when they first came out. The design of the Dragonfly has similarities with some major improvements.
The Firefly was a white gas/Coleman fuel stove that would burn unleaded gas in a pinch, but it tended to clog the jet with bits of carbon and it wasn't fun to clear. The stove would shut down and after cooling it took removing the jet and dislodging the culprit, then reinstall the jet and warm up to use again. This didn't happen with white gas, so it was virtually a one fuel stove. It did boil water fast, but there was no such thing as simmer control.
The huge improvements of the Dragonfly I refer to are the use of multiple fuels, superior flame/simmer control, the stability in use, and compact carry positions of the legs/pot grid. It's built to last and the performance is flawless. The new pump was improved, too.
If you're in the wild for an extended stay or on an alpine expedition it's a must to have. For short jaunts closer to civilization I use my $10 Chinese butane canister stove to lighten the load.
Source: bought it new
Price Paid: $86 new shipped from an ebay vendor

12 years and still going.
Pros
Good simmer
Fuel efficient
Never clogs. Never ever.
Backcountry PIZZA!
Works below freezing just fine
I will never buy anything else. 12 years and still going strong. At least 30 desert backpack trips and nary a single clog. I've never even had to clean the thing. Previously I used a WhisperLite, and that clogged every time I used it. 
The only maintenance I've done, the entire time I've owned it, was to put lube on the plunger for the pump. The little leather thing. And I only had to do that once. That was last year and I guess I'll have to do that again in 11 years, ha ha.
It is sorta loud at full bore, but every stove is. Many are louder. 
The simmer is pretty good. Maybe it could get lower. But I can get it low enough to cook pizza. Need I say more? This opens a whole new world of backpacking food awesomeness. 
It seems very fuel efficient. Four of us get a weekend out of a small fuel bottle. And that's cooking rice and other dried stuff that needs to simmer for 20+ minutes.
Buy this while they still make it!! As I write this I can't believe how reliable it's been over the years. 
Source: bought it new
Price Paid: $89

I am a novice camper; I wanted a small stove for boiling water and similar basic campground cooking activities. My wife has an ancient Optimus that looks too tiny for even a small cooking pot, so I was attracted to the wide, wire pot supports of the Dragonfly.

Learning to start the Dragonfly requires one or two "test runs" in your backyard, before venturing off to camp; but once you get the hang of it, it's a snap. As other reviewers have said, the almost infinite flame adjustment is terrific, and it can really heat a pot of water or coffeepot fast. It IS noisy at high flame but just hisses at lower settings. My only trepidation with this stove is the small "fireball" to prime the flame cup. If you are trying to make coffee in a tent vestibule, this could represent a risk. I haven't had the problem yet, but I am extra watchful. I wish this stove had an instant-on, to avoid that "fireball". So as not to freak anyone out, the "fireball" is usually the size of a golfball and never larger than the size of, say, a baseball, so it's not too big of a risk.
Otherwise, I love the stove and can fit it into a 1.5 qt farberware pot I use for everything from coffee in the AM to MREs in the evening. Get one!
Price Paid: $80

It's easy to use, has amazing flame control, and get stuff hot super fast. It's as fast as a Jetboil when we tested side by side, and definitely more versatile. I use it all the time and it's held up so well.
Pros
Versatile.
Good control
Low gas use
Tough
Cons
Slightly bulky
Uses liquid fuel
This is the best little cook stove around for versatile options. I picked one up used for like 15 bucks and it's been amazing. Haven't even had to service it in about six years.
It's easy to use, has amazing flame control, and get stuff hot super fast. It's as fast as a Jetboil when we tested side by side, and definitely more versatile.  
It's enough stove for fancy car camping cooking, but still small enough that you don't mind carrying it on a backpacking trip. 
Experience
Used lots of different stoves, from Colemans, to Jetboil, to tiny folding ones. Used this one for about six years and still going strong. Still in love.
Source: bought it used
Price Paid: $15 USD

I've been using this stove for about a decade since a Coleman Peak1 died on a trip. These stoves really do simmer (stunning, from MSR). They can also really crank up, although I rarely run it that way so as to conserve fuel. The small bottle will last me 5 dinners and 5 breakfasts (barely). 
Other reviewers have mentioned the noise, but these stoves are not as loud as other MSRs I've experienced. 
Only real durability problem was the burner popped off the base one time. Stove still worked for the trip, and MSR fixed for free. Other than that, in a decade I've had to replace only one O-ring (and the pump when TSA confiscated the entire fuel bottle/pump, which I now always pack separately). 
A little awkward to pack, but not too bad. After a decade, my windscreen has finally bitten the dust (aluminum foil can only be bent and re-bent so many times), but I got years more use from it than I anticipated.
I should add, my wife does not like this stove because she does not like pumping it up--she wants a stove to just turn on.  But if you prefer white gas (as I do), you will be very happy with this stove.
Price Paid: I can no longer remember

This is a reliable stove that will burn more like an afterburner or casting furnace. It is a well made stove. My only two complaints are minor.
This stove is not exactly quiet. It's hard to converse when it's cooking for you; however, that being said it does cook fast. The other problem is the o-ring that seals the fit for the brass to bottle insert wears fairly quickly, so make sure you have a few in your repair kit—one should always have an equipment repair kit. It will last a little longer if you spit on the brass or lubricate it with petroleum jelly.
But as stated earlier, this is a reliable, get started anywhere, cook whatever you want it to stove. I can tolerate noise for hot food. The o-ring issue is no big deal unless you run out of them in the field.
Update 7/2021: I bought the Quietstove silencer for this stove. It takes a bit more to warm up the stove, but it's damn quiet now. Works well and no change in boiling time for my stove. 
Source: bought it new
Price Paid: CDN $135

Replaced my great WhisperLite that got destroyed getting caught up in a dog leash and went on a good run. I considered getting another but starting looking at the DrangonFly due to greater control of the heat
Pros
Able to start in cold and high country conditions
Simmer is a fuel saver as needed.
After a few years @10, found the pump rather came apart and in contacting MSR wanting to purchase another pump they graciously replaced the entire pump assembly..that was about 15 years ago. That is such great customer service. About 20 years ago they did the same on my MSR water filter so they got a customer for life. 
The stove is a lot heavier and bulky compared to other stoves like my WhisperLite as a whole, however it has been bomb proof. When one is remote having a dependable stove is critical. 
With the wildland fires here in Colorado of late, the days of having a small camp fire for cooking will likely become more problematic. As a firefighter, I carry the DragonFly for making a good cup of coffee in the morning; fire camp coffee is often pretty yucky. 
Good kit. J
Experience
Looking back had everything from the old Coleman pump stove to canisters of different designs, had a few experiences of the canisters leaking when moving the camp to another location and having a non-working stove. When conditions allow I still prefer a small fire, but in dry conditions it's best to use a stove.
Source: received it as a personal gift

I like this stove mostly because of the wide stand to hold pots and its simmer capability. I have noticed with the simmer capability, that I tend to save fuel when compared to my Whisperlite International.
For example, after you are done heating water, to save fuel you can turn the Dragonfly way down to just a teeny weeny flame until you need it again. With the Whisperlite you have to turn the stove off or the stove continues to burn fuel at max output. 
That being said, the amount of fuel consumed by the Whisperlite compared to the Dragonfly is probably miniscule for most people. Also, I wouldn't give up my Whisperlite because of its ruggedness and ability to tear down.
On max output, the Dragonfly is a bit noisy, but heats water quickly.,.then you turn the flame waaaay down and it is quiet again... but... when you need heat...crank it back up! 
A number of people knock MSR's plastic pumps but I have never had a problem. 
I give this stove 5 stars!
Price Paid: $80 New on ebay

The Dragonfly is THE best simmering multi-fuel stove I've ever used. You can simmer so low that you can actually bake with it, which is one of the big reasons I got it. Baked Bisquick biscuits W/ jelly inside is great on a cold winter evening.
Howsomever... nice as it is I had to file notches on the top of the pot rests/legs to keep my pot from slipping. And in all the years since its introduction MSR has not seen fit to put no-slip notches on the wire pot supports. Strange.
Also, since I bought my Dragonfly MSR has upgraded the pump assembly so I bought the new version. Hate to have a pump failure at -10 F!
Now this sucker is the heaviest stove MSR makes, so it only goes with me in winter. But it is dead reliable, as a winter stove should be. I bought the Lexan plastic base for it to keep in from sinking into the snow of my stomped out kitchen.
Eric
Price Paid: $98 at EMS, 1994

I have had this stove since 1998. It has loads of heating power and it sounds like a loud jet taking off at close range. It also has the capacity to simmer, which is a wonderful feature if you are cooking foods rather than heating water.
Care and feeding: the DragonFly likes white gas/ naptha best. It will also burn unleaded gasoline, unleaded gasoline with 2 stroke mix, diesel fuel, kerosene, mineral spirits/ stoddard solvent, av gas, jet fuel and variants of all of these. However, if you will be using fuels other than white gas be forewarned that you must be very careful with the amount of pressure that you pump into the fuel bottle (not included).
Also be forewarned that you will clog the fuel system if you use kerosene and diesel. A clogged fuel system leads to flameouts, sooty buildup on the bottom of your pots and other problems. If you must use other fuels bring along some starter paste and some alcohol to clean the fuel filter with.
Price Paid: $89

Had my DragonFly for almost eight years now and it's simply amazing. It's very easy to use, stores very nicely in my MSR Alpine cookset and it simmers very well. Easy to maintain and disassemble and although I've never used anything but white gas, it's never clogged or has failed to start.
The reason I give it 4 stars is because of the plastic pump. Not only does it feel fragile but I've already broken one of them during routine use.
With that being said, MSR was very quick to replace my pump with a new unit with no hassles at all. They did mention that their earlier models experienced this problem. I've been using my new pump for over three years and to their credit, it hasn't failed since.
With that being said, I do have another stove which I use for cold weather use just in case. And that's the Optimus Nova... which is made of aluminum throughout.
Not ultralight, but bombproof.
Cons
Hard to get going in winter
A bit loud
A bit bulky
Easy to set up. Easy to light in normal temps. Takes more effort in winter. Highly adjustable flame. Boils a litre in about 3 minutes (summer).
Frying takes a bit of work due to small flame footprint...requires that you constantly move frying pan around. Requires the windscreen for sure. Have to be careful with stability. It is noisy and somewhat heavy compared to others, but it's indestructable.
The only issue I experienced is when somebody overtightened the pump shutoff to the tank. Had to get a new one.
Source: bought it new
Price Paid: 150CDN

this is the best multi-fuel stove, period. i have had mine for 6 years and did many hiking trips with it, as well as using it with car camping and day trips.
using unleaded gasoline has finally caught up with the fuel line and the filter needs replacement. but other than that (and one o-ring replacement) this beauty is bomber. if you use it a lot it pays for itself in fuel savings and it gives you the option of going just about anywhere in the world knowing that you will have fuel. for a party of 3 the 600ml fuel bottle should last about 4 or 5 days.
noise is a given if you go full blast to boil water, but imho it's not con; just a given. small price to pay for the overall performance of the stove. and when it simmers the noise level is fairly low.
Price Paid: US $110

I had my DragonFly since the month it was released. Have had good luck with stove in the cooking department. Do not like the fact that the stove MUST use the windscreen in any area where there is any kind of wind. Also the pumps are poor.
On my third and if this one doesn't hold up the stove goes back to MSR. The newer pump looks better, but still doesn't look like it will last. I use my stove 10-15 days a year. You would think the pumps would hold up better. This is the third design for the pump that I know of. What does that tell you about the pumps.
Again nice simmering stove. Hot when on full. Loud, but good. Just realize that the bad points are the pumps, can't run without windscreen when the wind blows, and is really loud.
Price Paid: $110

Burns any kind if flammable liquid, which is nice for out of country hiking.
Pros
Multi liquid fuel
Great stable cook area
Great product by MSR. Very nice that it can burn any kind of flammable liquid. Also can be rebuilt in the woods if need be.
Boils water a little slow compared to other stoves, but gets the job done. Brings a liter of water to a roiling boil in just over 4mins. Has a great side cooking area support.
Used it couple weeks ago with three people camping and cooked everything from bacon to pancakes. Would highly recommend to anybody.
Source: bought via a "pro deal"
Price Paid: $50

I have run this stove all over for more than 6 years without significant issue. With proper maint it has run just about every flammable liquid I could get my grubby little mitts on. I use it in concert with a PocketRocket to teach Boy Scouts and have really only run into one issue. The fuel filter at the end of the intake line popped off into the bottom of the fuel container (it doesn't float). I had to dump the fuel into another container (read several paper cups) and fish it out then dump the fuel back in. Not too bad for all the abuse I've put it through.
As with some others, serrations on the pot rests would have been nice, but are easily manufactured after-market with a handy dandy Leatherman file.
Price Paid: $125

A great, reliable, powerful stove. Sure, it is a little loud, and not the lightest, but for me it is worth carrying on a long trip just because of the convenience.
I also found that is uses very little fuel compared to what I would expect. I went on a trip with 2 full bottles, wanting to be safe, and came back with 1 and a half after 6 days or so just boiling water.
One remarkable thing about the Dragonfly is that the design has been almost the same for over 15 years, so for my old Dragonfly I can still go to the store and buy another fuel pump the day before I am supposed to leave because my old one breaks in a test. MSR is great.
Excellent backcountry stove — reliable, almost indestructible, and easy to use.
Pros
Ease of use
Inexpensive operating costs
Light weight
Completely effective, reliable, almost indestructible piece of gear. Very easy to use and cost effective — uses any white gas which can be had inexpensively (i.e. if you don't buy the MSR brand). Couple it with the right size fuel bottle(s) and its good to go for any trip.
Cost is high to start, but running costs very low.
Source: bought it new
Price Paid: $139

It works great, heats up very quick and easy to maintain. Downfalls fuel line is little short and it's very loud.
Pros
Easy to maintain
Heats up quick
Compact
Cons
Short fuel line
Very loud
I have had this for years and use it all year round and I have never had any problems with this stove.
Source: bought it new
Price Paid: $129

I have owned this stove for one year. It has been used about ten times mostly in winter conditions.
Durability - Not Rated
There has been no problems with the stove to date. I will use it for another year before giving a durability rating.

Size and Weight - 5 Stars
No problem packing this stove.

Ease of Setup - 5 Stars
Ready to go in a few minutes

Uses Different Fuels - 5 Stars
I stick with white gas because it is cleaner burning.

Pot Base - 5 Stars
It has a large stable base for your cooking pleasure.

Heat Output - 5 Stars
Good heat output even in extreme winter conditions.

I enjoy using this stove on my backcountry snowshoeing trips.
Price Paid: $124.99 CND

My new DragonFly had lots of problems with blockages and poor performance from the outset on the AT. After using an XGK for 15 years I found this poor quality really annoying. I sent it back to MSR who serviced it and replaced seals before sending it back.
It's still the best stove for long term walking as any fuel will do if you can't get white gas. Nothing funnier than filling your fuel bottle at a gas station and paying your 65c. 
We generally use a liter of white gas for two people for 8-10 days. Boiling water for breakfast and dinner every day, that's 8 cups of water per day.
I have used my stove once in the past month. I have been busy, but I used it at about 9000 ft. and I was very impressed with the heat that it put out and how fast it boiled water. The best feature about the Dragonfly is that it has an adjustable flame!! You can keep your water warm for dishes or you can adjust it it and boil very quickly, four minutes. I love my DragonFly!
Only downfall is that at full flame it is fairly noisy!! It burns pretty much any fuel you can get a hold of, so that is also another a bonus!
Price Paid: $119.95

This is an awesome stove. My buddy and I both have one; he has one of the older ones with the old pump he has had his for five years and it is still going strong. We find that the stove is very good on fuel and is very hot. I have never had it go out in wind or snow, or rain. The stove is light and still has one of the best pot bases that I have come by. The simmer feature is really nice, helps not to burn food..
I would tell anyone any day of the week to get this stove

Price Paid: 136 CND

The best and the most reliable backpacking stove I've ever used.
Pros
Owned my Dragonfly since 1993. Carry a spare parts kit and NEVER once had to rebuild it. Always lights without incident, even in high humidity weather. NEVER had an O-ring fail. Tamed the jet roar with a QuietStove adapter. Worth every penny it cost.
Cons
When a stove never fails, there are NO weaknesses.
Every year, the trails I haunt beckon me to pack the K2 Longbed and get away from civilization once more. Each time I go off into the wilderness, I pack the MSR Dragonfly. It's the same one I purchased in 1993, and the same stove that consistently works without fail, heats up my tea, and makes one-pot cooking a delight. 
Experience
This is the stove I've owned since 1993 and it has never failed me.
Source: bought it new
Price Paid: ¯\_(ツ)_/¯

Best allround multi-fuel stove around if space and weight isn't your primary concerns. Flame control is unparalled for this type of stove, fairly easy to get going (once you have the hang of it) and technically very robust. Burns with a fair amount of noise, but not nearly as much of an issue as what some make it out to be. Fuel costs kept low if you are a frequent camper and will operate on nearly anything liquid that's flammable - go India, Nepal, South America, Africa... Anywhere. Anytime. Proper cooking.
Price Paid: USD 99

Great stove! Have used it dozens of times and it has performed well every time. The only drawbacks are the size and noise. This thing sounds like a jet engine taking off. You can wake up an entire campsite cooking hot chocolate late at night.
It's relatively small and folds up well, but the fuel line protrudes a little. Would be great if it folded also, and I could fit it in my cooking pot.
Price Paid: $85

I have been mountaineering/backpacking since I was 6 years old. I am now 15. I had been using the MSR Whisperlite for two years. I bought the Dragonfly on the recommendation of a friend.
I love the simmering capability. The flame can be adjusted so low I actually baked a pizza on it on Pikes Peak. Only drawbacks are the noise and size.
Overall I am very pleased with this stove. Thanks MSR.
Price Paid: $129.99

I have used this stove over fifty times in the last couple of years. It boils water extremely fast and turns down as low as a match flame for simmering. It has been nothing but rock solid. Does not ever clog up like other stoves I have had in the past. Only downside is it is a little loud at full blast, but I wouldn't trade it for any other stove.
Price Paid: $100

Hard to find any problems with this stove.
We took this to Philmont over a 70 mile backpacking trip at about 8000 ft. not any real complants. worked fine for a crew of 9, I usually use the MSR Pocket Rocket at lower altitude for solo cooking.
I'm not sure if I would use this for solo cooking, just because of the extra weight & space.
Price Paid: $139

My primary stove for five years. I leave the windscreen at home and use the canoe instead. Has never failed or ever clogged despite never having cleaned it. It's loud at full burn, but if you're being conservative, you don't need that much heat anyway. Its stability with larger pots is unsurpassed. In my opinion, the best stove available.
Price Paid: $109

I enjoy this stove over the MSR Simmerlight because of the easy flame control and large base. It is easy to balance 4 and 6 qt. pots. One complaint is that the flame would occasionally go out if the wind picked up. Other than that I had no problems on my last 12 days in the Boundary Waters.
Price Paid: $120

A very good piece of kit. It is easily adjustable from a gentle simmer to a blow torch that sounds like a jet taking off! It burns almost anything and it is easy to use. The pot support is big and stable which is why I chose this rather than the MSR XGK.
Price Paid: £80

Very good stove that simmers well, although it is extremely loud. The plastic pump is somewhat fragile so it would be best to not be to rough with it. It's also a rather cumbersome stove.
Price Paid: $150

Very nice stove, only complaint is you must use the wind blocker when there is only a little breeze.
Price Paid: $89.99

Great stove. Works at the top of the mountain as well as the bottom. Cold weather has no effect on it.
A little loud but I like the ability to simmer and not just boil water.
Price Paid: $89

Your Review
Where to Buy
Help support this site by making your next gear purchase through one of the links above. Click a link, buy what you need, and the seller will contribute a portion of the purchase price to support Trailspace's independent gear reviews.
You May Like
MSR introduced the DragonFly stove in 1998 to reliably deliver flame control with a simple knob twist.
The DragonFly replaced the MSR SimmerLite.
Specs
white gas
diesel
kerosene
Price
MSRP: $189.95
Current Retail: $139.95-$189.95
Historic Range: $85.48-$189.95
Reviewers Paid: $10.00-$170.00

Fuel
white gas, kerosene, unleaded auto fuel, diesel, jet fuel

Boil time for 1L of water
3.5 minutes
3.5 minutes
3.9 minutes
Water boiled per 1oz of fuel
1.6 L
1.7 L
1.7 L
Water boiled per 100 ml of fuel
5.3 L
5.7 L
5.7 L
Burn time 600ml/20oz fuel
126 minutes
136 minutes
153 minutes
Dimensions
4 x 4 x 6 in

Weight
14.1 oz / 0.40 kg

Country of Origin
Made in Seattle, USA