MSR XGK-EX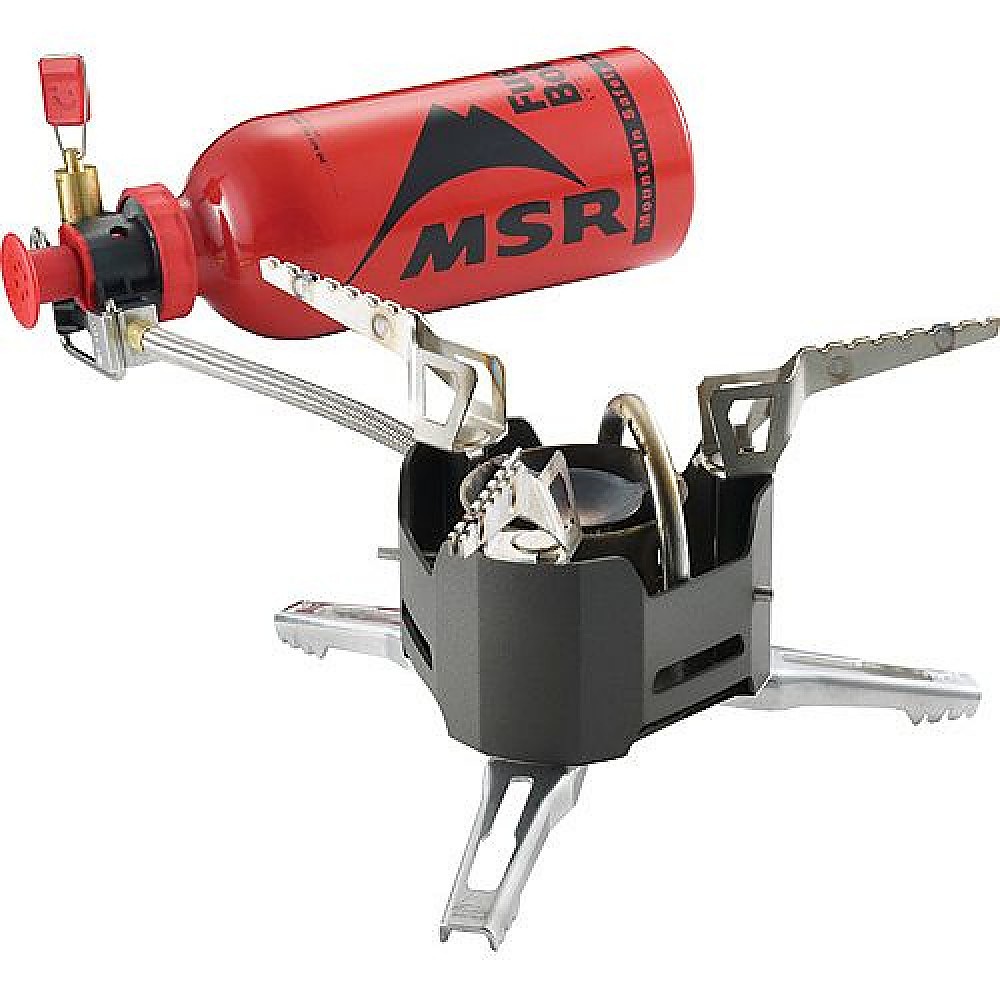 Excellent stove for boiling water and fast cooking I have used this stove in the Beartooth Wilderness of Montana and the Porcupine Mountains in Michigan. I was able to turn the stove low enough that I could cook eggs and pancakes with it, but that is really pushing the stove on the low end. If you need to simmer a pot of gourmet gumbo, look into the MSR Dragonfly instead.
I highly recommend this stove and have never been let down by any MSR product.
Pros
Hot and fast
Burns anything
Primes easily
Stove sets up easily. Just thread the pump into the bottle, connect the fuel line, and it is ready to light.
It doesn't have a built-in lighter, but I have never had an issue lighting it with a match.
The flame is slightly adjustable, but don't count on this stove to simmer.
This is primarily a water boiling stove, but I have used it for pancakes, eggs, and bacon with desirable results.
Boil time with white gas was about 9 minutes for 2.5 liters of water in a real world test. This is very close to the claimed times.
This stove is kind of a blow torch, and stays lit in anything but gale force winds. It does include a windscreen which funnels the heat to the sides of the pot. The boil times were determined using the windscreen.
Very stable stove. Easily handles a 4qt pot full to the top.
This stove is small considering what it can do. By no means is it for a fast and light type guy, but it does fold up and fit in a 1 liter bag.
Everything works as designed right out of the bag. Always.  
I can't think of anything that needs to be changed.  
I can't speak too much for durability. I have had mine for 10 years, but only used it about 10 times.
Source: bought it new
Price Paid: $139

A stable blast furnace for your cooking needs.
Cons
Lacks adjustability
Requires maintenance
I have owned my MSR XGK for about 2.5 years.
This stove is very easy to set up...just attach the fuel bottle and pressurize with the pump. I like the fact that you select the bottle size and  forced to pay for one you don't want.
Once pressurized, lighting an XGK is a breeze, simply release a small bit of fuel on to the priming pad then add a spark. This will heat the generator tube. The flame will begin to reduce in a minute or so. Then open the fuel adjustment control on the pump and you will experience the XGK blast begin.
The only real downside of this stove is the lack of flame control. It is either roaring away full blast or off. It's perfect for boiling under harsh conditions, but not much else.
Since there are so many variables, I'm not going to address boiling times, just rest assured that it's very fast.
The XGK does have a wind screen included, which is heavy aluminum foil. This is simply to make it more efficient. I can't imagine the storm that would blow this stove out. I'm sure there are slightly more efficient stoves on the market and data to support that statement. However, when weather is closing the only thing that matters is that stove is powerful and works well.

The MSR XGK packs quite small. The burner portion reduces to the size of a large orange. The bottle will, of course, vary by the size you choose.
I chose the XGK because of its heat output, stability and durability. Some people may complain the pump is made of polymer. But keep in mind that some firearms are as well....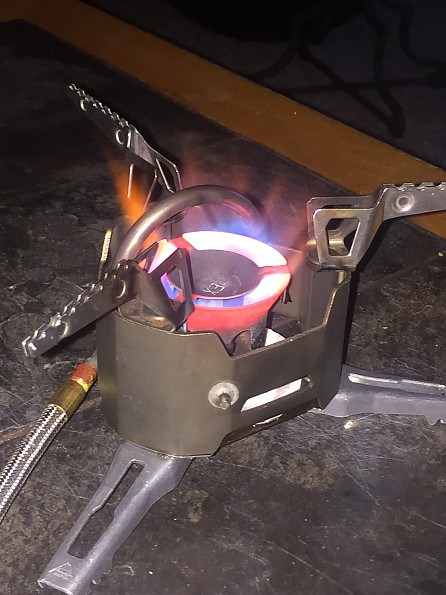 Source: bought it new
Price Paid: $160CDN

I've had mine for many, many years. Used it for trips all over the world. I can make it simmer (it's an acquired skill). I've burned almost every flammable liquid in it. Easy to use, maintain, and rebuild in the field.
Pros
Always works and boils water fast.
Cons
Maybe a little heavy, but for longevity and durability, I'll take it.
I bought it at REI many, many years ago and It's been with me on bicycle trips all over the world for durations of a few days to 11 months. I've rebuilt it multiple times and it keeps on working.  
It has burned almost every flammable liquid that I found along the way (white gas, unleaded gas, kerosene, aviation gas, and others). It's hard to make it simmer, but can be done with a heat diffusion plate, low fuel bottle pressure, and careful adjustment, but over time, I learned to do it.
Wind, temperature, no problem. I'll use it until it dies.
Experience
I've used SVEA 123, Whisperlight International, propane stoves, but this is still the most reliable whatever the weather
Source: bought it new
Price Paid: I don't remember, it was a long time ago.

I've used it for one year so far from -30c to +10c and it works great! I'm in an intensive guiding program so I get to use tons of different stoves every week (and fix them and curse) and this one is by far the easiest, most reliable and hottest stove I've tried.
The fuel intake line is rather big so it does take a minute at maximum output to properly heat the tube and stop that annoying tiny little yellow flame coming from beside the jet. It doesn't change anything really, I just like it when it shines blue and red, it's a beauty on frozen mornings.
You can make it simmer thanks to the extra long fuel line. Give it a half-turn open for 2 seconds every minute or so and voila! The long fuel line is also useful for cooking indoors. You can put the stove outside and keep the controls inside.
That's where it loses its half star. There is really just 2 settings with this stove: full on or off. I guess this is the price to pay for reliability.
So if you need to convert cubic meters of snow in steaming water fast, look no further. After around 5 gallons of white gas burned the stove looks brand new and doesn't have the slightest hint of carbon in the lines. It never put out anything less than the first time I used it and I've never cleaned it, no need!
This is the last stove I'll ever own, I hope.
Price Paid: 125$

A burn-anything blow torch of a stove!
Pros
Reliable
Stable
Versatile
Cons
Blow torch or off—limited temperature control
The stove is easy to set up and I like the fact that it burns just about anything, even automotive gas. It's easy to clean and maintain—lighting it requires a match, but I've had great luck with UCO Stormproof matches. No problems getting this stove roaring in 25+ mph winds and frigid cold.
There isn't much in the way of flame control—pretty much all or nothing—but if you just need to boil snow, it's a great stove. It does run on the heavy side if you're used to super lightweight stoves.
Source: bought it new

Cook anywhere anytime on any fuel.
Pros
Lightweight
Burns most fuels to include kersene and gas
Cons
Needs an adjustable flame for simmering
Bit loud in a tactical environment
I bought my XGK several years ago while in the military. It proved invaluable to heat up coffee during winter training. We never had to worry about packing in fuel bottles or humping them in our rucks due to the ability to burn many types of fuel we had available.
During the coldest days of winter this powerhouse could rapidly boil water for our coffee and be counted on to cook when we were far removed from chow facilities.
Source: bought it new
Price Paid: $40

This is a great stove. I have used it for several years and never had a problem until the other day. I loaned it to a friend who broke the pump handle stuffing it in his pack. I really mean stuffing it in his pack. The stove is very easy to clean in the field, it is a true 'shaker' stove.
It does not simmer well, but MSR's new pumps says it gives the stove better simmering abilities, but I haven't tried the new pump yet. The stove reminds me of working at an airport. The stove sounds like a jet taking off it is so loud.
Highly recommended!

Price Paid: $79

What can I say about this stove other than it has lasted over 25 years of hard use and is still working.
Improvements have been made over the years but it's still the same essential stove. I used the XGK on many of my expeditions lasting 6 months and more and it has never let me down.
Light weight, burns hot, and is easily field maintainable. More gear should be made this tough.
Price Paid: $75

This a great stove. Boils water super duper fast. Great for a big stew or boiling water quickly. There is no simmer control so if you are looking for adjustment in the heat level this is not what you want to use (flame is similar to the space shuttle SRB's).
This stove is also fairly loud. We take three stoves with us on our wilderness trips. This one for the large pot and two smaller more controllable stoves for our coffee and for cooking with more control. Built very solid.
Price Paid: $150

This is the king of stoves! I have owned this stove for several years now and had no problems with it. If you want boiling water and want it now than this is the stove for you. It is easy to use and very reliable. It won't simmer no matter what you do with the fuel control but when you are tired and want to eat, who cares about simmering.
For winter camping this stove gets five stars. I have had this stove for 24 years and it has never let me down. It's a blow torch for heating water, though not so sensitive for cooking.
My experience has all been with Coleman fuel, so I have never used the stove's multi-fuel potential. This has been a very trustworthy stove, thats important when conditional are 'full'.
Price Paid: About $80 in 1980

Has to be one of the best pieces of gear ever made. Had one for 22 years. Boils water in a flash, lots of noise when working but always works.
Not for people who abuse their gear or cannot fix things in the field as the stove does need to be taken care of.
Price Paid: ???

I haven't used many stoves. The XGK definitely boils water. I'm concerned that I can't seem to disconnect the fuel bottle from the stove without getting white gas all over my hands.

Price Paid: can't remember

Your Review
Where to Buy
Help support this site by making your next gear purchase through one of the links above. Click a link, buy what you need, and the seller will contribute a portion of the purchase price to support Trailspace's independent gear reviews.
You May Like
Specs
white gas
kerosene
diesel
Price
MSRP: $159.95
Current Retail: $159.95-$209.99
Historic Range: $31.50-$209.99
Reviewers Paid: $40.00-$150.00

Fuel
white gas, kerosene, diesel

Boil time for 1 L of water
3.5 minutes
2.8 minutes
4.5 minutes
Water boiled per 1 oz of fuel
1.5 liters
1.7 liters
1.9 liters
Dimensions
4 x 4 x 6 in

Weight
13.2 oz

Recently on Trailspace