Hiking Snowshoes
These all-terrain snowshoes are more rugged than recreational models and work well for moderate day hikes both on- and off-trail. They're equipped to handle steeper terrain, although you'll want backcountry models if you regularly take on challenging ascents. Hiking snowshoes suffice for the majority of winter day hikers though.
Top Picks
MSR Lightning Trail

(2 reviews)
New for Fall 2022, this is an early look at MSR's Lightning Trail snowshoes updated with new Paraglide bindings. A rugged, but lightweight shoe meant for rolling terrain. Great for folks who won't be climbing mountains and now easier to get on and off your feet.
Reasons to Buy
New Paraglide bindings are super easy
Light on the feet
Good traction on crusty trails
Solid construction
Flexible deck
Reasons to Avoid
Heel traction bar location?
  New shoes, old snow MSR has been making great snowshoes for a long time, but that doesn't stop them from trying to make them better. In recent years they have changed the bindings on their Lightning Ascent and Revo Ascent models to use what they have named the new Paragon binding. Employing a flexible mesh panel that wraps about the front of the foot they reduced the number of strap connections to two. Now they have taken that same approach to create the Paraglide bindings which will be coming to the Lightning Trail, Revo Trail, and Evo Trail shoes for Fall of '22.
Read more: MSR Lightning Trail reviews (2)
Tubbs Wilderness Series

(7 reviews)
Impressive hiking/backcountry snowshoe from long-time maker of snowshoes, Tubbs. Great weight-to-size/flotation with easy on and off buckling mechanism. Heel lift for extended climbing and fairly aggressive traction make for an enjoyable day hiking the snow covered trails here in Colorado.
Reasons to Buy
Lightweight
Good traction for up/down hills
Easy buckling mechanism for on/off entry
Flotation rating seems spot on
Heel lift for extended climbs
Platform material and construction appear durable
Reasons to Avoid
None so far, but I will update this post at the end of the season
Minimal perpendicular gripping at the heel area to lessen downhill slippage
No perpendicular crampon under the heel
I purchased these snowshoes in mid-January after it had been snowing quite a bit during December. But then it turned warm, unseasonably warm here in the Denver area with 50s-70s for the rest of January and early February. The place I had planned to christen them turned into a snow/mud trail so I kept waiting for the weather to turn back to winter.   Last weekend, a buddy of mine who is a volunteer with the U.S. Forest Service, and I met up to snowshoe the 5.5 mile out and back to Brainard Lake (northwest of Boulder).
Read more: Tubbs Wilderness Series reviews (7)
MSR Revo Ascent

(3 reviews)
MSR has created a good all-around 'shoe which uses spans from a beginner to a serious snowshoer. Its flex, fit, grip, and heel lift bar create a solid product for those who want a tough, wide ranged product. This 'shoe works really well in a casual capacity, but is easily capable of handling hilly terrain or a serious excursion of a more dynamic trip. These shoes are an excellent choice for the novitiate who wants to grow to for the more experienced outdoor adventurer who needs a reliable, sturdy, all-terrain shoe.
Reasons to Buy
Really comfortable
Good flex
Good multi-use
Tough
Grippy
Effective heel lift bar (Televator)
Reasons to Avoid
Expensive for a casual user
Have to seat the boot sole squarely aligned in the four straps, or things can rub or ride wrong
Attending to four straps can feel time-consuming
MSR has struck a sweet spot in an effective, tough snowshoe that should suit a broad range of users. Per MSR's website: 22 IN Color: Purple Weight per pair: 3 lbs 14 oz / 1.76 k Width: 8 in / 20 cm Length: 22 in / 56 cm Binding type: PosiLock Televator: Yes Gait: Women's/narrow Footwear size range: 4.5 W - 14 W / 35.5 - 48 Load:Up to 180 lbs / Up to 80 kilos Load w/ tails: Up to 240 lbs / Up to 109 kilos Country of Origin: Made in the USA of US and Imported Parts Ease of Use: MSR employs a four rubber strap designs that makes the snowshoe "one" with the wearer's boot.  I was amazed and impressed that no matter how hard I pushed the 'shoes uphilling, downhilling, sidehilling, or walking on completely uneven terrain, the shoeshoes never...
Read more: MSR Revo Ascent reviews (3)
Tubbs Panoramic

(1 review)
My version is called the Panoramic. It has a dial/wire for the toe binding (no toe straps). The toe and heel cleats are similar to Tubbs' Wilderness series versus the Mountaineer. I've used them 3+ times in varied weather and conditions, so I think they should put up with my sporadic use for many years.
Reasons to Buy
Dial/wire toe binding + single heel strap make for solid fit
Toe cup area is flared in a bit to keep boot from working its way forward
Cleats under foot and heel are big, aggressive, and solid
Heel lift
Reasons to Avoid
Webbing (?)—While I just don't trust plastic so much in the b/c, I also know there is likely nothing more durable and light.
Heel lift—float (on a fairly solid base) within the webbing. Might prefer it be anchored to the side frames.
Snowshoes in fresh snow makes walking possible. And on packed snow (up and downhill) they make it simpler. I had these Pano's on for carrying a pack and pulling a sled versus my pals with hiking boots. The grip of the cleats made the ups and downs and flats so much more manageable than boots alone. I am very happy with these.  I find the Panoramic's binding system easier, faster, and feels more solid than the 4 x strapping system used on the MSR Ascent.
Read more: Tubbs Panoramic review (1)
MSR Lightning Explore

(1 review)
I'm a 200-lb man. These snowshoes give terrific, secure grip on steep forested pitches.
Reasons to Buy
Ease of entry and exit
Terrific grip
Terrific floatation
Steady grip on pitches
Binding, even though only one strap and ratchet keeps my Snow Junkies secure
Televator is easy to flip up and drop with a trekking pole
Reasons to Avoid
Binding, though can be adjusted laterally for pronators tends to slip out under heavy use.
  caption       I love them, save for the caveat mentioned in the cons. Whether along the fall line or perpendicular to it they float beautifully in deep snow above lurking forest floor debris. Nice to enter, adjust, and exit them. I've used them in deep open field and deep snowed in open forest. Really nice. As far as durability, terrific overall except the lateral adjustment on one of the snowshoes. It doesn't really throw me off when it slips, but when the pin shifts out, it's noticeable. I don't know what that would be like in a survival situation. I've used these Lightning Explores for three winters now. I'd give them 5 stars if it wasn't for the one con.
Read more: MSR Lightning Explore review (1)
Redfeather Trek Series

(1 review)
Well made. Decent bindings. A little fiddly with gloves on.
Reasons to Buy
Well built
Comfortable to walk in
Bindings don't get clogged up with snow
Reasons to Avoid
Bindings can be fiddly when wearing thick gloves
These are my first snowshoes, so take everything with a grain of salt. They seem well put together, and being a novice user I probably ran them into a number of things I shouldn't have, but haven't had any issues with them. I'm right at the top of the weight range listed for them, and I wish I could have got the next size up (they were on a season-end sale, so I got the only ones that fit me at all).  I used them in Northern Minnesota for a multi-day camping trip in March, and overall they did well.
Read more: Redfeather Trek Series review (1)
MSR Denali

(13 reviews)
While no longer being sold, these are great snowshoes that can be used in just about any snow conditions and have great traction features for climbing steeper slopes and crossing side slopes.
Reasons to Buy
Good functional design
Numerous cleats provide good multi-directional traction
Binding hinge feature and large teeth enable good capability to climb steeper slopes
Available tail attachment increases floatation
Reasons to Avoid
Available tail attachment is usually left at home
I have owned a pair of the MSR Denali snowshoes since the mid 1990's and have been regularly been using them each winter since that time. I have always liked the design of these snowshoes and they have worked well in the heavy wet/icy/crusty snow we get up here in Washington State. I am about 190 lbs and even with a pack on these snowshoes have provided more than adequate floatation under most of the snow conditions I experience. The basic snowshoes are 22 inches long and 8 inches wide and each individual shoe with binding weigh approximately 29 ounces.
Read more: MSR Denali reviews (13)
Yukon Charlie's Back Country

(1 review)
Simply put: A great shoe at a great price.I shopped around online and at outfitters and retailers, for quite some time, trying to find a quality snowshoe at a good price. The entire Yukon Charlie's line fits the bill. There are lots of big companies out there that are selling "High Tech" snowshoes (with a high tech price tag too). Let me tell you that for about half the price of some of those "other" companies, Y.C.'s are right up there.First of all, the binding is simple, easy to use and adjust, and above all, comfortable.
Read more: Yukon Charlie's Back Country review (1)
More Hiking Snowshoes
Trailspace reviewers have shared 268 reviews of 26 different hiking snowshoes.
Other Types of Snowshoes
Find more snowshoes reviewed in these related categories: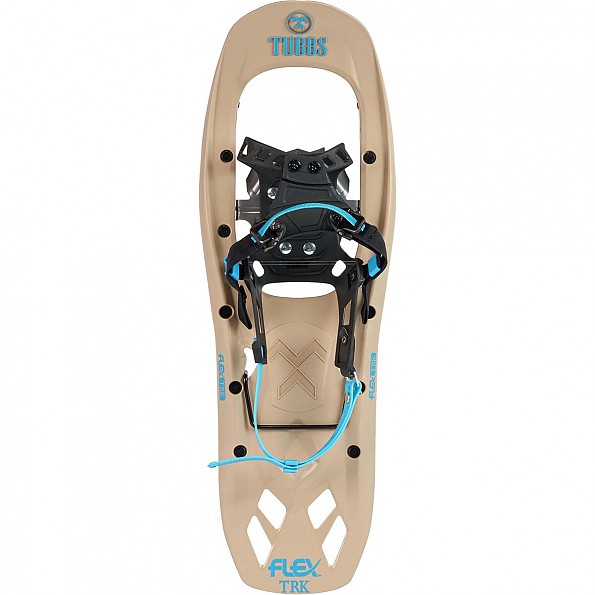 Recreational Snowshoes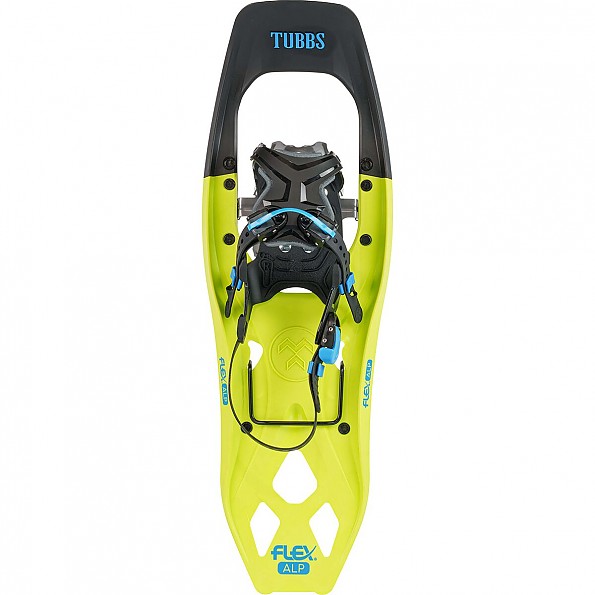 Backcountry Snowshoes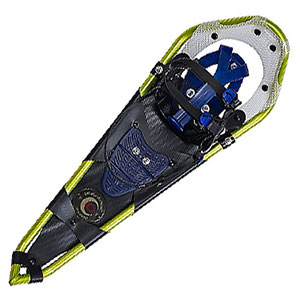 Running Snowshoes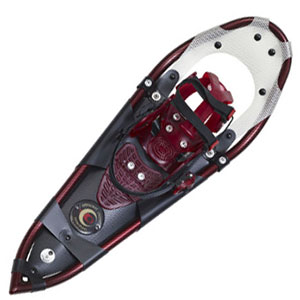 +2 more types
Review Your Outdoor Gear
If you've found this site helpful — or if we've missed something important — please consider paying it forward by some of your favorite (or least-favorite) outdoor gear.
Why? From professional gearheads to outdoor novices, everyone has an important point of view to contribute. will support the outdoor community and help others find the best gear.
Trailspace reviewers are outdoor enthusiasts like you: hikers, climbers, paddlers, backcountry skiers, and trail runners who share our experiences with the gear and clothing we rely on to get outside. Learn more about Trailspace