MSR Revo Ascent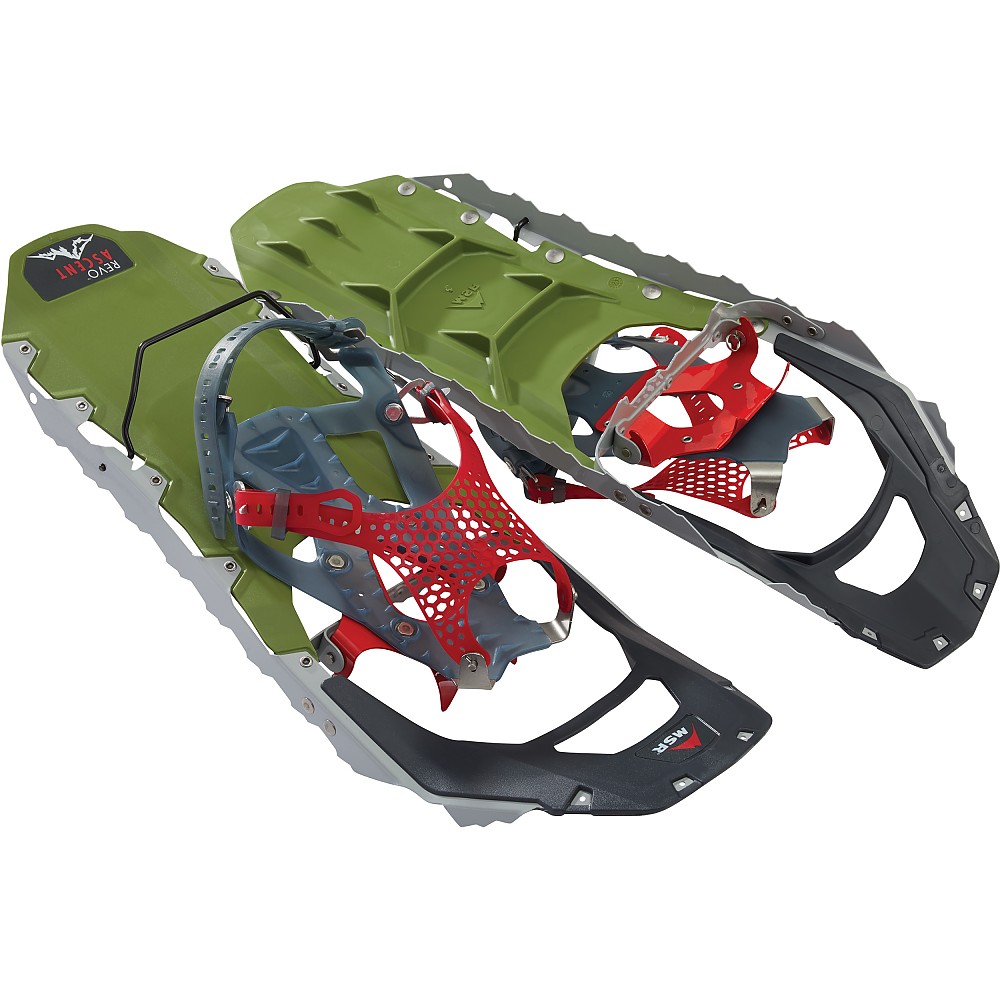 MSR has created a good all-around 'shoe which uses spans from a beginner to a serious snowshoer. Its flex, fit, grip, and heel lift bar create a solid product for those who want a tough, wide ranged product.

This 'shoe works really well in a casual capacity, but is easily capable of handling hilly terrain or a serious excursion of a more dynamic trip. These shoes are an excellent choice for the novitiate who wants to grow to for the more experienced outdoor adventurer who needs a reliable, sturdy, all-terrain shoe.
Pros
Really comfortable
Good flex
Good multi-use
Tough
Grippy
Effective heel lift bar (Televator)
Cons
Expensive for a casual user
Have to seat the boot sole squarely aligned in the four straps, or things can rub or ride wrong
Attending to four straps can feel time-consuming
MSR has struck a sweet spot in an effective, tough snowshoe that should suit a broad range of users.
Per MSR's website:
22 IN
Color: Purple
Weight per pair: 3 lbs 14 oz / 1.76 k
Width: 8 in / 20 cm
Length: 22 in / 56 cm
Binding type: PosiLock
Televator: Yes
Gait: Women's/narrow
Footwear size range: 4.5 W - 14 W / 35.5 - 48
Load:Up to 180 lbs / Up to 80 kilos
Load w/ tails: Up to 240 lbs / Up to 109 kilos
Country of Origin: Made in the USA of US and Imported Parts
Ease of Use:
MSR employs a four rubber strap designs that makes the snowshoe "one" with the wearer's boot.  I was amazed and impressed that no matter how hard I pushed the 'shoes uphilling, downhilling, sidehilling, or walking on completely uneven terrain, the shoeshoes never felt loose, sloppy, or slippy on my boots.
MSR says:  "Women's PosiLock AT bindings create our most secure, freeze-resistant attachment for smaller footwear."
Like any 'shoe, it takes a bit of practice to dial in the fit to the wearer's boot/foot size, but the straps are simple to use.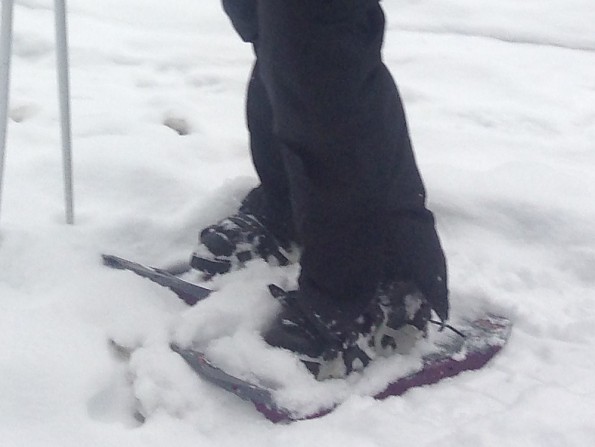 The fine-tuning fitted perfectly over men's size 7 Danner Light Hikers
I really like how once these straps are fastened, they stay put. I have used other brands' snowshoes, and I find I am often stopping to re-fasten the straps because they slipped loose. These straps are *just* the right length to be easy to use while wearing gloves, but not being too long to cause flopping. I found the clips be very effective at holding the loose ends snuggly out of the way, even when the shoe was being heavily used.
Thus these straps do not work loose. Once adjusted, they stay adjusted. I really like having the four strap system because I can absolutely dial in the fit to me. But like I mentioned in the summary, make sure the sole of foot is square on the shoe. The straps are aligned on the sole-plate so they naturally ergonomically cup the boot to encase it, holding it utterly secure.  The straps also never stiffened or iced up in the cold.

Well-placed, well-designed straps
The Televator is also really simple to use as well. When wanted, reach down with the handle of a snow shoe pole, and flip it up. When finished, lift the heel, and pop the Televator with the pole handle to snap it back down.
Features:
The Revo has excellent traction. The pivot cleat is split to adjust to uneven terrain for a smoother ride. The combo of the plastic deck outer frame gives exceptional torsion and strength.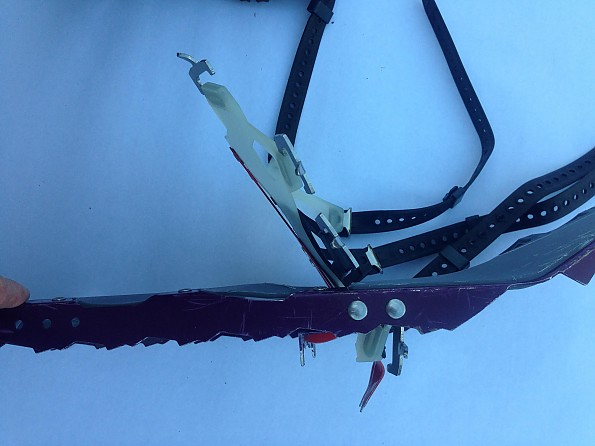 Note the aggressive pattern and deep cleat bite; also note the excellent pivot
The gripping power is almost overbuilt. The pivot cleat is not only split, but provides a deep bite (the cleat runs about 1.5" long). The exo-frame teeth look like they were based on a chainsaw blade. The plastic decking also has a series of fins beneath that add to side-hilling stability.
Even with the additional fins, snow does not clump and hold the base of the snowshoe at all. I have had 'shoes where I had five pounds of snow hang on and add weight. Not these. These 'shoes also do not flip snow to wet the trousers of the wearer.
The Ergo Televator is a nice feature that not only reduced fatigue, but also contributed to the comfort of climbing steep slopes. I intentionally found the steepest slopes, pushing 30-35 degrees, so I could to push the effectiveness of the Televators and the traction. I was pleased that the Televators angle put my foot in position to increase the effectiveness of each step on the slope. I was naturally thrown a little forward, putting my weight over the grippiest parts of the 'shoe.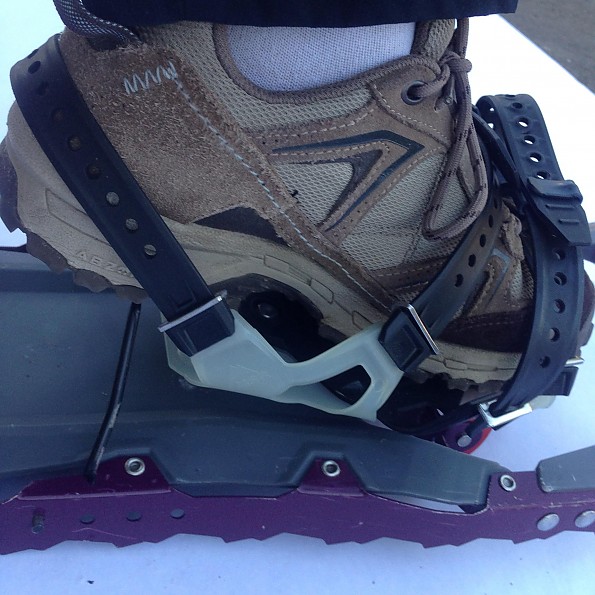 A sample look at the angle of the Televator
The size and design are also very comfortable for my female stride. I am 5'4" with a 30" inseam.  In normal walking conditions I never stepped on the other shoe, and my hips never hurt from having to use an unnatural gait. The snowshoes also did not particularly flip snow up from behind.
The only thing I notice is that because the pivot works so well, that I had a hard time backing up, because I did have to lift my foot so high to get above the snow. But I found that constraint to be quite minor.
Even with the heel bar and extra strap, each 'shoe weighs in at *just* under 1.7 pounds.
They are also not terribly noisy. While no modern snow shoe is completely quiet, these are discernibly quieter than an all plastic design.
Construction & Durability:
I punished the shoes the first time I used them. I took an eight mile trek  Priest Lake, IDdaho, in about eight inches of powder. The rough shoreline was a terrific test of the torsion, grip, and durability of the plastic decking, the steel frame, and rubber strapping. Outside of scoring of the plastic deck, scraping a little paint off the cleats, and some discoloration from initial deformation of the pressure caused by stepping on large rocks, the 'shoes are in great condition.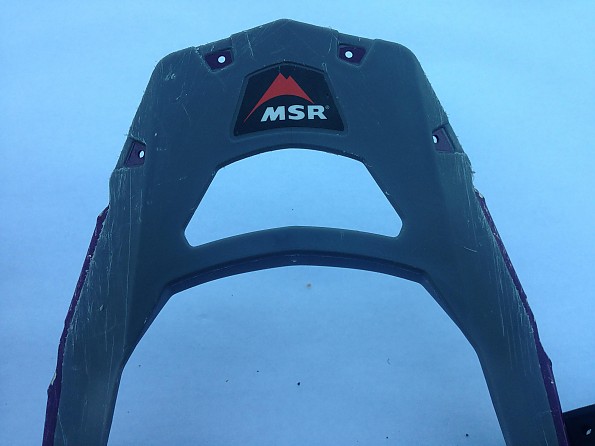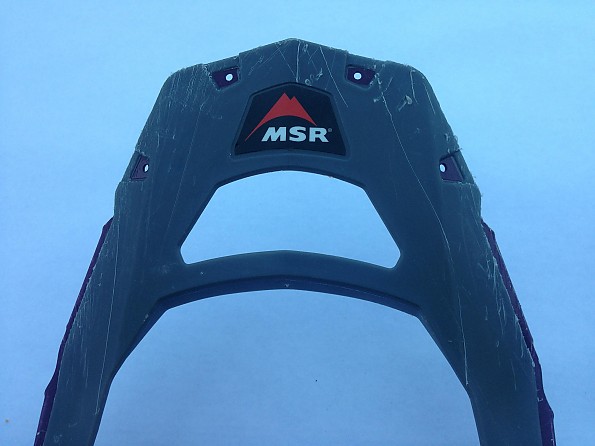 Scuffing on the tops of the snowshoes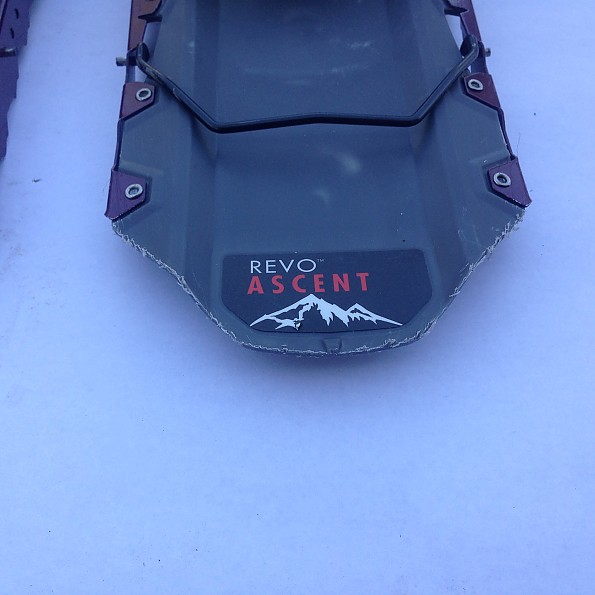 Deformation marking on the deck; scuffing on the tail from hard use
I have always been told not walk on bare ground with snowshoes, but with the high end construction and materials, I am not panicked about doing great harm to the materials if I have to deal with a bare patch.  I am just careful about picking my steps.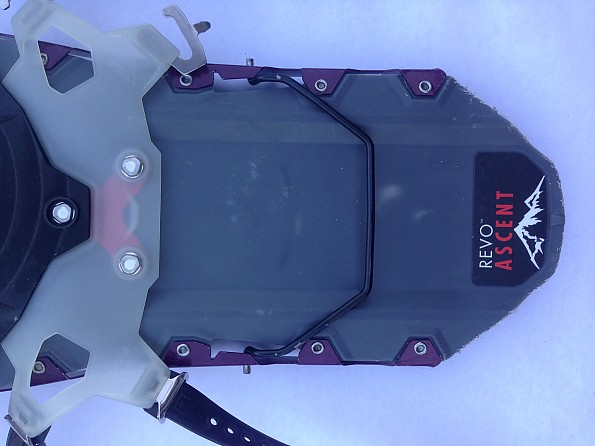 The plastic turned white after I had stepped on snow covered rocks on the shoreline
Conditions:
The 'shoes have been used on the shoreline of Priest Lake, Idaho; Mount Rainier, near Paradise in the "Cascade concrete" of the really wet snow conditions we have had all winter; and on Chinook Pass, in the wetting out powder the pass received late spring.
As noted earlier, Priest Lake had about eight inches of fresh powder her shores on the day of my outing. I went about four miles along the shoreline, encountering the challenges of the rocks beneath the 'shoes. The flexing and grip really made the trekking stable, while eliminating the slip and hard work navigating slippery fresh powder.
I did find a little powder to try on Rainier, but it was on a really steep hillside. The 'shoes perform pretty typically in powder for their size.  Unfortunately, with the poor snow conditions of the Cascades this year, I am unable to give any better report of their use in deep powder.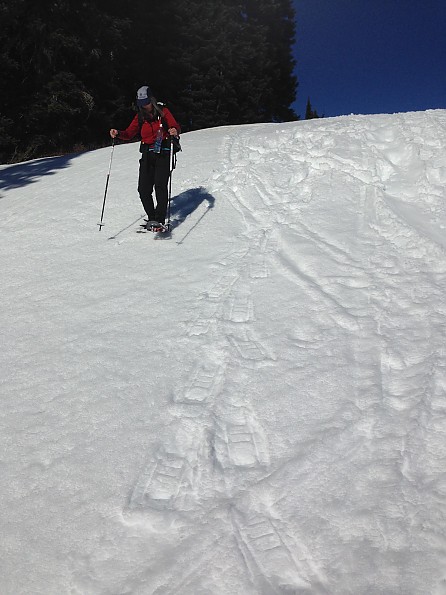 On Rainier — no real issues traversing the hill in either direction
I carried my winter day pack on both Priest Lake and Rainier; it tops out at about 15 pounds. I didn't notice the pack being any sort of an issue while snowshoeing. The 'shoes handles the combined weight of me and it perfectly.
While at Chinook Pass, I really pushed the uphill traction of the 'shoes. It was about 65 degrees the day I visited, and the place was crawling with people. Therefore, I traversed where people had been hiking in just shoes or boots. Their walking created deep track and post holes that I intentionally navigated over. The shoes performed excellently. The flex and grip made me feel really comfortable walking over the choppy trail.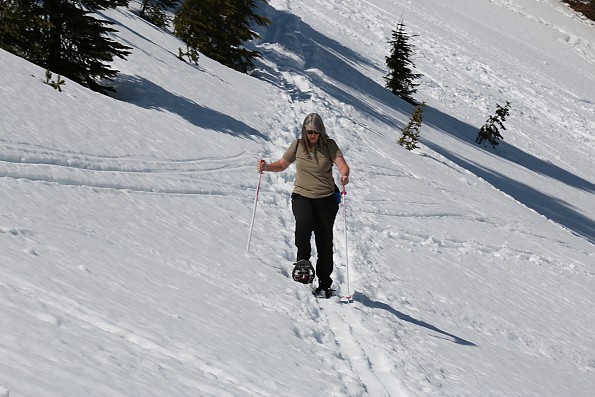 Over really choppy trail -- the flex made the shoes ride almost like I was on untouched snow
In pushing the features of the 'shoes, I picked out wet, almost fluffy snow (yes, it does exist!), and I did get bogged down a couple times in going straight up the 30-35 degree hills. The conditions were not typical of the normal snow season, and the slipping and bogging down was nothing that I and the snowshoes ultimately couldn't handle.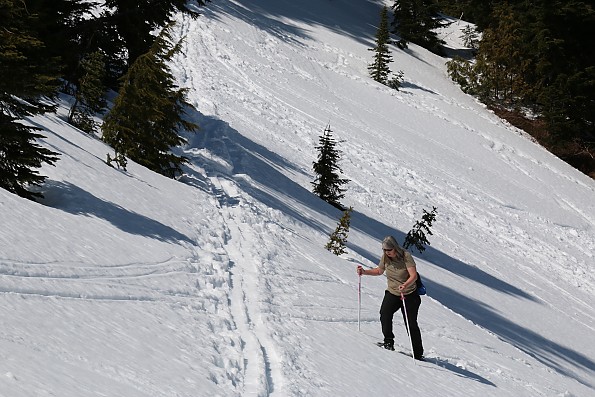 The wet snow made conditions quite slippery. The shoes handled the conditions reasonably well.
Even in the fluffiest of snow, I found I never sank past about ankle deep with the float of the deck. It is on par with other shoes of similar size. I felt the float was appropriate for the size and design of this snowshoe.
A word about down-hilling – Since I went up, I also navigated down equally steep slopes. This is where I had the most trouble. Because all of the deep traction is on the front of the shoe, and very little on the back, I did slip and land in the snow a handful of times. I think this is important to note since these shoes are intended to work well while climbing, hence they should have more aggressive traction in the back for down-hilling.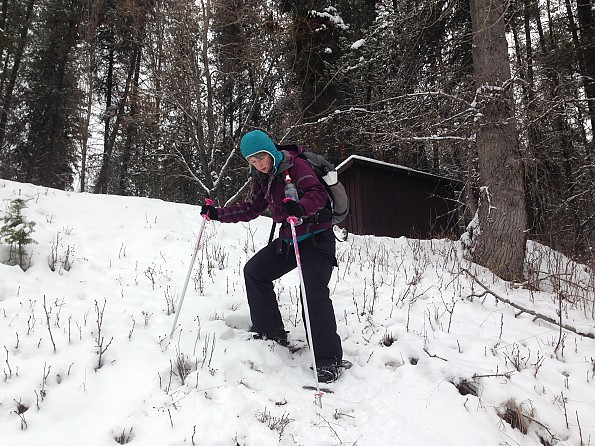 Pushing the grip on a slope in the powder
They are better in the side-hilling descents, but I still struggled with slipping and sliding  on the very  steepest parts.  I did try glissading down a particularly steep slope after a slip, but because the pivots work SO well, I couldn't lift my 'shoes out of the snow to slide.  I tried this technique for the purposes of testing for this review, but honestly, I would rarely take such steep descent approaches on a typical day.
All I had with me that day was a little string pack that I wound up over-loading. It was flopping all over as I was negotiating my testing; it continued to yank and pull me around; with every step, the 'shoes held firm, even on the steep hills. The effectiveness of the traction was obvious with my loose load.
A few years ago, I rented a pair of snowshoes that I really liked, and subsequently have rented often. After this last outing, my husband asked me point-blank which pair I preferred.  And as much as I like the other 'shoes, I have to say that the Revos are a really terrific product; the features of the flex, fit, grip, and Televators have elevated these snowshoes as my new favorites.
Source: received for testing via the Trailspace Review Corps (Sample provided by MSR for testing and review)

Version reviewed: 25"
Built for climbing, but make a great all terrain snowshoe; these work well on or off trail. Great traction in most conditions including on hidden branches and other debris under the snow. Secure multi-strap bindings adjust to different boots easily.

With a toe made for kicking and easy to use heel elevator these shoes live up to their name and excel at climbing but have some issues on descents due to the lack of a heel crampon. They have pretty good float and are worth considering for those hitting steep climbs or rugged terrain but are probably overkill for a groomed, flat trail walker.
Pros
Rugged steel traction frame
Lightweight plastic floatation deck
Multi-strap binding is comfortable but secure
Heel elevator
Good float for a compact shoe
Nice toe for kicking
5" tail add on available
Cons
Lack of rear crampon
Limited downhill traction
Four straps are easy to use but time consuming
The MSR Revo Ascent snowshoes combine a sturdy steel traction platform with a light weight plastic deck to create a shoe that works pretty well in deep snow or in bushwhacking situations where objects under the snow need to be navigated.  
They come in two sizes; 22" and 25". This report is based on my experience with the 25" model. There are additional 5" tail extensions available but I have not purchased them. The recommended weight range for this version is up to 220 pounds with the extensions listed by MSR as taking that up to 280 lbs.
Features:
A four strap binding is used with a very simple cleat that can easily be attached or detached without taking off my mitts. The straps become stiffer in sub zero temps but remained fully functional. The straps combine with a harder, white plastic deck that wraps around the bottom of the boot to keep the foot well positioned. This deck also became very stiff in subzero temps and did not form to the boot as well but was still functional.
The entire external edge of the steel traction platform is of a saw tooth design which provides good grip in hard packed or crusty trail conditions. The bite this gives the lateral edges is great for digging in for traversing a slope. It also comes in handy when you find yourself stepping on limbs and branches. I found good purchase rather than slipping off when debris was encountered.
The crampon system consists of a traction bar with a two toothed independent crampon forward with no heel crampon. Rear deck traction consists of ribs on the under side of the plastic.
Test Conditions:
Testing was conducted over several months locally here in Maine with and without pack plus a couple of overnight trips to N.H. with full winter pack. Conditions varied from several feet of fresh powder to hard crusted packed trails, ice slabs and off trail bushwhacking. I didn't take them up any serious mountains, but was able to do a fair amount of climb testing in varying snow conditions on some steep hills.
Bindings:
The two-piece PosiLock AT binding system consists of four straps attached to a firm plastic base that wraps around the bottom of the foot. This base keeps the shoes snugly attached to my boots while striding and is attached directly to the independent crampon. This means the natural action of lifting the shoe while climbing puts the crampon at a good angle to attach to the slope.
The simple strap and cleat attachment was pretty easy to figure out and to use, but with a total of eight straps to connect it can be time consuming. I do like the multiple strap approach as it lets you spread the tension out across the whole foot allowing for less pressure to be used. Cutting off blood flow means cold feet but these binding never made me feel I needed to cinch them down and I never had any unintended detachments.
I really liked the ability to seamlessly swap from a standard hiking boot to my huge, insulated Baffin Impacts. The straps don't have a lot of holes left, but they are long enough to reach.
Float:
Given the open look of the design I was surprised by the floatation this shoe had. For their compact size and shape they kept me a bit more than ankle deep in several feet of fresh powder. I go somewhere around 200 lbs and have used these shoes with 50+ lbs pack so I've definitely exceeded their suggested load and still found them pretty functional. At 25" they remained maneuverable in between the trees.
Traction:
Traction being one of the primary things to look for in a snowshoe, I was both very pleased and a bit disappointed in the Revo Ascents. The sawtooth design of the long edges of the traction platform functioned well. The shoes allow a bit of torsion flex so those edges are able to make good contact on uneven snow surfaces. On crusty, hard packed trails they let the entire shoe dig in rather than just the crampons so I felt confident striding normally.
The independent front crampon also seemed well designed. In most all conditions other than hard ice slabs they dug in securely. With the heel elevator employed for climbing the independent crampon was rotated forward into a perfect position to grab when the toe was kicked in or when striding on an already broken upslope.
The combination of crampons, underchannels in the plastic deck and the sawtooth perimeter worked well when traversing slopes. The hard, straight, steel edges were easy to use to cut into the slope to create a flatter foundation under foot. They also grabbed onto branches or sticks rather than slipping off dangerously as shoes with a tube perimeter sometimes do.
One area where I found traction lacking was when descending steep slopes. The lack of a heel crampon could be overcome up to a point by focusing on how I planted the front crampon. In somewhat deeper powder that technique had only limited success with brief periods of "skiing" being the result.
These shoes also did not feel very comfortable on slabs of hard ice. I would definitely recommend swapping out to crampons especially if hard ice was encountered on a descent.
Elevator:
The heel elevator on the Revo Ascents is quite easy to use. Unlike some versions this has only a single position which raises the heel about two inches. Once I got the hang of using a pole tip to do it I found I could raise or lower them in just a few seconds. The difference in foot position really was noticeable on steep slopes both in terms of traction and comfort. Having only one setting does limit the times it can be employed, but I didn't find that to be an issue.
Durability:
Over all the shoes have proven to be pretty sturdy. There are some scrapes to the plastic on one toe deck from me stepping on it with the other shoe. This doesn't impact function yet, but I imagine I'll have to watch out I don't wear that whole toe off.
One of the strap retention clips seems to have broken which I reported to the Cascade Designs folks. Waiting for response at this point and will update once I hear from them. One other area of concern is some discoloration and deformation of the plastic deck. As of now it hasn't impacted performance but I will be watching to see if it is just cosmetic or the start of a failure.
Conclusions:
Given my experience with the MSR Revo Ascent snowshoes I would recommend them for climbing and back country use, but with a few points of hesitation. The downhill traction doesn't seem to be a deal breaker for other folks I've heard talking about these shoes and I feel the same. Still the lack of a heel crampon does change the traction dynamics and needs to be considered. I think that also leads to the less comfortable feeling on hard ice and perhaps the need to swap snowshoes and crampons more often as conditions change.
I did find these shoes were great for my purposes in all other ways though. They provided pretty good floatation and were maneuverable in the trees. Easy to get into and out of with gloves or mitts on and relatively light given the steel components involved. While they do look pretty they are definitely more shoe than needed if you stick to groomed and flatter trails.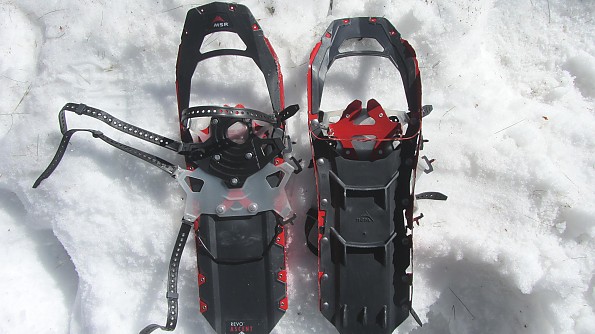 Left side shows top view of deck and two piece binding. Right side shows bottom with crampon forward and traction channels on the rear plastic deck.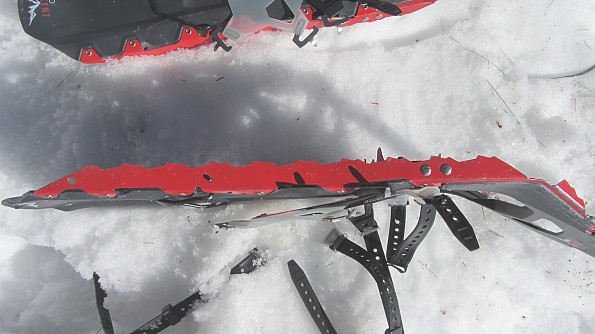 View of the sawtooth edges of the steel traction frame.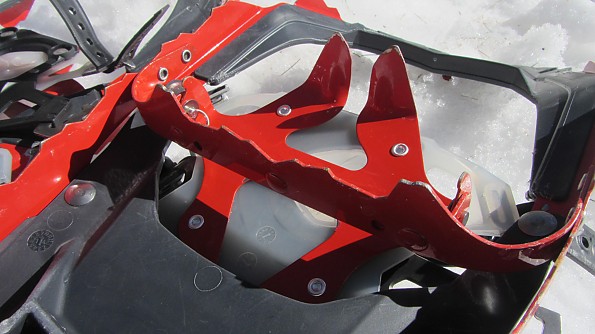 View of the traction bar and the two claw front crampon. This combination provided pretty good grip considering it is a bit minimalist. You can see from the missing paint that both parts have run into a few rocks along the way but the steel has  kept its shape.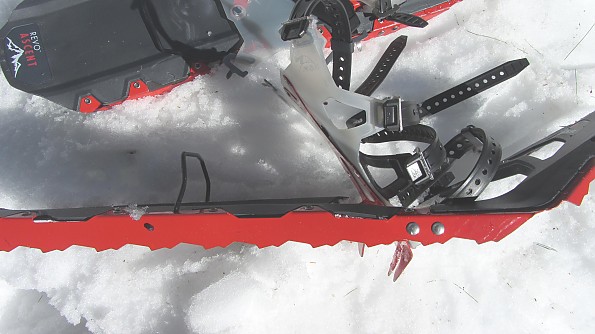 Here you can see the heel elevator in the raised position. Also note how with the binding raised at the heel the independent crampon rotates which extends the teeth out.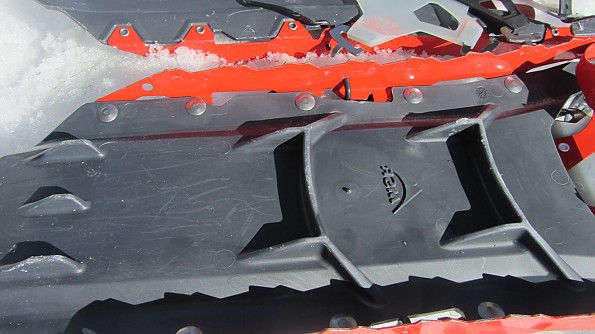 The underside of the injected plastic deck has traction bars running both across and along the surface to add some bite on all manner of slopes. It works well up until deep snow powder overwhelms it as I've mentioned.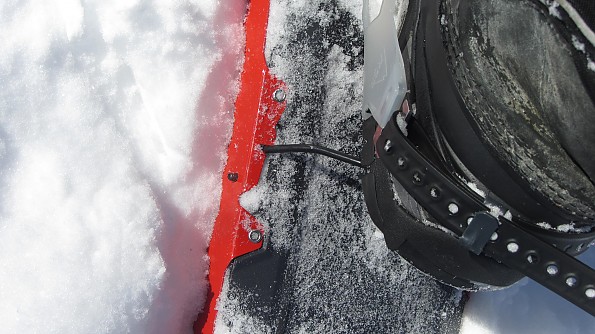 Heel resting on raised heel elevator.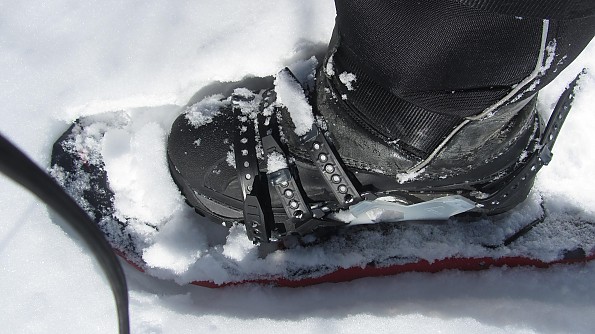 Binding in place on very large insulated boots.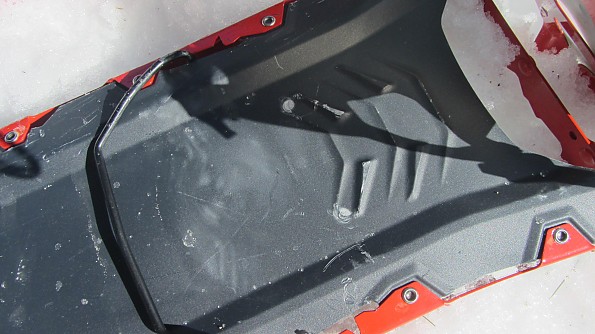 Discoloration on deck surface I am keeping an eye on.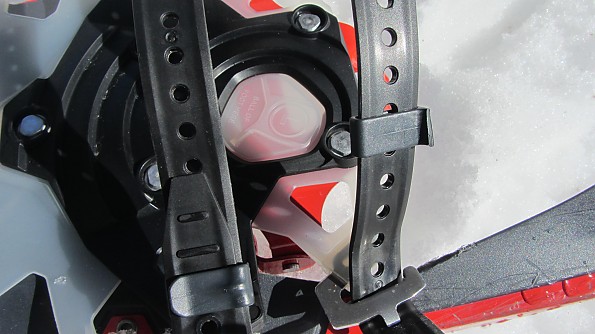 Strap retention clip that broke. I was banging into big rocks under the snow on that last trip which is when I'm guessing that happened. Not a vital component but I have reported it to Cascade Designs and will update assuming I hear back from them.
Update: Cascade Designs sent out 10 replacement clips at no charge so I'm set even if I break a few more of these.
Short video of the shoes breaking trail on 2.5 feet of fresh powder:
Specs
Weight: 4 lbs 5 oz /pair

Width: 8"

Length: 25"

Footwear range: 4.5 M - 15 M / 35.5 - 49.5

Made in US from domestic and foreign produced components
Source: bought it new
Price Paid: $239.95

The Women's Revo Ascent snowshoes are designed to stand up to any kind of terrain. They're durable, easy to use, and have a narrow design for your convenience.
Pros
Narrow
Easy to use
Comfortable
Heel adjuster
Great quality
Rugged design
Finding the best outdoor gear to get you through the winter can be a challenge. Snow complicates everything. But Mountain Safety Research's Revo Ascent snowshoes lessens the headache. By providing a high-quality, durable snowshoe that can tackle any terrain, MSR prioritizes experience over profit. And they believe in their products, so you won't ever end up purchasing an MSR product that can't be corrected.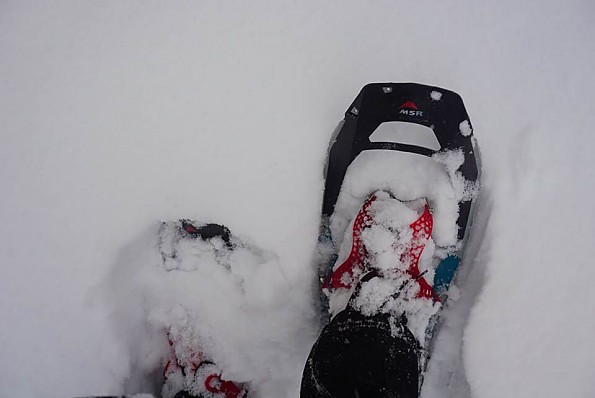 MSRP: $259.95
Weight Per 22" Pair: 4lbs 2oz
MSR is known for designing high-quality gear and the Revo Ascent snowshoes are no exception to this rule. The deck is made out of nylon, and the frame is made out of aluminum in order to guarantee long-term use. Without tails, the 22-inch version of these snowshoes is capable of holding 180 lbs. 
The main point of investing in a snowshoe is to find a device that offers traction and flotation. And the Revo Ascent snowshoes do just that. By pairing lightweight efficiency with durability, these snowshoes provide one of the most reliable designs on the market. 
Construction & Durability: 
Paragon Binding: The binding design on these snowshoes is great because it's made of mesh, which alleviates pressure on your boots. Additionally, the toe stops allow you to take confident steps. Rather than wondering if your snowshoes will catch you, the baskets allow you to move quickly and efficiently. 
Add-on Flotation: If you find yourself in a lot of different winter conditions, the Revo Ascent snowshoes might be the best option for you. The adjustability on these snowshoes is unmatched by competitors and the add-on Revo flotation tails are part of what makes this shoe so great. 
Cost: The only drawback I've been able to find is the cost of these snowshoes. Because they're made of such high-quality materials, they're a little on the steep side. If you're really committed to snowshoeing, the cost shouldn't deter you. They're worth ever penny. But there are decent snowshoes that can be found for less money. 
Backcountry Testing: I was lucky enough to take the MSR Revo Ascent snowshoes into Colorado's backcountry on several occasions. These snowshoes performed incredibly well at altitude, on steep inclines and on flat ground. 
After a five-mile Thanksgiving hike that involved a lot of post-holing, I found myself pleased with the performance of these snowshoes. My friend, who decided to tackle the terrain (while using nothing more than Microspikes) slid around a lot more than I did. The jaws on the bottom of these snowshoes kept me from slipping like he did. But on top of the traction, these snowshoes didn't collect snow on top of them like some competitive products. So, I didn't end up carrying extra weight around. 
Final Thoughts: Finding traction devices that can get you through the gnarliest territory can be really tricky. But MSR's Revo Ascent snowshoes did an awesome job. I'd definitely recommend these snowshoes to anyone who's looking to invest into their winter lifestyle. 
Source: tested or reviewed it for the manufacturer (Kept it)

The author of this review received a sample of the product from the brand or its representative in exchange for a review.
Your Review
Where to Buy
Help support this site by making your next gear purchase through one of the links above. Click a link, buy what you need, and the seller will contribute a portion of the purchase price to support Trailspace's independent gear reviews.
You May Like
Specs
Men's
22 in
25 in
Price
MSRP: $259.95
Current Retail: $319.95
Historic Range: $143.93-$319.95
Reviewers Paid: $239.95

Weight per pair
4 lbs 6 oz / 2 kg
4 lbs 10 oz / 2.12 kg
Width
8 in / 20 cm

Load
Up to 180 lbs / Up to 80 kilos
120-220 lbs / 54-100+ kilos
Load with tails
Up to 250 lbs / Up to 114 kilos
Up to 280 lbs / 54-127 kilos
Frame material
7075-T6 Aluminum

Deck materials
TPU coated Nylon

Women's
Price
Current Retail: $319.95
Historic Range: $143.93-$319.95