Compressed Fuel Canister Stoves
Canister stoves burn compressed gas sold in a pressurized container that screws onto the burner. Some models feature an integrated pot. Due to their reasonably light weight and ease of use, canister stoves are the most popular and widespread type of stove for backpacking. They are best for three-season trips where you have access to fuel canisters that are compatible with your stove.
Top Picks
MSR PocketRocket 2

(1 review)
A good redesign of a classic. For those who like the ease, speed, and the versatility of a compressed fuel canister stove to boil and simmer, the MSR PocketRocket 2 is a great choice. It's very easy to use and very reliable. It's more compact and sturdier than its predecessors, and fairly lightweight, especially without the case. Any cons associated with a PocketRocket2 involve gas canisters and not the stove. If you use a canister, I recommend this stove.
Reasons to Buy
Lightweight
Very easy to use
Sturdy
Low/no maintenance
Quick boil
Very compact
Reasons to Avoid
No built-in igniter
Gas canister fuel levels are hard to gauge
Gas canisters are bulky and heavy
Gas canisters don't work well in cold weather
The MSR PocketRocket 2 (PR2) is the latest generation of canister stove from MSR. It replaces both the original PocketRocket (PR1) and the MicroRocket, which are now discontinued (though the original PocketRocket is available for purchase in the MSR PocketRocket Stove Kit), and combines the best elements of both. It is more similar in design and specifications to the MicroRocket, though after extensive use of all three, performance differences are negligible.  MSR's write up: The next-generation PocketRocket™ 2 stove takes everything impressive about the iconic original and puts it into an even smaller and lighter high-performance design.
Read more: MSR PocketRocket 2 review (1)
Primus Essential Trail Kit

(1 review)
The Primus Essential Trail Kit is an inexpensive, lightweight, and versatile stove kit from a renowned manufacturer.
Reasons to Buy
Lightweight
Packs small
Quality build
Exceptional design
Reasons to Avoid
No built-In igniter
Handles can get hot
QC—scrape in ceramic coating
Can require shielding from wind
I received this Primus Essential Trail Kit in the winter of 2020-2021 for the purpose of reviewing it. Winter weather, Covid, and major surgery have all done their best to keep me indoors, but I have managed to sneak out on a few occasions. So without further ado…. Primus is a Swedish company known for producing top quality stoves since 1892 (!). They balance out carbon emissions from the use of their fuel by helping reduce emissions elsewhere, claiming the industry's only carbon neutral fuel canisters.
Read more: Primus Essential Trail Kit review (1)
Kovea Spider

(5 reviews)
This is an awesome winter stove for 1-2 people, and is light and compact enough that you may end up carrying it year round.
Reasons to Buy
Lightweight
Compact
Great winter stove
Great for 2 people
Reasons to Avoid
Lighter options for summer
Better options for groups of 3+
Kovea Spider (KB-1109) Stove Review Backpackers need a stove that is compact, lightweight, and can be packed and set up easily—and of course, it has to function well. Kovea, a Korean company with a solid reputation in stove design, has addressed all of these issues and created what could be one of the best remote canister stoves on the market. If you need better cold weather performance than an upright canister stove can offer, and don't want to fuss with white gas or other liquid fuels, then this may be the stove for you.
Read more: Kovea Spider reviews (5)
Jetboil MightyMo

(3 reviews)
The MightyMo is a compact canister stove that will not disappoint! With features like a piezo-style ignition and a simmer control that idles lower than ever, this efficient burner is ideal for many styles of campers and backpackers. Ultra-light hikers and backcountry chefs will both find this little piece of gear part of their everyday carry!
Reasons to Buy
Easy to operate
Lightweight (95g/3.4oz)
Built-in ignition
Additional surface area for pot
Reasons to Avoid
Canister-style stove systems are inherently heavier
SPECS Output: 10,000 BTU Fuel Type: Isobutane Propane Ignition: Built-In Piezo Igniter Dimensions- 4"x6" (folded for storage) Weight- 95g/3.4oz Included Fuel Can Stabilizer Included Cloth Storage Bag Setting up the kitchen in Monongahela NF, West Virginia Jetboil has been a household name in the outdoor industry for a while now, selling their all-in-one style canister stoves. The company has recently broken the mold, releasing the compact MightyMo. Looking briefly at the burner, the MightyMo could easily be mistaken as the venerable MSR PocketRocket.
Read more: Jetboil MightyMo reviews (3)
Top Liquid Fuel Stove / Canister Stove / Multi-Fuel Stove
MSR WhisperLite Universal

(12 reviews)
Finally here is a true multi-fuel (MSR calls it a hybrid) stove that burns both liquid fuels and canister gas (upright or inverted). Not only does it burn these fuels, but it does it well — plus it simmers...no it really does! In just a couple minutes the stove can be configured to burn the various fuels (see below) by simply changing a couple parts using the supplied tool. This is a great option for anyone who wants a stove that can be used year round in multiple climates, with multiple fuels. For groups it allows flexibility through the use of multiple fuels — or for those who travel abroad to places where some fuels may be harder to get or if it's not clear what fuels will be available. The Universal will burn: White gas – Unleaded auto gas – Kerosene Canister gas – (upright or inverted)
Reasons to Buy
Multi-fuel (liquid and canister)
Everything is included
Changing fuel types is quick
Well built / sturdy
Will handle large pots
Good windscreen
Simmers well
Instructions easy to understand / follow
Reasons to Avoid
Price point
Weight
Small parts to keep up with
Will not support pots smaller than 4 ¼ in. or 11 cm. in diameter.
Fuel line is stiff
A review of the MSR Whisperlite Universal Hybrid fuel stove A backpacking stove made by Cascade Designs – Seattle WA, USA I received this stove from Cascade Designs for testing and used it on five separate outings as well as a lot of testing at home. Stove Description: The stove arrived in a nice looking cardboard package (see photos), it included the stove, all parts for changing fuel types, pressure pump for liquid fuel bottles, canister stand, wind screen and ground protector, a nice stuff sack, and full instructions in three languages (three separate booklets) plus a quick reference guide in two languages, along with warnings etc.
Read more: MSR WhisperLite Universal reviews (12)
Snow Peak GigaPower Manual

(12 reviews)
The GigaPower 2.0 Stove is a 3-inch stove that's light durable and easy to use! It gives a big flame for a small stove and works with many types of propane brands.
Reasons to Buy
Small
Cooks well
Durable
Easy to use
Reasons to Avoid
Doesn't work well when cold
The GigaPower 2.0 stove works great and works well constantly. The stove can easily twist off and on. To light all you have to do is twist the handle and light it with a match or something like that. And it also fits into a 3.5 x 1.5 x 2 inch box. It is well made, so that it can't break or burn itself. I've had it for a few years and it hasn't changed. It works just as well as when I got it. I have used this stove on many winter campouts and sometimes it takes a little bit of time to get it started, but in the summer it lights very fast.
Read more: Snow Peak GigaPower Manual reviews (12)
Jetboil MicroMo Cooking System

(4 reviews)
The MicroMo is the latest in Jetboil's impressive line-up of personal cooking systems for backcountry use. Conceptually, the MicroMo attempts to provide a compact, low weight solution, without compromising either quality, features, or performance, which includes the much lauded ability to simmer; in my opinion, it succeeds.
Reasons to Buy
Compact
Low weight
High performance (rapid boil, low fuel use)
Can simmer, great for cooking
Excellent construction
Competitively priced
Reasons to Avoid
Performance drops off dramatically when not using proprietary Jetboil pot
The MicroMo is the latest in Jetboil's impressive line-up of personal cooking systems for backcountry use. Conceptually, the MicroMo attempts to provide a compact, low weight solution, without compromising either quality, features, or performance. Below are the currently listed specifications found on the manufacturer's website. In addition to the MicroMo system, I also received the Coffee Press, and the Pot Support for testing. They will be discussed within the overall context of the cooking system.
Read more: Jetboil MicroMo Cooking System reviews (4)
BRS 3000T

(10 reviews)
The most lightweight and the most compact yet powerful backpacking butane canister stove is the only stove one needs for 3-season backpacking trips. It only weighs 25 grams, yes, this is true, and takes virtually no space yet brings 2 cups of water to hard boil in less then 3 minutes, and all those features for less than $15. If you can use butane canister fuel in your conditions, you can use this stove.
Reasons to Buy
Ultra lightweight 25 g and very compact
Powerful and efficient: generates 2700 W
Boils water quickly
Comes with a high visibility pouch
Very inexpensive
Reasons to Avoid
Short pot support legs
Feels a little flimsy
I own and use a few different canister stoves: Primus ClassicTrail, Primus Express, even no name China made cheap one, but none of them can beat the combined features of this BRS-3000T "titanium" stove (the word "titanium" here is in the quotes because this is how the manufacturer describes the fact that they use titanium alloy among other materials in the stove construction). After I used it once I now use it for all my backpacking trips: so small and lightweight I cannot feel it and yet does the job to my satisfaction.
Read more: BRS 3000T reviews (10)
Soto Micro Regulator Stove

(12 reviews)
Great for cooking fish or boiling water. The Soto OD-1R Micro Regulator stove is a versatile canister stove with the ability to evenly cook fish, boil water, and everything in between. It's perfect for backpackers who like to cook or prepare their meal while out on the trail.
Reasons to Buy
Compact and light
Great simmering capabilities
Durable
Reasons to Avoid
Potential piezo igniter durability, but haven't run into any issues yet
A few months ago I was on the hunt for a new canister stove. There are a lot of options that fall within a pretty wide price range, so to help narrow my options I looked at stoves that were highly packable and able to cook a lot of different foods - from heating water to working on my backcountry culinary skills. After some research I settled on the Soto OD-1R Micro Regulator Stove.   When looking at the stove out of the box for the first time, I really like the look and feel of it. The burner on the stove has a convex shape, allowing the flames to be spread over a wider area.
Read more: Soto Micro Regulator Stove reviews (12)
Snow Peak GigaPower Auto

(44 reviews)
If you're think you're too old-school to go with a canister stove, put your scruples aside. I finally gave my Svea a break and started packing this lightweight, hassle-free babydoll of a stove.
Reasons to Buy
Lightweight
Very easy to use
Compact
Fast
Well-constructed
Efficient
Reasons to Avoid
Well, you do need canisters.
For both sentimental and financial reasons, I like to use the trusty backpacking equipment that I bought in the mid-1970s. Amazingly, nearly all of my equipment from back then is still serviceable. But it's not all ultralight, nor is it hassle-free. Take my Svea 123 stove, for example. I bought it in 1975, but its design dates back long before that. This stove even has its own Wikipedia page. I'm pretty sure it's the stove that will eventually get me through the Apocalypse.  The Svea is a thing of beauty—bright, shiny brass when polished up, it's even cooler looking when it's covered with soot after a week of trail duty.
Read more: Snow Peak GigaPower Auto reviews (44)
All about canister stoves
What are the advantages of a canister stove for backpacking?
light
compact
boils water fast
easy to light, no priming needed
easy to use
work well in the wind
What are the downsides?
not good in the cold, though an inverted canister helps with pressure
can only use a compatible fuel canister, which can be an issue if traveling
can't tell easily how much fuel is in canister
can't refill the fuel canister, though canisters can be recycled
fuel is more expensive than liquid fuel
can be affected by altitude
What fuels do they use?
Canister stoves burn a pressurized blend of liquefied petroleum gasses (LPG). Most typically:
Isobutane: most popular option for backpacking stoves.
Propane: high vapor pressure; works well in cold weather; heavier canisters
Butane: cheapest and worst performance
Different stoves may require different fuels / canisters. Propane, for instance, is sold in heavier canisters than isobutane, which also feature a different valve. For this reason, propane and isobutane stoves are typically not cross-compatible.
What is an integrated canister stove?
An integrated canister stove is one in which the burner mates with a stove-specific pot. These designs typically provide increased performance and convenience, but are often less flexible for using other cookware.
Other Types of Backpacking and Camp Stoves
Find more backpacking and camp stoves reviewed in these related categories: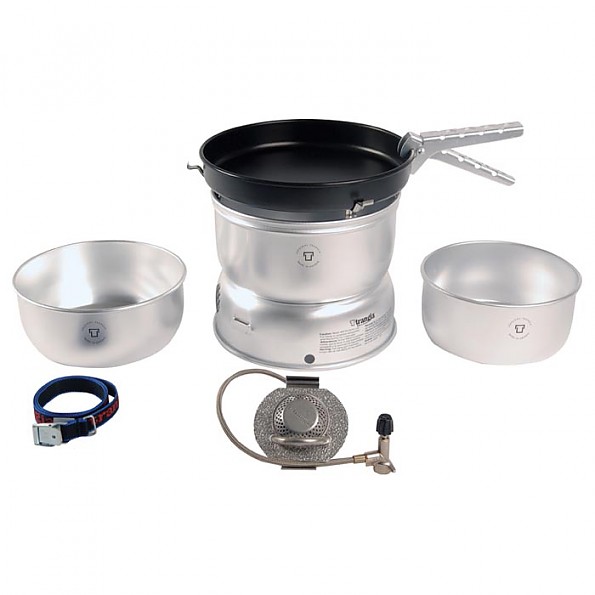 Alcohol Stoves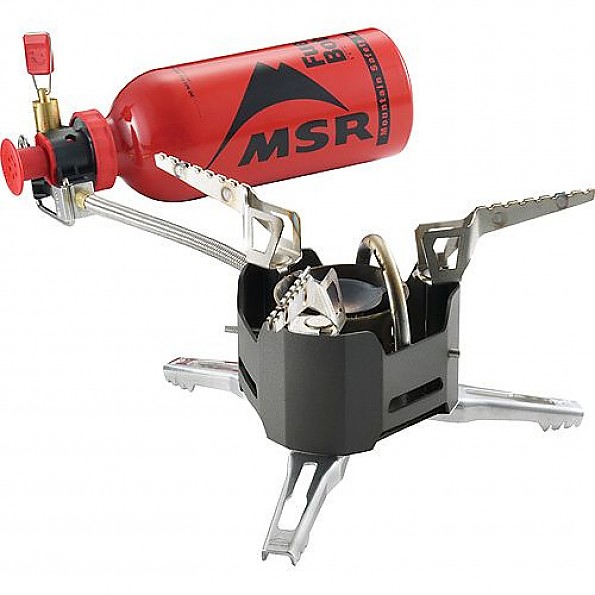 Liquid Fuel Stoves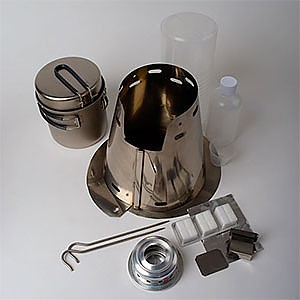 Multi-Fuel Stoves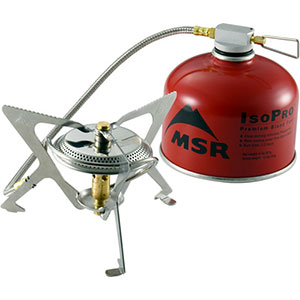 +6 more types
Review Your Outdoor Gear
If you've found this site helpful — or if we've missed something important — please consider paying it forward by some of your favorite (or least-favorite) outdoor gear.
Why? From professional gearheads to outdoor novices, everyone has an important point of view to contribute. will support the outdoor community and help others find the best gear.
Trailspace reviewers are outdoor enthusiasts like you: hikers, climbers, paddlers, backcountry skiers, and trail runners who share our experiences with the gear and clothing we rely on to get outside. Learn more about Trailspace