Soto Amicus with Igniter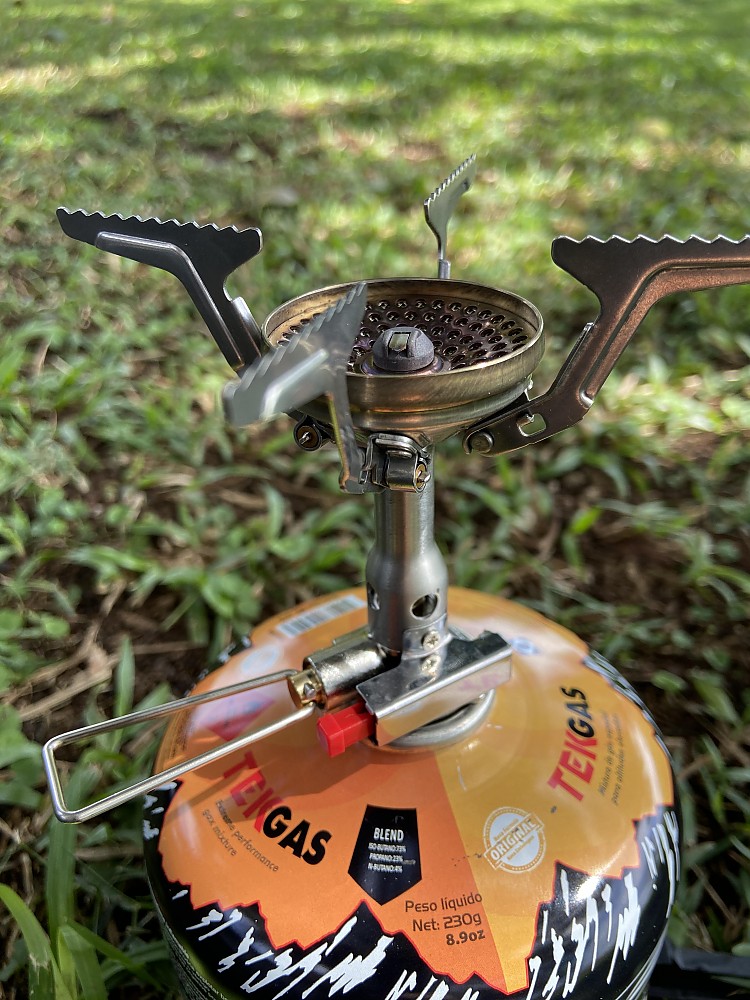 High-quality, compact canister stove for camping and backpacking from Japanese masters Soto. Very efficient and economical, built to last and can simmer, too.
Pros
High quality
Compact
Lightweight
Can simmer
Large diameter burner
Integrated, foldable, solid arms
Efficient
Relatively silent
Internal running igniter
Igniter is convenient
Inexpensive for the quality
Cons
Carrying bag not impressive
Not really windproof
I chose the Amicus over the "king" Windmaster because it has a functional, 4-arm integrated foldable support that won't get lost or forgotten—ever. It has the same assuring built, minus some features that impact very little real-world functionality.
Just holding it in my hand I can feel this thing will perform every time and last for a while, even with little maintenance or care. It's also lightweight and small, and a joy to use. This has been the case for the months I've been using the Amicus indeed. 
The arms have springs and lock in place by way of small hooks attached to the burner head (see photo). It hold pots and pans with ease and security, though it's mostly for one-person cooking.
It's super easy and intuitive to assemble and the igniter means it's ready and burning in a matter of seconds. Disassembly is also a breeze, nothing to comment here. Anyone used to this type of stove will be able to figure it out right away I'm sure.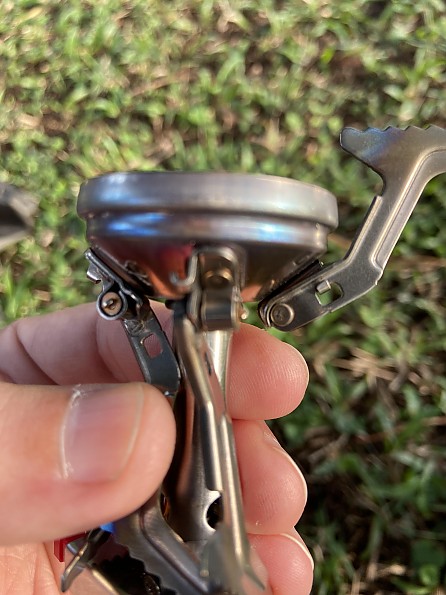 The Amicus ignites on first or second strike max, and consistently. The igniter wire and spark run inside the canister which is neat and helps with durability. It can be replaced if stops working.
I always carry a lighter, but really if my generic stove igniter worked fine for years, I can only expect the Soto will last even longer without issues. We'll see, so far after months it's been working fine.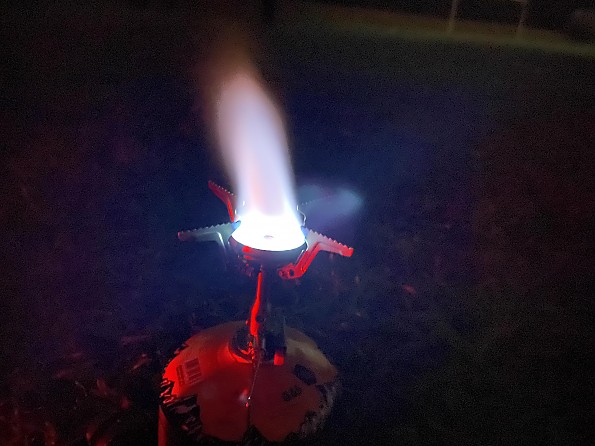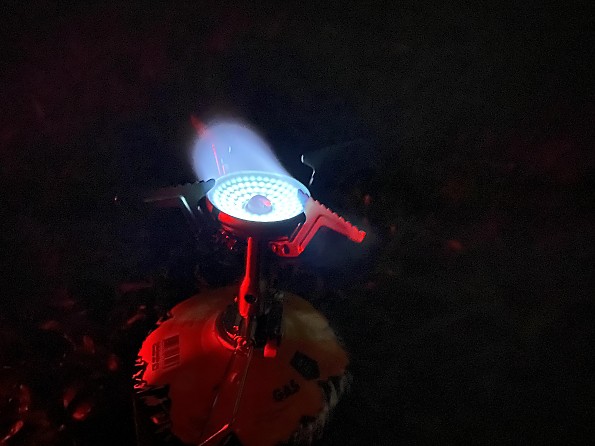 It can simmer quite well. Whatever valve system Soto used on the Amicus, it's very efficient and precise. When fuel is ending and pressure is lower, it will need a push (i.e. open further) to ignite or simmer, but it will still burn consistently and with power until the can is empty. 
Simmering is great for cooking more gourmet stuff, or making toasts and keeping water warm for a tea after meal or something. I really appreciate this over the full-at-all-times flame of the spirit stove. Very convenient.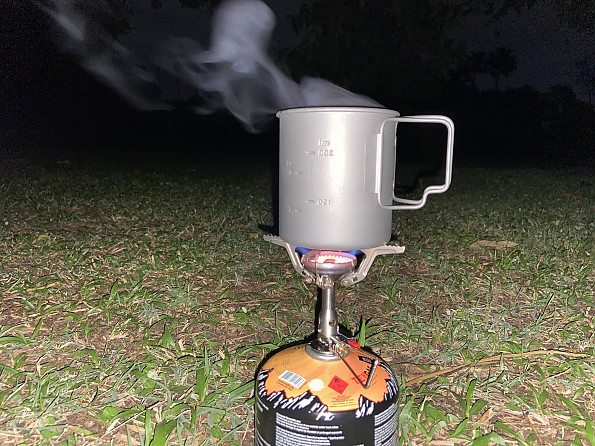 I'm not one to keep timing boiling times, but this thing is fast. I'm talking a couple of minutes to boil 250/300ml of water for an espresso. I have no time to do anything else. 
Especially when used with the Optimus Clip-On Windshield reviewed elsewhere here on Trailspace. I have to keep focused and working on the cooking or I'll overcook/burn whatever I'm cooking.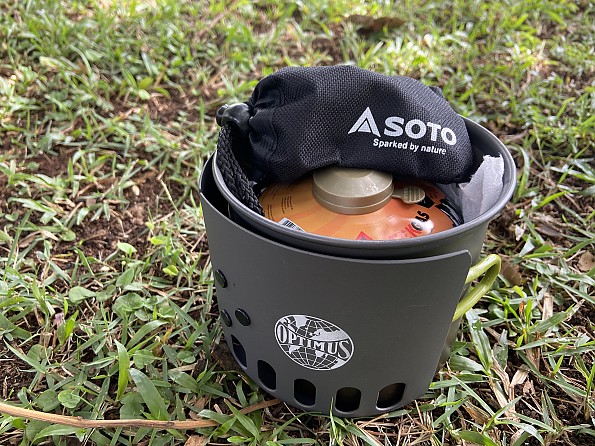 It's so small and will fit inside my cookset along the fuel canister and a rag (to keep things from rattling). The entire setup is compact and convenient, this is what I use for backpacking, trekking, camping, and survival training.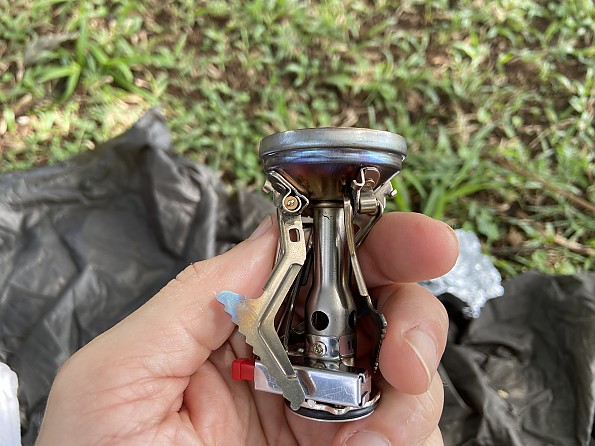 The wire flame adjuster is lighter in action than the MSR and other stoves I've used, but nothing to write home about. It's just a matter of getting used, and this is the kind of stuff only super picky users will notice. When I'm enjoying the outdoors, I couldn't care less for this kind of stuff. Overall, the Amicus is a joy to use.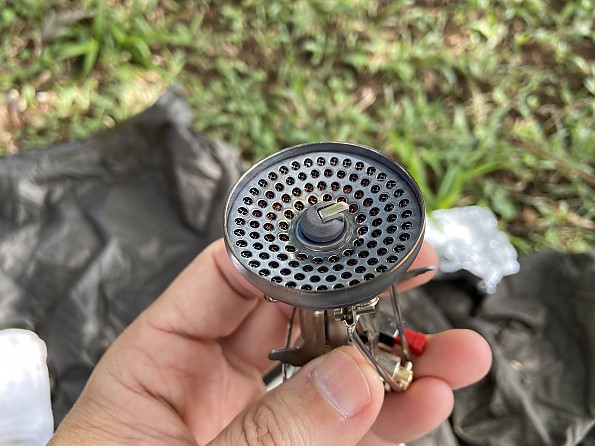 The burner is recessed to help with wind, a design similar to the Windmaster though the Amicus has a smaller diameter burner and a slightly shallower "lip" (I assume, didn't have one to compare).
It's still very efficient and easy to adjust. It simmers very well and seem to make use of the entire fuel even at lower pressures when it's ending. Even after months of use it looks very new, and works consistently with only a clean up here and there.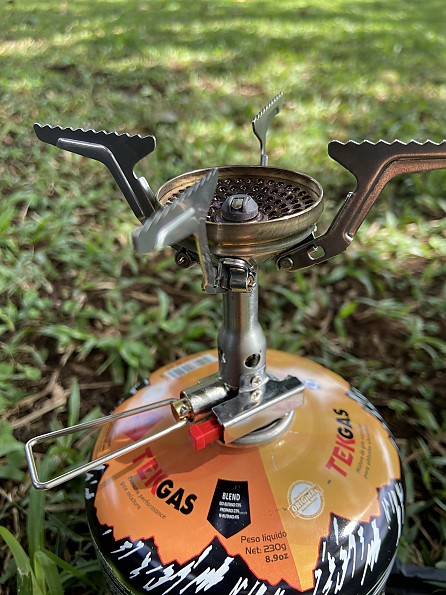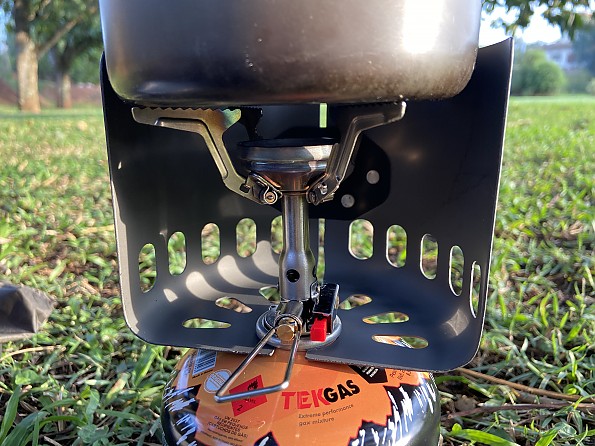 Not really a negative, but while it's quite well-built and precise, it still demands care. The arms can bend, and though it's possible to bend them back into shape, this could lead to failure if repeated often. It's metal, after all.
The burner adjuster is also a thin wire. I try to avoid over tightening the valve, and keep it stored inside the provided carrying bag, it's soft so I try to avoid stepping onto it while doing stuff around camp.
Other than that, it doesn't require special treatment or special care.  
Experience
I'm constantly moving between my beloved Trangia spirit stove, and fuel canister stoves. Both have their pros and cons, and I'm comfortable using both on all situations. I must admit though a high-end stove like the Soto Amicus or MSR PocketRocket (or even some generic ones) can be a convenience, especially forlonger trips when I don't have to worry about refueling or carrying a large and heavy bottle of alcohol.
Source: bought it new
Price Paid: USD 47 + shipping and import fees

A good balance of performance and light weight in a wind-resistant, pocket-size canister stove, with a reliable piezo igniter for one-click starts.
Pros
Compact and lightweight
Wind resistant even without a wind screen
Good boil time and fuel efficiency
Reliable simmer
Stable 4-prong pot support
Cons
Pot support spread only about 3 inches / 7.5 cm
Jake W has ably reviewed the Soto Amicus / New River pot combo that all the top TS reviewers of 2019, including myself, received in recognition of our efforts. Anyone interested in the Amicus should also take a look at Jake's review, which includes photos of most of the details. With this review I just thought I'd add a few observations of my own.
Because I already had and reviewed an MSR Windburner system including a number of different pots and rarely hike solo, I filed the new stove and pot away in the gear cave for future, as-needed use. So I've only used it on a few solo overnighters and a recent outing with my wife, when I was sufficiently impressed at its performance to want to add my .02.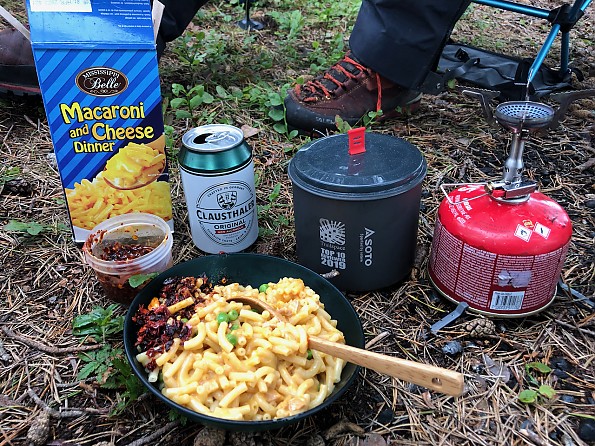 First, let's note that the Amcius rates near the top in independent tests and comparisons like the 2022 lineup of 22 canister stoves on Outdoor Gear Lab, where it ranks third overall, just two points shy of its big brother and Editor's Choice, the Soto Windmaster, and gets a "Best Buy" stamp of approval. It's not quite as fuel-efficient as the Windmaster, but still beats out the new MSR Pocketrocket Deluxe, which rips off Soto's wind-resistant, recessed burner design, on that score. (Oddly, my MSR Windburner doesn't score all that high on fuel efficiency.) I'll also note that trustworthy stove review specialist Hikin' Jim ranks the Windmaster as his favorite pocket-size stove and also reviews the Amicus favorably.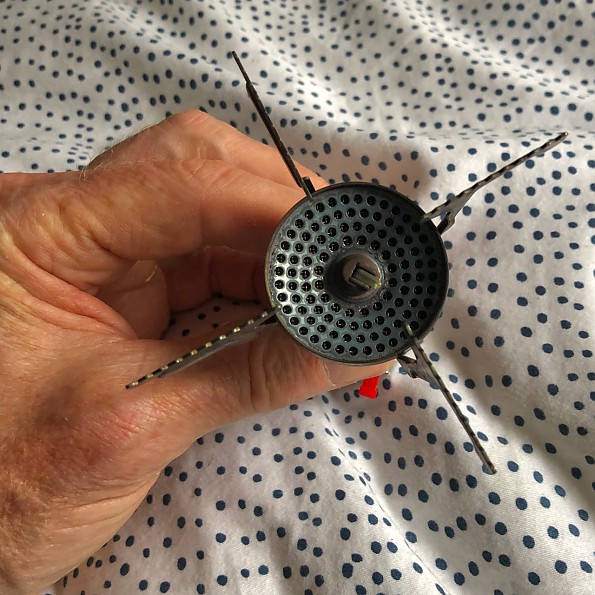 As promised, thanks to its dished burner head and piezo igniter, the Amicus lights easily and performs well in a breeze. On our recent outing, we camped out on a hilltop in a steady breeze with occasional gusts, and the Amicus still boiled a liter of water in pretty short order—I didn't time it, but I didn't feel like I had to wait long—and didn't seem too perturbed by the gusts.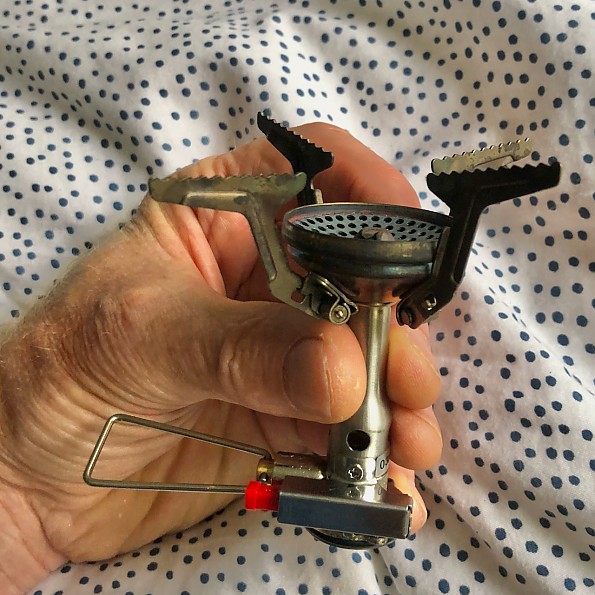 The piezo igniter reliably lights the stove on the first click. Although I'll probably still want to carry a butane lighter as a backup and for other uses, it's one less kitchen item to keep track of. According to Soto it is user-replaceable if it should wear out.
I was also impressed that I was able to turn it down to a very low simmer. The MSR Windburner tends to cool off and gutter out when turned down low. The burner head has a bigger diameter than most other pocket-size stoves, but may still produce a hot spot, certainly no worse than the others.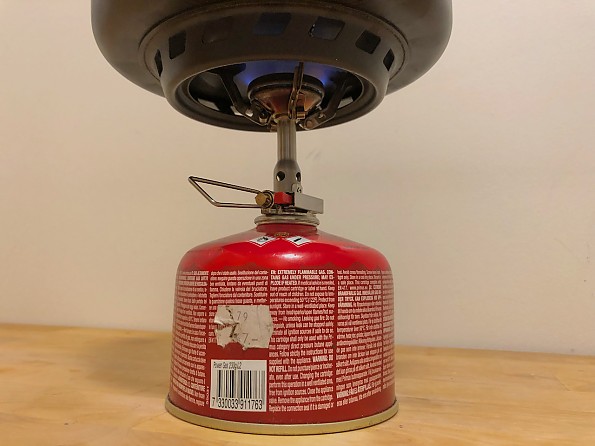 The pot supports can seem somewhat fragile at first, but I think that's because of the slight looseness of the spring rivets that anchor them to the burner, which is what allows them to lock and unlock. Once locked in place, they give ample support to both the 1L new river pot and my bigger 2.5L MSR Windburner Sauce Pot. In the case of the latter, the pots supports are just a bit too wide for the heat-saver ring on the bottom of the pot, but I have found that I can tilt-slide it into place and then the ring helps keep the pot on center. That's an unconventional pairing, but it seems to work rather nicely. I also think the 4-prong pot support provides more stability than the usual 3 prongs.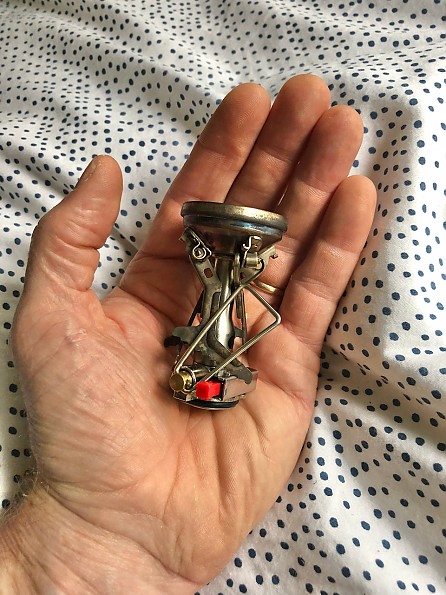 I can confirm the Amicus' light weight at 79g plus 12 g for the storage pouch. It's small enough to fit inside a GSI insulated mug. Comparing 2-pot systems for 2 people, my Amicus system with the New River and MSR sauce pot ends up almost 150 g / 5oz  lighter than the Windburner with 1.0 and 1.8 L pots. Unfortunately, the New River is just a bit too tall to fit under the lid of the sauce pot. I kind of like having the sauce pot for a little more cooking versatility—it's wider and shallower than the system pots, making it easier to stir while simmering, and the ceramic coating also cleans up easily.
I'm impressed enough by all these small advantages that I'm leaning towards adopting the Soto system for an upcoming multiweek through-hike in Sweden.
Experience
I have used the Amicus on a few solo outings and on a recent breezy hilltop camp out with my wife. I have owned an MSR PocketRocket (gave it to my daughter), still have an MSR Windburner system, and have owned and used numerous other liquid fuel, canister, and alcohol stoves dating back to my very first, the venerable Svea 123.
Source: received it as a sample, freebie, or prize (Trailspace top 10 reviewer 2019)

A little smaller than the Soto Windmaster, which I would call reference stove in wind.
Pros
Burns in wind
Little smaller than Soto Windmaster
One piece of gear (Windmaster has 2 pieces to be put together)
Cons
little shaky arms, when putting together
I have used the Soto Windmaster lately on my PCT and was really exited about the flame in the wind (nearly every day you have wind). I aslo loved the igniter which was robust enough in sandstorms etc.
I used the Windmaster with the Triflex, which was light (68g), but you had to put together and store two pieces of gear. I also could transport the Windmaster vertically in the Snow Peak 900 and Snow Peak 700.
But when I switched to the Evernew Ti Single cook set, the Soto Windmaster did not fit vertically anymore (by 1 mm). So I researched, did not want to use BRS etc, and finally found the Soto Amicus, which gives me a nearly similar wind resistance, is only one piece of gear, and is a little smaller. 
Soto also has good support. When my Igniter got too sandy in the desert of the PCT, they sent me a free replacement igniter kit. Easily exchangeable, excellent support.
Experience
Long distance hike
Source: bought it new

Your Review
Where to Buy
Help support this site by making your next gear purchase through one of the links above. Click a link, buy what you need, and the seller will contribute a portion of the purchase price to support Trailspace's independent gear reviews.
You May Like
Specs
Price
MSRP: $44.95
Current Retail: $40.90
Reviewers Paid: $47.00

Weight
.07 oz

Dimensions
3.94 × .71 × 6.5 in