Soto Amicus with Igniter

Top 25 in Compressed Fuel Canister Stoves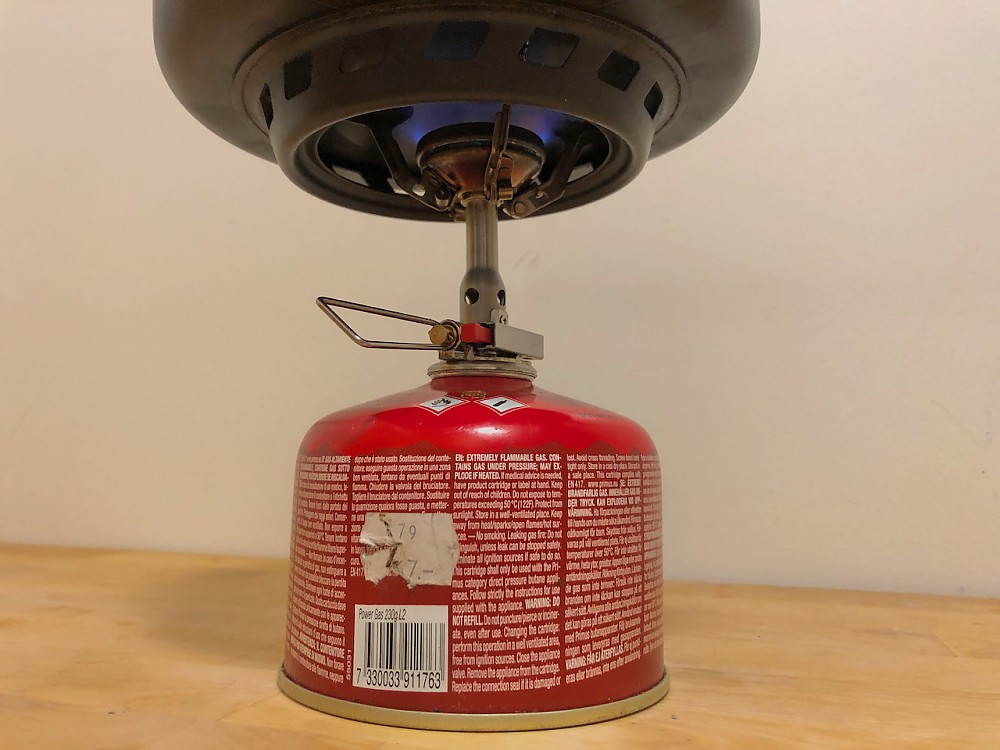 Specs
| | |
| --- | --- |
| Price | MSRP: $44.95 |
| Weight | .07 oz |
| Dimensions | 3.94 × .71 × 6.5 in |
Reviews
2

reviews

5-star:

1

4-star:

1

3-star:

0

2-star:

0

1-star:

0
A good balance of performance and light weight in a wind-resistant, pocket-size canister stove, with a reliable piezo igniter for one-click starts.
Pros
Compact and lightweight
Wind resistant even without a wind screen
Good boil time and fuel efficiency
Reliable simmer
Stable 4-prong pot support
Cons
Pot support spread only about 3 inches / 7.5 cm
Jake W has ably reviewed the Soto Amicus / New River pot combo that all the top TS reviewers of 2019, including myself, received in recognition of our efforts. Anyone interested in the Amicus should also take a look at Jake's review, which includes photos of most of the details. With this review I just thought I'd add a few observations of my own.
Because I already had and reviewed an MSR Windburner system including a number of different pots and rarely hike solo, I filed the new stove and pot away in the gear cave for future, as-needed use. So I've only used it on a few solo overnighters and a recent outing with my wife, when I was sufficiently impressed at its performance to want to add my .02.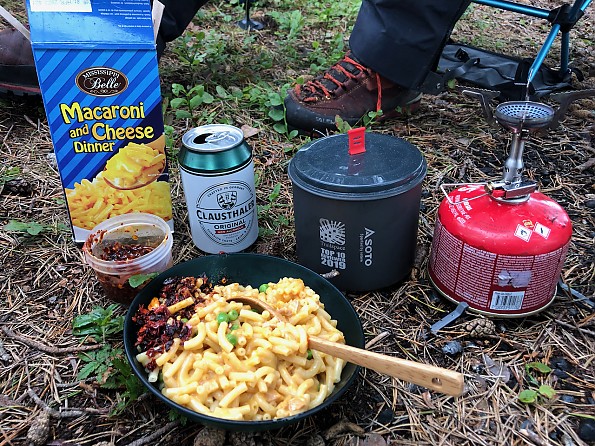 First, let's note that the Amcius rates near the top in independent tests and comparisons like the 2022 lineup of 22 canister stoves on Outdoor Gear Lab, where it ranks third overall, just two points shy of its big brother and Editor's Choice, the Soto Windmaster, and gets a "Best Buy" stamp of approval. It's not quite as fuel-efficient as the Windmaster, but still beats out the new MSR Pocketrocket Deluxe, which rips off Soto's wind-resistant, recessed burner design, on that score. (Oddly, my MSR Windburner doesn't score all that high on fuel efficiency.) I'll also note that trustworthy stove review specialist Hikin' Jim ranks the Windmaster as his favorite pocket-size stove and also reviews the Amicus favorably.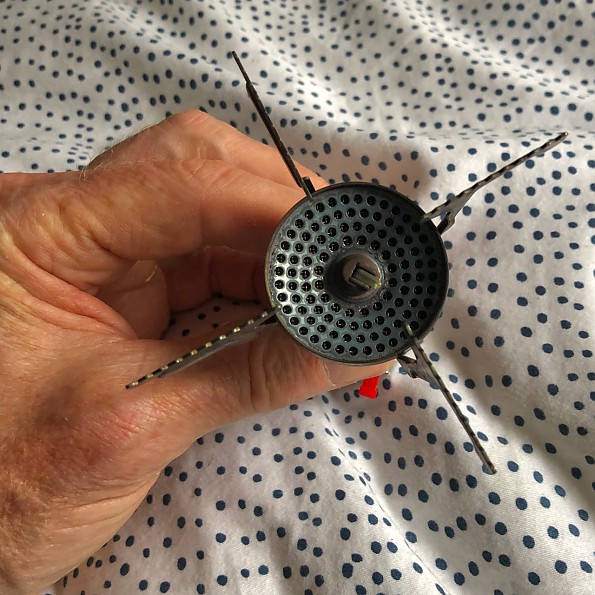 As promised, thanks to its dished burner head and piezo igniter, the Amicus lights easily and performs well in a breeze. On our recent outing, we camped out on a hilltop in a steady breeze with occasional gusts, and the Amicus still boiled a liter of water in pretty short order—I didn't time it, but I didn't feel like I had to wait long—and didn't seem too perturbed by the gusts.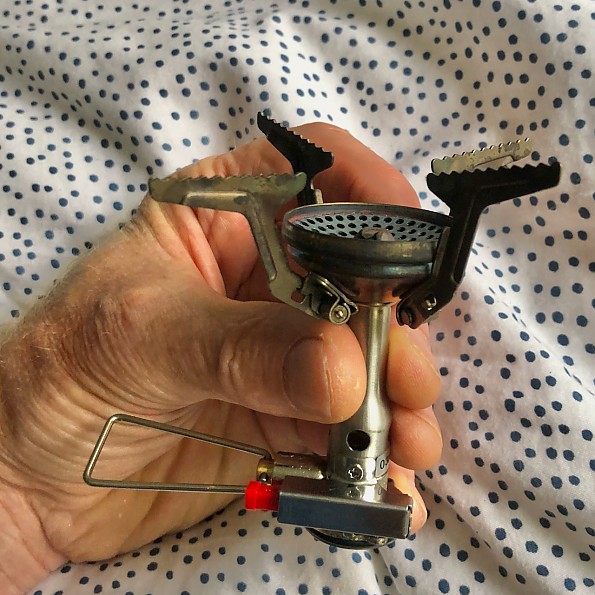 The piezo igniter reliably lights the stove on the first click. Although I'll probably still want to carry a butane lighter as a backup and for other uses, it's one less kitchen item to keep track of. According to Soto it is user-replaceable if it should wear out.
I was also impressed that I was able to turn it down to a very low simmer. The MSR Windburner tends to cool off and gutter out when turned down low. The burner head has a bigger diameter than most other pocket-size stoves, but may still produce a hot spot, certainly no worse than the others.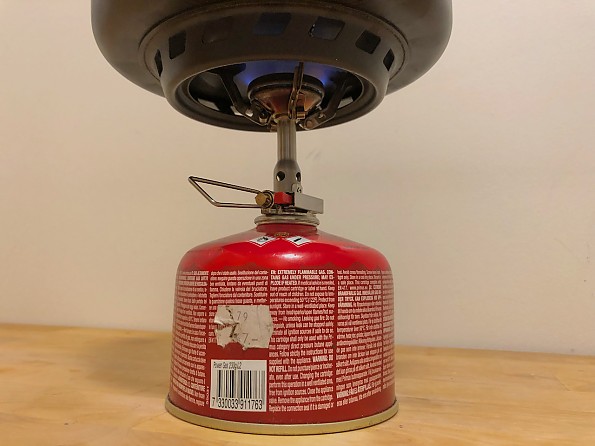 The pot supports can seem somewhat fragile at first, but I think that's because of the slight looseness of the spring rivets that anchor them to the burner, which is what allows them to lock and unlock. Once locked in place, they give ample support to both the 1L new river pot and my bigger 2.5L MSR Windburner Sauce Pot. In the case of the latter, the pots supports are just a bit too wide for the heat-saver ring on the bottom of the pot, but I have found that I can tilt-slide it into place and then the ring helps keep the pot on center. That's an unconventional pairing, but it seems to work rather nicely. I also think the 4-prong pot support provides more stability than the usual 3 prongs.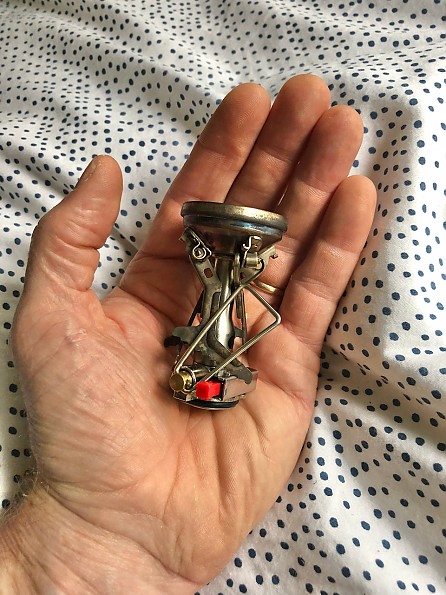 I can confirm the Amicus' light weight at 79g plus 12 g for the storage pouch. It's small enough to fit inside a GSI insulated mug. Comparing 2-pot systems for 2 people, my Amicus system with the New River and MSR sauce pot ends up almost 150 g / 5oz  lighter than the Windburner with 1.0 and 1.8 L pots. Unfortunately, the New River is just a bit too tall to fit under the lid of the sauce pot. I kind of like having the sauce pot for a little more cooking versatility—it's wider and shallower than the system pots, making it easier to stir while simmering, and the ceramic coating also cleans up easily.
I'm impressed enough by all these small advantages that I'm leaning towards adopting the Soto system for an upcoming multiweek through-hike in Sweden.
Experience
I have used the Amicus on a few solo outings and on a recent breezy hilltop camp out with my wife. I have owned an MSR PocketRocket (gave it to my daughter), still have an MSR Windburner system, and have owned and used numerous other liquid fuel, canister, and alcohol stoves dating back to my very first, the venerable Svea 123.
Source: received it as a sample, freebie, or prize (Trailspace top 10 reviewer 2019)

A little smaller than the Soto Windmaster, which I would call reference stove in wind.
Pros
Burns in wind
Little smaller than Soto Windmaster
One piece of gear (Windmaster has 2 pieces to be put together)
Cons
little shaky arms, when putting together
I have used the Soto Windmaster lately on my PCT and was really exited about the flame in the wind (nearly every day you have wind). I aslo loved the igniter which was robust enough in sandstorms etc.
I used the Windmaster with the Triflex, which was light (68g), but you had to put together and store two pieces of gear. I also could transport the Windmaster vertically in the Snow Peak 900 and Snow Peak 700.
But when I switched to the Evernew Ti Single cook set, the Soto Windmaster did not fit vertically anymore (by 1 mm). So I researched, did not want to use BRS etc, and finally found the Soto Amicus, which gives me a nearly similar wind resistance, is only one piece of gear, and is a little smaller. 
Soto also has good support. When my Igniter got too sandy in the desert of the PCT, they sent me a free replacement igniter kit. Easily exchangeable, excellent support.
Experience
Long distance hike
Source: bought it new

You May Like
Recently on Trailspace