Eureka! Solitaire

The Solitaire has been discontinued. It was replaced by the Eureka! Solitaire AL.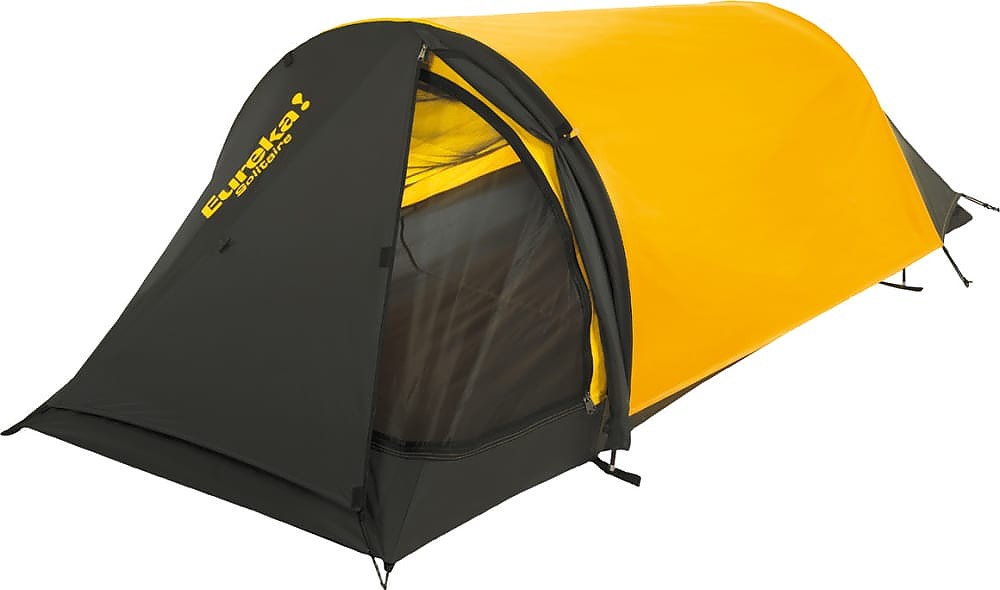 Specs
Price
MSRP: $94.90
Current Retail: $43.99
Historic Range: $41.74-$89.99
Reviewers Paid: $25.00-$100.00

Sleeping Capacity
1

Floor Size
8 ft x 2 ft 8 in

Interior Peak Height
2 ft 4 in

Minimum Weight
2 lbs 10 oz

Pack Size
4 x 17.5 in

Floor Area
21.5 ft²

Doors
1

Storage Pockets
2

Pole Attachment
Pole Sleeves, Post & Grommet

Main Pole
6.3 mm Fiberglass

Inner Body Fabric
75D 185T StormShield polyester taffeta

Inner Body Coating
1200 mm

Rainfly Fabric
75D 185T StormShield polyester taffeta

Reviews
49

reviews

5-star:

6

4-star:

19

3-star:

12

2-star:

9

1-star:

3
Advertised as a "tent," fits like a large, overweight bivy.
Cons
Small
No space for gear unless you're tiny
Poor ventilation if it rains
Mesh hangs down, hard to get rain fly tight.
Fiberglass poles
I used this tent only a couple of times and put it away until I sold it. It's not a bad tent, and is lightweight, but it has quite a few downfalls that I couldn't get past.
It requires a minimum of 12 stakes to be tight enough to shed water without it making the top of the tent sag and collect water, IF you can even get it tight enough.
It's a pain to get in and out of without crawling across the ground and either getting wet or covered in dirt before you get into your bag. And unless you're 3 feet tall, forget doing any sort of changing inside this thing.
There is no place to put gear, so you'll need a rain cover. I'm 6-2 and although I fit, my boots were either forced into the foot of the tent pushing against the tent wall, or hitting me in the face or top of the head.
It is a nice design if you want to lie back on a clear night and enjoy the stars with the tent body rolled back and only the mesh over you, but there are better and more lightweight options for that sort of shelter.  
The major drawback with this tent is the fiberglass poles. You will find that a large percentage of reviews on this tent mention the fiberglass poles snapping because of the stress they experience in the tight arch that forms the tent body.
The tent I bought was a factory second that was repaired by Eureka, and with the repair they extended the nylon webbing that the pole ends are inserted into away from the tent, reducing the stress on the poles by making it a more moderate bend. However, I think this resulted in the difficulties I faced in getting the top of the tent body adequately tight enough to shed water and not sag in on me.
Overall it's a nice, semi-compact and lightweight backpacking tent that will serve someone well as an entry level "tent" (large bivy), but understand that there are much more lightweight options to be had on sites like Sierra Trading Post or SAC for very reasonable prices that will leave you much happier in the long run.
Source: bought it used
Price Paid: $60

Great tent for what it is.
Pros
Small size
Doesn't feel like a sleeping bag
Light weight
Lots of ventilation
I thought this tent was easy to set up. Having never used anything but US Army issue before, this thing was a breeze. I did replace the stakes with the large nail type stakes since I tend to camp in some rocky terrain.
I've used this tent in rainstorms and good old Georgia summer heat and thought that the rain fly and ventilation were great. I carry a 7,800 cubic inch pack that I put way too much stuff in and it and my boots fit in the gear area, just barely. I'm only 5'9" on a good day but fairly round about the torso and didn't feel like I was cramped at all. With the rain fly rolled up was able to read a book comfortably with the no see'um screen zipped.
The tent fits perfect in one side pocket of my Jansport Alaska with the pegs and poles in the other. I wanted a small packable tent that didn't make me feel like I was in an extra sleeping bag and this tent worked just like I wanted it to.
I'm not very nice to my equipment, I stuff it in my pack and set it up wherever I get tired. It has held up without any repairs for about thirteen years on every kind of ground surface you can think of. Even with kids playing in it.
Over all, I think this would be a great tent for everyone that wants a small one-person tent.
Source: Last year's model from Campmor

I own this tent and I like the weight and size in my pack for the price. Hard to find a lighter-better tent for less. 
This tent is very small. I hung my pack in a tree because there wasn't room in the tent and you can't sit up, but it gives you the dimensions so that shouldn't be a surprise.
I stayed dry in this tent but because the fly is staked to the ground there could be a problem with snow blowing in.
Price Paid: $65

I used this tent for the fist time this weekend and I would give it an 8 out of 10. I am 6 foot 2 inches, 165 lbs and I fit wonderfully into this tent. Easy setup and easy take down.
I was a little worried about using this "3 season" in freezing weather. The night I spent in it, the temp was around freezing and the wind was ripping hard. Around 3 am the rain started and it didn't stop until about 4pm. I was able to stay completely dry in this tent. No rain got in, maybe a little condensation on the rain fly, but nothing major. There was no water under my tarp or sleeping pad.
In the downpour of rain I had to stay in the tent for an extended time; although I couldn't sit up I made it okay. Was able to cook some lunch on my stove, but had to lie on my stomach to do so (probably unsafe but I was starving).
The major disapointment was when we decided to pack things up and BOTH of my tent poles splintered. I contacted Eureka and they said to send the whole tent and poles back for modifications and part replacement. 
Overall I will be happy to use this tent again once they fix it.
Source: received it as a personal gift
Price Paid: Free/ gift

I have owned the tent for a little over two years. The poles did break over this summer after being set up for a couple weeks on an extended trip. I got quite a bit of use out of the tent before that happened, so I wasn't upset over it. I am looking to replace them with aluminum and I will see how that goes.
Other than that, this tent is awesome. I took it on a week-long bicycle trip in October and it held up well. The temp got down to about 15 degrees F one night and the fabric gets a little stiff in cold weather, but it did not tear.
I also took it to deer camp in late November. I would have to say this tent is more like a 3 1/2 season tent, though. When I got up on opening day, the outside temp was -2 F. I don't know if I was more amazed at how little condensation there was on the ceiling, or the fact that it was STILL LIQUID! This tent holds heat like a magnet holds a screw.
Unfortunately, I haven't had a chance to take it out in extreme cold or snowstorms, so I can't say how it would do in those conditions.
In summer I really appreciate how you can roll up the top sheet and the rest of the tent is screened down to a few inches above the ground. You can sleep under the stars in the middle of a mosquito cloud!
It is hard to get dressed at first, but you get the hang of it after a while. This tent is pretty small, but the dimensions are clearly marked on the box. I saw a lot of people complaining about this, but it shouldn't have been a surprise. You can't make a whole room with 2.7 pounds of material. This isn't NASA.
In short, I would say this tent is perfect for backpacking and bicycle touring. You get a lot of value for the cost. It weighs practically nothing and can almost fit into a pocket. It will keep you warmer than any other tent for the price. Just put a pair of spare poles in the bag.
Price Paid: $70

I have an older Solitaire and have had no problems with the poles breaking.
I'm 6'2" 210 so it is a little tight once in but I chose weight over comfort. I spent 2 months in this tent all over Alaska several years ago.
I still use it when I'm just out for the night and don't want to get rained on.
Sleeps: 1

I love the Eureka Solitaire; travels well in my panniers on my touring bicycle. But on two outings since buying the tent, I've encountered poles that broke. Fixing the poles in the field is extremely difficult depending on where the break happens on the pole.
The first time the pole broke Eureka replaced it free. I had to send the broken one back for their product review. No biggie, they shipped a replacement.
Now that I've encountered another break—two poles this time in one outing—I'm getting a little frustrated. I wrote Eureka again about the latest breaks. We'll see what they do. The poles are the key to a tent, they need to be more reliable than this.
***
Edit 8/13/10: Eureka's customer service department has been very respective to my issue. They had the tent returned to them (paid) Fed Ex to investigate issue. I'm awaiting their findings.
Edit 8/18/10: Well, Eureka (Johnson Outdoors Inc.) returned my tent in less than 10 days at no charge. They replaced the poles and lengthened the "webs" at no charge. I haven't set up the tent yet, but I'm sure it will be fine now.
I was impressed with the customer service I received on all communications with Johnson Outdoors Inc. / Eureka. If you have an issue, write them.
Design: season
Sleeps: 1
Ease of Setup: Easy
Weight: Light
Price Paid: $59

Wow... I wish I had read the reviews before I spent my hard earned dollars on this p.o.s. Got it home, set it up as instructed, and sealed the seams. I woke up the next morning to take it down and to my surprise it was a crumpled, broken, pile of uselessness. Didn't even get to use it once!
I called the company and explained what happened. I was told I could order new poles (at my own expense) but they were waiting for a shipment and it could take a few weeks before I recieved them.
After reading these reviews I understand why they were out of poles and were waiting on a shipment of them. If a company is going to sell a flawed product at least have the decency to replace the flawed parts for free.
Design: sucks
Ease of Setup: sits broken in my closet just fine
Weight: light as a feather, since it's not part of my gear
Price Paid: $79.99

This is not a quality product by Eureka. They do not care to improve the weak poles. Good luck!
Pros
Size — compact and low to ground
Weight
Cons
Poles are inferior quality and WILL break
Before buying this tent for a bike tour I had read the reviews. There were a lot of statements about pole breakage, but I'd owned the Eureka Timberline years before and was thoroughly happy with it. So I took a chance on this tent.
Bad mistake. The first pole sectional broke on use #8. I had already contacted Eureka and asked if I could have a replacement pole set before I was going to need it due to what many people said. I was informed that the company would only send one replacement.
Well, when it broke, I asked for it. It was sent, but strangely, perhaps because I raised hell about how a company could produce such an inferior product, I was also offered the Spitfire instead. This made no sense — offer a tent worth double the price instead of just improving what is a major flaw with the Solitaire thus losing business.
I was also informed that if I didn't want that, I could contact a certain company which specifically makes quality replacement poles for this tent... at half the price of the tent! Welcome to Eureka.
By usage #20, three other sections had broken. I had kept the original pole set so I could use the sections as replacements (think McGyver), but now I was out (all breaks always occurred with the rear pole). I now have a tent which only uses the front pole. Utterly useless when it rains and spaciousless for general use. 
Will never buy from Eureka again.
Source: bought it new
Price Paid: $60

Good tent, small, light, easy setup. View of the stars, and warm.
Pros
Small pack size
Lightweight
Easy set up
View of the stars
Cons
CHEAP FIBERGLASS TENT POLES
Picked up this tent for $30 USD, from the Eureka website outlet. Warning, Eureka's website states that refurbished tents may be dirty. They are not kidding, this tent was extremely muddy.
Set it up (and wiped it down) in the backyard last night and slept in it. Very small but I was able to fit my pack and some misc. items I grabbed to test it out. (I am 5'9" and 240 lbs, not a small guy and I fit fine). My sleeping pad also fit, REI Stratus.
Small amount of condensation at the foot, this is from my feet hitting the end of the tent, I am a turner and side sleeper so this happens in every tent.
The poles for this tent feel very fragile. I am looking into replacing them I found a replacement company tentpoletechnologies.com that will replace them for about $50 USD. This puts the cost of the tent to the price of a new Eureka Solitaire, so not a bad deal. I would recommend buying the Canadian version as this version comes with the aluminum poles for about the same cost as the American version.
There is no room to sit up in this tent, not a complaint, the dimensions are listed in the specs.
All in all a good tent for the price and weight, if you are on a budget and need a SOLO tent give the Eureka Solitaire (Canadian version) a shot.
Happy Trails!
Source: bought it used
Price Paid: $30

Loved my very first solo tent!
I bought this tent for a solo hike on the Dobson Trail. For my first solo tent, I found it very lightweight and compact. Easy setup. No enough instructions for the fly though.  
All in all, this is a great tent for a 2-3 day beginner for overnight hiking!
Source: bought it new
Price Paid: $100

Perfect for long range treks in all weather situations.
Awesome tent in all weather conditions below the timberline. Is very versatile and can be set up in less than a couple minutes in the dark. This little tent has yet to leak on me and has even kept me comfortable when buried in the snow! It has a very small footprint in the pack.
The only downside is that is has to be staked down, so if you are going above the timberline on rocky slopes use another, it is not self stabilizing.
Source: bought it new
Price Paid: $60

Decent little tent for the money. Plenty of room inside for you and a sleeping bag. Rain fly is nice, although heavy rain may find its way in. Floor material is a bit on the thin side, but still sturdy.
Pros
Lightweight
Quick assembly
Inexpensive
Can be used as open air or covered roof
Quality zippers and body material
Cons
Rain fly could leak in heavy storms
Fiberglass poles
Bottom is a bit thin
It's an easy enough tent to set up, just two poles, clip in and done. The rain fly can be rolled up, exposing just a screen net between you and the stars, both above the entrance and the body of the tent. Staked out, it won't budge an inch in wind.
I used this tent on a 2-day hike/camp trip in Alaska. It packs down small enough to fit in a side pocket of my Kelty pack, and even though the poles are fiberglass, they fold down nicely and stow in a small pocket. Once I got to camp, I had the tent unrolled, staked and poled up in less than 5 minutes. Temps outside were in the 50's until the sun went down, then it dropped to high 30s. The tent didn't really block any temperature, but it did a nice job of keeping most of the wind off of me, and the light rain we got that evening.
This is the epitome of a 1-person "mummy" tent. The head area is about 2 1/2ft high, while the foot area is only about 18" or so, and you have about 3ft of width to move around. There is a pocket inside for keys/energy bars/snacks/flashlight/etc. I'm 5'9" and my pack, plus me (in a mummy bag) fit inside nice and snug with no body parts rubbing against the ends of the tent.
Unlike a lot of tents that never fold down just right after you use them once, this one will, every time. It as simple to pack up as it is to set up, and can be compacted down to fit in very small areas in your bag so as not to take up a lot of unnecessary space.
The zippers are decent quality and are smooth. I never had one want to grab the screen material or the nylon.
The major downside I see is that the floor is thin nylon material, I could see a sharp rock piercing through if you're not careful, but between that and the poles not being aluminum, those are the only real complaints I have about the quality. It really is a nice one-person tent so long as you don't try to use it in the snow.
Source: bought it new
Price Paid: 75$

Excellent tent for the price. Upgrade the poles to shock corded aluminum and upgrade the tent stakes.
Pros
low to ground
stays good in heavy wind
repelled many hours of heavy rain
Cons
fiberglass poles break
tent stakes are cheesy/cheapo
Had this tent for 6 years. When new, set it up in the back yard and the fiberglass poles broke by the next morning. Eureka sent new poles for free and they broke within hours. Looks like the bend is too much for the poles and the metal ferrel inserts cut into the fiberglass. 
Found a place on-line (can't remember the name) that had the info/dimensions for the Solitare (and many other tents) and they made me shock corded aluminum ones shipped next day air. Never had a problem since. This tent is now trustworthy and reliable.
This is a nice tent that packs well (light), and holds up in torrential rain. I'm 5'10" 225 lbs and while this tent is a bit cramped getting in and out, once inside it becomes comfortable. I use a self inflating pad under my ECWS bag and sleep like a baby.
Those of you that have purchase this tent already, should research on-line for shock corded aluminum poles...it's worth it and you'll have piece of mind when your far up the single track. One last thing, upgrade all tent stakes.
Source: bought it new
Price Paid: $75

Wonderful tent, but need resources for replacement frame poles!
Pros
light weight
comfortable
openess
roomy for a bivy
I see no one has posted since last summer? I've not had the chance to try mine out. I jury rigged it in the backyard and climbed in and loved the size. Perfect for me and I can fit my Boxer in with me with enough room! I am 5'7" so I had leg room to spare. Not difficult for me to half sit up...but that's not what a bivy is for is it?
Also love the fact the top can be unzipped and the screen allows in fresh air and a sky view. I can't wait to use it for real! I bought it as a return for $25 It came without one set of poles and no stakes. Stakes easily replaceable, but I've been reading reviews on poles and am having a hard time finding that size in aluminum OR fiberglass. 
My 4-person tent (7 years old) pole frames are still going...alas they won't work for the Solitaire!
I like the weight, very light. Love the color. Very comfortable.
Where are the frame poles?!?!
:)
Source: bought it new
Price Paid: $25

I love my little tent. I spend at least one night a week in the tent in the summer time. I mainly use it on kayaking trips. Has never leaked, and I have put it through some bad storms. One night I was camping in tornado warning (not smart) it still didn't leak.
After 2 years still looks like new. Anyone who complains the tent is too small, guess what, that's why most people buy it, because it is small. When it comes to poles breaking I have never had any problems and I am kinda rough on things.
The only drawback is that it's not free standing. Big deal unless you're camping on rock.
Price Paid: $70-80

Bought this tent for weekend backpacking trips. It's very light weight (under 3 pounds) and easy to set up. Plenty long. I wish they would have made it about six inches higher so you could sit up in it. 
Unfortunately, I didn't even get to try it out on a backpacking trip. I set it up about three times in my yard. Yesterday I set it up to get measurements to make my own vestibule to sit under and after an hour of being set up one of the poles snapped in half and the broken pole shot up through the tent sleeve puncturing the tent. When I took it down every single pole had a bend in it and a few others are about to snap at the tip.
After reading other reviews, it looks like this happens quite often. Rather than buying replacement poles I will be buying a better quality tent, one that I can sit up in as well.  
Price Paid: $60

i bought this tent for a small cam ping tent to use on my boy scout troop and everything works good ventilation and it keeps good warmth.
but the only thing wrong is it needs a vestibule or whatever u call it on the front for your shoes because all the water from my shoes went down my sleeping bag and to the back of the tent.
Price Paid: $70

I have been reading a lot of complaints about this tent, and all I can do really is laugh. Some complain about the small size and the fact you can't sit up straight, or it is hard to assemble or that if you're 6 feet or taller it is uncomfortable. I'm 6' 3'' and here is my review.
I bought this tent 6 years ago and in the past year I have camped quite a bit in Western Montana and just yesterday arrived back from a 5 day voyage to the Boundary Waters Canoe Area. We got lucky because the days were free of rain for the most part, and mostly sunny despite the early date, but last two nights we woke up to it snowing outside! Although the tent is only a 3 season it held up just fine in the blistering, howling winds, that pervaded our peninsula situated campsite.
The morns before were at first warm, and though the sun shone down on the tent, there was no condensation to be found. I am continually amazed at how well ventilated and "climate controlled" this tent was engineered to be, whether be happenstance or not.
Yes, it can be a tad finicky to position yourself into the tent, but it is VERY comfortable once you get in, and easily allows one to read a book as they fall asleep or smoke. It's a small price to pay for a very comfortable nights sleep.
For those who gripe about not being able to sit up straight in the Solitaire, I respond it is for sleeping and if you're not sitting by the campfire until your tired then what are you doing camping?
As for the complaint about setting the tent up, it is the easiest tent to set up and take down I have ever used, and I am not mechanically inclined by any means--there are only two poles, how difficult could it be? As for setting it up so you get the maximum stretch, pay attention to staking it somewhat square and you'll be fine.
This is a GREAT tent especially if you do long hikes in the backcountry and want minimal weight. One last great thing is you don't need much space to set this puppy up, meaning the chances you'll find a small rectangle of flat ground or in a nook between trees away from the wind are much greater than any larger tent.
What a brilliant piece of camping equipment.
Price Paid: $79

I really like this tent. Scratch that... LOVE this tent. The setup is quick, easy, rainfly works great, just the right size for one, and it packs nice and small.
But THE TENT POLES SUCK!! I called Johnson Outdoors, they gave me an RO number and I will return it... for them to fix... but I need the tent NOW! And then they want to CHARGE me for the fiberglass poles if it needs them.
I am really mixed about this. One one hand, they want to help, on the other they may end up charging me. Meanwhile, I am out one of my tents. (Well, I couldn't rely on it ANYWAYS, I guess.)
Anyone have any suggestions?
Design: NEEDS IMPROVEMENT
Sleeps: 1
Ease of Setup: Drunk monkey simple
Weight: 3?? pounds
Price Paid: $80

I've had mine now for over a year and yes, it is small, but that is the nature of a Solitaire. To me, it's the next best thing to a bivy sack (I love sleeping out under the stars.) I've use mine in several different situations and have been very pleased with its performance.
I watched many tents get blown off the mountain at one Boy Scout event thanks to the Wyoming wind, but my solitaire stood strong! It may be considered a "3-season" but I was really impressed with it one single digit weekend in February up in the mountains. The compact size did a great job keeping in the warmth (and the snow out!).
I've had several different types and styles of tents over the years, but my solitaire is by far my favorite.
Design: Solitaire
Sleeps: 1
Ease of Setup: the front pole takes a gentle hand to fit, but other than that, it is a breeze.
Weight: < 5lbs

I love the zippered top. I agree it is hard to sit up in but the vestibule holds most my gear and i have found set up to be pretty easy. BUT . . . the poles suck!!!! Every time it rains or blows the poles snap. I have replaced them, duct taped them, electrical taped them and they still break.
After reading the reviews I think Eureka should just offer to replace them with aluminum. I will gladly send them my old poles if they would back their product by replacing them. Are they selling them with aluminum now?
The tent has some drawbacks - like it sags in the rain and really doesn't keep water out and it has to be staked really well but I would probably buy it again for the price and weight if the pole situation was fixed.
Update: December 16, 2010
I agree with everything about your review.  I have used it in cold, wind, wet, hot, extended backpacking and love the tent itself.  Getting dressed in it is a challenge but that's OK. 
HOWEVER, the poles are a real serious issue. They break if it's nice out, they break if the tent has any weight on it, they break if the wind blows, they tear the sleeve when they break. I have replaced them, duct taped them, electrical taped them, and nothing has kept them from just breaking in new places. 
I also would like to replace them with aluminum poles but the price I got for those was about as expensive as the tent. Replacement poles from Eureka are also expensive. I have read SO MANY reviews that say the same thing about the poles. 
My question now is 'Why hasn't Eureka offered to address this problem?'. They could at least make replacement poles affordable and sell them in sets or something. It is obviously a design problem because so many people say the same thing.
I do not enjoy using this tent without poles - however it is possible - I wouldn't buy the tent again given the pole issue unless Eureka does something about it - but I love the tent so I wish they would.
Price Paid: $70

The 2 stars are for the light weight and small packing size. Other than that, I have used the tent twice and the poles broke both times. Eureka replaced the poles but charged me for them. After the second set broke I put the tent in the closet and bought a Kelty. No problems with that one.
If you are set on an Eureka tent spend a few more bucks and get a Zeus.
Update: December 18, 2010
I bought this tent several years ago. The poles broke the first time it was set up. I bought new poles and both broke again. I contacted Eureka and they were no help.
I left the tent on a shelf for a couple years and then found a review online where Eureka had fixed another person's tent with the same problem. I contacted them and they took the tent back, extended the floor loops for the poles and replaced the poles all for free even shipping.
This is a great little tent. It's light weight is great for backpacking. I have not had any issues with condensation inside (the tent has only been used in Florida). Set up was a little tricky until I did a few times.
I am over 6 feet tall, and weigh about 225. There is enough room to be comfortable. Good backpacking tent for the price.
Design: single person backpacking tent
Sleeps: 1
Ease of Setup: somewhat difficult. practice at home.
Weight: 2 pounds 9 ounces
Price Paid: $60

This review is NEGATIVE for the tent and the manufacturer.. READ MY ENTIRE REVIEW WITH PICTURES.
The tent is small, light and comfortable. It puts up really easy and it works great except for the poles. I have put this tent up 3 times since i've had it and the poles have broken twice. Luckily both times they broke i was only on overnight trips so i just jimmy rigged it to last till the next day. If i would have been on a backcountry, backpack trip i would have been in some serious trouble. For that reason alone i would stay away from this tent or buy some better quality poles.
As far as the manufacturer, the first time i sent the tent back the return was slow but they replaced it.. The second time they are claiming that i'm not covered under warranty because it's weather related. I camped in 20mph winds and they are claiming the winds are the reason for the broken poles!! However, i camped with 5 other people that were all in cheap Walmart tents and theirs fared perfectly fine!
The problem with this tent is the poor design.. It looks great and would appear to be a great tent but the extreme angle of the poles is too much for them to handle. There is just too much pressure. If this tent was a couple inches wider on each side it COULD fix this problem. As for now, stay away from this tent!!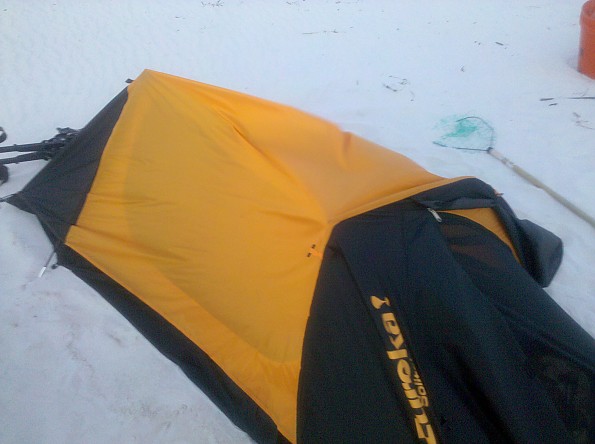 Design: 3 season, bivy style
Sleeps: 1
Ease of Setup: the set up is easy but be prepared for the roof to collapse on you..
Weight: 2.5
Price Paid: $89

Overall a very good tent. A problem is how much of a pain it is putting the front pole in its sleeve. I broke it twice until I figured out that you have to be gentle.
If you read the other reviews and saw how people complained about the height, well, it clearly says ' tallest point 2' 4" ' so yea. It has held up well in a 3 hour long torrential rain storm and is very light and durable. packs up very small.
I would definitely recommend it to a friend!
Design: Backpacking hybrid tube
Sleeps: 1
Ease of Setup: vaguely annoying
Weight: 2 pounds
Price Paid: $59.99

I have owned this tent for several years now and have used it countless times. This is a great tent for what it is. Small, light, and compact. It has proven itself durable with good water proofing and excellent ventilation. Set up is fairly easy and only takes a few minutes and condensation is almost non existent. This tent is small so it is not for the claustrophobic or someone who is big or tall.
Design: three season bivy
Sleeps: 1
Price Paid: $70

Would be a fantastic tent, except that the poles have broken twice.
Ease of Setup: Easy
Price Paid: $90

Got the tent for Father's Day this past year. I'm 6 tall and around 250. Took it out for the first time with m sons scout pack. I loved it. It was a little warm inside, but great overall tent.

I suggest you practice setup a few times before taking it out. Once you get the hang of it, quick up and down time. Looking to get one for my son soon, time to replace the 2 man dome he is using.
Design: 3 season back pack
Sleeps: 1
Ease of Setup: with practice, easy
Weight: 2 pounds or so

I just bought this tent and the poles are made of aluminum. It is just perfect for me 5'11". A little bit warm with the top on it but it still is amazing!
For the price this is unbeatable!!! I even have enough space to put 76 liters of bags with me which I use on my De Vinci Caribou 1 bicycle.
I really think people should consider this tent. A MUST if you travel a lot.
Sleeps: 1
Ease of Setup: A piece of cake!
Weight: 250 pounds
Price Paid: $70

I read significant amounts of negative press on this tent so I took evasive action before I left home.
UPGRADE the existing 6.3 mmm (1/4") fiberglass poles into new Easton poles. You can have these made very cheap at polesforyou dot com. These folks not only built my poles in one day, but then upgraded the shipping so I would have them by weekend.
The tent camped well. The low temperature that morning was 15 degrees and the tent was just above 25 (indoor/outdoor digital thermometer - don't leave home without it). I did not notice any condensation inside the tent so I guess I had it stretched taught enough. The side of tent, where your face fits was open enough to let in breathing air and though it has a very low ceiling, I was able to climb in nicely. Its true, this is not a "uh oh, its raining, get in" tent; with a little time (likely around 5 minutes), you can have it up and ready for you.
When folding the tent up (rolling), the remaining air billowed in the foot area and it took a few moments to push it out. I like this, it tells me the tent will breath but is water-proofed well. The tent has a "see me" yellow top so it could be used as a "I'm lost" signal, but all in all, I'm impressed with it.
Mosquitoes and bugs weren't a problem in Cimarron Canyon, New Mexico, because it was cold, but the tiny netting on the tent would keep out even the smallest critter.
Don't buy the hype, this tent is worth it for anyone who wants a one-person water proof, wind proof shelter for backpacking. It's light, weighing in around 2.7 pounds and rolls up nicely small. I would recommend a tent-pad because the floor of this little tent is as soft as the walls - any upright stick will poke through it.
I gave it a 4 because it's not perfect, but very functional for the price. Upgrade those poles!
Design: One person, bivy shelter
Sleeps: 1
Ease of Setup: Relatively easy - one person setup. NEED good stakes - DO NOT Forget these!
Weight: 2.7 pounds
Price Paid: $60

This tent is rather difficult to set up, plus you cannot sit up in it. The tent seems more like a casket. After one trip, I opted for the Eureka Spitfire Ultralight, which is 4.5 stars.
The only pro for the Solitaire is the price and light weight.
Price Paid: $70

Classic utility inexpensive solo tent.
Bought mine ten years ago. It's been on four back-roads hitchhiking odysseys (CT to N.B. Can, Boulder CO to Sun Valley ID, the NW coast of France, around Martinique) and several 3-4 nighters over the years. I've done many setups in the dark, in tight forested spots, and have managed fine.
At one particular camp-out concert event in Maine, I remained dry when nearly every other dome-tenting concert goer was soaked through in an overnight deluge. Years afterward I ran into the shivering guy who I put into my tent and dry bag that morning-- he was certain I saved him from hypothermia!
The tent is out of commission these days, as the poles did eventually break, but only after *very* heavy use. I melted through the rain fly with the top of my candle lantern at one point, and one application of duct tape and some years later, the hole has not widened or ran.
I am six foot four, and was able to fit into this tiny tent. A significant other and I even overnighted in the Solitaire on a remote Martiniquan black sand beach once!
The NY Times just ran a piece on the newest ultra light solo tents, and they do seem to be more convenient and versatile than the good ol' Solitaire.
The design has its drawbacks, but you can't beat it at the price-- it certainly does its job.
Design: Three season non fee standing solo tent
Sleeps: 1
Ease of Setup: tricky but reasonable
Price Paid: $80

Poles broke 3 hours after setup. My SO's broke the next day. This was not good, as we were at the bottom of the Grand Canyon. Day 3 they broke through the fabric.
Eureka sent replacement poles out today, but being they are the same ones, I just don't see how they will last. A 4ft pole has to bend into a half circle, too much stress IMHO. I might go to REI and just make some aluminum ones if the replacements break. I gave it 1 star due to that POS being light enough to pack 10 miles out of the canyon.
Sleeps: 1
Ease of Setup: easy to set up, but not freestanding
Weight: 3lbs
Price Paid: $69

I received this tent for my sixteenth birthday and used it every night on our road trip thru Oregon/California. It works great, quick set-up (once you get the hang of it, it's easy), and really light. I could set it up in just a few minutes, even in the dark.
If you don't stake down all the sides, then you get a a droop in the middle, which collects condensation and then it all transfered to me while i slept. ugh. But I learned and if you stake down all the sides, you don't get a droop.
One pole broke when I tried to move my tent, but I read on the reviews that someone fixed their pole with duct tape, so I'll try it. Or replace the pole, possibly.
There's really not much room to move inside it, but that's kind of the point. For example, in a survival situation, you need less room so you can keep more warmth in. It's actualy not so bad, because I was able to fit myself, my little dog and my big dog inside, with my backpack and supplies by my feet, quite comfortably.
Design: three season, solitaire
Sleeps: 1
Ease of Setup: quick and easy
Weight: very light
Price Paid: gift

I recently purchased and used this tent for an outing and had mixed feelings. The biggest complaint is setting the tent up. You have to constantly adjust the stakes until you get the 'perfect' fit so you can have maximum space in this small thing.
There's also a confusing part in the instructions where it talks about tying 'one large cord to the loop on the end of the fly and two small cords to the loops on the side' and being able to adjust the tension with the slider on these and that these cords must be staked because it's not a free-standing tent. Problem is that it doesn't say how to tie these cords so that the slider can be used, it just says they have to be staked, which if that's the case, the sliders are of no use. And you don't need these cords to be staked in order for the tent to stay up.
However, I did come up with my own way of using them to get maximum space out of it. I also went to the website for Eureka tents and looked at the assembly instructions for the same tent. Problem here was that they tell you 'two large cords on the side and one large cord on the end'. Um...... that only added to the confusion.
Once I ignored these directions and set the tent up as I saw fit, I was able to create enough space for my 5'7" body to fit into this thing. I kept most almost all of my gear outside for the night in dry bags because you can only fit the small things in....flashlight, mini lantern, book, water bottle...etc.. If you're any taller than me, I wouldn't recommend this.
Also, if you plan on using it in a place where it's hard to get the stakes in the ground, avoid this tent at all costs because it's all about where the stakes are.
Design: three-season NOT free-standing
Sleeps: 1
Ease of Setup: Pain in the *** if you follow their instructions
Price Paid: $60

I'm six foot tall and found the Solitaire a bit difficult to get in and out of. You have to stand with your back to the door, slip off the boots, step in, crouch down and then crawl in backwards. Which is especially bothersome when it's coming down buckets. It's also tough to read in with the roof so low. And I'll agree with the reviewers who mentioned being careful about how you set it up. If the roof sags you will get wet.
On the other hand, it's well made, light and easy to pack and I had no problems with the poles. Probably a better choice for bike touring than backpacking if you like bringing the bag(s) inside with you. Going back to my Timberline.
Sleeps: 1
Ease of Setup: Nothing difficult but all lines should be tensioned carefully.
Price Paid: $75

Second time out one of two poles broke. Too much condensation on cool nights. The light weight and small size make it nice. I repaired the pole break with duct tape and have used it many times now.
Design: One person, light weight.
Sleeps: 1
Ease of Setup: Easy with practice.
Price Paid: $59

Piece of junk. My son took it to Camporee (brand new) and the poles broke. I heard that Eureka was supposed to be a good brand but alas! not so.
Sleeps: 1

This is a great tent for short trips, and if you are a younger, smaller person. I'm 6', 210lbs. and older than most. I had trouble entering and exiting this tent. Once inside, there was not much room for myself with sleeping pad and bag. If this tent was a couple of inches taller (6"-8"), a inch or two wider, it would be almost prefect.
Design: two hoop
Sleeps: 1
Ease of Setup: 1 to 10 I give it a 7
Weight: 2.8 lbs.
Price Paid: $38

Love this tent. It's small and I love the sky roof. It's a little bigger than a bivy, which gets pretty hot in the summer. I like having just enough room to move around a bit. Fits one comfortably, and a couple real comfortably.
Sleeps: 1
Ease of Setup: not bad
Price Paid: $70

This tent is excellent for the price and weight. I recommend replacing the stakes with aluminum to save weight. The bags are not needed either... stuff this small tent in the top of your pack for extra waterproofing.
I am very tall and the tent still fits me fine. I recommend coupling this tent with a mummy bag. I haven't had it in hard rain yet, but it seems like it won't be a problem. The fabric is very light, so on questionable surfaces I bring along a lightweight tarp to place under the tent to protect it. Sitting up in this tent is not really an option.
My only wish... aluminum poles. Mine are still intact, but I am very careful when raising the tent. Overall, a good buy for the ultralight backpacker.
Design: Three-season tent
Sleeps: 1
Ease of Setup: Easy
Weight: About 2 pounds
Price Paid: $80

This tent is an excellent choice for folks who wish to travel light. My son and I both have these, and enjoy camping in these for scout camp-outs and when hiking. We use them about two weekends a month April-September.
They do take some getting used to if you camp in larger tents, but after hiking many miles with a pack it's nice to not have to carry a heavy tent. They are very dry from the elements, but the top screen does collect condensation on colder nights, but this does not get into your bedding. Very easy set-up, excellent value.
Design: 3-season single person tent
Sleeps: 1
Ease of Setup: Easy
Weight: 3 lbs total

The Solitare is a great tent. Lightweight and inexpensive. Only problem is the poles. I was only on my second time using it and one of the fiberglass poles snapped. Get aluminum poles. Would recommend for beginner backpackers.
Design: three-season non-freestanding tube
Sleeps: 1
Ease of Setup: practice makes perfect, hard at first
Weight: around 3lbs
Price Paid: $50

This was the first tent that I purchased specifically for a solo tent. The tent is very lite, and made several +30 mile hikes easier than my 6lb tent toting friends. I did have very easy (5-7) min setups. The tent does need stakes with guy lines which made it harder in dense ground areas.
Love the tent, it is very small though. I am 509 and 170lb and fit fine with small amount of gear. Dressing is fun in the morning, but not impossible.
Great purchase for money and the packer with weight in mind.
Only real downfall I found was that it is not freestanding. I would still purchase the tent again!
Design: Three season hoop bivy..not freestanding
Sleeps: 1
Ease of Setup: easy
Weight: 2.5ish
Price Paid: $70-ish

I have had my Solitaire for four years, and used it in just about all possible conditions including heavy summer rains in Arizona, freezing rain on an Idaho rafting trip, high altitude fall/winter packing with snow, and an assortment of other more pleasant conditions. Two years ago I upgraded the poles to the aluminum ones that come with the Gossamer (same tent, aluminum poles instead of fiberglass) just to be safe.
The bottom line is that, as long as you don't pretend this tent is something it is not, it is a wonderful trail companion - easy to put up, easy to carry, steady in high winds, warm in the winter, cool on a clear summer night. What it is not, is a roomy, deep snow, wait out the long storm shelter (I have a K2-XT for that). What it is, is just about the lightest tent you will find short of a Stephensons Warmlite, that fits neatly in my pack, holds my full size Thermarest and bag easily, provides just enough room for an average size guy to catch a little reading at night with a headlamp, doesn't require much of a footprint, and hugs the ground in a stiff wind.
Cons:
C1. Not free standing and you need fairly good, soft ground to stake it down properly in a wind.
C2. The stakes are light and bend easily (I use a good set of lightweight aluminum stakes I bought for all three tents I routinely use).
C3. Zippers start at the bottom, handy to reach and work, but I learned the hard way that this can make exiting or entering the tent problematic in even fairly light snow covering.
C4. I don't care how friendly you are, this NOT a two person tent!....and your pack ain't coming in either - I always bring a large garbage bag along to cover my pack when I am using my Solitaire.
C5. You can't sit up - getting dressed in cold weather can be very interesting - but I have done it a lot and have managed.
Pros:
P1. The lightest tent I have ever carried - that's why I got it!
P2. Workmanship is excellent. I have put this tent through some use, and...no rips, no tears, no seam problems, no line problems, etc.
P3. This is not an expensive tent. I caught mine on sale for $50 a few years ago.
P4. The roll back rain fly feature is terrific for summer nights when it's clear - takes about 5 minutes or less to roll it back out and get covered up if the weather surprises you.
P5. I believe the small interior space increases warmth. I have never been cold in this tent, even in some pretty nasy weather.
Design: Ultralight Tube
Sleeps: 1
Ease of Setup: Easy with practice
Weight: 2lb8oz
Price Paid: $75

I have used this tent about four times, in summer, winter, and fall. In summer, the ventilation is great (provided by a full screen top). The terp is held away from the tent by the two tent poles. In winter it is harder to build up a dead air space, but a warm bag prevents the need. It is not seam-sealed, which is kind of annoying, but you can do it yourself without too much hassle. Overall, I would give this tent a high rating, because of its low weight, affordable cost, and small pack size. I am prevented from giving it full marks by the rather cheap stakes that come w/it, and the lack of factory seam sealant.
Design: three season tube, not free standing
Sleeps: 1
Ease of Setup: Fairly easy. The terp is attached which cuts down on weight
Weight: 3lb something
Price Paid: Like $80 something

A great tent! Does well in the rain. Does get a good amout of condensation but since the panels are mesh you do not get wet. I do not get claustrophobic in it even though you cannot sit up in it comfortably.
Sleeps: 1
Ease of Setup: easy
Weight: 3 Ibs
Price Paid: $69

The Solitare can be difficult if you have never put it up before. The first time I put it up was no fun. I didn't get the droop out of the tent, it rained, and I got drenched.
If you're planning on getting this—practice, practice, practice.
Design: 3 season
Sleeps: 1
Ease of Setup: Takes some getting used to
Weight: about 1lbs
Price Paid: about $75

This tent is ideal for a solo backpacker, however it is extremely small. Don't plan on keeping much gear inside.
The setup is not difficult, it just requires a little attention to make sure the floor is pulled tight, otherwise the roof sags slightly. Since the tent is only 2' tall, you need all of the height you can get.
The tent is very light and provides adequate shelter for three season camping.
Design: 3 Season 2 hoop bivy
Sleeps: 1
Ease of Setup: Not too dificult, but requires a little practice
Weight: 2 lbs 8 oz.
Price Paid: $79.99

You May Like
Recently on Trailspace