Alcohol Stoves
Alcohol stoves are relatively simple, single burner designs that are most popular with the ultralight, thru-hiking, and DIY crowd. At their most basic, they consist of a small metal fuel chamber or reservoir, which holds the alcohol. The alcohol vapors are burned via burner holes. Commercial models offer a range of more advanced options though, including the ability to simmer, an on/off ability, windscreens for improved fuel efficiency, and the ability to save unused fuel in the stove for your next use.
If you're a handy DIY-er, you can make your own alcohol stoves from aluminum soda cans (aka a Pepsi, beverage-can, or pop-can stove,) or from a cat food can (such as Fancy Feast), among other materials and designs. Building plans abound on the internet.
Pros

Cons

lightweight
small and easy to carry
inexpensive
fuel is easy to obtain
simple to use
quiet
easy to maintain
reliable, no to few movable parts
some commercial models have simmer rings for more control
can be DIY-ed
eco-friendly, alcohol is a renewable resource and does not use fossil fuels

slower cooking times
basic models don't allow for flame adjustment, so are best for boiling water
need a windscreen for optimal performance
can be unstable, may need a pot stand
limited heat output
inefficient for groups
not recommended for sub-freezing temps
in some stoves you need to burn off unused fuel
Alcohol stoves are best for: solo or duo lightweight backpackers who simply want to boil water in above freezing temps, or as an emergency backup stove.
The best alcohol stoves, reviewed and curated by the Trailspace community. The latest review was added on May 14, 2020. Stores' prices and availability are updated daily.
Recent Alcohol Stove Reviews
The Core PUK Micro Stove is a fuel-efficient alcohol stove with a titanium base for stability and a titanium pot stand for ease of use. Easy to set up and use, this stove offers a two-phase burn (boil and simmer) in a lightweight, compact kit—perfect for solo treks or trips with a friend. It can boil 2 cups of water fairly quickly and then continue burning up to 15-20 minutes on 1 oz/30 ml of fuel. A few months ago, idly browsing the web, I came across a Kickstarter campaign for a new alcohol… Full review
Very light and great, but the HA made my pancakes stick to the pan and make a mess. Buy the non-stick pan. The hard anodised made a mess of pancakes: I purchased a 27 and 25 ultra light hard anodised (UL HA). I had the plain aluminium version for the 25 model and non-stick for the 27 model. I tried to make pancakes using the new HA pan and the pancakes stuck to the pan. Trying to pry them off just made a mess. I used lots of oil and tried lowering the heat, but it still stuck. The HA pots did not… Full review
These stoves are easy to use and maintain. They are incredibly durable and work in all weather conditions. I have been using Trangia stoves in my Duke of Edinburgh programme for over 10 years. The stoves are easy to use and the learning curve is very short for those who are new to camping. All of the parts of the stoves pack down into a nested set consisting of a stand, a wind shield, two pots, and a frying pan. The actual "stove" or burner is basically a brass cup that holds methylated-spirits. … Full review
Bought this to go with my Ohuhu portable wood stove and it works very well with fondue fuel and an alcohol-based hand sanitizer. I used this out on a few hikes to make trailside oatmeal on the back 40; other than that it has seen more use as an emergency stove during power outages. So it is versatile and works well; takes some time to boil a kettle of water but not too long I don't think (it is a stove top kettle and bigger than anything I would take on a trail). I have had it for two years now… Full review
Very good for four-season solo or couple backpacking stove. Preheat and fuel recovery somewhat annoying, but it would build up with patience and practice. Preheating should be very cautious, unless overheating may result in overwhelming volcanic flame. Of course windscreen is mandatory and most important factor of stove efficiency, even in no wind. Suitable for 600~750 titanium cup. Previous version was very difficult, too slippery not to use practically. Full review
Great cooking system. I have over 30 camping stoves, but when I head outdoors I nearly always grab a Trangia. I do not winter camp so the list of cons does not affect me. In a backpack for one or two people I use a Trangia 27. For 2-4 people I use the 25. Same in the canoe. The Trangia offers complete and total reliability. I try to cook real food rather than just boiling water and the Trangia does well at simmering for rice or beans. Both the non-stick and anodized pans clean easily, however, with… Full review
Indestructible, ultralight, stable, all-in-one. Setup: This stove requires special measures to fill because the fuel hole is pinhead sized. I was fortunate when purchasing the vendor (BackPackingLight UK) had a demonstration video that emphasised the need for a drip-capable fuel bottle so I bought one from them at the same time; with it fuelling is slow but straightforward. Pouring from an open bottle neck is an exercise in frustration and futility. For use as intended the stove must be filled completely… Full review
Simple, reliable and lightweight, this is an excellent choice for lightweight backpacking if all you want to do is boil water. I've noticed there are a few reviews on this stove and they are quite mixed in their opinions. However, unless the guidance on the Vargo website is followed then it will not perform as well as it could. The two most common mistakes people make when using it is to under fill it. You HAVE to fill it up for it to come to a bloom efficiently. The second is using the wrong fuel. Full review
It's light and boils fast. Well made and tough. Fits in a tiny solo kit. Lacks some features that minimalists can do without. As a minimalist, I generally obtain the lightest and simplest gear item available—if that doesn't hold up, I move on to the next lightest. This stove is light, even with its four pieces, and it packs up into a tiny solo pot with room to spare. I've used it about 100 times now, mostly fair weather bicycle touring. It lacks a simmer ring—I can do without a simmer ring. Full review
What to consider when choosing an alcohol stove:
How much does it weigh?
Does it have a simmer ring for cooking control?
Does it come with or can you buy or make a windscreen?
Can you turn the stove on and off? Or do you need to burn off all the fuel?
How do you store unused fuel? In the stove or only in a fuel bottle?
Is there a pot stand for stability?
Do you want a stove that also can burn fuel tabs or fuel gels or that works with a solid fuel stove?
Is there a difference between a DIY and a Commercial Alcohol Stove?
"Yes," said Brian Vargo, founder of Vargo Designs, when we asked him.
"There is a big difference between the dependability of a soda can stove versus any of our stoves. A thin aluminum soda can is only so strong and wasn't intended to withstand any accidental pressure from a fall or bumping into something. Reliability is key. Our Decagon stove, for example, has no moving parts and has been run over by a car and still been fully functional."
Alcohol Fuel Options
Alcohol fuels include the following, though not all are recommended for all stoves:
Ethanol/ethyl alcohol: aka grain alcohol, burns cleanest, but is hard to find as pure ethanol
Denatured alcohol: ethanol with additives like methanol that make it toxic to drink, it's the most popular and widely available fuel for alcohol stoves; you probably won't know the percentage of ethanol it contains.
Methylated spirit: another name for denatured alcohol, depending on what country you're in
Methanol/methyl alcohol: aka wood alcohol, methanol is toxic if consumed, as are its fumes, so take care
Yellow HEET: sold as a g

as-line antifreeze and water remover, is primarily

methanol with an

additive

Isopropyl alcohol: aka rubbing alcohol, burns dirty with fumes, and is generally not recommended
Iso-HEET/Red HEET: another gas-line antifreeze and water remover, this one contains isopropyl alcohol
Sterno: aka

canned heat, is made from

denatured and jellied alcohol and is burned directly from its can.

Best Alcohol Stoves
Check out the top-rated alcohol stoves above for our members' recommendations. Then review your own stoves and add to that expertise.
Top-Rated Overall:

Trangia Spirit Burner

The classic alcohol burner, the Spirit burner is available on its own or in Trangia's stove series, like the Trangia 25-3 UL and Trangia 27-8 UL/HA.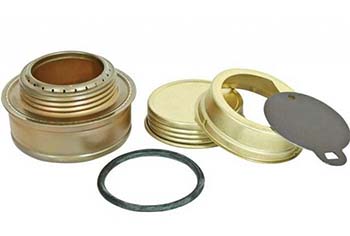 Best Ultralight and Environmentally-Friendly: White Box Stove
Weighs just 1 ounce and are manufactured in Montana using heavy duty, 100-percent recycled aluminum bottles salvaged from landfills and recycling centers.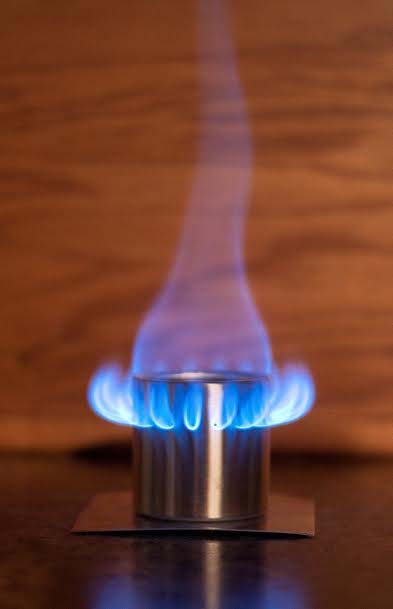 Moments in Alcohol Stove History
In the 1850s, British mountaineer Francis Fox Tuckett designed the first alcohol stove for outdoor enthusiasts. It was known as the "Russian furnace" or later the "Rob Roy," the nickname of canoeist John MacGregor.
In 1951, Trangia launched the prototype for its first stove system, a compact cooking system that burned alcohol. The Spirit burner is still regarded as a classic.
In 2003, Vargo produced the Triad, the first alcohol stove made from titanium.
Warning: To prevent injury or damage, always consult and follow your stove manufacturer's instructions and fuel recommendations. Use stoves in a safe, well ventilated, outdoor area. Be aware of and adhere to any fire bans, ordinances, and other rules. Practice Leave No Trace outdoor ethics.