Alcohol Stoves
Alcohol stoves are relatively simple, single burner designs that are most popular with the ultralight, thru-hiking, and DIY crowd. At their most basic, they consist of a small metal fuel chamber or reservoir, which holds the alcohol. The alcohol vapors are burned via burner holes. Commercial models offer a range of more advanced options though, including the ability to simmer, an on/off ability, windscreens for improved fuel efficiency, and the ability to save unused fuel in the stove for your next use.
If you're a handy DIY-er, you can make your own alcohol stoves from aluminum soda cans (aka a Pepsi, beverage-can, or pop-can stove,) or from a cat food can (such as Fancy Feast), among other materials and designs. Building plans abound on the internet.
Pros

Cons

lightweight
small and easy to carry
inexpensive
fuel is easy to obtain
simple to use
quiet
easy to maintain
reliable, no to few movable parts
some commercial models have simmer rings for more control
can be DIY-ed
eco-friendly, alcohol is a renewable resource and does not use fossil fuels

slower cooking times
basic models don't allow for flame adjustment, so are best for boiling water
need a windscreen for optimal performance
can be unstable, may need a pot stand
limited heat output
inefficient for groups
not recommended for sub-freezing temps
in some stoves you need to burn off unused fuel
Alcohol stoves are best for: solo or duo lightweight backpackers who simply want to boil water in above freezing temps, or as an emergency backup stove.
The best alcohol stoves, reviewed and curated by the Trailspace community. The latest review was added on April 22, 2023. Stores' prices and availability are updated daily.
What to consider when choosing an alcohol stove:
How much does it weigh?
Does it have a simmer ring for cooking control?
Does it come with or can you buy or make a windscreen?
Can you turn the stove on and off? Or do you need to burn off all the fuel?
How do you store unused fuel? In the stove or only in a fuel bottle?
Is there a pot stand for stability?
Do you want a stove that also can burn fuel tabs or fuel gels or that works with a solid fuel stove?
Is there a difference between a DIY and a Commercial Alcohol Stove?
"Yes," said Brian Vargo, founder of Vargo Designs, when we asked him.
"There is a big difference between the dependability of a soda can stove versus any of our stoves. A thin aluminum soda can is only so strong and wasn't intended to withstand any accidental pressure from a fall or bumping into something. Reliability is key. Our Decagon stove, for example, has no moving parts and has been run over by a car and still been fully functional."
Alcohol Fuel Options
Alcohol fuels include the following, though not all are recommended for all stoves:
Ethanol/ethyl alcohol: aka grain alcohol, burns cleanest, but is hard to find as pure ethanol
Denatured alcohol: ethanol with additives like methanol that make it toxic to drink, it's the most popular and widely available fuel for alcohol stoves; you probably won't know the percentage of ethanol it contains.
Methylated spirit: another name for denatured alcohol, depending on what country you're in
Methanol/methyl alcohol: aka wood alcohol, methanol is toxic if consumed, as are its fumes, so take care
Yellow HEET: sold as a g

as-line antifreeze and water remover, is primarily

methanol with an

additive

Isopropyl alcohol: aka rubbing alcohol, burns dirty with fumes, and is generally not recommended
Iso-HEET/Red HEET: another gas-line antifreeze and water remover, this one contains isopropyl alcohol
Sterno: aka

canned heat, is made from

denatured and jellied alcohol and is burned directly from its can.

Best Alcohol Stoves
Check out the top-rated alcohol stoves above for our members' recommendations. Then review your own stoves and add to that expertise.
Top-Rated Overall:

Trangia Spirit Burner

The classic alcohol burner, the Spirit burner is available on its own or in Trangia's stove series, like the Trangia 25-3 UL and Trangia 27-8 UL/HA.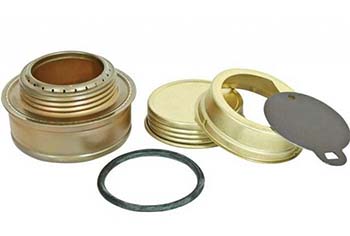 Best Ultralight and Environmentally-Friendly: White Box Stove
Weighs just 1 ounce and are manufactured in Montana using heavy duty, 100-percent recycled aluminum bottles salvaged from landfills and recycling centers.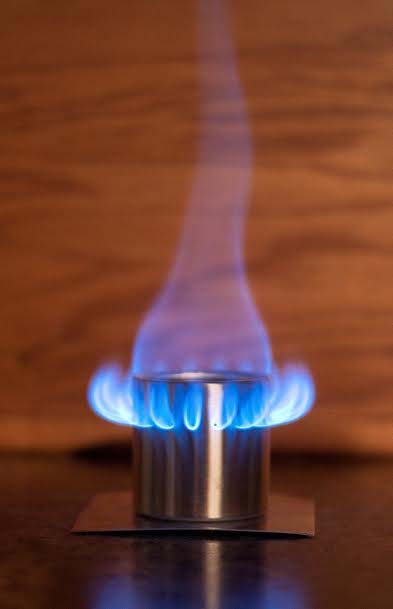 Moments in Alcohol Stove History
In the 1850s, British mountaineer Francis Fox Tuckett designed the first alcohol stove for outdoor enthusiasts. It was known as the "Russian furnace" or later the "Rob Roy," the nickname of canoeist John MacGregor.
In 1951, Trangia launched the prototype for its first stove system, a compact cooking system that burned alcohol. The Spirit burner is still regarded as a classic.
In 2003, Vargo produced the Triad, the first alcohol stove made from titanium.
Warning: To prevent injury or damage, always consult and follow your stove manufacturer's instructions and fuel recommendations. Use stoves in a safe, well ventilated, outdoor area. Be aware of and adhere to any fire bans, ordinances, and other rules. Practice Leave No Trace outdoor ethics.
Recent Alcohol Stove Reviews
Burns fuel, lacking functionality. Got er about 2 years ago. Used couple dozen times as secondary stove to mainline MSR Dragonfly (make tea/coffee while dinner/breakfast cooking idea). Realised my GSI outdoors cup is too narrow for the 3 pegs and sat funny/tipping over while brewing. Also did not like the large potfuls of hard earned chow sitting on 3 pegs just threatening to tip over if you but lapsed on your attention once. So, to the drawing board. Tools: pencil die grinder with cutoff wheel,… Full review
I carry two. One with eight holes for fast water boil and one with four holes for simmering. Use it all the time. Full review
I have the titanium cone and have used it for about 10 yrs now. Still works great. Very stable and works well for either wood fire or alcohol stove or pot stand windscreen for small non-alcohol stove. I've used the Titanium Caldera cone with different stoves and basic design function works with them all. It is a very stable pot stand and windscreen. The pot sits inside the cone with the weight down low an inch or 2 above the stove depending on which one I use. My go-to stove for the last 3 years… Full review
The set is a thing of beauty and joy, but maybe not for a long hike (but the stove with a trivet may be 4-5 stars). This kit is simple to carry, set up, and use. It is a joy to play with but not that great to use compared to similar alcohol stoves like a Trangia or Trail Designs (TD) You can use it with different pots (with a lot of care and balancing) unlike the above, but it is a bit useless in a breeze. Imagine adding a breeze to the image of flames coming out of the stove from any web store… Full review
Love its simplicity. No breakdowns, no moving parts to replace. I always do one-pot cooking, starting with a hot drink. The plastic canister is handy for holding extra water. The Cone holds in the fire's heat, making it very efficient. Full review
A great setup, but needs a supplementary windshield; very thirsty! A great little setup for the solo camper, trekker, hiker. Works well in most conditions and in the worst W/P matches help to get a solid burn. A supplementary windshield is a must to get maximum efficiency. Fuel is easy to obtain in most locations unlike white gas or canisters. The only problem is the amount of fuel used compared with other alcohol stoves. This said, boil time are by the fastest of any other stoves of this type. Full review
The bare-bones Trangia—with some benefits and some compromises. I've been contemplating this review all week, on my walks. Would a Mini be a good choice, in today's gale-force wind? Where would I set it up, in this rainy location? Would I use a Mini for my lunch stop, with a friend? The Mini can be seen as a reaction to the soda can stove revolution.  Compared to the excellent 25 and 27 sets, this is a minimal rig, which is still safer, more practical and reliable than most home-brewed alternatives. Full review
If I could only have one stove... I've owned and used a Trangia, for more than 40 years.  This type is the pre-Teflon coating, pre-hard anodising variety, as beloved by generations of Scandinavian ski tourists and ice fishermen. I haven't done the snow hole bivvy thing, for many years, but in those kind of extreme weather locations, I choose gear that is pretty well impossible to break and almost never malfunctions.  I've never seen, or heard of a Trangia stove, that couldn't be made to work. This… Full review
Most fuel efficient alcohol stove I have found so far and absolutely safe in use. I've had this stove for about two years and use it in summer when the country is dry and the fire risk high also on long trips as it is by far the most fuel efficient and that saves weight. Use is simple—pour fuel over the fill and ignite, no waiting time just put your pot on. The burn time is about 25 minutes with a full fuel load and a boil time varies from 4 minutes for 350 ml water to 6/7 for 700 ml. The screw… Full review