Alcohol Stoves
Alcohol stoves are relatively simple, single-burner designs that are most popular with the ultralight, thru-hiking, and DIY crowd. At their most basic, they consist of a small metal fuel chamber or reservoir, which holds the alcohol. The alcohol vapors are burned via burner holes. Commercial models offer a range of more advanced options though, including the ability to simmer, an on/off ability, windscreens for improved fuel efficiency, and the ability to save unused fuel in the stove for your next use.
Alcohol stoves are best for solo or duo lightweight backpackers who simply want to boil water in above freezing temps, or as an emergency backup stove.
Top Picks
Trangia 25-3 UL

(5 reviews)
These stoves are easy to use and maintain. They are incredibly durable and work in all weather conditions.
Reasons to Buy
Durability
Ease of use
Low maintenance
Low cost fuel
Run silent
Consistent performance
I have been using Trangia stoves in my Duke of Edinburgh programme for over 10 years. The stoves are easy to use and the learning curve is very short for those who are new to camping. All of the parts of the stoves pack down into a nested set consisting of a stand, a wind shield, two pots, and a frying pan. The actual "stove" or burner is basically a brass cup that holds methylated-spirits.  The Trangia burners are very easy to light. I generally use a a ferro rod which gives immediate results.
Read more: Trangia 25-3 UL reviews (5)
Trangia 27-8 UL/HA

(3 reviews)
An ideal, reasonably lightweight cooking system for those who are willing to carry a bit of extra weight in order to have everything, but the kitchen sink! Well-suited for back country individuals focused more on comfort camping than long-distance backpacking.
Reasons to Buy
Offers a variety of cooking options for fuller menu choices
Entire cookset with stove—30.34oz.
Virtually maintenance free
Reasons to Avoid
Takes up a fair amount of pack space
Expect to use (and carry) much more fuel for gourmet meals
Slower cook time than with a white gas stove
Frying pan was teflon (this was not listed when ordered)
BACKGROUND OF REVIEW: On a 7-day September backpacking trip to Isle Royale National Park, three adult males used the Trangia 27-8 UL/HA as their sole cooking system. Our focus was more camping than hiking. We only averaged 6-8 miles per day, and our 45-50lb packs carried nearly all the comforts of home (including, books to read, cameras, and one guy had an 8lb tent!). Food was a significant focus on our trip. We had a hot breakfast every morning and a hot dinner every night. Lunch was on the trail, snacking along the way.
Read more: Trangia 27-8 UL/HA reviews (3)
Trangia 27-5 UL

(5 reviews)
A complete cook system that is quiet and efficient. Always a pleasure to be around.
Reasons to Buy
Ease of use
Ease of maintenance
Well made
Reasons to Avoid
Slightly slower cooking times
Poor high altitutde (>14K feet) performance
I'm an "Outdoor Professional" having worked as an Outward Bound instructor, Park Service Backcountry Ranger and program logistician since 1985. I've been using the Trangia Stove System as my only backpacking and expedition sea kayaking now for more than six years. In other words, this is NOT a "I just unpacked the product and it rocks!" type of review.Pros: Very easy to use. No pumping, no toxic fuel spills, no clogging. The most quiet stove system I've ever used. I really appreciate being able to hear the sounds of the beautiful places I get to visit and work in.
Read more: Trangia 27-5 UL reviews (5)
Trangia Spirit Stove

(7 reviews)
Although the Trangia Spirit Stove is heavier than the traditional pop can stove, it is far more versatile and the user is able to conserve every drop of fuel being carried.
Reasons to Buy
Heavy-duty (nearly indestructable)
Simmer ring allows for more versatile cooking
Lid allows unburned fuel to be stored in the stove
Maintenance free
Reasons to Avoid
Heavy (compared to pop can stoves)
The Trangia Spirit Stove takes the alcohol stove to the next level. At 4.2oz, it's heavier than a simple Pepsi-can stove. However, the durability and versatility of this stove surpass anything you'll get out of a pop-can stove. In terms of quality, this stove is meant to last for years without any problems. It's maintenance free--as long as you don't put the lid on when the stove is still hot (you'll ruin the O-ring). I have known guys who have been cooking on the same stove for more than a decade.
Read more: Trangia Spirit Stove reviews (7)
Esbit Alchohol Burner

(5 reviews)
The Esbit Spirit Burner (Alcohol Burner) is a nice alcohol stove with simmer control. It is lighter than the comparable Trangia and comes with a handle on the simmer-control-plate / snuffer.
Reasons to Buy
Lightweight
Fuel is cheap and easily available
Burns clean (no soot)
Comes with simmer-control lid with handle
Screw-top seals in unused fuel
Reasons to Avoid
Flame is invisible in daylight
Cooks slowly
Requires windscreen
Requires pot stand
Doesn't work well in cold environments (below ~14 F)
Methanol fuels are toxic
I picked up the Esbit Spirit Burner (alcohol burner) as an add-on when I got my Emberlit FireAnt wood-burning stove. In my mind, it was (and still is) more of a novelty item. My thinking here had been that it's a pain to go hunting for dry fuel on a wet day. Why not simply pick up an alcohol stove for those rainy-day (or post rainy-day) hikes? While I'm still not likely to give up my wood-burning stove in favor of an alcohol stove, this little Esbit stove has performed admirably both in tests and on the trail.
Read more: Esbit Alchohol Burner reviews (5)
Evernew Ti Alcohol Stove DX Set

(8 reviews)
Best for solo hikers and shorter trips. Having said that, I use it for every trip because I abhor the container and fuel waste of canister stoves and am sure I'll blow myself up with one anyway. Yes, alcohol fuel is heavy for long through-hikes, but the ease of obtaining same at supply points is gold. This is a stove that will outlast me: phenomenal build quality, always reliable, and a well designed set. Have used it in conditions ranging from tropical summers through to -6'C mornings (must warm stove and fuel in hands first for five mins, but thereafter lights in 1-2 ferro rod strikes). You will prise this from my cold, dead hands... but only if you get to me before rigor mortis does.
Reasons to Buy
Build quality
Non-corroding titanium metal
Hot burn temperatures
Internal wick for safety
Stable and compact (used with and stored within recommended Evernew 500mL pot)
Simple to warm stove and liquid for use in freezing temperatures
Can take *just enough* alcohol in a small bottle with you for your short trips, without additional weight of unneeded fuel in a metal canister
Very safe
Reasons to Avoid
Weight of fuel required for longer hikes
Slower than canister stoves to boil water
Limited to drinks and hot-soak meals; no simmer capability
Still requires a wind shield despite fancy-ass pot stand thingy
Bloody expensive
The stove is very simple to fuel, and volume markings internally embossed within the stove mean that I never over- nor under-fill. The embossing also means that these markings will never disappear over time. The entire system is in itself a thing of beauty, and I am always happy to use it. It's just lovely to look at, and I deeply appreciate good quality and considered design. The pot stand assembly took a bit of playing to initially determine the setup options and intentions for each fuel type, but I could set it up in a flash after a bit of reading and a play.
Read more: Evernew Ti Alcohol Stove DX Set reviews (8)
Esbit Alcohol Stove & Trekking Cookset CS985HA

(3 reviews)
Esbit cs985h-ex cookset, very well made hard anodised with a 930 mil pot and lid.
Reasons to Buy
Strong
Quick to boil when using a windscreen
Pot is fitted with a heat exchanger
Reasons to Avoid
Not as light as a Caldera Cone or White Box
Here is a photo of the esbit cookset in its stuffsack next to my Optimus Heat Pouch (a perfect partnership!). The cookset weighs 430grams with out the Optimus Heat Pouch. It is a very durable well made cookset and the heat exchanger fitted to the 930mil pot is a very nice touch. As you can see in the picture the cookset is really quite compact and if you use the Optimus Heat Pouch it fits in with room to spare. I did two boil tests, each with 500 mil of cold water. The first test was without a windscreen.
Read more: Esbit Alcohol Stove & Trekking Cookset CS985HA reviews (3)
Toaks Titanium Siphon Alcohol Stove

(1 review)
Very lightweight and small (about 4 cm high) and 44 grams (that's the weight of the stove and the steel mesh pot stand).
Reasons to Buy
Quite good, with very small pots (ie 400mil titanium mug) 8.45 boil time
This photo shows the actual weight of the Toaks stove and the other photo shows the stove with a 10 cm windscreen and the Toaks storage bag. So the Toaks stove is 44 grams with steel pot stand and storage bag, put a 10 cm windscreen and the total weight is 70 grams. The pot I did my first boil test with was a 400 mil titanium mug/pot with lid. I filled it with 350 mil of cold water (enough for a freeze-dried meal or a nice cup of coffee or loose leaf tea). This is the setup I used for the first boil test, an Alpkit 400 mil pot/mug with lid.
Read more: Toaks Titanium Siphon Alcohol Stove review (1)
Trangia 27-7 UL/HA

(2 reviews)
Easy to use foolproof stove for summer use.
Reasons to Buy
Completely foolproof
Easy to use
Wind resistant
Reasons to Avoid
Poor in winter
Slower than gas or petrol
Sooty
Flame adjustment somewhat iffy
I have been using Trangias in the Finnish scouts since 1997. I have had my own since around 2005. In total I have cooked around half a years worth of meals on one. The Trangia consept is very simple. Place an ethanol burner in the middle of a windproof pot and a potfull of water on top of that. Due to the simplicity there is not a lot that can go wrong. The flame is adjusted with a seperate aperture placed over the burner. The size of the hole can be adjusted and the aperture can be removed for more heat.
Read more: Trangia 27-7 UL/HA reviews (2)
Evernew Ti Alcohol Stove

(1 review)
This stove does not put itself at the top of the alcohol burner class unless you combine it with the Evernew Titanium wind stand. It does not have a screw cap, is difficult to put out, and it throws a very hot flame mainly straight up (instead of out the sides like a white box side burner). It does cool much quicker than a heavy Trangia and is miserly on fuel if you simmer a pot directly on top only using the side burners. Now when you combine it with the Evernew Titantium DX stand, then this little burner really starts to shine. If you need a lot of heat the DX stand uses a power plate to reflect heat back toward the burner and superheat the fuel. This should never be attempted with any other stove that is not designed for it. Reflected heat is extremely dangerous and will lead to fuel boil over with heavier metal stoves like the Trangia. This comment is for use of the power plate use only. In summary, the Evernew Ti stove works great. I recommend the use of a heat exchanger pot to cut fuel consumption by 30 percent and the use of the DX stand to go along with it.
Reasons to Buy
Blooms quickly with a blue flame
Uses very little fuel on simmer (with a pot on top)
Cools quickly
Lightweight but not fragile
Has a tighter flame pattern than a side burner (which can throw flames up the side of small pots)
Fits the DX stand like a hand in a glove with options to use just the base, just the windscreen to simmer, both base and windscreen, and the power plate
Does not have a burnable wick as some Trangia look alike stoves do
Easy to figure out exactly how much fuel is needed. I need only enough to wet the bottom of the stove to make coffee. Two minute burn is all that is needed.
Reasons to Avoid
No screw cap
No simmer ring
Uses a little more fuel at high burn than some other stoves (although this high burn is not wasted when using a heat exchanger pot)
Have used this stove alone and with the DX stand. As stated above, alone it does not shine and I could not see spending the money if you are using a cat can stove now and it fits your pot exactly. In that case, this stove would not offer any advantage. If you have varying needs like boiling a lot of water faster than most stoves out there and simmering a very small pot or espresso maker, then I recommend this stove with the DX stand. To me that combination can not be beat by any system I have test. The main objective is to get out and go camping, not sit home and obsess about our gear. Let's go backpacking!
Read more: Evernew Ti Alcohol Stove review (1)
More Alcohol Stoves
Trailspace reviewers have shared 177 reviews of 56 different alcohol stoves.
All about Alcohol Backpacking Stoves
What should I consider when choosing an alcohol stove?
How much does it weigh?
Does it have a simmer ring for cooking control?
Does it come with or can you buy or make a windscreen?
Can you turn the stove on and off? Or do you need to burn off all the fuel?
How do you store unused fuel? In the stove or only in a fuel bottle?
Is there a pot stand for stability?
Do you want a stove that also can burn fuel tabs or fuel gels or that works with a solid fuel stove?
What are the advantages of an alcohol stove?
light weight
small and easy to carry
inexpensive
fuel is easy to obtain
simple to use
quiet
easy to maintain
reliable, no to few movable parts
some commercial models have simmer rings for more control
can be DIY-ed
eco-friendly, alcohol is a renewable resource and does not use fossil fuels
What are the downsides?
slower cooking times
basic models don't allow for flame adjustment, so are best for boiling water
need a windscreen for optimal performance
can be unstable, may need a pot stand
limited heat output
inefficient for groups
not recommended for sub-freezing temps
in some stoves you need to burn off unused fuel
Can I make my own alcohol stove?
If you're a handy DIY-er, you can make your own alcohol stoves from aluminum soda cans (aka a Pepsi, beverage-can, or pop-can stove,) or from a cat food can (such as Fancy Feast), among other materials and designs. Building plans abound on the internet.
Is there a difference between DIY and commercial alcohol stoves?
"Yes," said Brian Vargo, founder of Vargo Designs, when we asked him.
"There is a big difference between the dependability of a soda can stove versus any of our stoves. A thin aluminum soda can is only so strong and wasn't intended to withstand any accidental pressure from a fall or bumping into something. Reliability is key. Our Decagon stove, for example, has no moving parts and has been run over by a car and still been fully functional."
What fuels are compatible with alcohol stoves?
Alcohol fuels include the following, though not all are recommended for all stoves:
Ethanol/ethyl alcohol: aka grain alcohol, burns cleanest, but is hard to find as pure ethanol
Denatured alcohol: ethanol with additives like methanol that make it toxic to drink, it's the most popular and widely available fuel for alcohol stoves; you probably won't know the percentage of ethanol it contains.
Methylated spirit: another name for denatured alcohol, depending on what country you're in
Methanol/methyl alcohol: aka wood alcohol, methanol is toxic if consumed, as are its fumes, so take care
Yellow HEET: sold as a gas-line antifreeze and water remover, is primarily methanol with an additive
Isopropyl alcohol: aka rubbing alcohol, burns dirty with fumes, and is generally not recommended
Iso-HEET/Red HEET: another gas-line antifreeze and water remover, this one contains isopropyl alcohol
Sterno: aka canned heat, is made from denatured and jellied alcohol and is burned directly from its can.
Best Alcohol Stoves
Check out the top-rated alcohol stoves above for Trailspace reviewers' recommendations. Then review your own stoves and add to that expertise.
When was the alcohol stove invented?
In the 1850s, British mountaineer Francis Fox Tuckett designed the first alcohol stove for outdoor enthusiasts. It was known as the "Russian furnace" or later the "Rob Roy," the nickname of canoeist John MacGregor.
In 1951, Trangia launched the prototype for its first stove system, a compact cooking system that burned alcohol. The Spirit burner is regarded as a classic is still available on its own or in Trangia's stove series, like the 25-3 UL and 27-8 UL/HA.
In 2003, Vargo produced the Triad, the first alcohol stove made from titanium.

Today, manufacturers continue to push the boundaries of ultralight and environmental friendliness: The White Box Stove weighs just 1 ounce and is manufactured in Montana using heavy duty, 100-percent recycled aluminum bottles salvaged from landfills and recycling centers.
Alcohol Stove Safety
To prevent injury or damage, always consult and follow your stove manufacturer's instructions and fuel recommendations. Use stoves in a safe, well ventilated, outdoor area. Be aware of and adhere to any fire bans, ordinances, and other rules, and practice Leave No Trace outdoor ethics.
Other Types of Backpacking and Camp Stoves
Find more backpacking and camp stoves reviewed in these related categories: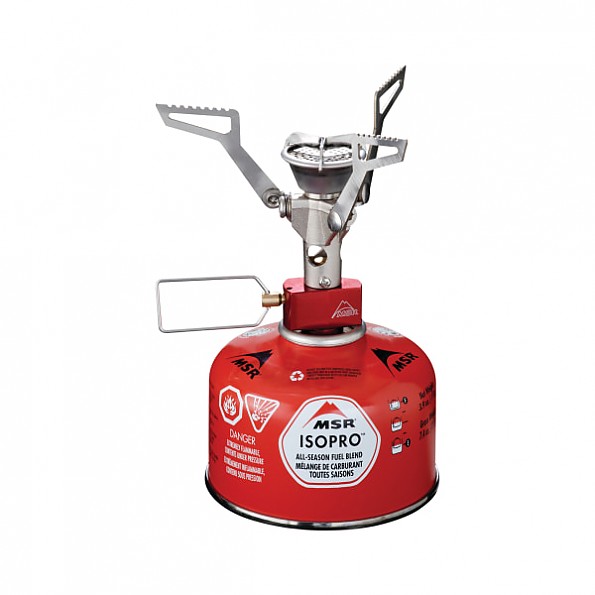 Compressed Fuel Canister Stoves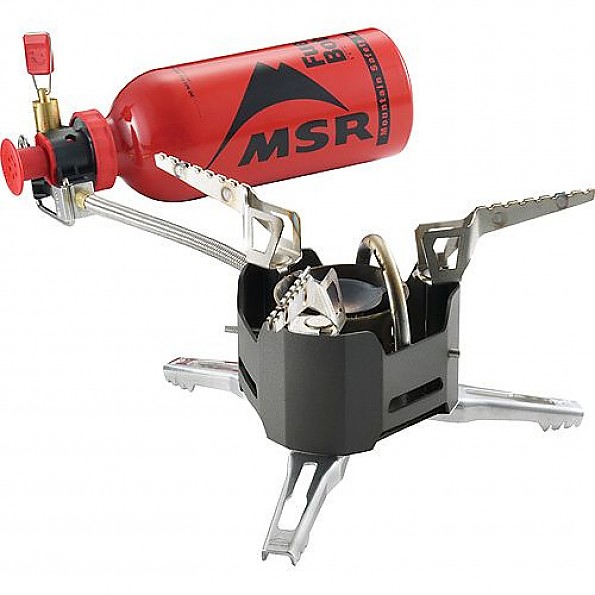 Liquid Fuel Stoves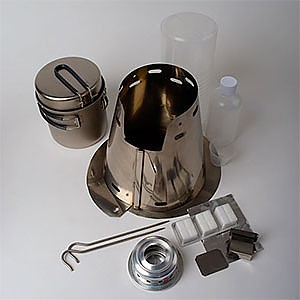 Multi-Fuel Stoves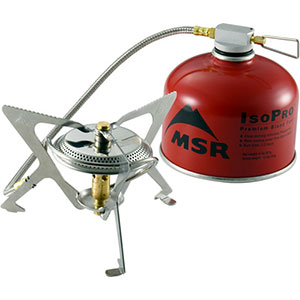 +6 more types
Review Your Outdoor Gear
If you've found this site helpful — or if we've missed something important — please consider paying it forward by some of your favorite (or least-favorite) outdoor gear.
Why? From professional gearheads to outdoor novices, everyone has an important point of view to contribute. will support the outdoor community and help others find the best gear.
Trailspace reviewers are outdoor enthusiasts like you: hikers, climbers, paddlers, backcountry skiers, and trail runners who share our experiences with the gear and clothing we rely on to get outside. Learn more about Trailspace