Trangia 27-5 UL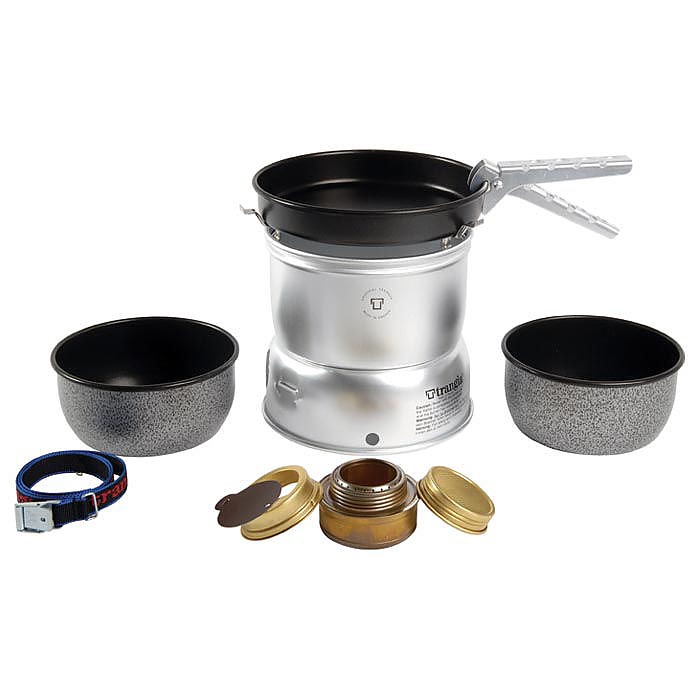 A complete cook system that is quiet and efficient. Always a pleasure to be around.
Pros
Ease of use
Ease of maintenance
Well made
Cons
Slightly slower cooking times
Poor high altitutde (>14K feet) performance
I'm an "Outdoor Professional" having worked as an Outward Bound instructor, Park Service Backcountry Ranger and program logistician since 1985. I've been using the Trangia Stove System as my only backpacking and expedition sea kayaking now for more than six years. In other words, this is NOT a "I just unpacked the product and it rocks!" type of review.

Pros:
Very easy to use. No pumping, no toxic fuel spills, no clogging.

The most quiet stove system I've ever used. I really appreciate being able to hear the sounds of the beautiful places I get to visit and work in.

Extremely simple to maintain. In fact, about the only maintenance I ever do is to replace the burner cap O-ring every couple of years (and only because its failure would compromise another pro which is...)

Unlike most homemade alcohol "Tuna Can" type burners, the Trangia burner can have its flame snuffed with the "snuffer lid". Then the sealed lid is screwed on retaining the unburned fuel in the stove.

Uses fuel readily available on most countries. No more searching for White Gas (Naphtha) when visiting remote locations.

When comparing the total weight of the system with other complete systems — stove, windscreen, pots and pans, fuel, fuel bottles — the Trangia beats them all.

Flame control is simple and effective using the "snuffer" in a partially open position

Extremely stable design - haven't spilled a meal once.

Unlike white gas stoves, it can be transported on commercial flights.

Designed in Sweden for the Swedish military. Made by happy, well-compensated workers who use the product themselves as they enjoy their 6 weeks of annual vacation time.

Very, very well made. Always a pleasure to handle and be around.

CONS:
Lower heat output (BTU's) than white gas or Isubutane camp stoves. One should add 30% to boil times. But unless you're trying to melt snow to make water, why is the "boil time" a useful metric? So I sit QUIETLY a minute longer waiting for my coffee water than the guy with a filthy, noisy, smelly (not to mention toxic) White Gas stove. Last time I checked, enjoying the wilderness was the reason I was there in the first place...

By design, the O-ring in the lid is slightly loose and has been known to fall out when the lid is off the stove. I always carry an extra O-ring. Its only happened to me once in six years. Nothing that can't be remedied by simply paying attention to detail.

Performance drops off markedly above 14,000 feet. This is not a mountaineering stove. However, it works very well for Grade V Big Wall climbing as a suspension system is easily fabricated for the windscreen.

The Trangia is superior in all but the most extreme cold or high altitude environments.
Source: bought it new
Price Paid: $70

Great for 1- or 2-person cooking. Stable, windproof platform and failproof.
Pros
Stable
Suitable for 2 persons
Usable in windy situation
Cons
Fairly heavy (total weight = 2 pots, 1 pan, 1 burner, 1 gripper) = 725 grams
Slow cooking (only a con when you want fast dinners though)
The set:
The trangia 27-5 is a nice 2-person starter set.
It comes with a built-in windshield, 2 pots (both 1 liter) and 1 frying pan. The burner (duh!) and pan gripper are also in the package. Everything fits into a small packet, with the windshield being the body and the pan the lid.
Cooking:
Once setup the platform is stable due to the large windshield. Start-up is easy, pour the fuel in and light it up. Needs a minute or two to reach full potential but you can put the pan or pot on right away. Cold weather startup might be a bit tricky (if you plan on using it in cold weather keep the alcohol flask on your body) but is manageable.
It also comes with a simmer ring allowing the user to choose the amount of flame used to warm the pot/pan. Frying pan is really a pan (unlike some other sets) and can be used together with simmer lid to do some nice gourmet cooking. (so if you're only going to boil water, don't choose this set)
The cooking is fairly slow but this didn't bother me. If this does bother you, don't go with a meths/alcohol stove. Trangia offers a gas/liquid fuel burner which can be used with this (and other trangia) sets.
Fuel efficiency is good, cooking for two people (breakfast, tea, dinner) was done for 10 days on about 1.5 liters of alcohol. Much of this was wasted (used to make hot water to wash utensils etc. and letting the stove burn dry). If managed correctly, fuel efficiency is very good. (fuel is also eco-friendly)
Nonstick coating is good but prone to scratching if using metal utensils. Use plastics (my choice) or be careful not to scratch it. After two years I have a few minor scratches but the cooking has been removed completely anywhere and sometimes I abused it hard.  No noticeable damage, just a bit dirty on the outside. (average use = once a month, + 1-2 holidays a year).
Got the most use out of it on a 2 week camping holiday in Scotland, where it was used for 2 persons. Only downside is the slow cooking, when using multiple pots food in pot 1 is already cooled down before pot 2 is hot. Can be solved with products that keep the food warm.
Overall: I like it :).  Currently used at home in emergencies (when gas/elec. fails) and also on 2-man holidays.
Source: bought it new
Price Paid: 69 EU

Cheap, quiet, very light.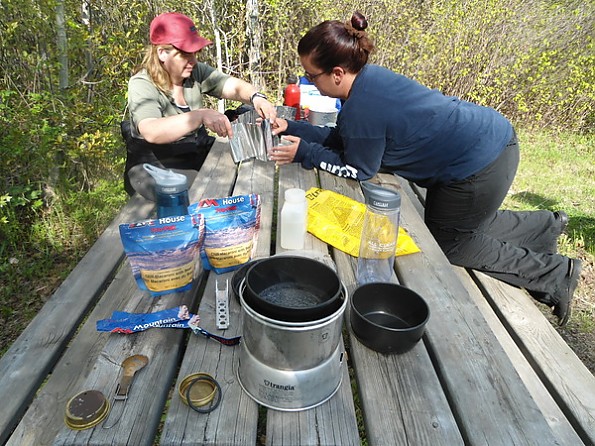 Photo: Non-Stick Trangia for Two People in Action
I have two Trangias, one is the Mini which I use just for myself, and the other is the two-person kit. I started with the Mini and was so happy with it, I got the larger kit for group trips.
Some concerns with alcohol stoves is that they don't work well in a wind because there's no pressure to create a jet of flame, and that they're slower, but that's been partially taken care of in this design. 
What's nice about the two-person stove is that it comes with a stand that integrates a windscreen into the design that actually uses any breeze to improve the performance. The stand is turned towards the wind, which comes in and is directed up the outside of the burner. That creates a jet effect and makes the stove more efficient. The wide base also provides extra stability.
It takes a bit of practice to get used to the simmer ring, though - once the water has boiled, I usually set it about 3/4" open and see how that works. Boil-in-a-bag suppers work fine, but doing a package of Kraft Dinner can be touchy. And when you're done, make sure the stove has completely cooled down before closing the lid. The o-ring can get wrecked if you close the stove up while it's hot, and it can start leaking fuel all over.
At elevation, you're still looking at 7 minutes or so to boil a litre of water. I usually just get one pan going, then top it off as needed until I have enough for what I want. As for time, I've often found I've had supper ready while those with pressurized stoves are still troubleshooting that stuck valve or leaky o-ring! (See photo) Besides, on a mountain overnighter, I'm never in much of a rush anyway, and the absolute silence of the stove lets you enjoy the wilderness all the more.
The kit comes complete with two non-stick bowls with frying pan, a handle, the stove and a two-section stand. Very light and very compact. I carry a 250 ml Nalgene of fuel, and that's usually enough to last me for a long weekend. I've had this one for three years, and it's still going strong.
Nothing to break, nothing to fix, and absolute reliability.
Source: bought it new
Price Paid: $79

In an emergency there is a run on butane etc. Not a run on rubbing alcohol, heet, denatured alcohol. In my opinion the Trangia is the BEST of the alcohol stove designs for all weather conditions.
Made in Sweden for many years for all weather reliable use. If the Swedish Army used a version of one it should tell you something. Absolutely quiet and with the protection of the windscreens it is amazingly efficient. I bought it for survival purposes and it goes with me. The small amount of weight for the kit does not bother me.
The cooking set is excellent quality as is the machining etc. I would not have a volatile unreliable gas burner, I back the Trangia up with a Stratus wood burning stove in case there was ever a problem in obtaining fuel. The quality of the burner made of brass designed with the simmer ring, allows you to extinguish and save fuel or simmer and get less fuel consumption. You can carry the burner with fuel enclosed since it has an O ring.
The best description of the entire package is just plain EXCELLENT.
Price Paid: $68

Great cooking system.
Pros
Lightweight total package
Completely quiet
Readily available fuel
Windproof
Modular design
Cons
Not for mountaineering at altitude
Not for snow melting
Slightly slower boiling water
I have over 30 camping stoves, but when I head outdoors I nearly always grab a Trangia. I do not winter camp so the list of cons does not affect me. In a backpack for one or two people I use a Trangia 27. For 2-4 people I use the 25. Same in the canoe.
The Trangia offers complete and total reliability. I try to cook real food rather than just boiling water and the Trangia does well at simmering for rice or beans. Both the non-stick and anodized pans clean easily, however, with the non-stick I use plastic utensils. When done cooking I snuff the fire with the lid and let it cool. Then I pour the remaining alcohol back into the fuel bottle.
No wind screen is needed as the Trangia has a built-in one that allows the stove to cook even better as it gets windy. They are called "storm cookers" in Swedish. To start in cold temperatures on a day hike I make a very tiny roll of toilet paper and place it in the stove vertically. It acts as a wick that allows instant starting in the cold. 
Background
50 years of camping and over 30 stoves.
Source: bought it new
Price Paid: Can't remember

Your Review
Where to Buy
Help support this site by making your next gear purchase through one of the links above. Click a link, buy what you need, and the seller will contribute a portion of the purchase price to support Trailspace's independent gear reviews.
You May Like
Specs
Price
Current Retail: $76.49-$95.99
Historic Range: $76.47-$95.99
Reviewers Paid: $68.00-$79.00

Recently on Trailspace