Trail Running Shoes
If the Shoe Fits: A Buyers' Guide to Trail Running Shoes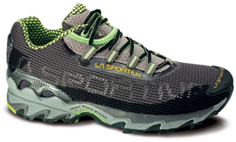 Choosing the right trail running shoes, or trail runners, is critical for a positive running experience. Trail runners are about function, not fashion. So, before you punch in your credit card number on your favorite outdoor retailer's website, or randomly choose a shoe off the wall at your local sporting goods store, consider the features of the various trail running shoes on the market, as well as the unique nature and biomechanics of your feet.
Contents
Know Your Feet
Like feet, trail runners come in all shapes, sizes, and stability levels.
First, take a look at your feet. Are they wide or narrow? Are your arches high or flat? (See foot types below.) Do you run or walk on the outsides or insides of your feet? There is a continuum of running shoes, from the neutral cushioning category, to the moderate stability category, to the high stability category.
Stability, aka arch support, is the amount of rigidity in a shoe and is one of the most important considerations in selecting a running shoe. Knee pain, shin splints, and plantar fasciitis oftentimes signal a need for more stability. Conversely, shoes with too much stability can force a runner to the outsides of their feet, causing ankle pain.
If you have a running store nearby, a knowledgeable staff member will be able to examine your feet and watch you walk and run. By checking your gait, it becomes apparent whether you over-pronate, supinate/under-pronate, or neither, thus directing you to a shoe with the proper amount of stability.
Over-pronation means rolling your foot inward while walking or running. It occurs when the heel strikes first and then rolls overly inwards to toe-off. This can create torque on the lower leg with each foot strike. Some slight pronation is normal.
In general, the flatter the foot, the more likely a person is to over-pronate. Flat feet are more flexible, thus requiring a shoe that can control that inwards motion of the foot. Added stability in a shoe helps to support the arch and guide the foot in a straightforward motion. If the over-pronation is minimal, a "moderate stability" shoe will suffice. For more severe over-pronation, look for a "high stability" shoe.
Supination, or under-pronation, means rolling your foot and ankle outward while walking and running. It is characteristic of feet with high arches. This type of foot has a more defined structure, causing the runner to walk on the outsides of his or her feet. Since this is the most rigid part of the foot, this type of runner needs a shoe that is more flexible. These shoes are referred to as "neutral" or "cushioning" shoes. By nature, trail running shoes tend to be stiffer because they need to protect the feet on more challenging terrain. Folks that supinate simply will want to look for a more flexible trail running shoe.
If you don't have a local expert to diagnose your gait and foot type, try the wet foot test. Get the bottoms of your feet wet and step on a piece of newspaper or paper towel. Compare your wet footprints to the foot types in the chart below. This will help you determine whether you have a high, low, or neutral arch. A flat foot will leave a complete print of the foot, while a high-arched foot will only imprint the forefoot, the heel, and perhaps a bit of the outside edge.
Also, take a look at the wear patterns on the soles of an old pair of running or walking shoes. If you tend to wear down the inner edges of the bottom of the shoe, you likely over-pronate. If you grind down the outside edges, you supinate. Wear in the middle indicates a neutral arch.
Know the Terrain
Next, consider the type of trails and terrain you'll be tackling.
Kathy Hobbs, executive director of the American Trail Running Association and manager of the Teva U.S. Mountain Running Team, suggests that you "consider the terrain that you will be running and go to a specialty shoe retailer and get their advice on what shoe meets your needs." You should also consider any injuries past or present when selecting a shoe.
While some runners may get away with using their regular jogging skins from running the roads, you are best off getting a pair of trail-running specific shoes. "Road shoes are meant for a foot strike that is relatively the same over time and distance," says Hobbs. "Trail shoes are for the uneven, unpredictable, changeable nature of the terrain."
The various types and models of trail running shoes can seem daunting. Hobbs lists the following shoe features as the most important when considering your needs:
Side-to-side support: shoes should give both medial support, toward the arch, and lateral, toward the outside of your foot.
Torsional stability and support: for midfoot support and to control over-pronation and supination.
Sole lugs for grip: trail surface will play a role in your choice. Dirt, grass, or woodchip trails are less severe, requiring only modest tread. Rockier trails call for deeper, more aggressive lugging. Some shoes tout sticky rubber outsoles for added traction.
A porous upper that lets water out quickly. For very wet and muddy conditions, some trail runners offer a waterproof liner and polyurethane webbing to keep your feet dry.
Keep an eye out for shoes with a gusseted tongue and wrap-around lacing, both make for a snugger fit, keeping out trail debris. Match your shoe's features to the terrain you expect to encounter regularly and your needs.
Know if the Shoe Fits
Now you'll need to try shoes on. If you are new to trail running, be prepared for trail runners to feel a bit foreign, even if you are accustomed to road running shoes. Trail runners have a lower profile, giving you the sense that you are closer to the ground and better able to feel the earth beneath your feet. Being aware of the ruts and roots on the trail will help you respond appropriately. Trail runners also have wider bases and more aggressive treads.
Fit Tips
The removable footbeds, or insoles, sold with footwear are often flimsy. Consider replacing them with custom versions. Insoles are offered in stability, neutral, or motion-control versions and for low to high volume feet or shoes.
Wear synthetic or wool wicking running socks to prevent blisters.
Try shoes on with the socks you'll run in and any orthotics or insoles you'll use.
Hobbs says "consider fit and feel when testing a shoe and if it feels good, provides appropriate support, and good grip." If the shoe fits, it will feel snug and boot-like in the back, anchoring your heel in, and more like a sandal up front, allowing your toes to wiggle around.
Be sure you have 1/4 to 1/2 inch at the toe end of the shoe to allow for some swelling room. The longer the run, the more your feet will swell. Hobbs emphasizes the importance of sizing, saying that you will "typically need a half size bigger than your street shoes to make sure your toes don't smash up to the toe box." It's the best way to avoid those nasty black and blue toenails.
In the end, you want to pick a trail runner that feels natural on your feet. You shouldn't be excessively aware of the shoe. If you are, it may not be right for you.
Once you hit the trails you'll be glad you chose a shoe that fits properly and has all the features necessary for your trail running adventures. A new pair of kicks can make all the difference in creating a successful and fun trail running experience.
The Best Trail Running Shoes
The best trail running shoes, reviewed and curated by the Trailspace community. The latest review was added on May 25, 2023. Stores' prices and availability are updated daily.
Foot types
Determine your foot type with the wet foot test.
Foot Type
Wear Patterns
The Issue
The Shoe Type


Flat

Your treads show signs of wear on the inside and by the big toe.

Your foot is very flexible and you strike the ground on the outside of your heel and roll inwards, meaning over-pronation. You need some motion control to prevent that inward roll.

High Stability
or
Motion Control

Neutral

Your treads show signs of wear down the middle.

Your foot is neutral, meaning you don't over-pronate, or you only do so slightly, which is normal. No major correction is needed.

Moderate Stability or
Neutral/Cushioning

High Arch

Your treads show signs of wear on the outside and by the little toe.

Your foot is very rigid and you tend to run on the outsides of your feet, called supination or under-pronation. Your shoes should be well cushioned and flexible to counteract the rigidity of your feet.

Neutral/Cushioning
Need more help getting started running trails? Read our Trail Running 101.
Recent Trail Running Shoe Reviews
An amazing shoe for hiking and orienteering with questionable durability. Fit: They are Altra's Standard Footshape Fit, wider than common running shoes, but narrower than their original footshape. I prefer shoes to be just a bit wider than these. (For comparison, I replaced these with the Lone Peak 6 wide, which have a little more room that I'd like, original fit regular would be best for me.) Comfort: They didn't need any break-in period. I appreciate the zero drop to keep my feet level and comfortable. Full review
Incredibly comfortable shoes whether you're running or hiking the trails. Ready to go straight out of the box with minimal wear-in needed.         Due to a spinal injury a couple of years back I occasionally drag my left foot, so when my last pear of trail runners wore out I debated on getting the same again or trying a different shoe. My trusty Asics Gel Trabuco gave me about 700km before wearing through the material at my small toes so, while the ASICS were also very comfortable, I was looking… Full review
Aggressive, sticky sole that is too narrow and too clickly. I'd like to say I put these through their paces, but I feel they put me through the paces instead. After wearing around the house for several days to break in and try to get comfortable, I finally took them out for a run. And it did not go well. I had hoped these would loosen up and get more comfortable, but they did not. After 2.5 miles, I wanted to take them off. I'm a 9 in all my other Salomons, but I found an 8.5 was actually a better… Full review
Brooks continues to stand on the podium with this high-quality trail runner. Offering ample room in the forefoot while still holding perfectly secure, the Cascadia 16 provides the wearer with a lightweight shoe that has excellent under-foot protection. This lightweight shoe is best suited for the hiker/trail runner that needs great traction and support on groomed trails, rough terrain, or anything in between. The Cascadia 16 is available for both men and women as a waterproof (GTX) or well ventilated,… Full review
I found these shoes 7 years ago for jogging. After trying on so many shoes, and some buying and then taking them back, I found this shoe. The best supporting shoe ever. I wear my orthotics in them. I wear them for walking anywhere. I wear them playing pickleball. Yes, I fell twice playing pickleball in a regular tennis shoe in the first three-week period. Never fell at all in the Pro Xa3d. Love this shoe. I don't find it heavy. Usually by the time I am ready for another pair, they have cool colours. Full review
Great support, well made, tough and strong shoe but sizing is off. I got this shoe for regular city/trail walks. Not a runner on trails but wanted a shoe that has good support, is durable, comfortable, and can handle uneven paths. This shoe was also something I wanted to use abroad whilst walking in countries where the streets are more or less like walking on trails—.i.e. with water, gravel, stones, mud on the sidewalks. My goal was to get a shoe that has good traction, is tough on such sidewalks,… Full review
Great traction in slippery conditions, super comfy insole, but a bit more squishy than I am used to. High ankle support rubs on the ball of my ankle. Took a chance and grabbed these sneakers on a good sale from an online retailer. I bought quite a few shoes online and have had great luck with sizing. First impressions, these shoes are super light and the insoles are super squishy and kind of make my feet a bit tired after a longer walk or hike. After a few Kms my feet kind of settle into the footbed… Full review
Excellent shoe for backpacking, both on and off trail.   Brooks Cascadia 15 Brooks Cascadias are widely panned for trail running...too heavy, too stiff, no spring, too narrow, etc., but are routinely praised for stability, protection, durability, and traction. The negative attributes may be problematic for trail runners, especially at ultra distances, but they, with the positives, match up pretty well with the needs of long distance hikers. And in my case they provide the support and stability… Full review
Conforms well to a slightly narrow foot with average arch height. Lacing system stays in place, which benefits those who prefer laces that don't adjust while in use. Lugs on sole are tall enough for grip, but low enough to still feel the ground on harder surfaces. These shoes fit well for a slightly narrow foot. I prefer a shoe that envelopes my entire foot and then flexes with it as I land in different positions. Wide toe box shoes are not for me. I prefer a narrow toe tip that only contacts the… Full review