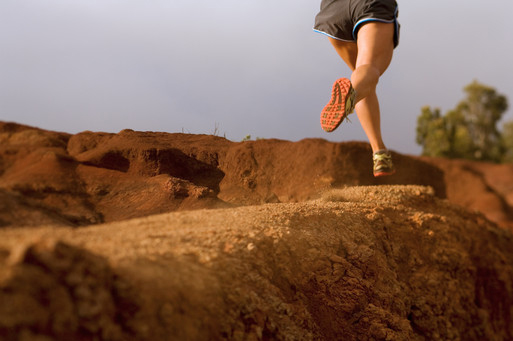 Running is a meditative experience for many. There's something pure about strapping on a pair of running shoes and stepping out your front door to do your body physical, mental, and emotional good.
Too many runners, however, head out into the urban jungle, pounding pavement, sucking exhaust, and filling their ears with the raucous soundtrack of the city. This is not how running is supposed to be. Nor how it needs to be.
Trail running allows you to appreciate nature in wild and undeveloped surroundings, while cultivating a fit and healthy body. If you are already a fan of the outdoors, comfortable with the ins and outs of the forest, mountain trails, or the endless horizon of the prairie, you are ready to give trail running a try.
Whether or not you're already a runner, trail running is easily accessible for any outdoor enthusiast. It offers a variety of scenery — from deserts to mountains to prairies — of terrain — from flat trails to rolling hills to steep inclines — and of challenges. It also allows you to get your trail fix in lengths from short bursts to long slow runs. Equipped with some simple advice, a little gear, and a passion for the outdoors, you'll soon be ready to hit the trails.
Gearing Up
Shoes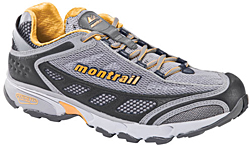 Trail-specific running shoes are the most necessary piece of gear. Trail running shoes provide greater protection for your feet than road running shoes. A stiffer sole and more obtrusive lugging on the bottom help with footing on variable terrain. A sturdier upper keeps your feet dry and safe from sticks, stones, water, and mud. Some runners also opt for a low, trail-running gaiter to keep out debris.
While trail running shoes are a little heavier than your average running shoe, you'll be impressed by their ability to respond to the crags and cracks in the trail.
Running snowshoes, traction devices, and shoes with studded outsoles (you can buy studded shoes or retrofit your own with hardware or a kit) will allow you to trail run all year round.
Clothing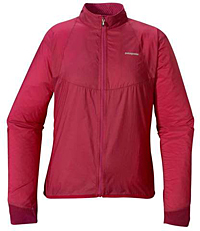 It's just you, the shoes on your feet, and the shirt and shorts on your back/side when you're out running the trails. Be sure to make them count. Moisture-wicking fabric is a must, especially for base layers that have direct contact with your skin. Rather than becoming saturated and heavy with sweat, they will wick away the moisture, keeping you drier, more comfortable, and chafe-free. This includes socks. Cotton is a big no-no. Save yourself the pain of blisters and purchase a couple pairs of lightweight, technical fiber socks.
Keep in mind that once you start running, the temperature will feel at least 20 degrees warmer. Depending on the weather, you may want a wind layer you can add or remove, as necessary. However, be sure to avoid anything that is completely impermeable. Wearing your rain jacket out on the trails will have a roasting effect; a trail running windbreaker will provide some breathability.
Some runners also appreciate a little headgear, read, a cap. Avoid sporting your favorite baseball team's hat, however. Again, think technical. If you get a hat made of a moisture-wicking fiber, it doubles as both a sweatband and a protector from the elements and sun. Lastly, put on sunblock and sunglasses.
Hydration and Fuel
One of the best parts of trail running is its removal from the modernized, civilized world. This means no drinking fountains or gas stations for pit stops. When deciding what type and amount of fuel and hydration to carry with you on the trail, "think time, not distance," says Kathy Hobbs, executive director of the American Trail Running Association (ATRA) and the manager of the Teva U.S. Mountain Running Team. Regardless of the distance you plan on traveling, it is the time on the trail that will get you into trouble if you don't have reserves.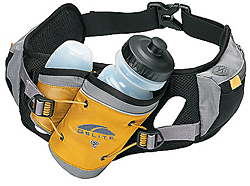 Check the weather and consider the extra sweat loss in hot and balmy conditions. Remember, the human body is made up of 60 to 70 percent water and you can lose pounds in water weight while running. Get your hands on a hydration belt or pack or a bottle with a hand strap. For longer runs, a sports drink may be your best choice because of the added electrolytes, carbohydrates, and protein that different solutions contain. Water will usually suffice for shorter jaunts less than 45 minutes.
Many hydration belts and packs are equipped with room for nutritionals/performance foods as well. For added fuel on longer runs, various gels, beans, bars, and blocks formulated for endurance athletes offer trail runners compact nutrition for the long haul. Experiment to see what kinds of calories your stomach can tolerate while running. Nutritionals are only necessary for runs longer than an hour to an hour and a half. On those runs, consider taking in one serving every 45 minutes.
Lighting
If you are out before dawn or after dusk, you'll need a headlamp so you can successfully navigate the trails. While you have streetlights in the city, heavily forested trails become nearly impassable after the sun goes down. Be sure to try on the headlamp to make sure it doesn't bounce around or fall off your head. A trail running-specific lamp is your best bet. Look for one that is lighter weight, but still provides impressive beaming abilities. Many of the headlamps on the market for trail running offer LED-based lighting and are waterproof for rainy days. Avoid any lamps with big battery packs on the headpiece.
Gloves
Hobbs also suggests that a trail runner may want to get their hands into a pair of trail running appropriate gloves because they can "take the impact of a fall, so you aren't picking stones and gravel out of your palms." Ouch. Any gloves will work, as long as they are comfortable for running. Road or mountain biking gloves will do the trick for the toughest terrain.
Getting Out
Choosing a Destination
While images of a creek hurdling, ravine scrambling adventure may be dancing through your head, it's wise to start out on less aggressive terrain and work your way up to more technical trails. Start with a trail that is "gently rolling," says Hobbs, "severe ups and downs make new trail runners a bit tentative."
Try a clearly marked, groomed trail, perhaps one you've already hiked. Such trails are easily navigable and more suitable for a new trail runner. Even if you are familiar with hiking on rugged ground, trail running requires you to think and react more quickly. An easy, familiar trail for your first time out will allow you to enjoy the experience without having to worry about getting lost or rolling an ankle.
Getting Started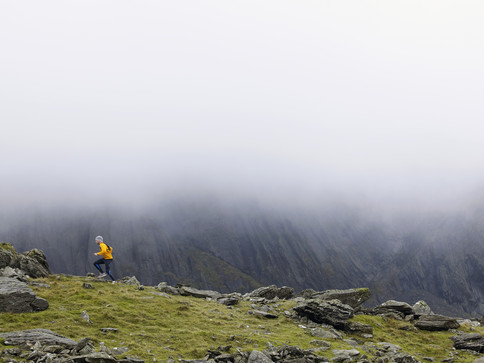 Start with trail jogging. Even if you are an experienced runner, you will be slower on the trails. The soft ground absorbs more impact, making it less responsive, thus slowing your pace. While this may repel your inner speed demons, your joints and muscles will delight in the more forgiving surface.
In addition, there are more obstacles on a trail than on a sidewalk or road. Rocks, roots, and ruts require your full attention, and changing terrain, weather, and conditions will affect your footing and grip.
Not only do you have to train your body to tackle the trail, you also have to train your mind to focus on the ground before you and to watch out for obstacles ahead. Steeper, more technical inclines likely will require you to shorten your stride and slow down. To stay in control, especially on steep descents, you may even need to walk.
Stay on the trail, even when you encounter mud and puddles, and don't run off-trail or cut switchbacks. This widens trails, causes erosion, and damages vegetation. Practice Leave No Trace principles, just as you would when hiking.
Safety
It is often suggested that trail runners have a cell phone on them in case of an emergency. While this is legitimate advice, many complain that they don't have room for a bulky phone or that the whole point of running is to get away from modern technology. Either way, Hobbs advises any trail runner to always "alert someone where you are going and when you think you will return."
As your trail runs get longer, more remote, or unfamiliar, consider bringing along emergency gear, such as a small first aid kit, your headlamp, and a map and compass. "Maps are a great asset in unfamiliar territory," explains Hobbs, and as hikers and backpackers already know, are a requisite for most outings.
A running partner is another good option for both safety and social reasons. It never hurts to have someone by your side in case of emergency…or boredom. Hobbs also suggests that trail runners "consider weather; what it is and what it may become," in addition to being cognizant of "animals and wildlife in the area you are running."
Try a Trail Race
Once you get the hang of the trail running experience, think about signing up for a trail race. Trail races, with distances from short 5K's to ultra marathons, are held across the nation in the backcountry, national parks, and local city parks. Show up and you'll be welcomed into the trail running community with open arms; perhaps you'll even meet a few new trail-running partners. The American Trail Runner Association (ATTR) and Trail Runner magazine are good sources for trail running events and information.
With a new pair of trail running shoes and a passion for the outdoors, you are well on your way to becoming a true runner of the trails. As you graduate to more aggressive trails and longer outings, your excitement for the sport will grow. Miraculous views, simple solitude, and a fit body will keep you coming back to the trails time and time again.
Based out of the land of ten thousand lakes — Minneapolis, Minnesota — Mackenzie Lobby is an avid endurance athlete and fan of all things outdoors. She has earned an M.A. in kinesiology, completed seven marathons, and doesn't plan on slowing down anytime soon.