Montrail Hardrock

The Hardrock has been discontinued. If you're looking for something new, check out the best trail running shoes for 2023.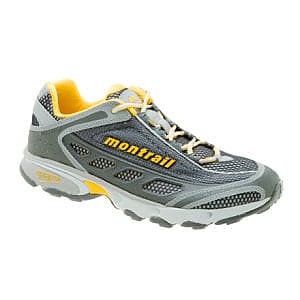 This shoe is already well known and regarded, but at the risk of being redundant, I'll pile on. Other than a Chaco sandal, I think it's the most versatile piece of footwear you're going to find at an outdoor store.
Montrail has built an exceptionally stable, smooth and light platform for trail running, ultra running, light backpacking and ultralight extended backpacking, some road running and even supportive walking around town. More stable for its weight than any other trail runner I have found, it holds steady with up to 30 lbs on your back, yet doesn't feel clunky on a 3-mile easy breezy trail run. It's even passably smooth on the road (I disagree with any complaints about clunky heel-to-toe transition, especially when comparing to something like the Vasque Velocity), and given its mega-stability, it's a comparable and lighter option to motion control road runners like the Brooks Beast.
It provides an amazing combination of comfort, cushion and stability for sub-30 lb. backpacking, and I wouldn't hesitate to recommend them to an experienced thru-hiker for the AT, provided they've got 3 or 4 pair lined up for them along the trail. And hence its trade off-- limited durability for intense backpacking use, with its soft, practically wispy non-Vibram outsole and EVA mid-sole. Although monumentally stable, keep in mind it's still built like a running shoe.
Montrail has hit a target with this popular shoe and has smartly put its platform in boots-- the Namche and its waiting-at-the-gate GTX XCR counterpart-- which I'd recommend looking into as well. Overall, a great unmatchably versatile shoe for ultra-active, ultralight pursuits.
Materials: Nylon mesh upper, two-density EVA midsole, soft, thin mildly aggressive lugged non-Vibram outsole
Use: short, non elite-paced easy trail running, longer technical and ultra running, light backpacking and extended ultralight thru hiking, supportive strolling around town
Break-in Period: whatever you need for a new running shoe
Weight: a little over 13 oz
Price Paid: $95

For road, on trail and varied terrain, they may be the best shoe on the market. The Pro's and Con's are as follows:
PRO'S:
Durability
Bomb proof, literally. I have dragged these puppies from the razor sharp volcanic rock fields of Maui's Haleakela to the dusty and rutted summit trail of Mt St Helens and all throughout the Mojave Desert in between. When I was done these shoes little more than a few bruises to show. The soles have seen their share of abuse, but everything else looks like it did the day I pulled them out of the box.
Comfort
They may be a little too comfortable. They fit like gloves and give the sensation of running on clouds which for me translated to a bit of insecurity with my footing, but I got over it. They cruise over boulders and bumps with ease and leave your feet cushioned and comfortable throughout the whole ordeal.
Fit
I wear a size 13 and they fit true to size. They did seem a little roomy in the toe box, but the heel cup felt snug (all-around a great fit).
CON'S:
Grip
I was disappointed when I ventured onto slick red rock for a little scrambling. They seemed to slip and lose grip on simple climbs and overall scored poor remarks as an approach shoe.
OVERALL:
Great shoe and has the capability to take you from road to trail in one fell swoop. BUY THESE SHOES if you want a durable and comfortable running shoe.

Materials: Vegan
Use: Running Road and Trail
Break-in Period: Immediate
Weight: 200 lbs
Price Paid: $90

I picked up these shoes last summer because I do a lot of long distance hiking/backpacking and some trail running. Hands down a great pair of shoes. They fit like a glove as soon as I put them on and didn't even have to walk them in. I spent seven months working and playing in Yosemite NP and 3 months in S. America; they've held up fantastically. It hasn't been until now, a year later, that they have lost most of their arch/heal support and started loosening at the seams. They're light and breathable. They dry fast after hiking through streams.
The only con is that I slipped a few times wearing them on wet granite, not the best traction. Otherwise fantastic shoes, I just ordered another pair.
Use: long distance (20mi+/day) hiking/backpacking, trail running.
Break-in Period: for me, none.
Weight: light
Price Paid: $70

Simply the most bomber-tough, form-fitting, stone-bruise-protecting, stable trail runner going.
This shoe fits wonderfully and lets you run over rocky trails like you are wearing top-dollar road shoes on a newly paved street. The protection plate is super tough but flexes very well and the sole is wide enough to give excellent stability on very rough terrain without sacrificing weight or making the shoe feel clunky.
Durability has been excellent for me - I've averaged 8miles a week on rough, rocky trails for almost 18months in my current pair with only modest tread wear (admittedly, I do not run roads in these shoes) and minimal loss of stitching on the surface. If you're a gear-head, you'll be wanting to buy another pair long before you need to do so.
Materials: synthetics
Use: rough trail runs
Break-in Period: minimal
Weight: 165#
Price Paid: $85

I am 200 lbs and have low, inflexible arches. This shoe supports me so well. The Hardrock lives up to its name, being hard as a rock. Some people with delicate feet might complain about the break-in period, but none was needed for me. The shoes breathe well and the lacing pressure is distributed evenly throughout the shoe. The sole and insole support a low to medium arch.
When the shoe is compressed front to back, it bends ONLY across the ball of the foot. It is meant to support the arch and let the toes push off of the stride. Flexible footed runners would find this constrictive.
Other shoes I like: Montrail Leona Divide, Continental Divide, and Hurricane Ridge XCR.
Materials: synthetic
Use: trail running, even with pack
Break-in Period: 2 days of walking
Weight: 200 lbs
Price Paid: $95

Be aware that all of the five star reviews you read here are dated before 2008, before the much criticized Hardrock 08 and 09 were released. Seems like pre-08 and 09 Hardock fans are legion, but Hardrocks have gone downhill since.
Trailspace should acknowledge the difference apart from the vague caption near the picture of the 09 that we see on this page. Why can't Columbia (who bought Montrails) bring back something that has a proven track record? When will these shoe companies accept the "if it ain't broke don't fix it" adage. Not every shoe has to be "upgraded."
Bring back the pre-08's that these five star reviews actually refer to.
This is a great shoe!!! I use it for everything! From long runs on Saturdays on and off trail to approach hikes.
I am a big guy--185#--and this shoe didn't skip a beat. I do have custom orthotics which help with the overpronation, but I will buy another pair!!
Use: trail/road day hiking
Break-in Period: 2 weeks
Price Paid: 124 Canadian Dollars

Your Review
You May Like
Specs
Men's
Price
Historic Range: $30.00-$115.00
Reviewers Paid: $85.00-$95.00

Women's
Price
Historic Range: $9.64-$109.99
Reviewers Paid: $70.00