Recreational Snowshoes
Recreational snowshoes, which include models for beginners, are suited for anyone who plans on casual snowshoeing on easy to moderate terrain, such as packed trails, rolling hills, and firm snow. Recreational models are usually the least expensive.
Top Picks
Tubbs Flex TRK

(3 reviews)
I bought these this morning because after weeks of snow here in Boston they were the only snowshoes available at the local EMS store. I just went out for an hour and a half tromp in the woods. They passed the first test easily, which was whether I could secure my boots in the bindings. The adjustments both around the toes and on the strap that runs behind the heel were simple and straight-forward. The heel strap is made of some sort of rubberized material. You adjust it by stretching the strap over a metal prong.
Read more: Tubbs Flex TRK reviews (3)
Redfeather Hike

(1 review)
As a relative novice to snowshoeing, I found the Redfeather Hike to be easy to put on, natural to hike in, and comfortable. They outperformed the snowshoes I rented from REI.
Reasons to Buy
Easy to put on and adjust
Easy to walk in after only a minute or two of practice
Reasons to Avoid
I don't get to snowshoe enough!
Once a year, I get to attend a conference in Boulder, CO. Each year, the conference organizer (Tom) invites attendees to arrive a day early for a bit of snowshoeing in the front range of the Rockie Mountains. My first year, I rented snowshoes from the local REI (I'm sorry to say, I can't remember the brand). They were "okay," but were not easy to put on or adjust. The next year Tom loaned me a pair of 30" Redfeather Hike. I'm pretty much a novice, but Tom snowshoes regularly. He takes newbies out regularly, and the back of his truck is filled with 5 or 6 pairs of Readfeather Hike.
Read more: Redfeather Hike review (1)
MSR Evo Trail

(3 reviews)
About the only thing that would hurt these snowshoes is throwing them in a fire! They're made of bomb-proof, injection molded, high impact plastic and can take more abuse than anything I've seen. Best for on-trail hiking but be forewarned — plastic is LOUD, especially on a packed trail.
Reasons to Buy
Reasonable price
Outstanding quality
Great traction on icy trails
Reasons to Avoid
Heavy
Loud
Have to take them off to attach tails
I like getting the cons out of the way first so I can go on and list all the really good stuff.  So, here you go... Con: These snowshoes are heavy. They're made of high impact, injection molded plastic, so once you put the shoe, the deck and the bindings all together, you're looking at over 3.5 pounds. Definitely not the lightest shoes out there... Con: Being made of plastic, they're also very loud on packed and icy trails — so loud in fact, it's difficult to hear your hiking partner over them.
Read more: MSR Evo Trail reviews (3)
Atlas Access

(1 review)
The Atlas Access Series snowshoes are great for all-day use, as well as for light hiking on and off trail in rolling terrain. They are very versatile and easy to use, with a moderate amount of traction, while still being light and very comfortable to wear for extended periods. Would highly recommend for use in the backcountry of Eastern Canada and United States, as well as for day-to-day use.
Reasons to Buy
Lightweight
Sturdy yet easy to use binding system
Has moderate crampons with solid traction
Great flotation in deep snow
Has a solid heel lift for steep inclines
Versatile, suitable for a wide range of uses
Reasons to Avoid
Only comes in sizes 25 and 30 (not suitable for loads over 250 pounds)
Hard to find
The Access Series, part of Atlas's Day Hiking line, are an excellent choice for those looking to get out and explore, whether it be a quick walk in the woods or for hiking in moderate terrain. They are very comfortable and easy to use, while still being able to stand up to hard use. They handle hills really well due to traction from the "twin-trac" toe crampons, which provide a solid grip in combination with the "advanced aft-traction" heel cleat along with the sturdy built in heel lift which provides a "step" of sorts when traversing up steep inclines, in turn reducing fatigue on your heel.
Read more: Atlas Access review (1)
L.L.Bean Winter Walker

(3 reviews)
This is my first pair of snowshoes and I'll have to say I'm impressed with the quality and ease of adjustment these snowshoes have.
Reasons to Buy
Seemingly great quality
Ease of adjustment
Good design
I bought these snowshoes three years ago and have had a blast with them, both in the woods and open fields. So easy to just step in, tighten, and away I go. The built-in crampons mean ice (which I've used these on) is no problem whatsoever. I'd recommend these to anyone. There may be better out there, but for entry level and price these are tough to beat.
Read more: L.L.Bean Winter Walker reviews (3)
MSR Shift

(1 review)
A great little shoe in firm snow, not just for kids.
Reasons to Buy
Lightweight
Good grip
Nice bindings
These shoes are sold as youth snowshoes, but they perform very nicely for adults looking for light shoes in firm snow conditions (think spring in the Rockies). MSR lists these shoes as fitting youth up to 125 lbs and up to a Men's size 7. I took a bit of a gamble and ordered up pair as I was looking for a lightweight shoe (but still wanted good traction) for spring trips where you often carry your snowshoes more than wear them, but when you need them you really need them. The price is also very nice :) My pair weighs 38 oz and are 20" in length.
Read more: MSR Shift review (1)
Tubbs Flex Jr.

(1 review)
Versatile kids snowshoe for serious winter exploration and fun jaunts. Similar design to Tubbs full-size Flex series but scaled down.
Reasons to Buy
Lightweight
Aggressive crampon
Short, easy straps
Reasons to Avoid
Straps can loosen up on small boots (common on many snowshoes)
No televator bar
Versatile kid-sized snowshoes for serious mountain exploration in both powder and icy trails. These are scaled down versions of the full-sized Flex series with polymer decks and stamped crampons. The straps include a single ratcheting strap/buckle across the toes and a rubber belt across the back. There is a full toe slot and metal pivot pins that allow full flexibility while going up steep, icy terrain. These are light enough that our kids had no issues carrying them on their packs when they were 5 years old.  There is only one size available but they currently work with our 3-year-old and 7-year-old twins alike.
Read more: Tubbs Flex Jr. review (1)
More Recreational Snowshoes
Trailspace reviewers have shared 340 reviews of 35 different recreational snowshoes.
Other Types of Snowshoes
Find more snowshoes reviewed in these related categories: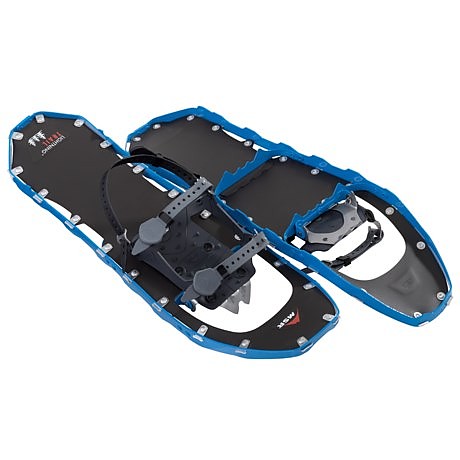 Hiking Snowshoes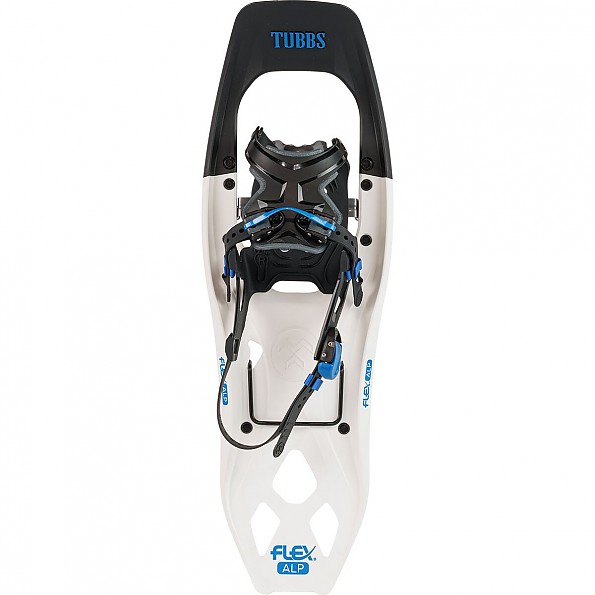 Backcountry Snowshoes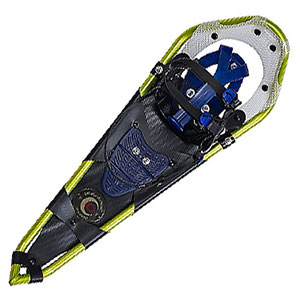 Running Snowshoes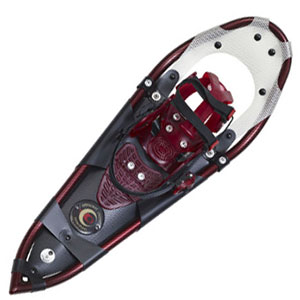 +2 more types
Review Your Outdoor Gear
If you've found this site helpful — or if we've missed something important — please consider paying it forward by some of your favorite (or least-favorite) outdoor gear.
Why? From professional gearheads to outdoor novices, everyone has an important point of view to contribute. will support the outdoor community and help others find the best gear.
Trailspace reviewers are outdoor enthusiasts like you: hikers, climbers, paddlers, backcountry skiers, and trail runners who share our experiences with the gear and clothing we rely on to get outside. Learn more about Trailspace