Atlas 10 Series

The 10 Series has been discontinued. It was replaced by the Atlas Access.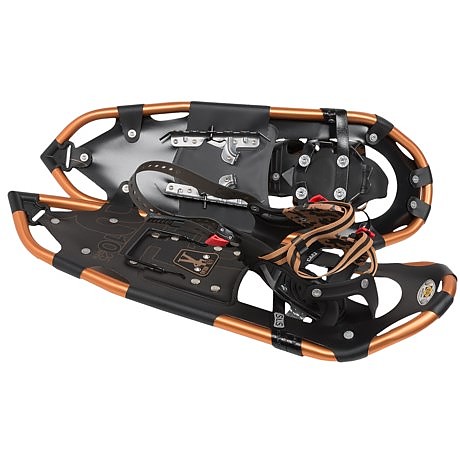 Version reviewed: 1030
I am giving these snowshoes three stars because of durability issues.
Atlas and Tubbs are owned by K2 Sports which is a large conglomerate listed on the New York Stock Exchange.
Most of my snowshoeing is in the backcountry on the east coast of Canada. I travel between 80 and 100 kilometers a month during the season. The shoes have been tested for one year.
Binding - 4 Star
The foot will stay positioned in the shoe with excellent articulation. The binding is not designed for large snowboarding boots (the 12 series binding is designed for larger boots). On the negative side, the binding will mar the surface of leather boots and the straps will not function well when frozen. The ends of the straps also have a tendency to catch on small bushes.
Crampons - 4 Star
The crampons are steel which is more durable than aluminum. Atlas has designed the crampon to reduce clogging but in wet snow conditions any crampon will clog.
Decking - 3 Star
Duratek, is a proprietary urethane-coated fabric claimed to have three times the abrasion resistance of Hypalon and lighter weight.
The decking is strong and will resist surface abrasion. But, the three end rear straps attaching the decking to the frame are subject to abrasion. The more the shoes are used on ice and crusty snow will result in increased abrasion. I believe the shoes will eventually fail in this area. They will not last a "lifetime". Atlas needs to redesign these attachments.
Pivot System - (Packed Trail - 5 Star) (Breaking Trail - - 2 Star)
Atlas uses a fixed pivot system with two urethane straps. This provides excellent stability climbing, descending and transversing slopes. The straps are very durable.
The fixed pivot system is a liability in deep snow because the loose snow will not slide off the back of the shoe. You will actually be attempting to lift this extra weight. Also, the snow will flick up on your legs and back. You will have to wear nylon clothing to shed the snow even on a warm day.
Tubing - 5 Star
Anodized 7075-T7 Easton aluminum, ¾-in (19 mm) tubing. The tubing is small in diameter and is flexible and strong. But, the anodized finish will scratch easily.
Flotation - 5 Star
The snow condition whether dry or wet, new or old, and packed trail has a greater bearing on flotation than the size or shape of a shoe.
Rivets - 1 Star
I have had a popped rivet where the binding attaches to the crampon. This is a major failure in a shoe advertised for the backcountry. This failure happened after one year of use.
Weight - 4 Star
At around 4 pounds, it is not the lightest shoe on the market. The extra weight is the result of the sturdy binding.
Packability - 3 Star
Will not pack easily on your backpack because of the binding. The 12 series will be better.

Email Support - 1 Star
I received no response on my question of durability of the rear loops. Atlas needs to appreciate customer input and incorporate the feedback in future design changes.
In summary, this is a nice shoe with excellent articulation. Your boot will not move in this binding. But, I expect a lot more in durability considering the price paid which is at the high end for a snowshoe.
Price Paid: $300 Canadian

Overall, great snowshoes. I bought the 1025 (25" size) for hiking in the Green Mountains of Vermont and the White Mountains of New Hampshire, and they work very well. The crampon design is excellent, one of the few snowshoes I've ever used that had a usable crampon setup for climbing. Although they are sold as "trail walking" snowshoes, their performance exceeds that of any other snowshoe I know of in the category.
The bindings are great as well. They're super easy to adjust and hold your foot securely. The single loop strap (and heel loop) design takes seconds to adjust and it stays put, no special tweaking necessary.
The only thing that keeps these shoes from a five-star rating is the SLS system, or Spring Loaded Suspension. This "spring-loaded" design holds the shoe at about a 30-50 degree angle from the deck. When you step down, you pre-load the 2-strap binding attachment a bit. It holds my snowshoes about level when swinging my foot through the air, making the shoes drag-free and easy to maneuver. But, if you don't walk in a certain way (i.e. you lift your heel a lot and quickly with each step) they have a tendency to fling snow at you back. It's not really a problem for me, but it may be for you.
Bottom Line: I recommend them, but I'd suggest trying them out or at least examining your own stride before buying.
Price Paid: $130

Version reviewed: 1030
I have to disagree with the gentleman who posted the three star rating for this product.
A couple of points. I have used these snowshoes extensively on backpacking trips in Quebec, Ontario, and in the Adirondack Mountains in NY state.
While I do agree about packability (when you're carrying them, they are bulky), the points about durability and snow-flicking have not been issues for me. Mine have been used in waist deep powder, across ice and bare rock (tops of mountains), and soggy southern ontario snow, and they're in great shape. I have also never experienced frozen straps or straps catching on anything.
As for fit and articulation, again, great. Uphill, downhill, traversing... these are great snowshoes. Even travelling across rock/logs, no problem. I put mine on at the start of a trip, and never have to play with them at all.
Price Paid: 300 cdn

These are great snowshoes for trails or for backcountry snowshoeing. I don't have any problem with snow being flipped up on the backs of my legs and they are very comfortable, thanks to the SLS (spring loaded suspension) which takes a lot of the impact out of your steps.
The bindings are easy to get your boots into and out of with your gloves on and overall the snowshoes seem to be very durable. I would recommend these snowshoes to anyone.
Price Paid: $160

Great snowshoe for a little of everything. Purchased my pair from L.L. Bean in Freeport and I have used them three times and they have performed well in all conditions.
Price Paid: $189

Version reviewed: 1030
These are by far the most superior snowshoes i've ever used. The design allows the tackeling of any terain.
Price Paid: $260

Your Review
You May Like
Specs
Price
MSRP: $199.95
Historic Range: $49.73-$259.99
Reviewers Paid: $130.00-$260.00

Recently on Trailspace