Princeton Tec EOS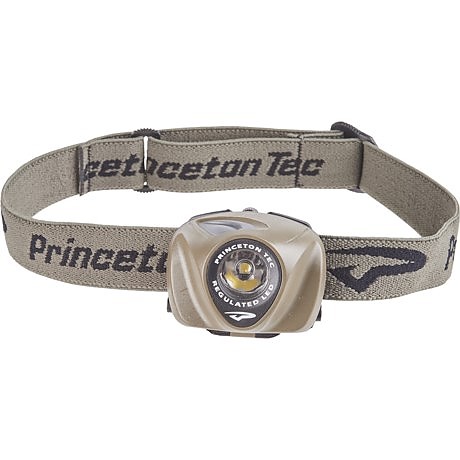 I currently have two of these headlamps. One is used for hiking and the other I wear on my hardhat at work. For the price, weight, and size, I am very pleased.
The lamp I use for hiking is roughly 3 years old and is as good as new. It throws sufficient light for any task in the woods, and I have used it for many night hikes, especially in the winter.
As others have noted, the tilt adjustment for the lamp seems a little weak. For the lamp I use hiking this is not yet an issue, even after 3 years, partly because it is not used heavily. However, the lamp I use for work is beginning to slip occasionally if I look down with a quick motion; but this is from near daily use for the last year and a half.
It also sees a great deal of abuse and gets banged around on pipes, I-beams, etc. Still it remains bright and perfectly functional. Therefore, based upon that observation, I expect my hiking headlamp to last many years, and my work headlamp to possibly require some sort of modification to the tilt adjustment sometime in the next year.
Overall, this is a good lamp and has yet to fail me with its durability and brightness. Battery life is also as good as can be expected, and I have no issues there. I would buy this lamp again if one of my existing lamps fail.
Update: August 4, 2011
This is an update to my previous review.
I had mentioned earlier that the headlamp I use for work had began to slip on the tilt adjustment if I looked down quickly. It finally began slipping enough to become annoying, after nearly two years of almost daily use. The one I use for hiking, which is much older, still works fine since its use is much less frequent.
I didn't realize it, but Princeton Tec has a lifetime warranty on this headlamp. After a quick call to them for an RA number, and about two bucks to ship my old one to them, I received a brand new headlamp a week or so later.
It's apparent the Princeton Tec realized the issue with the tilt adjustment, since the new lamp now has three areas with raised ridges to keep the lamp in place.
I am very pleased with these lamps, and the customer service was excellent. I would buy this lamp again without question.
Price Paid: ~$40

Brought it for a six day trek through the mountains in Malaysia which ended up lasting seven days instead. It is really bright and great throw. I could easily luminate more than 20m away, more than necessary for most applications.
A set of new alkaline batteries lasted throughout the trip, and is still going strong. Low setting is adequate for most campsite activities, while I used medium for night treking. High setting is hardly necessary at all.
Used it in the rain, and it proved to be really waterproof. I didn't even need to open it to dry it out. Materials used feel solid and rugged. A little heavy for its size, but I don't think anyone will notice the few grams more.
Some nits are that the edge of headband developed a wave, like the collar of a T-shirt that's gone through too many spin cycles. The hinge is rather loose, and although it has not shifted due to head movement, I feel that it may be easily worn out after regular use. The lens also got scratched, though I can't imagine how. A harder plastic or a scratch protection film would be great. Or maybe a more recessed lens. Lastly, the beam is a pretty tight spot. I wouldn't mind sacrificing a bit of brightness and throw for a wider and brighter sidespill.
Price Paid: US $41

The Princeton Tec headlight is a must have for backpacking. The elastic band is adjustable and comfortable to wear for long periods. The light itself is light weight, packs easily and battery life is excellent. With three illumining options finding the right brightness is easy. The added blinking light feature is great just in case you need to draw attention to yourself in emergencies. Only drawback is the adjustable tension screw, it needs a re-tightening after each trip. Otherwise it's a dependable light and a good buy.
Price Paid: $26 on sale

Great little gizmo. Demoed it at the same time as a Petzl Myolite 3 while on a trail run. Definitely came out on top.
The brightest setting (56) was superior to the MYO's halogen, and the lower two settings had nice sidespill. Very functional and compact little unit.
My only qualm is the fact that it is inferior in its battery life to that of some other lamps out there, but what do you expect, it has no rear battery pack. Great buy.
Price Paid: $40

I do quite a bit of night bike riding. I had been using a Nightrider light that I paid $130 for. The $35 EOS that I bought at L.L.Bean gives the Nightrider a run for its money. This light truly does throw a great spot! I also purchased a few rechargeable AAA's. With the three different intensity setings, I can't imagine anyone being disappointed in this light.
Price Paid: $35

This is a great headlamp. I am a bit of a light freak and have two Princeton Tec Auroras and just bought the EOS. It is a huge improvement because of the fact it has one 1-watt LED. It is so much more like a spotlight than any LED light I have ever used. On high power you will get about 2-3 hours constant use and then it will revert to the lowest light level (of 3 levels) and stay there till the batteries drain. I like to bring an Aurora and the EOS. The EOS for any activity that demands lots of light and the Aurora for low light to conserve batteries. Overall, a great headlamp!
Price Paid: $40

the best headlamp that i've come across, owned by myself or anyone that i've camped with. i accidentally dropped it in some thawing mud last winter. unbeknownst to me, it lived outside for four months during which it fell victim to severe freezings and thawings and a whole lot of leafy, muddy water. upon finding this little gadget again, i simply replaced the batteries and resumed using it immediately. well i shouldn't say "immediately" because after being in those kinds of conditions for four months, it smelled like i pulled it off a dead hiker for several weeks!
Price Paid: $35

I love this light. Extremely bright for a single led light. The frost on the lens spreads the beam out very evenly so there are no dark spots like many of the head lamps i have seen before. Nice design, lightweight, bright. What else could you ask for?
The only issue I have been having is that the hinge is a little too easy to move so it may tilt downwards when your head jerks. I think I can solve that with some double sided tape.
Price Paid: $30

Both the EOS and Aurora LED headlamps are well designed products. I own both. Think of the Aurora as more of a task light for around the camp, the brighter and more focused EOS can be used on the trail. EOS in short is the perfect headlamp. Both have several settings to conserve power, and both flash. As of this writing I think these two units are the best value for the money as concerns LED headlamps.
Price Paid: $35

Love it!!
This light is suprisingly bright for having only one LED. I have used it for several outings and the batteries show no sign of needing replaced (dosen't eat up batteries) I have even gone night hiking in the pitch black of night under cover of the forest and this baby performs without a hiccup.
I typically use the low setting for chores around camp and honestly that is all the light that is needed.
Almost perfect backpacking light. It throws a huge amount of light, lasts for days if you keep it out of the maximum setting, is lightweight, comfy, and takes up very little space. It would be nice to have some sort of diffuser (a la the Petzl Myo XP) for close-up work or reading in the tent, but you get used to it. Well worth the $30 bucks or so you can buy it for online.
Price Paid: $30

Junk.
I was happy with this light for a while. It throws a good beam, nice and bright, goes a long way. The problem is that it leaks. Every time I use it in the rain (which is often since it is on my bike) water gets inside and when this happens - here's the kicker - it doesn't shut off properly, so the battery drains.
To make things worse, I emailed Princeton Tec about this and they didn't even bother to reply.
My advice? Buy a Petzl or Black Diamond — anything but this P.O.S.
Source: bought it new

I just bought my second EOS. I was very disappointed, the hinge is so floppy you can't walk without it pointing to the ground. The beam is much more diffuse than my old torch. Princeton never responded to my emails.
Your Review
Where to Buy
Help support this site by making your next gear purchase through one of the links above. Click a link, buy what you need, and the seller will contribute a portion of the purchase price to support Trailspace's independent gear reviews.
You May Like
Specs
Price
Current Retail: $23.21-$65.99
Historic Range: $8.95-$65.99
Reviewers Paid: $26.00-$41.00

Recently on Trailspace